Unlike many other destinations, the best time to visit Jeju Island in South Korea is any time of the year! The island is gorgeous no matter the season!
It is not a big secret that if you want to witness the real beauty of any place, you must visit it during the best season for the place. But that's not the case with Jeju Island, also renowned as 'Hawaii of East Asia.' This breathtakingly beautiful island welcomes the locals and travelers throughout the year. It is so because it looks amazing and unique in every season. So, you can either visit the island during winter, spring, summer or autumn and find plenty of things to do.
Let's begin with each season so that you can get an answer to the most important question – ' what is the best time to visit Jeju Island?' So, read on ahead to find out the best time to travel to Jeju Island in Korea and how to make the most of your trip.
Four Different Seasons in Jeju Island
As the vast sea surrounds Jeju island, it is quite warm and pleasant compared to other places in Korea. During winters, the average temperature is 5 degrees Celsius, and in summers, it goes up to 26 degrees Celsius. Like most of other Korean cities, there are four distinctive seasons – summer (June to August), autumn (September to November), winter (December to February), and spring (March to May).
Best Time To Visit Jeju Island
Although we mentioned above as you can visit Jeju Island any time of the year, the choice is dependent on what you like to do when you travel. The winters are best if you want to enjoy hiking, gastronomy, etc. Spring is best for witnessing the real enthralling beauty of blooming flowers and Manjanggul cave. Rainy season if you like to get caressed by the strong winds and enjoy drenchin in torrential rains. Lastly, the summers are the best time to travel to Jeju Island if you are an outdoor activities lover and enjoy activities like climbing, snorkeling, etc.
Let's explore every season in detail and find the best time of year to visit Jeju Island.
Winter Season
The winters are here from December to February. December months receive meager rainfall, which means you can enjoy several outdoor activities during this time. Ensure you wear layers of warm clothes before stepping out because sometimes the temperature drops suddenly.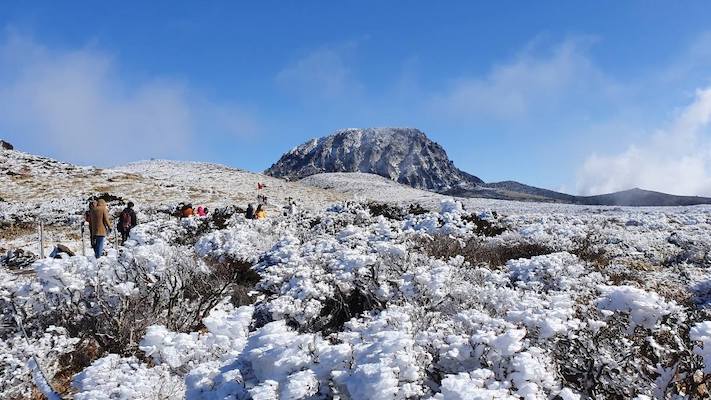 If you happen to come here on Christmas eve, you can see the elegant light decorations all around. This time is best for exploring the vibrant nightlife in Jeju and enjoy live music sessions. The snowfall in winters are quite light, along with some night frosts.
Things to do during winters in Jeju Island:
Immerse yourself into the festive atmosphere around
Welcome the new year in the Korean's way
Witness dawn at Seongsan llchulbong
Become part of the Seogwipo Winter Sea International Penguin Swimming Festival that happens on first January
Celebrate the taste of love in February
See the yellow canola flowers blooming at their best
Spring Season
The spring season in Jeju Island arrives in March and stays till the end of May. This season boasts relatively warm weather and pleasant conditions. The average temperature fluctuates between 12 degrees Celsius to 22 degrees Celsius during the spring season.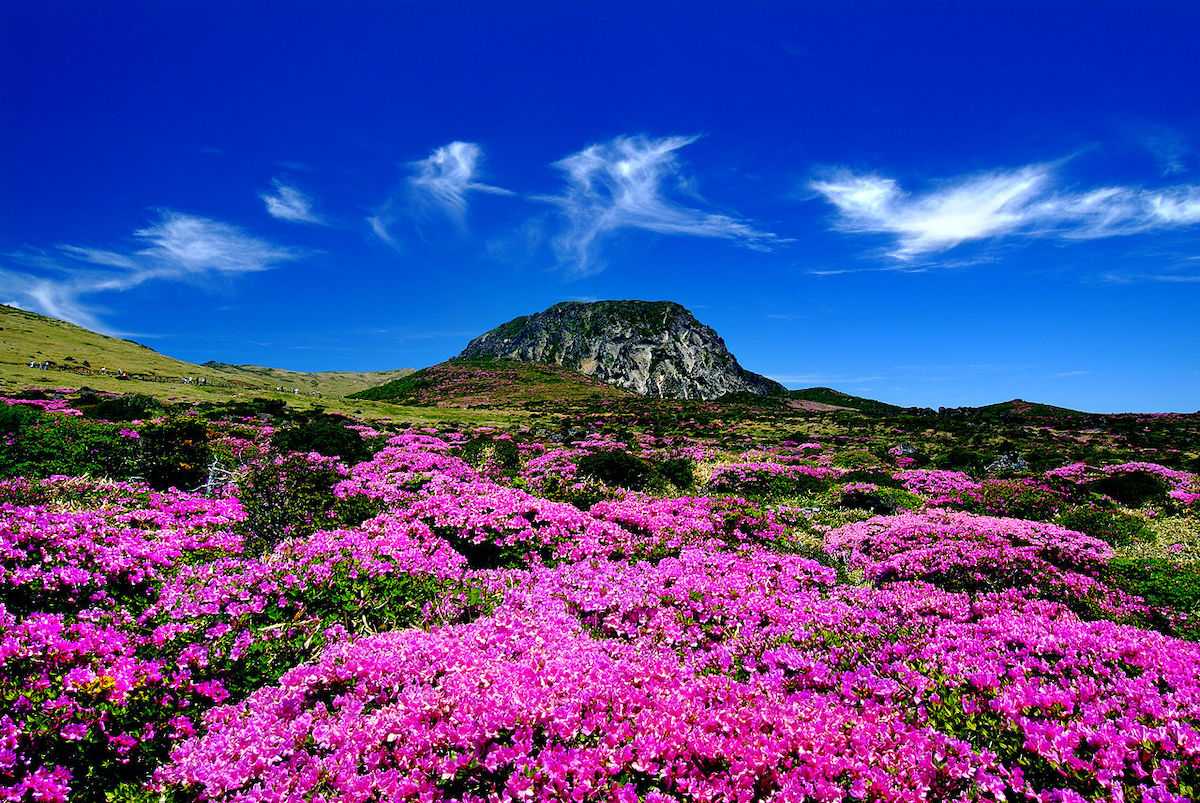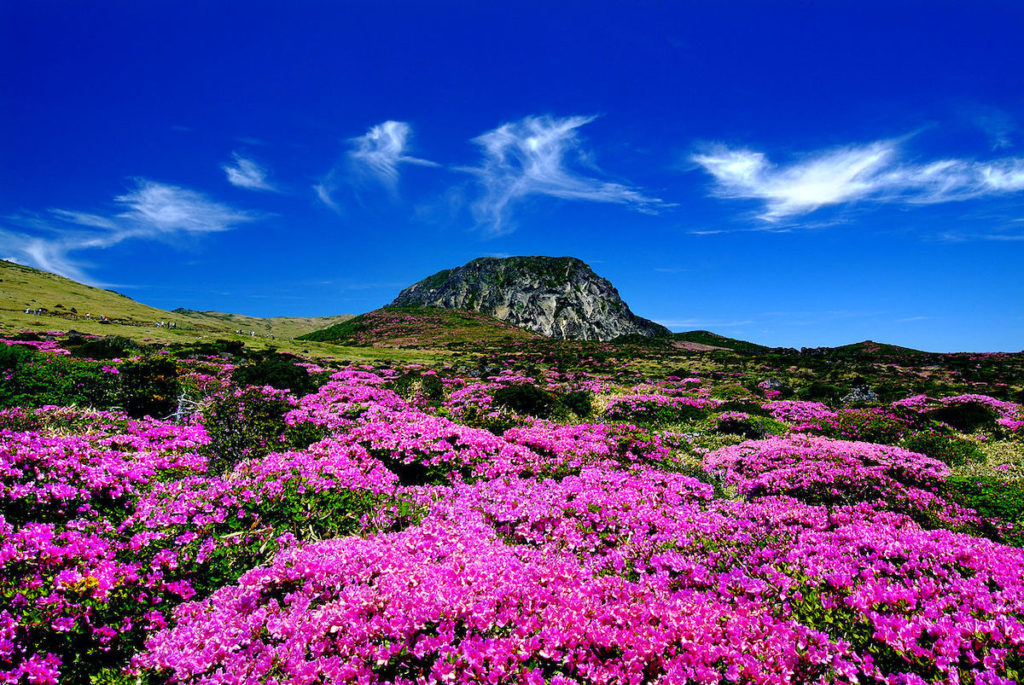 The temperature starts rising in March, and you get to enjoy the temperate sunny weather. This time is best for outdoor activities. Also, the whole island seems covered in wildflowers color making spring the best season to visit Jeju Island if you are a fan of natural beauty of mother Earth.
At the beginning of April, the cherry blossoms start appearing, and Jeju Cherry Blossom Festival is celebrated with huge pomp and show. Similarly, the Jeju Fire Festival is celebrated to ensure a great harvest. Thus, spring is at its peak of beauty here in April.
Things to do during spring in Jeju Island:
Relax at the hot mineral water springs
Enjoy seasonal Korean delicacy called fried gosari
Celebrate the birthday of Buddha in May
Watch the beautifully decorated temples and take part in the lantern parade
See the cherry blossoms and other beautiful flowers alongside the island roads
Summer Season
Here comes the hot and humid Summer Season in its full swing at Jeju island. During this season, the temperature touches the 24 degrees Celcius mark. The beaches open up to get rid of heat by swimming or other water activities.
July and August are regarded as the hottest months here. So it is the best time for surfing on the waves, swim or dive into the freshwater in Jeju. Also, don't forget to have tasty and fresh seafood like sea urchins, etc. So in August, hit the cafes located in the Jeju island area and beat the heat.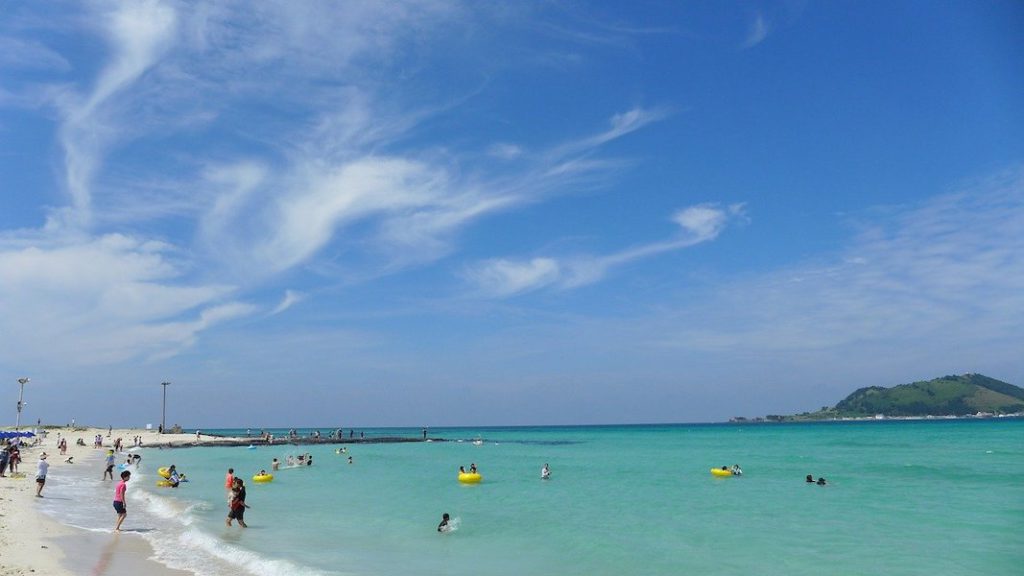 To cool off, try their famous summer food. During August, the beaches and hiking trails are heavily occupied. To have fun, you can head to other little popular attractions around. Moreover, Jeju island receives heavy rainfall in summer, so make your travel plan accordingly if this is the best time for you to visit Jeju.
Things to do during summer in Jeju Island:
Do climbing, snorkeling, windsurfing, and other outdoor activities
Spend time and enjoy yourself at the beach
Eat bingsu and naengmyeon
Get drenched in heavy rain
Autumn Season
From September to November is the autumn season at the famous Jeju island. The average temperature during this season is between 20 to 25 degrees. However, near the end of November, the weather starts turning cold, supported by little rain and dry air.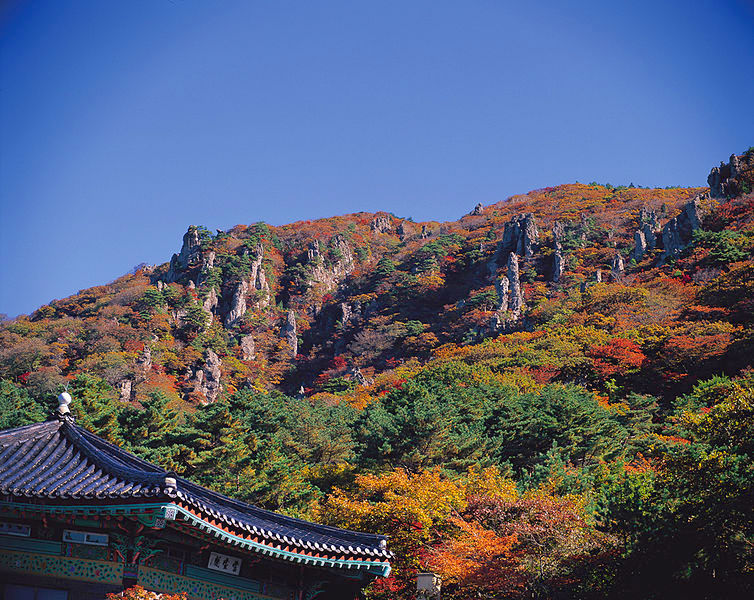 Many Koreans and foreigners travel during this time, so you will find hotels and other accommodation options at a cost higher than usual. We suggest you make a booking in advance to save your hard-earned money.
The trees start changing their color and turn to the red and golden combination. The fruits begin to ripe by October. You can purchase them in bulk or as per need at roadside stalls, supermarkets, shops, etc. Next comes November, the weather turns colder, which makes it best for hiking.
Things to do during autumn in Jeju Island:
During the fall, enjoy the scenery around
Enjoy South Korea's biggest holiday, Chuseok
Take part in different activities around like picking tangerines and other citrus fruits
Relish the different fruits available, especially the persimmons
Explore the walking trails covered in snow
Final Words
So, all that above is a short summary of different seasons in Jeju Island. As you read through, you will realise that some of the months are more suited to your travel making them the best time to visit the Jeju Island. This short guide will also give you an idea about possible activities during each season that you can indulge in during your trip.
Immerse yourself into the awesome atmosphere here and enjoy the fullest. If you want to know more about Jeju Island, then let us know in the comments.
Love it? Pin it!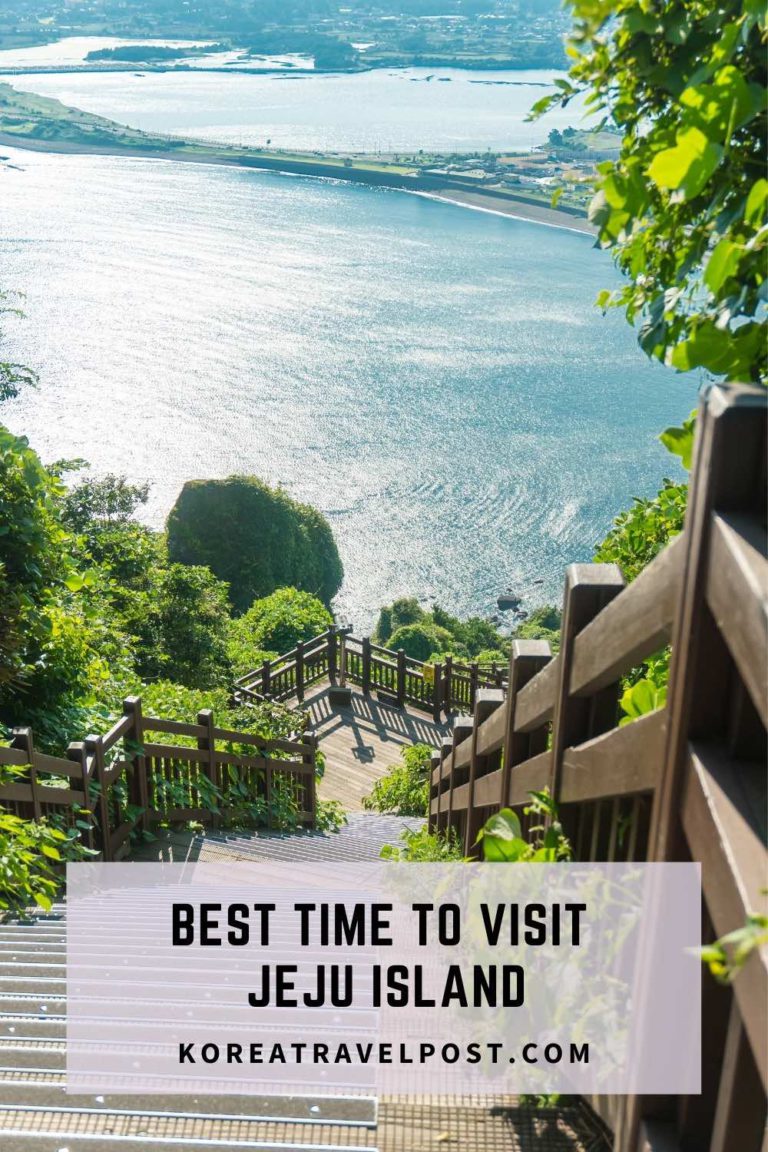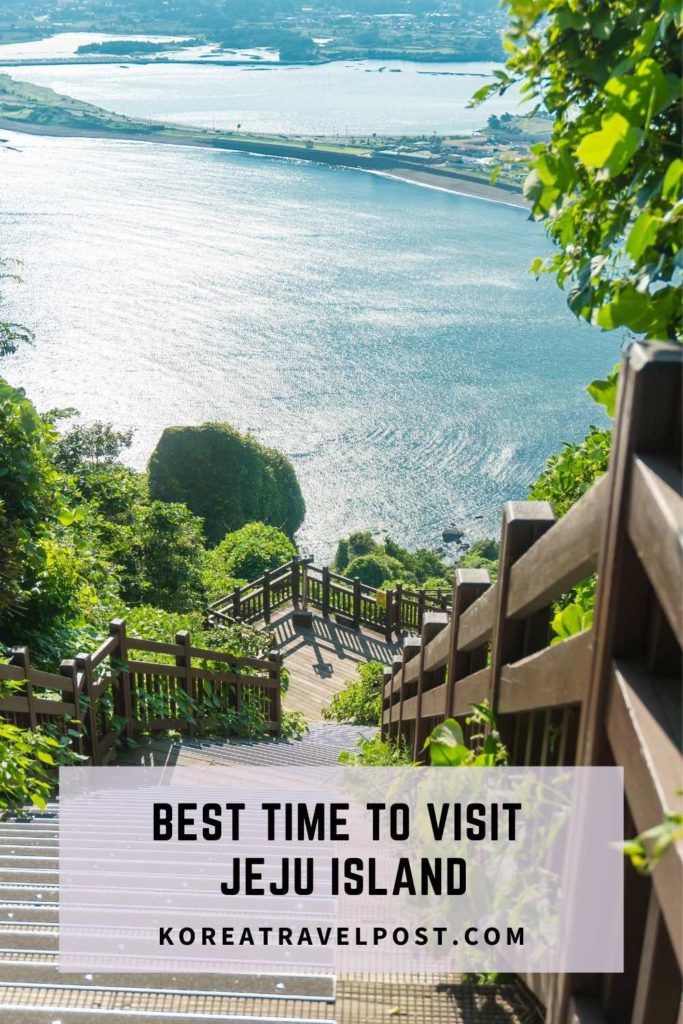 Don't forget to check out these other South Korea travel posts:
16,476 total views, 5 views today