Winter may not feel like the peak time to visit Jeju island, but that doesn't make your whole experience a less memorable one! Sunrises are more ethereal if you take a hike to the snow-covered peak of Mount Hallasan. You can have a brunch at local restaurants and try the classic Jeju black pig. You can also find some other local seafood that will be something new for sure. And best of all, lower and more affordable hotel charges! Although chilly, the climate is quite romantic, but you always find a cozy cafe to get your warm cuppa coffee or hot chocolate. Some of these best cafes in Jeju are famous for spectacular views of the sea, aesthetic decor, and fantastic coffee. 
Some of the Best Cafes in Jeju
"What to do on Jeju Island?" said no tourist ever!
And for most of them, food is an attractive element for traveling, and Jeju is not far behind in meeting their expectations. That is why tourists hunt down the best cafes and the best restaurants in Jeju to fulfill their heart and tummy, amidst all their hectic travel plans. Here's a list of some of the best cafes in Jeju . If you visit all of them, it'll feel like a mini Jeju food tour, to complete your travel experience.
Want to enjoy a gorgeous view of the sea with fresh coffee and desserts? Search no more, Bomnal cafe Jeju, is THE place for you. This cafe is also famous as the filming location of Korean drama "Warm and Cozy", starring Kang Sora and Yoo Yeon Seok. Famous K-pop star, G-Dragon, filmed the SBS Variety Show "Thank You" in this cafe. So, K-drama and K-pop fans, do not miss this place!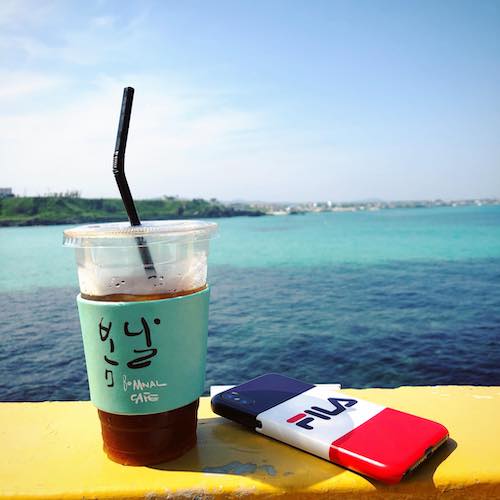 This cafe has wooden interiors that are quite chic and cozy for a coffee on a lazy winter afternoon. They also have an outdoor sitting area. It might not be quite the thing during winter as the ocean breeze can be quite chilly. But if you are wondering where to see the sunset in Jeju, you can witness a pretty amazing one from here!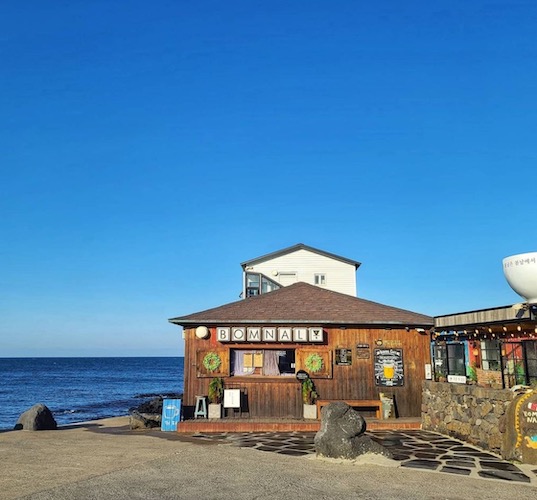 You can also avail of lodging at the Guesthouse Bomnal, especially if you are on a tight budget and visiting with a group of friends. They have dormitories with 5 or 6 beds (separate female/male rooms) and are quite affordable. You must book in advance as the beds are limited and get sold out soon.
"By the shore of the stunning Hamdeok, Cafe Delmoondo stands

I tread softly across the sand, my coffee warming my hand."
Well, that is our amateur attempt at poetry. But Cafe Delmoondo's fresh and aromatic coffee will surely help your mind write some brilliant verses. Yes, it is that good! Their coffee single-handedly takes this cafe to the list of best cafes in Jeju.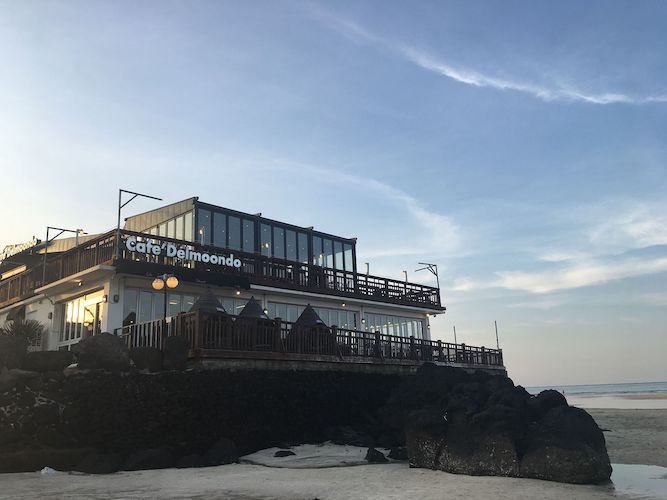 If you are thinking of having a brunch in Jeju and find yourself by the Hamdeok beach, you must give this cafe a shot. Their hot baked bread and desserts are quite the iconic pair around the area. You can get some beautiful Instagrammable snaps with the blue sea in the background, and relax, and let the ocean breeze calm your soul.
#3 Innisfree Jeju House
Innisfree is an internationally famous Korean beauty and cosmetics brand. They have thousands of patrons and admirers from around the world, not only for their high-quality products but also for the all-natural ingredients and eco-friendly packaging.
Make-up and beauty enthusiasts should surely not miss out on this place in Jeju. The store is on the first floor, where you can also customize a facial pack at a very affordable rate. The Green Cafe is on the second and third floors.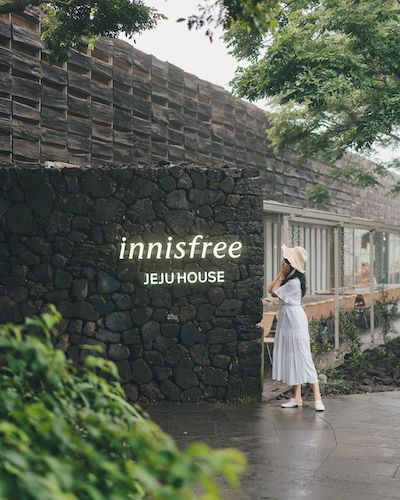 The interiors mirror their eco-friendly stance, as it is very green, with wooden furniture and many lush vines, leaves, and shrubs. It is one of the best cafes in Jeju to have a healthy food menu of smoothies, fruit juices, and light salads. The fruits and vegetables are sourced from independent farmers and organic farms of Jeju. If you love your drink sweet and tangy with citrusy flavors, try out their Jeju Pink Lemonade. It is the most refreshing drink ever!
Their desserts are light yet delicious. Try out the Jeju Citrus Sudachi Cake and treat your palate to the sour and citrusy Sudachi as you dig into the spongy layers with lemon-infused cream. The stuff tropical dreams are made of!
Will Be A Whale Cafe, Jeju is a trendy cafe by the Woljeongri beach. Also known as Woodstock Cafe Jeju, this cafe is run by Bohemian owners, and their sense of freedom is so contagious! They have made every corner of the cafe into a wonderful piece of art and creativity, not the regular decor you find in other best Jeju Island cafes.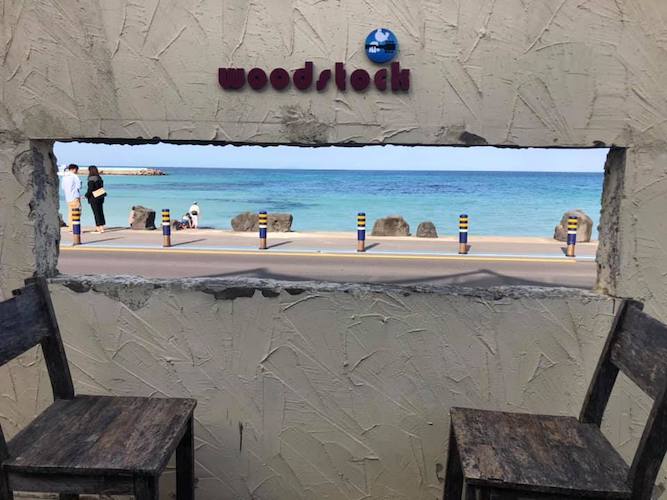 Woodstock Cafe has an incredible dessert and beverage menu to chose from and relish, watching the calm ocean waves and smelling the salty sea all the while.
#5 Cafe Woljeongri Lowa
This Woljeongri Beach Cafe is a comfy one to curl up with your coffee and enjoy the view of the ocean. You can use the rooftop sitting area for basking in the sun and vibe with the soft ocean breeze.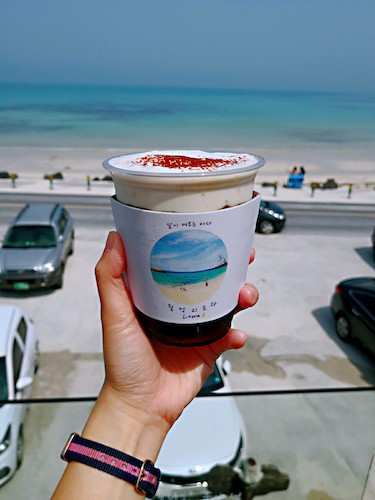 Try out their specialty drink, the Hallabong tea as well! A refreshing drink in the cafe, followed by a walk by the sea, such a refreshment for the soul.
These are some of the best cafes in Jeju that you should not miss on your next visit!
Read more about Jeju Island on KoreaTravelPost:
Love It? Save Pin for Later!