Jeju Island, also known as "The Hawaii of South Korea," is known for the pristine scenic beauty among travelers. The breezy palm-laden beaches, iconic volcanic tube sites, and the perennially soothing climate attract thousands of tourists every year. Jeju is the biggest island in South Korea, and the coastline is dotted with many attractive beaches. These beaches are suitable for swimming, water sports, and even relaxation. Here are some of the best beaches in Jeju Island, where you can get equal doses of adventure and relaxation. 
Read More: Jeju Island: The Hawaii of South Korea
Some of the Best Beaches in Jeju
Enjoy Family Time at Hyeopjae Beach (협재해변)
A family trip to Jeju is incomplete without Hyeopjae, one of the best beaches in Jeju Island, located on the western side of the Hallim park. This beach boasts of clear waters and white sandy coasts with some marvelous sights to witness.
The water is shallow, with a depth of 1.2 meters, which makes it family-friendly. As the sun sets on the horizon, the skies burst with blush and golden hues, and this precious shot deserves a space on your Instagram. A light splash in the sea is safe, and there are changing booths nearby for your aid.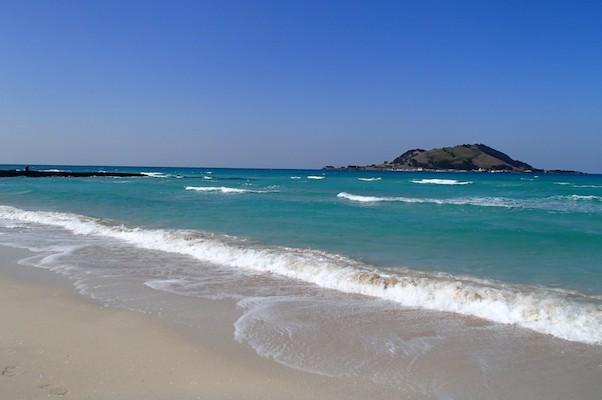 Brimming with cafes, restaurants, you always have somewhere to recharge yourself. Hyeopjae beach campsites are another attraction for adventure seekers. You can try some local cuisines and seafood like sora and jeonbok.
Savor Some Alone Time at Geumneung Beach (금릉)
Another beach in Hallim Park of Jeju, Geumneung is the quieter sibling of Hyeopjae. With fewer cafes and tourists, it is your ultimate destination for relaxation.
It is the perfect place to rest near the beach with a book in hand and a coffee for the company. Dwell in some alone time and self-reflection and savor some treats from the local cafe. The white sands contrasting with the clear, azure waters are a treat to your soul.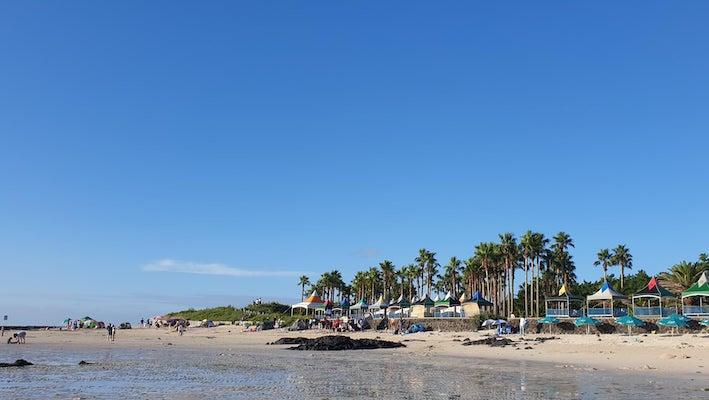 Looking for a place just to sit down and relax after a hectic journey? Then you should surely make a stop at Geumneung.
Self-Indulgence at Gwakji Gwamul Beach (곽지 해변)
The Gwakji Gwamul beach is located in Aewol-eup in Jeju. While Jeju Island is laden with beaches, this one is quite underrated, nevertheless impressive. It is perfect for spending some quiet time with your loved one here, bask in the peacefulness and rejuvenate.
The summertime weather in Jeju is the best, and the other seasons are quite favorable. Thus, you can have a lovely time whenever you visit this place. During the day, you can make a splash in the sea or get some tan on the beach. At night, treat yourself with barbeque and camping, or enjoy the local seafood at the local cafes and enjoy the view.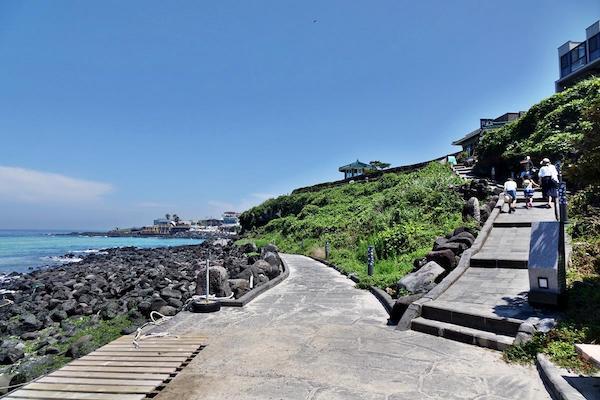 The Gwakji beach has an open-air bathhouse nearby. So, you can wash off the uncomfortable sand before moving on to your nighttime adventures. Built from Jeju's classic volcanic rocks, it will surely be a refreshing experience.
Vacay Vibes at Hamdeok Beach (함덕해수욕장)
Hamdeok, tucked at the Northern part of Jeju, is the perfect place for vacations. It is very near to Jeju airport and often frequented by foreigners. A popular weekend retreat for South Koreans, you are sure to enjoy some major vacay vibes here. It is one of the most happening and popular beaches in Jeju Island.
The receding tide in the morning opens up the sandy coast for you to sit in the sun and relax. There are tide pools for kids to play in, and you can go for a crab hunt among the rocks. You can go for a swim in the sea, and even try out kayaking in the clear waters.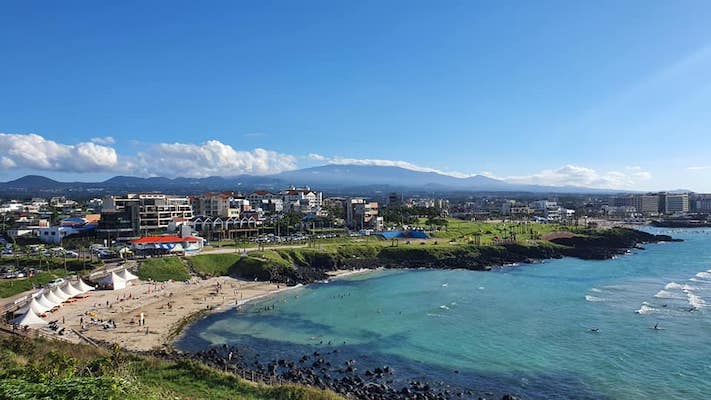 There are three beaches in Hamdeok; one of them is more secret and spacious. It is located near Seowoobong Peak, and the perfect spot to get away from the madding crowd.
The beaches are lined with spas, cafes, and restaurants for tourists to refill and rejuvenate. One such famous cafe is Cafe Delmoondo that serves excellent coffee and an impeccable view of the sea.
Water Adventures at Jungmun Saekdal Beach (중문해수욕장)
Jungmun Beach is the hub of water sports in Jeju island. The very first surfing club in Korea was established here in 1995 and has been an attraction of this place ever since.
A famous beach in Jeju, the place has several cafes, restaurants, and 5-star hotels for a smooth tourist experience. The Hyatt hotel has earned fame after the popular K-drama series Boys Over Flowers wedding scenes were shot here.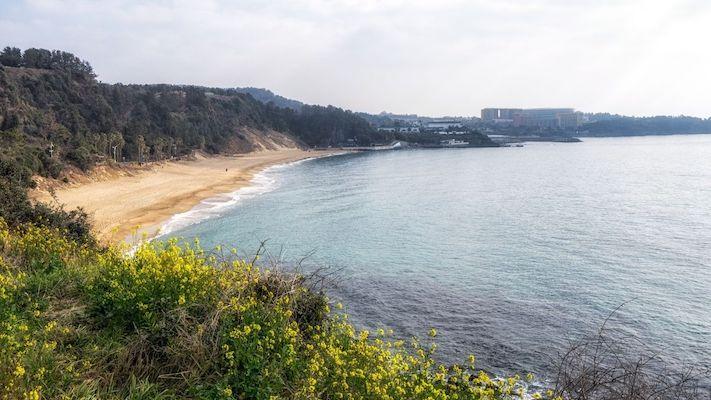 Along with surfing, banana boat riding is a sport many tourists try. The beach holds many national and international events like the International Surfing Competition, Summer Shore Movie Expo, and the Winter Sea Penguin Swimming Competition.
If you are not comfortable with crowded beaches in Jeju Island, there are private spaces where you can relax instead.
Explore Quaint Cafes near Woljeongri Beach (월정리해변)
This beach is more famous for the cafes lined along the coast. A bit far from downtown, but the view and atmosphere make up for the extra mile.
The Wolgeongri beach cafes are both aesthetic and stylish, serving lip-smacking food. You can try some snacks, seafood, and famous Jeju pork dishes to beat the hunger pangs. If you cannot enjoy the sea due to bad weather, you can sit in a cozy cafe with your favorite cuppa coffee to beat the chill.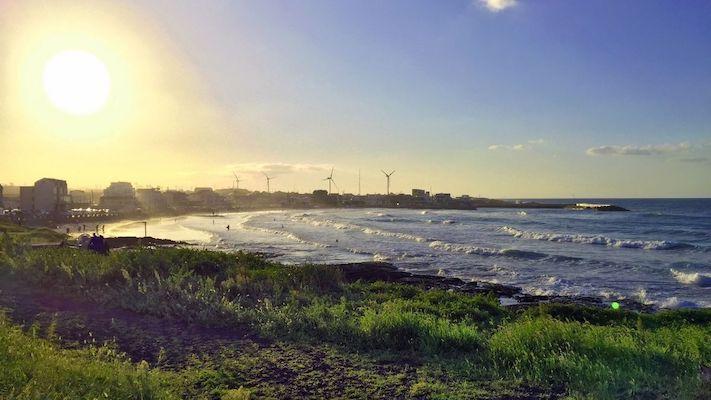 Some of the famous cafes are Morae Bi Cafe, Cafe Lowa, Gopdeulrak, Yuko Sikdang, and many more.
During summer, the azure ocean is suitable for swimming and water sports. You can get many Insta-worthy clicks both in the aesthetic cafes and near the sea.
Read More: Jeju Island's hidden gems that you shouldn't miss out
These are some of the best beaches in Jeju Island, but the list does not end here. You can explore many more on the road and create your own beach story!