A trip to South Korea cannot be complete without visiting and exploring the hidden gems of Jeju Island. And there are so many things do, places to explore, and other must-have items from Jeju that you won't want to miss out on! You definitely need to sample the local cuisine and buy souvenirs to checkmark your bucket list!
Jeju takes all this to a step ahead by offering some of the most exclusive and unique foods, souvenirs, and activities that can only be found on the island. These must-have items will certainly make you want to do it all!
Must-Have Souvenir from Jeju
Starbucks in Jeju offers unique set of merchandise collection. As you wait for your order of delicious Jeju Hallabong Black Blended Tea, you can browse through the exclusive Starbucks' merchandise that's only available on the island. These must-have items include your classic souvenir options with unique designs. The Jeju statue keychain is the most popular souvenir from the exclusive collection. It features a dolhareubang (grandfather stone statue) wearing a Starbucks barista outfit with hallabong accessory.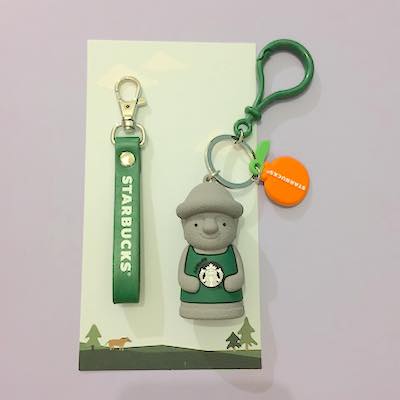 Other items in this must-have collection from Jeju Starbucks include Jeju hydrangea ecobag (available in summers when hydrageas are in full bloom), Jeju sea glass, Jeju tour mug, Jeju magnet set, and Jeju hydrangea barista keychain.
Unique Food
The love affair of South Korea and chicken is long and everlasting. New flavors come out every week and Jeju is no different from the rest of the country. To enjoy Jeju style chicken, you must visit Jejusluv Dak. They serve Daenggyul Chicken, a Jeju Island exclusive dish. It is a crispy fried chicken that is coated in sweet and tangy tangerine sauce.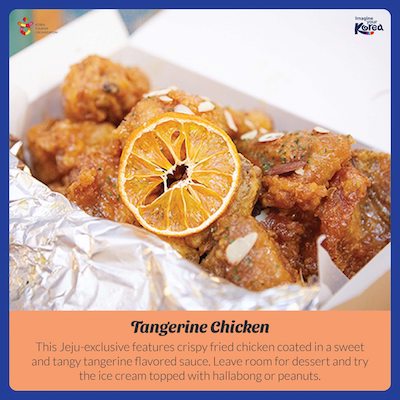 But, chicken is not the only must-have dish that you should try, the dessert is also amazing. You should try the local ice cream that is topped with hallabong or peanuts. Both are locally produced and the island is even famous for the same.
Bread Tour in Jeju
Snack are essential on any trip. Places like Gyeongju and Cheonan are quite popular for their snacks. For Jeju, there isn't a specific snack that is popular, but there are certain foods that are more famous amongst locals. So, you can head out to a local food trip on Jeju!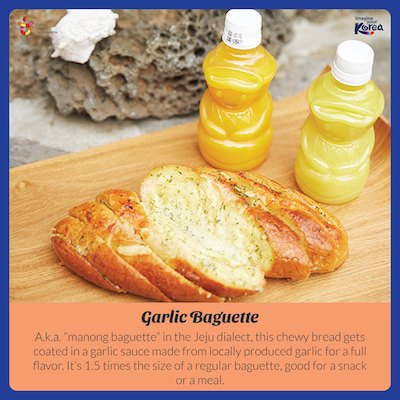 Along with the ever famous tangerines and Jeju black pork, Jeju locals also enjoy their one-of-a-kind breads from local bakeries. You can explore one such bakery at Hamdeok Beach – Audrant Bakery. They are popular for their manong baguette, the garlic baguette. It is a chewy bread that's coated in garlic sauce prepared from local garlic. They are huge in size – about 1.5 times the regular baguettes.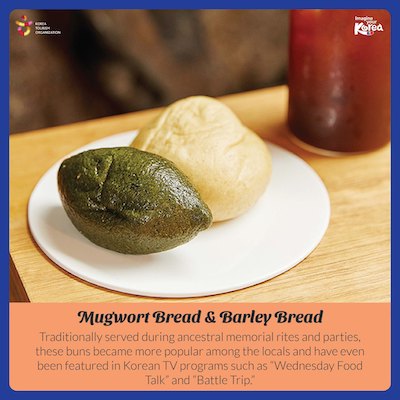 Other Jeju exclusive breads include the mugwort bread and the barley bread. Although now barley bread is more associated with Gyeongju, Jeju has a longer history with it. The barley bread buns were served traditionally during ancestral memorial rites and parties. To enjoy these two breads, you can head on to Sinchon Deokindang!
So, when you visit Jeju Island next, you must-have some of the unique and locally produced bread!
Jeju Local Products
There are many other unique products that you can get only in Jeju Island. These are locally produced. Some of these locally produced items include Hallasan Soju, Friends in Jeju, Jeju tangerines, and many more.
Hallasan Soju is only available in Jeju and it comes in a miniaturized size bottle. As it is in a small bottle, it is easier to try and it also makes for a great gift idea for friends and family. The speciality of this soju is that it is made using water collected in volcanic rocks for a clear taste.
Other popular must-have items from Jeju include tangerines. You can find everything from cakes to chips in tangerine flavors. You can find these in local markets and even gift shops at the airport for a last minute shopping.
Read more travel articles about Jeju Island from KoreaTravelPost: