When it comes to talking about Jeju Island, Korea, everyone thinks of gorgeous deep blue seas and the majestic Hallasan Mountain. But, that's not all that Jeju Island is about! You can experience that yourself when you walk along the Jeju Olle Trails that are spread over the entire island!
Jeju Olle Trail has been selected by Britain's Active Traveler Magazine as one of the 10 best coastal walks in the world. It is the only Asian destination among the top 10 coastal trails, standing alongside GR 34 in France, Milford Track in New Zealand (from the "Lord of the Rings" movies), and others.
Here's our ultimate guide that will introduce you to the marvel of Jeju Olle Trails. With this guide, you can fully enjoy all the treasures of Jeju Island.
History of Jeju Olle Trails
They aren't as old as you might be thinking. The trails were constructed by the Jeju Olle Foundation in 2007. In Jeju dialect, 'olle' means alleyways. So, these trails are essentially allowing safe passage to travelers from one part of island to another.
Markings and Signposts
As a tourist, you don't have to worry about not understanding the signposts along the trails. Here is a short guide from the "Jeju Olle" website that you can use to follow and understand the signposts.
Even if you get lost along the trail, no need to panic. Simply follow the signs to check where you are and where you have to go!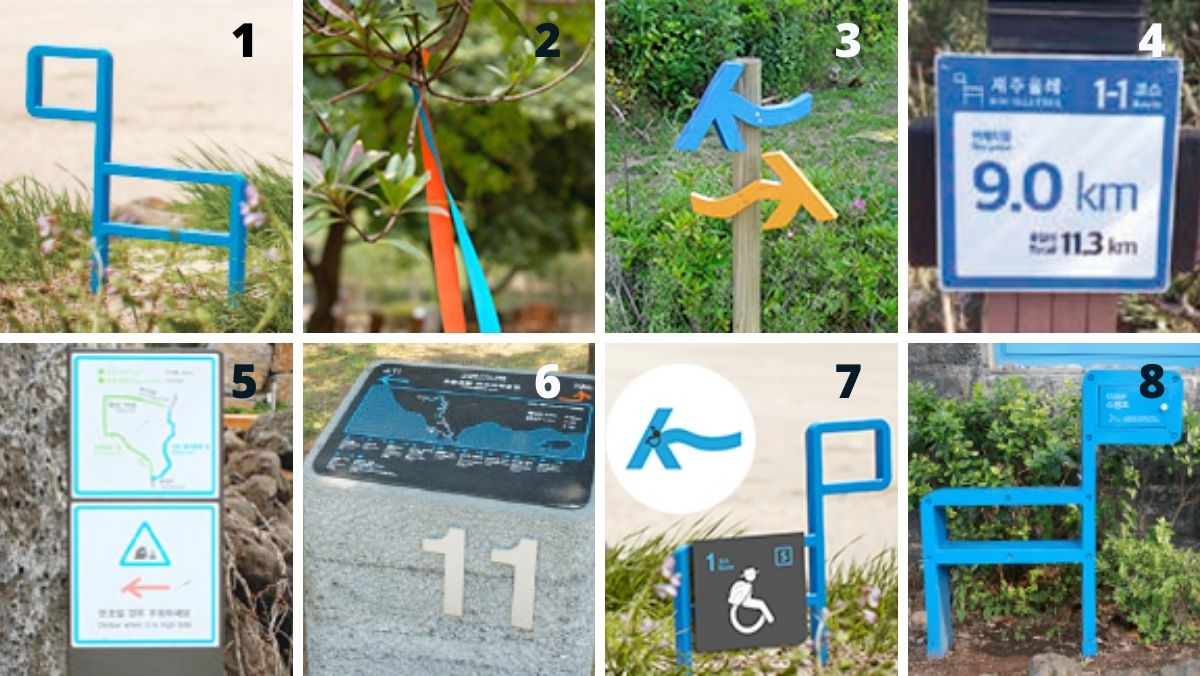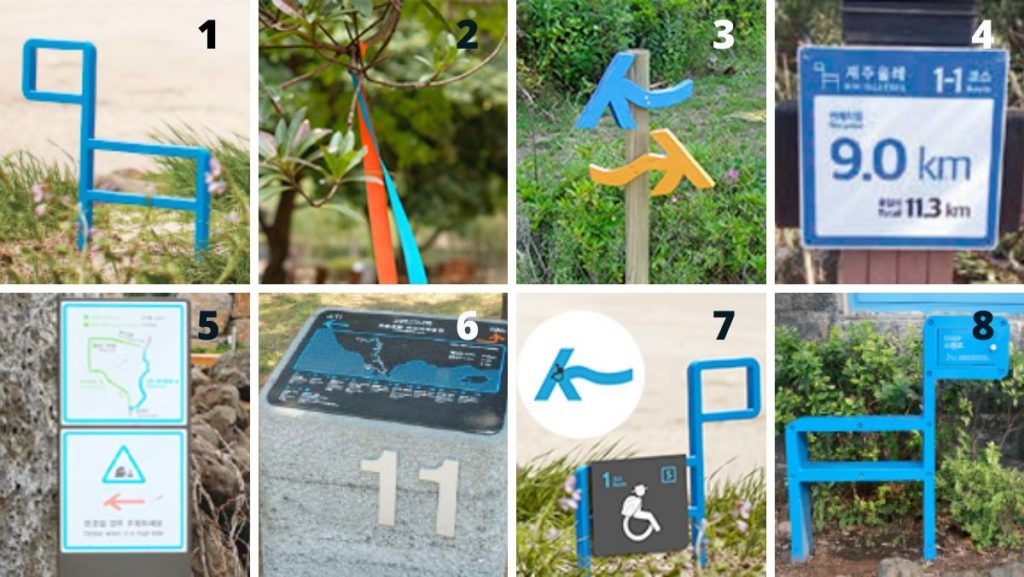 1. Wooden Horses (Ganse Pony)
Ganse means pony in local dialect. The horses point in the direction of the route at a forked road. If they are at a tourist attraction spot, you can see the description of the place on a saddle on the Ganse.
2. Ribbons
The vibrant blue represents Jeju ocean and orange symbolizes Jeju tangerines. You will find these at a height above the eye level on trees and utility poles. If you want to check the direction, you can look at a distance as they are clearly visible.
Two orange ribbons together indicate a temporary detour.
3. Arrows
Arrows on the ground, stonewalls, and poles are basic symbols of direction. Blue points in the forward direction of the Jeju Olle Trail while orange points in the reverse direction.
4. Distance Plate
The plate mentions the remaining distance and total route distance from the starting point in forward direction. The plates are 16 cm in height and are fixed on utility poles or trees.
5.Hazard and Detour Signpost
These are markings for dangerous areas or temporary detours. The signpost gives the details of detour route, including a map, distance, and total time.
6. Starting Point Sign-Stone
Sign-stones for starting and finishing points are made with native basalt. All the relevant details are mentioned on the sign along with major spots, map, and even toilet locations.
7. Wheelchair Accessible Area
An 'S' on the Ganse's saddle indicates wheelchair accessible area in the Jeju Olle Trails. There is 'F' at the finishing point. A wheelchair sticker on the blue arrow indicates the forward direction.
8. Stamp Ganse
Ganse-shaped stations with signature stamps from each route are available on these points. There is one at the starting, one in the middle, and one in the end of the route. You can get all the three stamps of all routes to get a finisher's certificate and a medal!
What You Need Before Exploring Jeju Olle Trails
Before you start your exploration of the Jeju Olle Trails, here are some essentials that you should carry!
Trekking shoes or sandals are a must as they will make walking along all the different terrains in the trail much easier. Carrying a water bottle is essential as some of the forest areas do not any any stores or houses. You also have to bring your garbage bag so that you don't litter along the pathways. Jeju Olle Passport and Guidebook is another must-have for hikers as you can collect signature stamps along the hike to make your memories.
Along with these essentials, you can also carry some cash, transportation cards, long sleeve clothes, and a snack.
Safety Rules
Officially, the trail closes at 6 pm in the summer and 5 pm in the winter. Avoid hiking after these hours.
Refrain from walking in bad weather, visiting steep valleys and cliffs off the trail.
In case you miss a Jeju Olle sign, go back to the spot where you saw the last one.
Keep a track of remaining distance to the finishing point by using the distance plates.
Always carry emergency contacts with you at all times.(Jeju Olle Call Center @ 064-762-2190, Police @ 112)
If you are worried about safety while walking alone, you can rent a smart watch, "Jeju Travel Protector" from the Tourist Information Center. The watch has an emergency button that alerts police with the GPS location of the user. You can rent this watch for free with a deposit of KRW 50,000.
Routes of Jeju Olle Trails
There are currently 26 routes consisting of 21 main routes and five subroutes. Each of these routes varies in difficulty and distance. You can choose a route that meets your expectations. Out of all the routes, shortest one is about an hour-long while the longest takes up to eight hours to complete.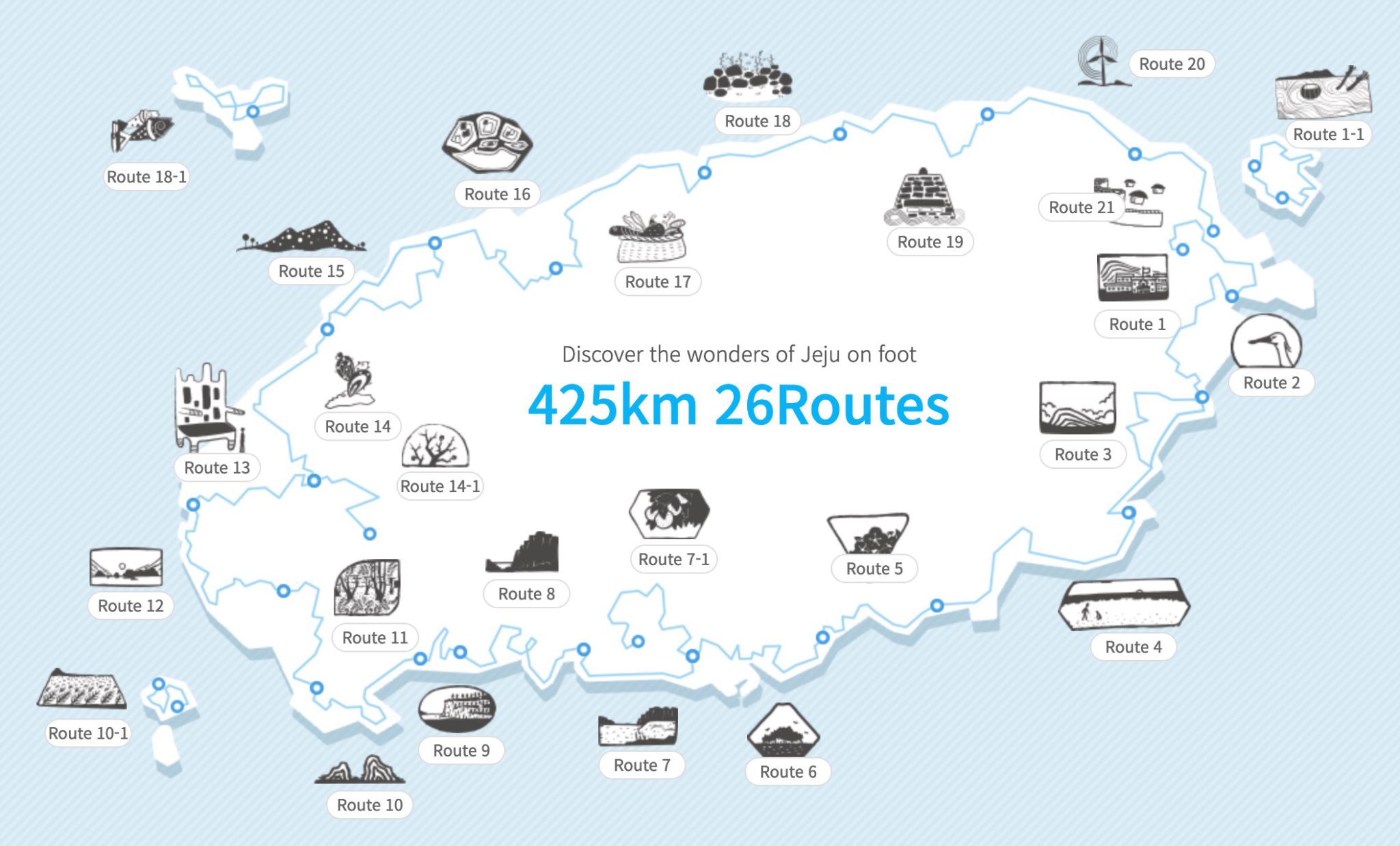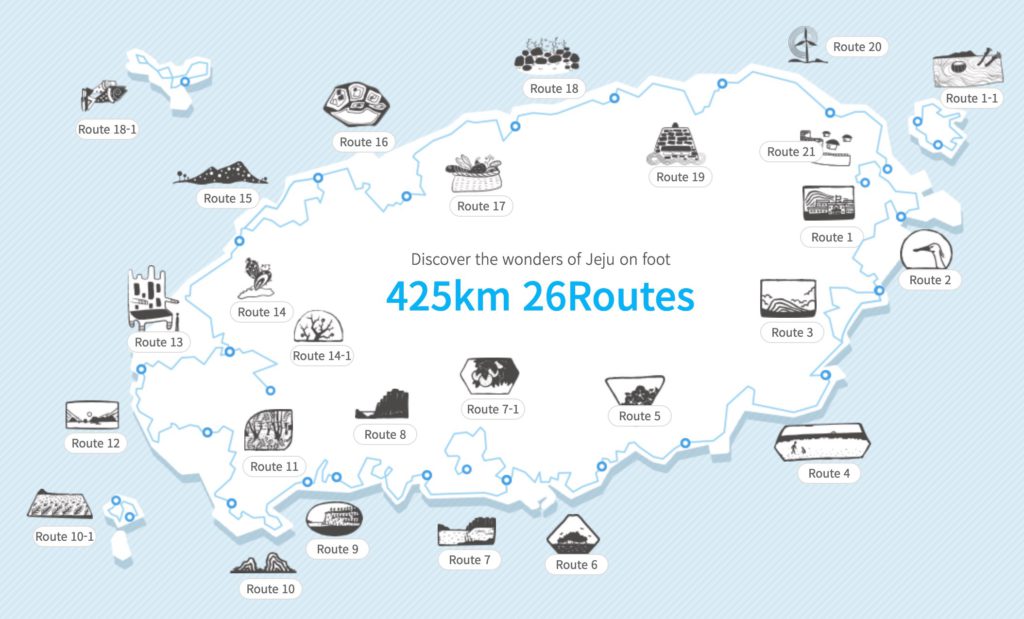 These 26 trails were created in 2007 linking a single road on the outskirts of Jeju Island. Combined total, the length of the trail comes out to be 425km.
Here is a little more information about some of the routes on the trail.
Route 1
On the far east side of Jeju, Route 1 includes the Seongsan Ilchulbong Sunrise Peak. As you descend from the UNESCO World Heritage site, you will make your way to Gwangchigi Beach for some stunning views of ocean and rocks.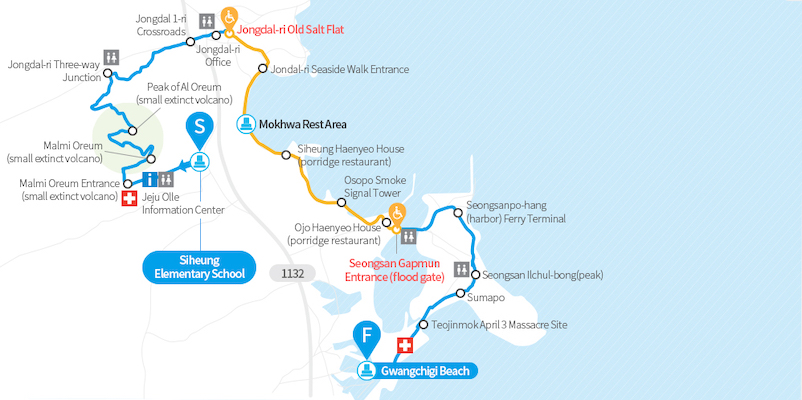 Route 7
Like most other routes on the Jeju Olle Trail, Route 7 also faces shoreline. It is the most-visitied route of the trail because of the scenic beauty of the southern sea. The trail welcomes you with cool sea breeze and sights like Oedolgae Rock and Wolpyeong Awenangmok.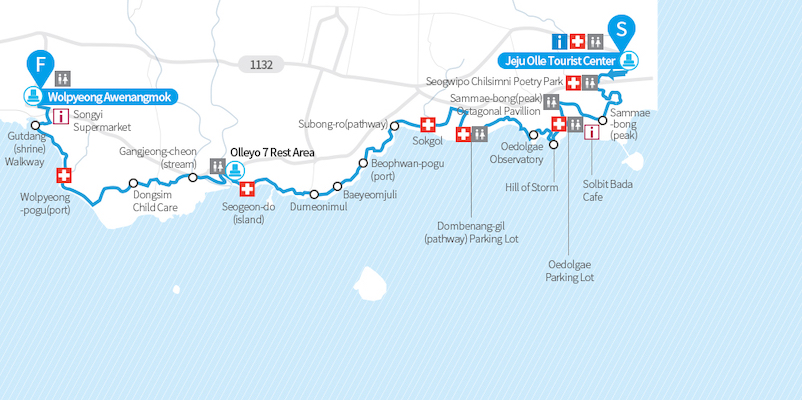 Route 10
This trail covers the south-western coast of the island. There are several unique geological features that you can check out on the trail. You will also cross Sanbangsan Mountain and Songbaksan Mountain from where you can see the island's main mountain, Mount Hallasan.
After all the mountains, you can hike further and stop by Yongmeori Coast (dragon head coast), where you can see a grand rock formation that resembles head of a dragon.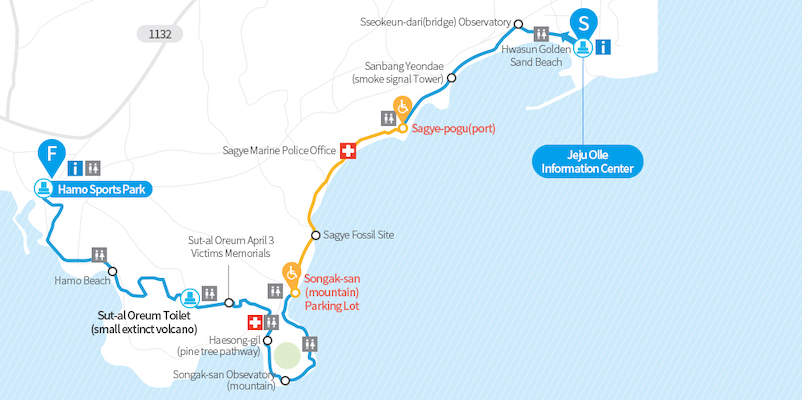 Route 19
It covers the north-eastern coast of Jeju Island. On this trail, you can get close to the beautiful scenery as well as history of the island.
Route 14-1
As most of the routes run along the shoreline, trying out something that runs inland is a must! Route 14-1 starts from Jeoji Arts Information Network Village and heads inward, ending up at O'sulloc green tea fields. In this route, you will pass through a valley and a unique forest with subtropical and temperate flora.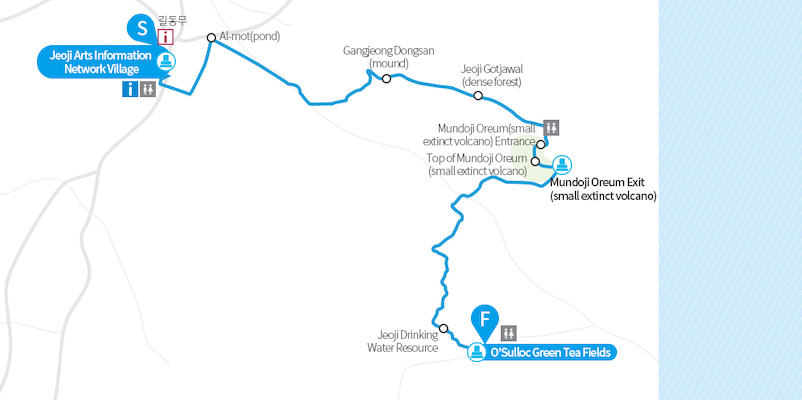 Best Way To Explore Jeju Olle Trails
Grab the essentials and take our ultimate guide to Jeju Olle Trails with you and explore away!
If you are planning on exploring Jeju Olle Trail at present, you can join in "WANDER JEJU ON FOOT" event. You can enjoy a day hike with local trail mates on some of the most beloved Jeju Olle Trails every Satruday in April and May. Register on Trazy.com with a registration fee of KRW 28,000 for a day full of fun.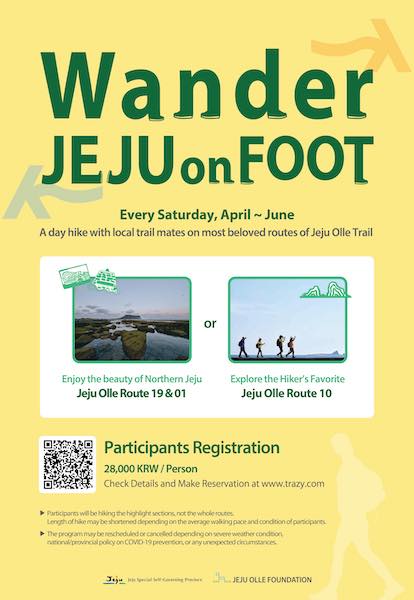 Check out other magnificent sights of Jeju and read more about them from KoreaTravelPost:
6,727 total views, 5 views today