Are you in Seoul and looking forward to trying out some Korean cuisine? If yes, then don't forget to enjoy the famous Korean barbeque. As there are many meat houses are available at every corner, it's tedious to find the best Korean BBQ spots in Seoul.
Whether you want to have a meal after a whole day of exploring, casual work dinner, a blind date, or feeling the cravings at 3 am, we have got you covered!
Here is a list of the best Korean BBQ Spots in Seoul, and these restaurants will serve you high-quality, fresh, and Korean-style barbeque food.
Try the exotic food at these Korean BBQ places and get a rich taste of Korean cuisine. So, let's begin without any ado.
It came into existence in 2005 and is a chain of restaurants famous for its delicious Korean barbeque. Maple Tree House is a family and foreigner-friendly place. Even the locals love this place due to the traditional Korean barbeque food it offers in a modern setting.
Maple Tree House is also the best place to begin your Korean barbeque adventure. Their premium beef offering is full of flavor, is thinly cut, and tender. In addition, they serve fresh, chilled pork, which they store in suitable temperature conditions to give you the best taste.
Also, their menu has a list of a variety of authentic Korean dishes made using fresh ingredients.
Usually, Koreans love to have beef as it is their most popular barbeque food. But, besides this, another popular item is pork, and you can find it at Woosung Galbi. This place is particularly famous for having a bite of amazing pork after a tiring day.
Woosung Galbi has an old-school touch, is authentic, and lets you experience eating traditional Korean barbeque food. Unlike most other restaurants, you will hardly find décor items like things hanging around or elegant decor. But still, besides being simple, the place is super famous for its menu.
After entering, get yourself seated on a plastic chair and enjoy the meal you ordered. The two most famous items to have here are Pork Rinds and Pork Galbi. Overall, having food here will not cost you a fortune, and if you are on a tight budget, this is one of the best Korean BBQ spots in Seoul. By merely spending 12,000 won, you can satiate your hunger and desire for some excellent Korean BBQ. After having a hearty meal here, you will surely not feel hungry for a long time as the portions are excellent.
Aside from the above place, there is another place to visit if it's your first time in Seoul and you are looking for famous Korean BBQ spots. Here you can experience the meat getting grilled by the experts right in front of your eyes. As per your selection, they cut, prepare, and serve you the food. Moreover, the place has an excellent ventilation system which means that you will not smell like seafood after leaving Wangbijib.
Their chefs prepare meat in such a manner that it melts in your mouth, leaving an excellent after-taste. Snowflake Marbling is one popular dish, and the name comes from the visible white veins in the cut of the meat, which ensures a rich taste without many fats. Their salted meat dishes are a must-try for a heavenly experience. You can pick sirloin, your own choice marinated rib, or other nicely cut pieces.
Baetjang
It is quite uncommon to travel solo into a famous Korean barbecue restaurant and have food alone. But fortunately, many restaurants are rapidly following the idea of welcoming lone diners. Welcome to Baetjang, where you can relish Korean Barbeque without feeling awkward even for a moment, even if you are dining alone!
Read More: Mukbang – The Latest Viral Korean Food Trend
Unlike other restaurants having a huge table for sitting, you will find a long bar here that is custom made for the people dining alone. The restaurant has small grills set up to cook meat. Baetjang doesn't fall on the cheaper side, but you still need to try their famous short loin, sirloin, and skirt meat here.
Any money spent here will certainly be worthwhile as you are getting a flavorful experience. Also, don't knock yourself out by having soju shots if you want to keep the memory of visiting Baetjang alive for long. Pay a visit now for a wonderful experience.
Do you want to taste the finest galbi jjim? Yes, then you must check out Seocho Myeonok. Koreans often cook galbi jjim in the open grill, but here in this restaurant, you get galbi cooked differently. They serve this delicious dish by first mixing it with traditional Korean seasonings and flavorings. Then, they cook it slowly in the beef broth. Additionally, they add peppers and mushrooms to add sweeter and spicier flavor to the galbi jjim dish. Their whole process of preparing galbi jjim is different from what was followed by other Korean barbeque restaurants.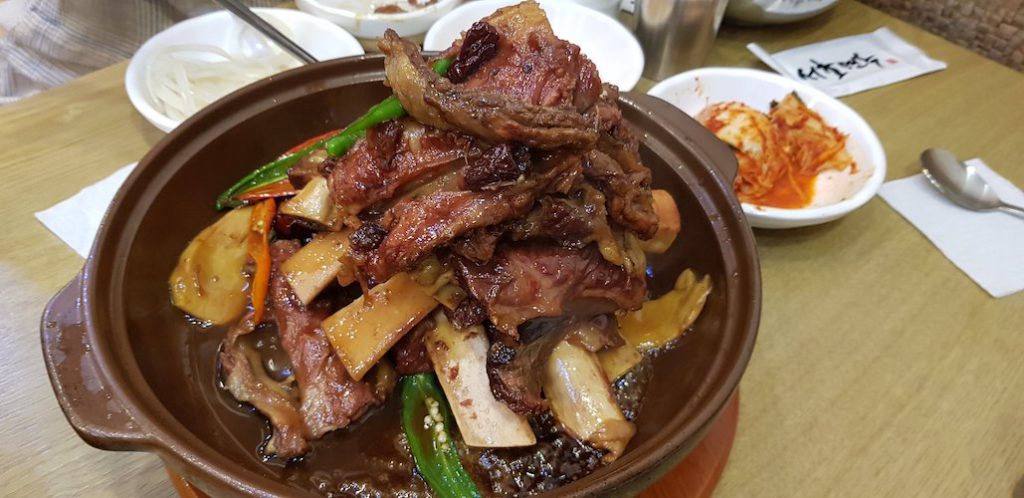 Seocho Myeonok's galbi jjim is both locals' and travelers' favorite. Have it and leave with a memorable experience.
Besides the above, some other worth visiting Korean BBQ spots in Seoul are Saebyukjib, Byeokje Galbi, Songpa-gu, Daedo Sikdang, Seongdong-gu, Yang Good BBQ, Palsaek Samgyeopsal, Mapo Sutbul Galbi, and Tuppul Deungshim.
Final Words
We hope you have an exciting experience while exploring the best Korean BBQ spots in Seoul.
Depending upon your choice, whether you like lamb, pork, or beef, this guide has all the places listed to make the best out of your journey and relish quality food.
Is your mouth watering? Yes, then get ready and take a stroll around to visit the places we listed above.
Have a wonderful time in Seoul, enjoying delicious Korean BBQ.
Don't forget to check out these other South Korea travel posts:
Love it? Pin it!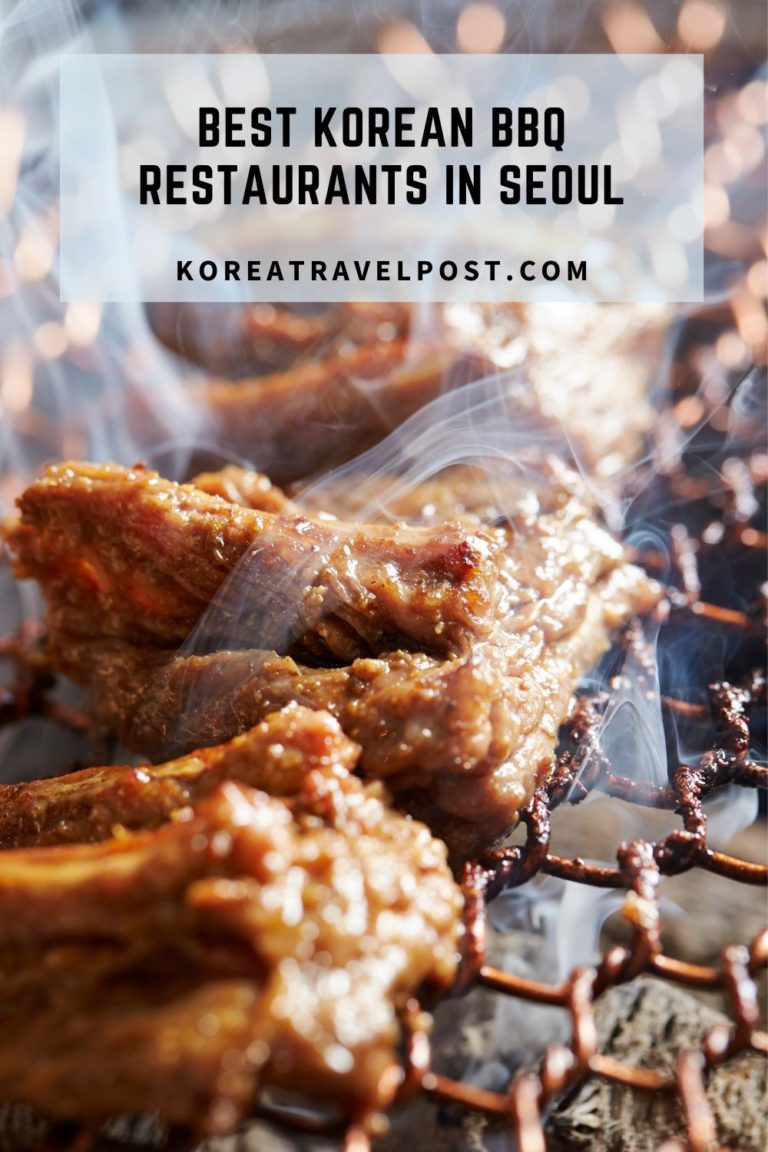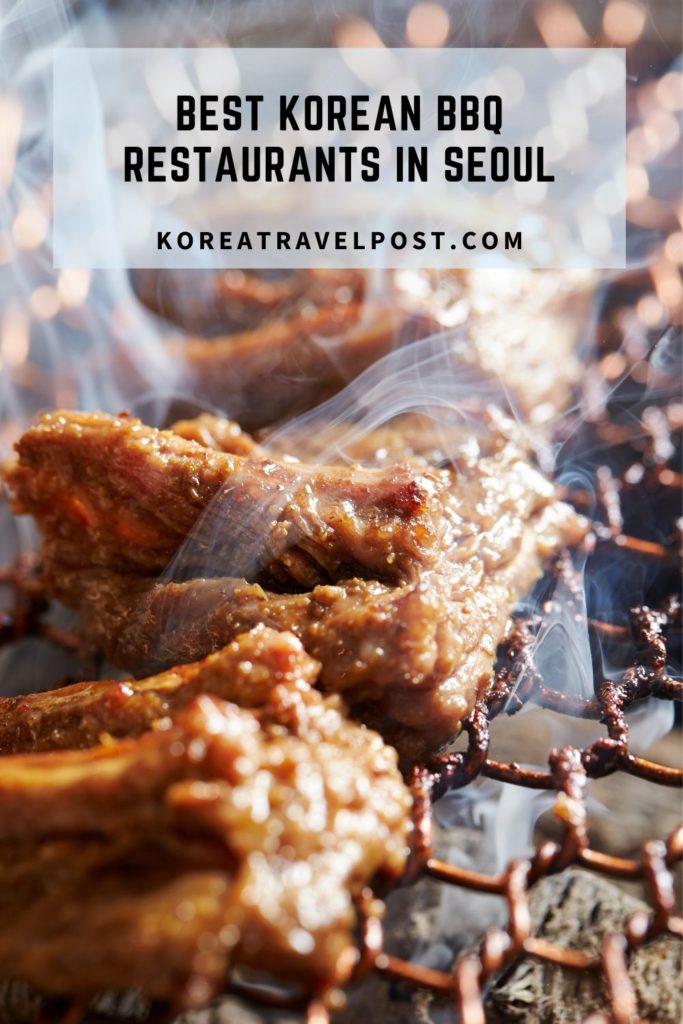 8,001 total views, 14 views today