Are you looking to connect with your spiritual side and explore the rich cultural heritage of Seoul? Look no further! Plan a visit to some of the best temples in Seoul on your next trip to experience serenity and tranquility in the city.
Seoul, with its long and complex history of Buddhism, is home to various famous temples. From the popular Bongeunsa Temple in the city center to more remote and historical sites boasting unique charms – there's something for everyone! Best part? You can conveniently experience all these places without dedicating an entire day. On special days such as Buddha's Birthday celebrations, visitors an enjoy spectacular decorations sprinkled throughout each temple, making them even more memorable experiences!
For a truly dynamic experience, opt for a visit to the temples of Seoul on any given day. You will find serenity and tranquility as you stroll through these spiritual sites and nurture your mind and soul in the process!
Suguksa Temple
Nestled away in the northwest of Eunpyeong-gu, Seoul is a glistening golden temple that shines brilliantly when sunlight hits. Truly one-of-a-kind and unlike Kyoto's renowned Kinkakuji Temple, this hidden gem has yet to be discovered by many. Unbeknownst to most, it is the only golden temple in Seoul you must visit and just one out of two throughout Korea! If you are looking for a tranquil and secluded escape, Suguksa Temple is the perfect place.
Built during the Joseon Dynasty in 1459 by King Sejo to commemorate his late son, it was initially created as a therapeutic center for members of royalty suffering from psychological issues. Every springtime, ahead of Buddha's birthday, visitors can admire its awe-inspiring lotus lanterns hung around the temple grounds. Don't miss out on strolling along the paths nearby at Seooreung Royal Tombs after your visit!
Bongeunsa Temple
Bongeunsa, Seoul's most iconic temple and oldest building since 794AD, was created near Yeoju's Royal Tomb of King Sejong before being moved to its current spot in the 16th century. It now stands across from COEX Mall in Gangnam as one of Korea's most significant historical landmarks!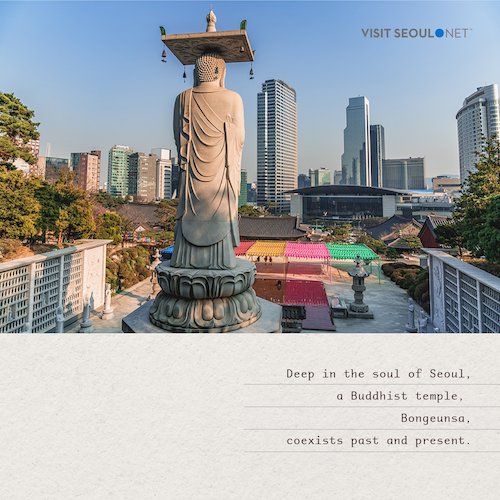 Bongeunsa's colossal 75-foot-tall Buddha statue has become a beloved symbol of the city, enticing visitors to its picturesque aura. Tourists can even spend the night at Bongeunsa Temple and partake in peaceful activities such as yoga, meditation and scripture translation. At the same time, Buddhism's timeless figure observes them with an unwavering gaze.
Hwagyesa Temple
Tucked away from the hustle and bustle of Seoul city, this temple is a tranquil sanctuary that was first constructed in 1522. Located at the base of Samgaksan Mountain, it has become renowned for being centered around Zen Buddhism and having been home to Korean monk Ven in years past. During his travels, Seung-Sahn imparted knowledge to a staggering 50,000 disciples.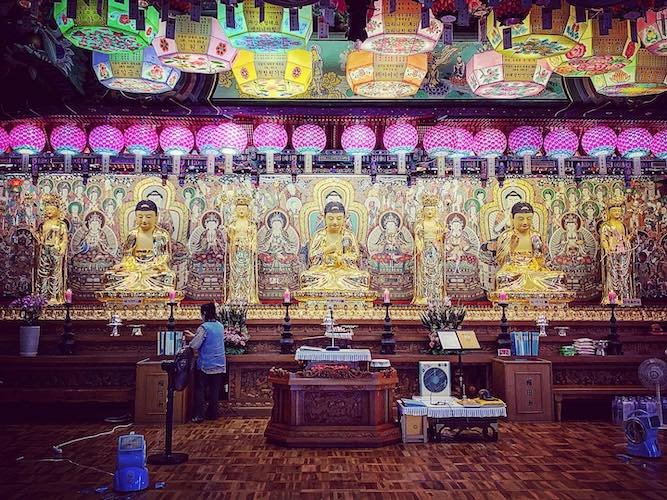 Even today, monks and nuns from around the globe pilgrimage to Hwagyesa to practice their faith in that same environment. Hwagyesa is also popular for its therapeutic Oktakcheon stream, which has an illustrious reputation for curing skin and gastrointestinal ailments.
Bongwonsa Temple
Bongwonsa Temple is famous for its tranquil lotus pond and captivating beauty in the heart of Seoul. Having been established back in 889, it was restored to its current site on Yonsei University grounds in 1748 until it sadly suffered damages during the Korean War. Nonetheless, a complete restoration occurred by 1966, with subsequent visits from all around marveling at this stunning temple.
This hallowed building has a mysterious and sinister past. It was once referred to as the temple for "regulating monk's discipline," although its true purpose remains unclear. What's more, beneath its tranquil facade lies an unsettling secret; in 2004, it became the final resting place of Yoo Young-chul's victims – he who was both a serial killer and cannibal.
Cheonchuksa Temple
Surrounded by picturesque trails and resplendent rock formations, Cheonchuksa Temple stands stately in Bukhansan National Park atop Dobongsan Mountain. It's said that "Cheonchuk" was bestowed on this temple during the Goryeo Dynasty. An Indian monk visited and declared it reminded him of a mountain in his homeland—and thus, the name came to be! Nowadays, visitors can enjoy purifying tea ceremonies or participate in moonlight meditation retreats at Cheonchuk Temple.
Geumsunsa Temple
Are you curious about what it's like to live as a monk? Then the 600-year-old Geumsunsa Temple could be the perfect fit for you! You'll have access to panoramic views of a calm mountain stream, accompanied by a rustic stone bridge. All this can be enjoyed if you wake up at 4: 30 am – are you up for the challenge?
Immerse yourself in tranquility as you explore Bukhansan National Park's breathtaking pine forests and craggy outcroppings. Learn the secrets of Zen meditation from patient monks, discover their bell-tolling rituals and experience a traditional tea ceremony. Choose the temple stay program that best suits your needs – from three hours to three days!
Ending Note
No matter your interest or level of spiritual exploration, Seoul is home to many awe-inspiring temples and historic monasteries that can satisfy any cravings for the serene. Whether planning a full temple stay experience or merely wandering around seeking mindfulness, there's no better way to explore Korea than through planning a visit to its age-old temples, especially in Seoul! Have an enlightening journey!
Related Posts
3,537 total views, 5 views today