South Korea, a tiny but significant country in the eastern part of Asia, constitutes the southern part of the Korean Peninsula. It is at the top of the wish list of many travelers across the world for various reasons. It can be because of the culture that this land possesses, delicious and mouth-watering delicacies, historical places, colorful markets, modern cafes and bars, impressive cities, and the homeland of omnipotent K-pop music and K-drama. However, one aspect of South Korea that remains undiscovered under its altering overshadows of day and night is its vibrance in the nighttime darkness. Several destinations in the country are the 'cities that shine after dark' according to Korea Tourism Organization. Check out the famous places you can visit at night in South Korea for a unique and amazing experience. 
Night Markets
Seoul never sleeps; moreover, it gets busier at night once the locals leave their offices. To shop like a local, get the most of what Korea can offer in terms of delicious South Korean food. The best place to visit is the Seoul Night Market in Korea, with long lines of some mouthwatering food stalls.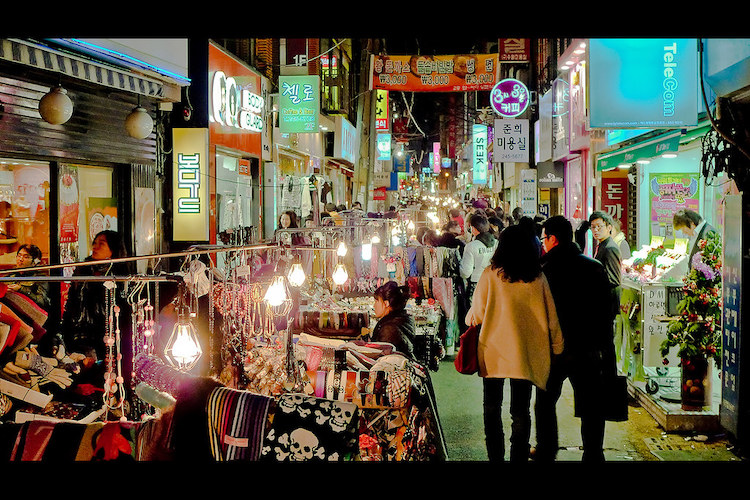 Give your tastebuds a little ride to heaven by visiting Daegu Seomun Night Market, consisting of over 80 food stalls exquisitely line, serving both traditional and modern Korean fusion. Busan Bupyeong Kkangtong Night Market is popular for its fish dishes availability and its unforgettable taste. Noryangjin Fisheries Wholesale Market is the largest fish market in Seoul where you can enjoy boat-fresh seafood until midnight. Jeonju Nambu Market lines with booths and carts.
Night markets in Korea are known as "Bamdokkaebi." 'Bam' means night, and 'dokkaebi,' which means goblin, just as goblin comes out at night and disappears by the morning. 
Bars and Clubs
South Korea has a vibrant and diverse clubbing scene that can cater to a wide range of tastes and preferences. Whether you are a fan of hip hop, rap, electronic, or even liver performances, there's something for everyone to enjoy. For tourists, Seoul is one of the most popular clubbing destinations, with Itaewon and Gangnam being home to some of the best clubs in the country. In addition to these areas, there are also a number of other clubs and bars in Seoul that cater to different music genres and crowds. Many clubs also have guest lists and dress codes, so it's worth checking beforehand. Some of the most popular clubs in these areas include Cakeshop, Club NB2, and The Henz Club. Lit Lounge is another one of the popular upcoming clubs that is becoming a favorite among tourists and foreigners. It's a hip-hop club and a hookah lounge bar where you can enjoy weekly events, celebrate your special days and party with friends.
Palaces and Fortresses
In Korea, cultural sites come alive when the sun goes down. Deoksugung Palace and Changgyeonggung Palace are two cultural sites worth watching at night. They are open till 9 pm and have the most beautiful lighting.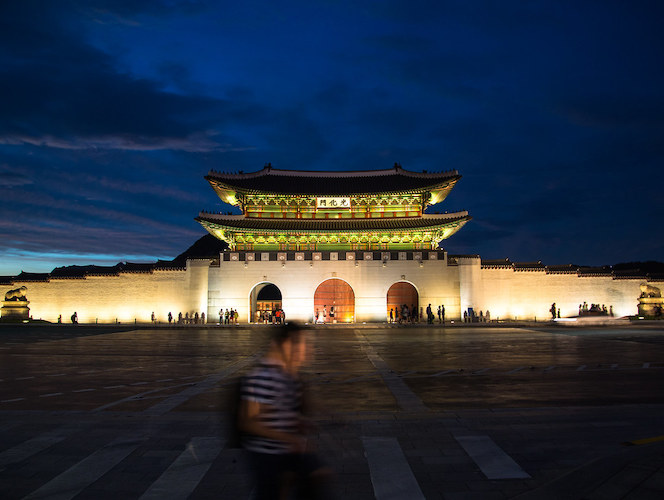 Deoksugung Palace is one of the five grand palaces built by the Joseon Dynasty and is one of the best places in South Korea to visit at night. The buildings are of varying styles, including stucco, natural cryptomeria wood, and painted wood. Changgyeonggung Palace, on the other hand, is a UNESCO World Heritage site that offers a 'Moonlight Tour,' starting from spring and extending to autumn, which includes private guided tour facilities and traditional performances. 
Gyeongbokgung Palace also serves evening tasting of Korean Royal cuisine from spring to autumn. And if you are up for a night walk, Naksan Mountain Trail stretching from Hyehwamun Gate to Heunginjimun Gate is always preferential.
Shopping Malls in Dongdaemun
Shopping at night is something not very usual in the west. However, this is what makes South Korea so special. It is never too inappropriate to go for some retail therapy. Seoul's Dongdaemun fashion town remains open until dawn. Here you can fulfill your midnight shopping dream. You will find many large shopping malls there, and since the shops are gaping till midnight, you will get plenty of time to do bargaining. The area is popular among buyers for its stylish and moderately priced clothes. There are bright lights all around and and you can also stroll around the green area when you need a break. There are also some good cafes and restaurants within the malls where you can take a quick stop and enjoy your dinner.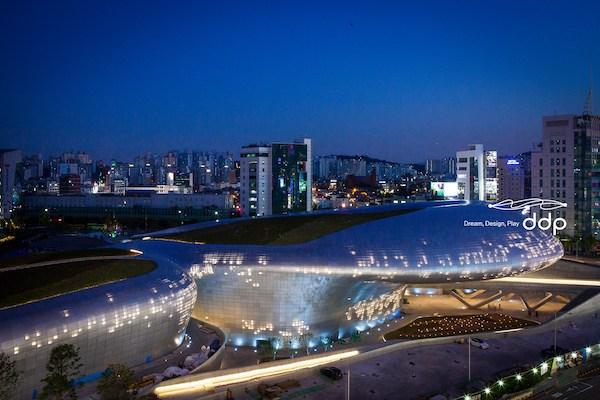 Hangang Ferry Cruise
There is always something about being able to experience the dark space around you and viewing the twinkling lights from afar on the water. The Hangang River Ferry Evening Cruise began in 1986 and had been traversing the Hangang River as it runs through Seoul since then. You can enjoy the astonishing and stunning nighttime view on board as a Hangang ferry passenger.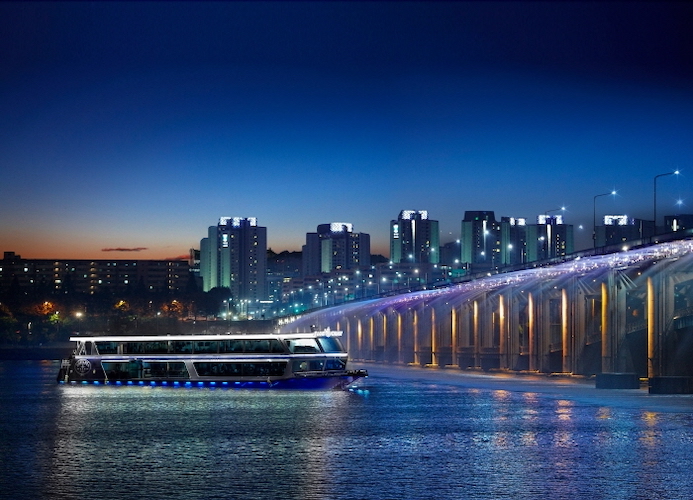 Pojang Macha Tent Bars (포장 마차)
If you want to gain some different kind of experience, then you can head towards Nagman Pocha Street in Yeosu. It is Korea's one of the best places to enjoy the seaside at night and a good place to enjoy delicious foods. It is home to little tented wagons selling in pojang macha.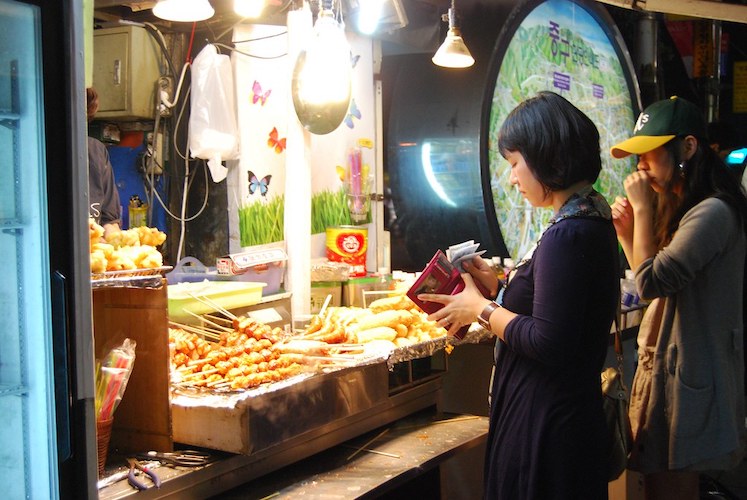 Eating in the open air, accompanied by your friends, and just seeing the rest of the world go on is an amazing experience. There are more than 20 pochas, or tent bars, under the Geobukseondaegyo Bridge. Most of the tent bars dominantly sell seafood pairing with them some drinks. You will find various street foods such as hotteok, gimbap, tteokbokki, sundaes, and many more. During the Busan International Film Festival, bars at the pojang town behind Haeundae Beach in Busan are frequented by Korean actors and actresses. 
The suggestions above are, however, the best of what South Korea can offer! A night tour in any place whatsoever is very rewarding, as it is the best way to explore a city. And South Korea has a good heart and bright light for the night with so many places to visit at night! 
7,133 total views, 7 views today