Are you ready to discover the undiscovered gems of Mokpo? Follow this guide to Mokpo and plan your itinerary with some of the most stunning sights!
Looking for an offbeat scenic place to escape the hustle and bustle of the crowded cities just for a day? The City of Mokpo is an offbeat location around 330 km away from Seoul, offering amazing things to explore. From K-drama filming locations to mesmerizing Skywalk, this southwestern city in South Jeolla province is not to be missed! Mokpo is an amazing day spot from both Seoul and Gwangju, as you get fast trains to commute. 
How to Travel to Mokpo?
The most convenient way to reach the city of Mokpo from Seoul is through the Korean train, KTX, from the Seoul Station. You get around 7 KTX a day from Seoul, widely spaced throughout the day, so there are no worries if you miss one train. However, it is always better to take the early morning trains that are timed between 6:30 am to 7:40 am. This way, you will get enough time and an entire day to explore Mokpo. The KTX train journey takes roughly 2.5 hours.
If you want some other options, you can choose to depart from Seoul's Yongsan Station, as this one has more trains traveling to Mokpo. You can easily make early reservations through the Korail website or just buy a platform ticket from the station. But please remember, even if you have booked an online ticket, you have to go down to the station to exchange it for a physical ticket.
Intercity buses are also available from Seoul that take around 3.5 hours but are cheaper than KTX trains. Either way, grabbing a window seat is best for soaking in all the scenic countryside views.
Places to Explore in Mokpo
Mokpo Modern History Museum
The Mokpo Modern History Museum features a diverse range of exhibitions featuring models of old buildings dating back to the March 1st Movement, the Japanese colonial period. Here, you can revisit Korea's history by indulging in fun activities like trying on historical costumes, exploring the Pacific War, etc. This museum was also the shoot location for the popular Yeo Jin-goo and IU's drama Hotel Del Luna. Hence, this is an absolute-visit pace for us in this guide to Mokpo.
Mokpo is a city surrounded by blue waters, and it is no wonder why it's called the city of sailors featuring numerous harbors. Hence, one of the best places to visit in Mokpo is the beautiful Maritime Museum featuring shipwrecks dating back to the 14th and 11th centuries. All these, as well as multiple treasures, are on display from shipwrecks. Although most of the descriptions are in Korean, you will miss a lot if you don't visit here. You will learn a lot about the vast history and Korean fishing cultures over the centuries. You will discover many of the traditional Korean fishing villages and the techniques used by them alongside many others.
Mokpo Bridge
If you are someone who loves photography, head straight to Mokpo Bridge if you're visiting Mokpo. This is one of the most impressive sights in Mokpo, quite like the San Francisco bridge, the Mokpo Bridge looks beautiful, overlooking the blue waters during the day, but the lightings are even more photogenic at night. It is an architectural marvel built in 2012 and links Gohado Island to Mokpo.
Visit Gatbawi Rocks
On the east side of Mokpo's harbor is a natural Sandstone and Tafoni formation called Gatbawi. Two figureheads that appear to be wearing traditional Korean hats have been carved out by erosion over the course of millions of years. This is a popular tourist spot in Mokpo. A pedestrian bridge called Boyaenggyo Bridge extends out across to the rocks. Gatbawi could only be reached by ferry before the bridge was constructed there in 2008. Currently, you can easily walk around Gatbawi.
A Guide to Mokpo: Things To Do in Mokpo
Visit the Mokpo Skywalk and Rainbow stairs
Visiting the Mokpo Skywalk should be the topmost bucket list item for people visiting Mokpo as it is a popular tourist destination with spectacular views and the shoot location for the popular drama Do Do Sol Sol La La Sol. the view from the Skywalk is really breathtaking. You also get plenty of photogenic cafes around this tourist spot with beautiful interiors and really amazing food to enjoy your day. One of them is Daebandong 201, which is extra popular among tourists for its beautifully designed rainbow staircase.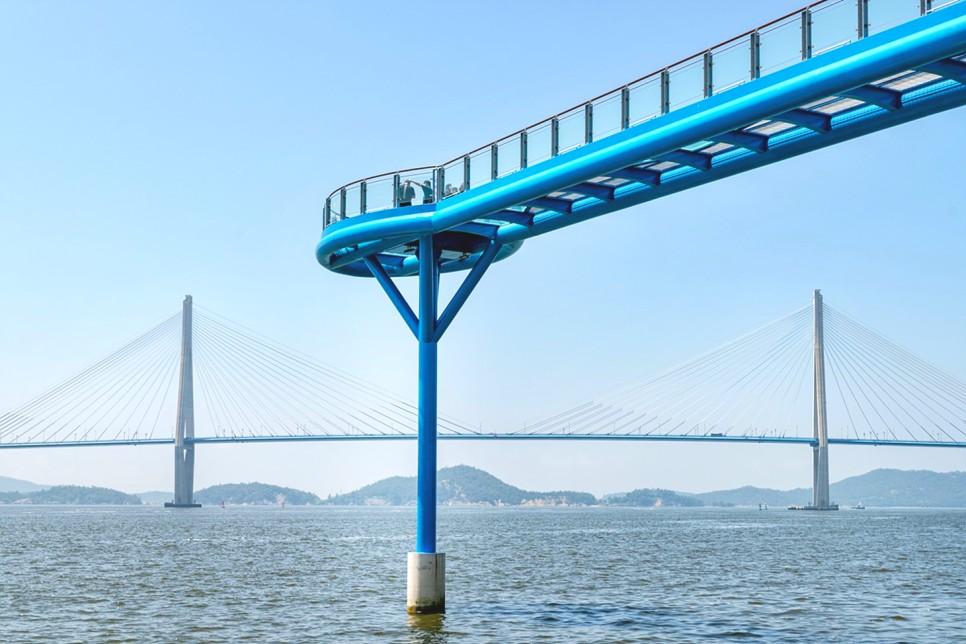 Dine at Dalbam Pocha
Savoring their seafood menu is something you can never miss if you are visiting the Skywalk. Mokpo, a coastal city, boasts the freshest seafood cuisines you can soak in a while in Seoul. And Dalbam Pocha is one the top of the list serving the best oyster and grilled shellfish, which are the must-try dishes here. Not only this, the place offers some amazing views of the nighttime sea waves and moonlit sky. These are a few of the reasons why the place is usually swarming with crowds at night, so it's best to reserve a seat before visiting. 
Take a Cable Car Ride to Gohado Island
The Mokpo Marine cable car riding at 155 meters above the ground crossing the sea and Yudalsan Mountains to reach Gohado Island, is the major attraction of Mokpo. Gohado Island is one of the most popular scenic spots located just 2km away from Mokpo's center. Taking a cable car ride is the recommended route. But you can also drive via the popular Mokpo Bridge. You can even take a romantic boat ride to Gohado, the options are endless, and each one offers an unmissable view of the place.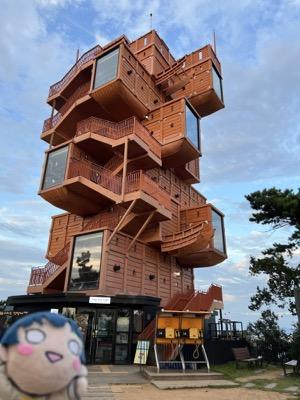 Gohado Island boasts a rich role in history as it was a strategic spot during the 1592 Japanese invasion of Korea. The island played a major role as an important defending ground to fight the Japanese. You get to see a memorial monument for the honorable Admiral Yi Sun-sin at Gohado. You can also admire the stretch of Mokpo harbor from there. Finally, for an amazing snack break, we surely recommend Coffee Panache as your Gohado Island stop for its modern, colorful decor and mouth-watering menu.
Whether you're a local looking for a new adventure or a traveler seeking to escape the crowds, this guide is sure to show you a side of Mokpo that you've never seen before. So come along and let's explore the hidden treasures of this beautiful city!
Related Posts
3,615 total views, 5 views today