Planning a trip to the beautiful province of Gangwon-do? Check out this travel guide to Gangneung to add some magnificent places to your itinerary!
Gangneung is a municipal city on the east coast of South Korea, in the Gangwon-do province. This municipality is the economic center of the Yeongdong region in the Gangwon-do province. The total population of this city is 213,658 as of the 2019 census. This city has many attractive tourist spots and is famous for hosting all ice event competitions for the 2018 Winter Olympics. The Taebaek Mountains, known as the "waist" of the Korean peninsula, are where Gangneung is situated.
The third-biggest city overall, Gangneung is the largest seaside city in Gangwon Province. Due to its geographic isolation from most of the country, Gangneung maintained its own unique culture. To this day, it tends to be more conservative politically and culturally. 
This city has many good places you can visit, many temples and elegant beaches around the city to have a good day in the sun. In addition, there are many places to eat, drink and have fun with your best buddies or loved ones. Let's get into this information in more detail through this extensive Gangneung travel guide. 
Places to visit in Gangneung – Beaches
Among the many beaches around the city, the ones to look out for are the following:
This is the popular beach on the east coast of South Korea. This beach has some of the best nearby attractions, such as the Ocean world tour; also, this place conducts treks and festivals. 
Happy New Year to all #VisitKorea fans!
Saehae bok mani badeuseyo~😍

With lots of ❤, Korea Tourism Organization
📍Gangneung Gyeongpo Beach: https://t.co/4aXarVEgCW pic.twitter.com/0dQ80hvzL4

— VisitKorea (@KoreanTravel) January 1, 2022
Jeongdongjin Beach
There are three main swimming areas along the 250-meter-long Jeongdongjin Beach: in front of Jeongdongjin Station, by Sandglass Park, and by the Jeongdongjin Breakwater. Due to their size and accessibility, the park and the railroad station locations are more popular.
Museums in Gangneung
There are many museums in this city, but only a few have gained fame due to their priceless artifacts.
Ojukheon House & Ojukheon Municipal Museum
Ojukheon takes its name from a unique black bamboo growing here. This house was built in between a black bamboo forest during the Joseon dynasty, and that is how this place came to be known as Ojukheon. Its preservation of the original architecture led to its designation as National Treasure No. 165 in 1963. In the Okujheon museum, a large part of the work of two emblematic Korean figures is exhibited there, but there are also artifacts from the region, such as paintings and ceramics.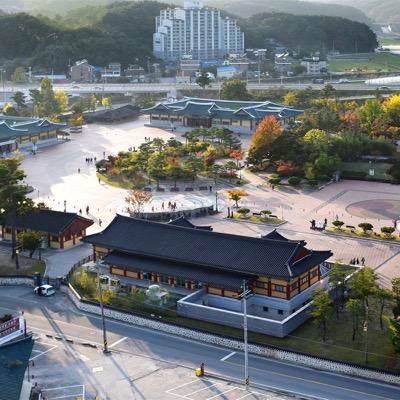 Haslla Art World Museum
A contemporary beachfront complex containing a museum of art, a cafe, a hotel, and a sculpture park. The museum's creation, which took place between Park Shin-Jang and her husband, professor and artist Choi Ok Yeung, dates back to 2003. This place has many arts and sculptures showing Korean art and history, which many Korean artists exhibit. 


Temples in Gangneung
Gyeongpodae Pavilion
Gyeongpodae Pavilion is famous around the place. It sits on the banks of the ever-magnificent Gyeongpo Lake. The pavilion where Yulgok's 16th-century works are kept also houses poems from the 11th century. This is a famous and also one of the oldest historical sites in South Korea.
Naksansa Temple
One of the most elegant places on the east coast. During the reign of the Unified Kingdom of Silla, it was constructed by the monk Euisang. National treasures and regional cultural legacies are scattered throughout the temple, including the enormous Haesugwaneumsang statue and the Hongnyunam rock, which features an image of a Buddhist goddess emerging from the sea.
Eye Catching Natural Beauty of Gangneung
The nature here is eye-catching and has been the reason for many establishments in and around the city to enjoy the beautiful nature. Add some of these iconic sights from this Gangneung travel guide to your South Korea itinerary!
Jeongdong-Simgok Badabuchae-gil Trail
Jeongdong-Simgok Badabuchae-gil Trail is an amazing hiking trail with a beautiful scenic walking area. This trail is along the sea, giving a beautiful view of the green nature on one side and the blue ocean on the other. This is the perfect place for a jog or walk and to observe and breathe fresh air. 
Sandglass Park
With 1.28 billion won in 1999, Sandglass Park was created by Gangneung-si and Samsung Electronics to celebrate the new millennium. The world's largest sandglass is this one (diameter: 8.06m, width: 3.20m, weight: 40t, sand weight: 8t). The sand takes a whole year to settle, and each January 1st, it is ceremoniously rotated.
Jeongdonjin Station
The station closest to the beach in South Korea is Jeongdongjin Station on the Yeongdong Line of Korail. It is a well-known cross-country train stop from Seoul for dawn watch. The Guinness World Records lists it as having the closest station and tracks to a beach worldwide. 
The places mentioned above are the most famous and popular places in South Korea that give you a good time around Gangneung city. There are other places that you might find interesting along your journey. 
Places to Eat
As the city is a coastal city, there are plenty of seafood options to explore. Let's go over some of the good places to have a fine meal in this Gangneung travel guide. 
Jumunjin Seafood Street
This seafood street is located near the famous Jumunjin Port, and the streets have many restaurants to choose from. While moray soup (gomchi guk) is best consumed in the winter, sliced raw squid and cold raw fish soup (mulhoe) are popular during Gangneung's squid season. When visiting Jumunjin Seafood Street, you should also sample the steamed eelpout (jangchi-jjim), one of the local specialties. If you want to get a taste of the local food, this is the place you have to go for.
Gangneung Jungang Market Food Alley
This place offers many regional Korean dishes and snacks and is a must-try. Dak gangjeong (sweet-and-sour chicken), Ojingeo gangjeong (sweet-and-sour squid), Dak kkochi (chicken skewers), Kwabaegi (twisted bread stick), Hotteok (sweet Korean pancake), Eomuk Goroke (fish cake croquette), Kalguksu (noodle soup), Oksusu-ppang (cornbread), and Sweet Rice Punch are among the must-try. 
Gyodong Banjeom
This is one of the top-ranked restaurants in the city, where you get Chinese as well as Korean dishes to savor.
Gobu Soft Tofu
This is the best place for Tofu lovers in Gangneung. This place is located almost close to the seaside. 
Related Posts
4,546 total views, 5 views today