Surfyy Beach is the perfect summer vacation spot for those who enjoy sun, sand, and waves. The beach is situated on a beautiful stretch of coast, and the water is clean and clear. The food is also excellent, with plenty of seafood options. And if you're looking for a place to stay, plenty of accommodation options are available, from camping to hotels.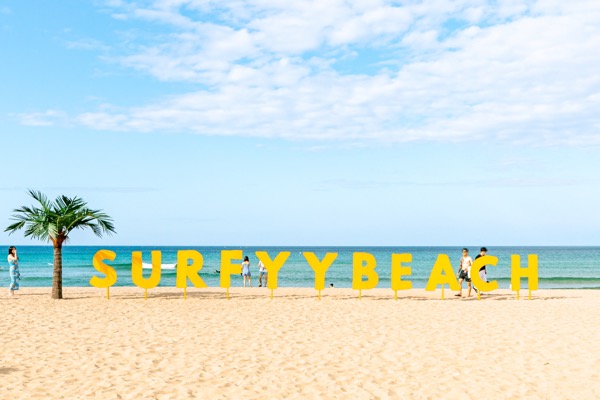 Getting There
Surfyy Beach is located on the northeast coast of South Korea in Yangyang. The most straightforward way to get there is by car, but it's also possible to take a bus.
To get to Surfyy Beach by bus:
From the Seoul Express Bus Terminal or Dong Seoul Bus Terminal, you can get to Yangyang in about two hours by taking an express bus. After you arrive in Yangyang, take a taxi to Surfyy Beach.
Things to do at Surfyy Beach
Surfers will love this delectable beach paradise, but it is not limited to them. Many people like coming here for a break, some food and beverages at the trendy beach bar, and lots of photographs on this Instagram-worthy sandscape.
No Swimming
Unfortunately, guests cannot swim in the ocean at Surfyy Beach. However, a neighboring beach separates by only a picket fence allows guests to swim.
Take Sunbath and Relax
If you're interested in relaxing on the beach, keep in mind that you'll need to purchase a beach pass. This usually costs around 10,000 won (or $10) per person for the day. However, checking their website for UPDATED PRICING INFORMATION before heading over is essential. The beach pass entitles you to one free drink and access to all the amenities on the beach (beanbags, hammocks, etc.).
You may use your own towel or beach mat to lay on the beach at any other beaches outside Surfyy Beach's confines.
Surfing
On Surfyy Beach, you may rent a surfboard and wetsuit for three hours if you have some surfing knowledge. If you're surfing alone, be sure to follow the regulations.
In addition to regular beach activities, Surfyy Beach also offers surf lessons with English-speaking instructors. You can book a class on their website or on Facebook or Instagram.
Paddleboarding
If you thought surfing was too tricky, you're in for a treat with paddle boarding. Paddle boarding is the perfect activity for those who want to enjoy the ocean without all the hassle of learning to surf. And at Surfyy Beach, you can rent a paddle board for just three hours. So what are you waiting for? Come on down and give paddle boarding a try! Who knows, you might enjoy it more than surfing.
The Sunset Bar
Sunset Bar is an ideal place to watch the sunset overlooking the ocean. They offer a wide selection of cocktails, champagne, beer, pizza, burgers, chicken, and more! The bar is located on the beach, so you can relax and enjoy the view after a long day of riding the waves. The Sunset Bar is also Instagram-worthy, so snap a selfie there!
After party
Surfyy Beach knows how to party, and they want you to join in on the fun! After-parties are held between 7:00 p.m. and 10:00 p.m. from May through October. Reservations and fees are not required for the party, which is open to ages 19 and up. You may follow them on Instagram for up-to-date and altered information. So, what do you have to lose? Come with me to Surfyy Beach for a night you won't soon forget!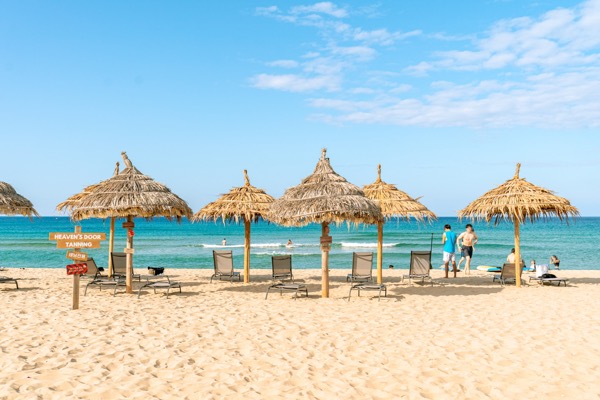 Best time to visit Surfyy Beach
Surfyy Beach is most welcoming between June and September, though this time of year also has the highest volume of visitors. These months will provide the best chances if you're looking for warm and sunny weather conditions during your beach vacation. With that being said, because it is peak season, expect large crowds at Surfyy Beach amenities and in-the-water surfing.
Accommodations at Surfyy Beach
Regarding accommodation around Surfyy Beach, there are plenty of options. However, the Camping Car is the way to go if you want something unique and fun. You'll be able to stay in a caravan or cabin, and it's sure to be a one-of-a-kind experience. Another great option is Zio Resort.
Ending Note
Visiting Surfyy Beach is a fantastic experience. The beach is not only beautiful, but it's also a great place to learn how to surf or paddle board. When it comes to a place where you can party, you've come to the right place! So what are you waiting for? Pack your bags and head down to Surfyy Beach for the time of your life!
Related Posts
6,845 total views, 1 views today