If you are looking for a unique dessert to try, then you should take a look at these 11 must-try Korean desserts. Koreans have an obsession with sweet things, so it's no surprise that their sweets are some of the best in the world. You won't regret trying any one of these desserts – they're all delicious!
Tteok
Tteok is a Korean rice dessert that is traditional festival food. Finely ground glutinous rice flour, which constitutes the main ingredient of this dish, is used as its main component. It can be enjoyed either by itself, with milk and sugar added, or as an accompaniment for other desserts.
The rice is often steamed, pounded, or kneaded until it becomes a pliable dough that may be enriched with various ingredients and molded into different shapes.
Bingsu (Korean Shaved Ice)
Bingsu, or Korean shaved ice dessert, is a popular dish in Korea that will cool you down. In this Korean, shaved ice dessert, red beans, misugaru (roasted multigrain powder), and sweetened condensed milk are the most popular toppings, but you may add any fruit or toppings you choose. Drizzle it with your favorite syrup to tie everything together. This is a delicious and refreshing dessert for hot days!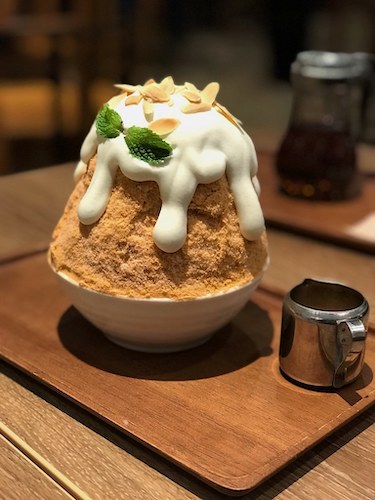 Hotteok (Korean Pancake)
Hotteok is a traditional Korean pancake. Using wheat flour, brown sugar, walnuts, and oil or butter, they're then pan-fried. The most popular version of hotteok has a filling that consists of brown sugar with bits of walnuts inside – but you can add any fruit or nut you want to make your hotteok special. This is an excellent choice amongst the Korean desserts for people who love sweet and savory flavors together!
Patbingsu (Korean Shaved Ice with Sweet Beans)
In Korea, many different kinds of patbingsu exist, depending on the region. However, the most popular type of patbingsu is patbingsu with sweetened azuki beans. Patbingsu contains shaved ice, condensed milk, and various toppings like red bean paste, cereal flakes, fruit slices, or fruits like Korean pear or kiwi. You can also add cornflakes to your patbingsu for texture!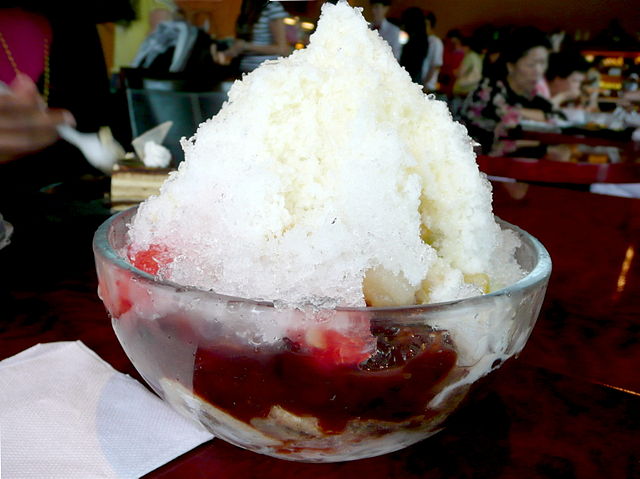 Dasik (Korean Tea Cookies)
Dasik is a Korean Tea Cookie that includes nuts, seeds, fruit preserves, and beans. The most popular version of this dish contains red bean paste mixed with tea powder or toasted rice powder then topped off with roasted soybean flour. The white, brown, and black sesame seeds provide the natural hues, while matcha green tea powder adds a delicate green tint. This sweet treat will have you buzzing with energy after you've had your fill.
Hangwajeon (Pan Fried Rice Cake)
This rice cake is pan-fried with glutinous rice flour dough and various blossoms according to the season. In the spring, azaleas are used; there are roses and chrysanthemums in summer and the fall.
Hwajeon is not only attractive, but it is also nutrient-dense! Some flowers contain about 100 times more polyphenols or flavonoids than vegetables and fruits.
Yakgwa (Honey Cookies)
Yak stands for medicine, and Gwa stands for snacks. Yakgwa, then, is a snack food and medicine at the same time. The name comes from an ancient tradition of using honey and oil as medicines. It's a traditional dish made with nutritious ingredients served at ceremonies, holidays, feasts, and rituals. The paste is created by mixing honey, oil, and very finely ground flour. Fried rice and sesame seeds are then added to the outside after that.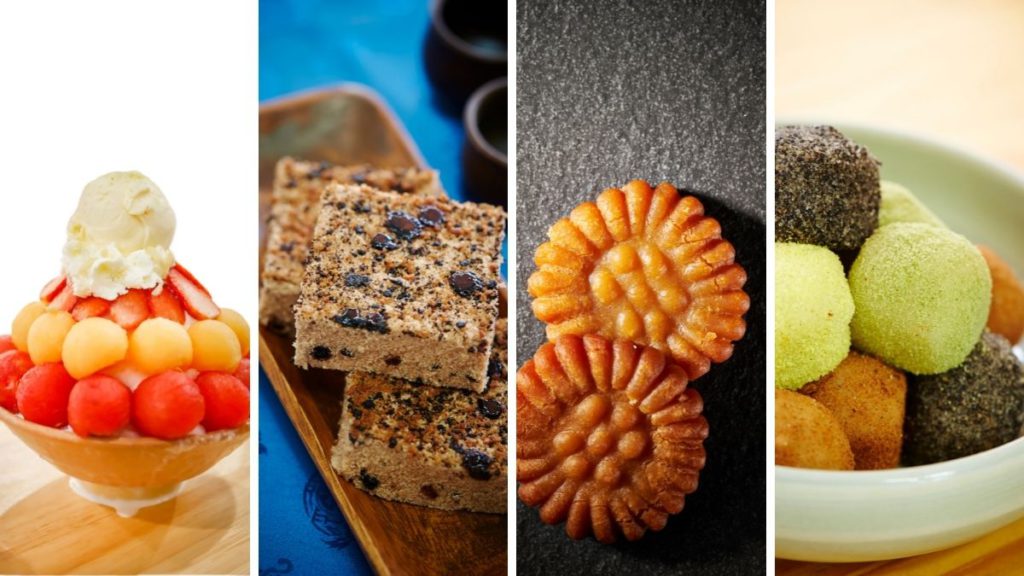 Gyeongdan (Sweet Rice Balls)
Koreans make this dessert from grains. It's also a glutinous rice cake made by kneading glutinous rice. Glutinous rice balls are simmered and formed into tiny cakes before being dusted with black sesame seed, mugwort powder, or roasted soybean powder.
There are several different types of Gyeongdan, depending on the region. People in Gangwon Province, who live in the mountains, use mashed potatoes instead of glutinous rice as their primary ingredient.
Gangjeong
During feasts or memorial services, this dish was served alongside yakgwa and dasik. The glutinous rice flour cake is made by mixing it with alcohol, cutting it into various shapes, and drying it in the shade. It is then deep-fried in oil and coated with honey before serving.
Nurungji
Nurungji is one of the traditional Korean desserts made from scorched rice. It is a crispy, sizzling dessert that you can enjoy either by itself or with some jam on top. In Korean, the word 'nurungji' means 'burnt rice'. As a dessert, you can sprinkle the nurungji with sugar or eat it on its own.
You can also top the crust with sungnyung, an infusion served after a meal and best enjoyed as a drink.
Yaksik
Yaksik is a famous sweet and rich rice cake prepared at every significant event in Korea. It's composed of steamed glutinous rice, pine nuts, chestnuts, dried jujube fruit, and honey. The filling is made with a dark brown sauce that includes sesame oil, caramelized sugar, soy sauce, and cinnamon.
The cake is then steamed until everything is combined and the sauce has a deeper flavor. The yaksik is scooped from the tray with a spoon and cut into squares when cold. It may be cut into cubes and eaten by hand if it's warm and sticky.
So, are you ready to try some of the best Korean desserts? Is your sweet tooth tingling yet? We've got just the thing for that. Give these dessert recipes a try, and let us know what you think!
5,857 total views, 1 views today