The season of cherry blossoms has passed and summer has arrived in South Korea! Where would you like to travel in Korea this summer?
Summer in South Korea? That definitely sounds fun! While most people tend to visit the country during the winter season, the number is relatively low for those visiting during hot and humid summers. That means you'll be able to enjoy the country without bumping into other tourists all the time!
What's summer in South Korea really like?
During summer, the temperature only gets up to around 80°F (27°C) – 90°F (32°C). It's manageable temperature-wise, but then it's the humidity that makes people think twice before planning a trip to South Korea in summer. It can be incredibly humid, and there's a lot of rainfall.
Read more:
But it is a beautiful time in Korea with sunny skies, warm evenings, and some fantastic activities that you can enjoy.
When is summer in Korea?
Summer in South Korea runs from early June until mid-September. The peak summertime is in mid-July.
What to do in South Korea during the summer?
Even though it is hot and humid, don't be left hiding in an air-conditioned mall or your hotel. You can enjoy splashing around the beach, munch on sweet Korean desserts, and relax in the Korean countryside!
If you are still skeptical, here are eight interesting things to do in South Korea that will convince you to visit the Land of Morning Calm during summer.
If you're anything like me, be sure to check out option #5. Your taste buds will be eternally grateful!
#1 Splash around in a water park
Nothing beats the summer heat like thrilling rides in water parks. You can splash around in the cool and refreshing water in these parks. There are many fantastic water parks in South Korea where you can chill out, such as Gimhae Lotte Water Park, Caribbean Bay, Sealala Water Park, and many more.
You can read about these amazing water parks here: 10 Water Parks in South Korea to Beat the Summer Heat
#2 Chill out at beaches
As South Korea is a peninsula, there are so many beaches. The country is lined with beaches on three sides! From Gangneung in the north to Hyeopjae in Jeju – you'll have plenty of options to choose from.
Although if you are in Seoul, there aren't any beaches but you can take a short train ride to the closest one. You can also make a day trip to any of the closest islands for a day of fun.
If you are in Busan, then there is no shortage of options, including the famous Haeundae Beach.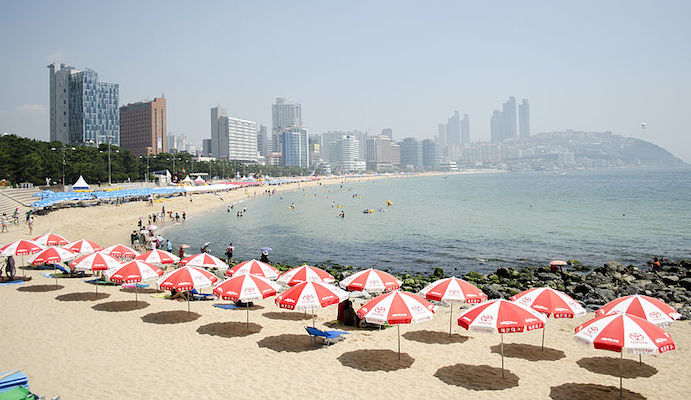 So, grab your summer essentials and work on your tan on the beach while the waves lull you to sleep! Or if you are the more adventurous type, then enjoy the beach activities and work up a sweat.
During the summer, the beaches in Korea are quite busy, so make sure to get there early to grab the best spot!
#3 Enjoy Korea's Summer Music Festivals
Korean summer music festivals are quite popular all around the world. There are so many happening during the summer that it becomes hard to keep track.
You can check out the post about Korean music festivals here: Coronavirus in South Korea: Upcoming Spring Korean Music Festivals Canceled or Postponed
#4 There are even more Korean festivals
Other than music, there are so many more festivals and celebrations that you might not have even heard about. From mud wrestling to water gun fights, tranquil fireflies to wild craft beer festivals – Korea has something that will delight you during summer in Korea.
Please note that some of these festivals may not be organized in 2020 due to coronavirus pandemic.
Apparently, the mud at Boryeong is good for your skin, so, of course, there's a giant mud festival in July. It's exactly what it sounds like, too — a giant mud party. There is mud wrestling, mud bathing, extreme mud sports, K-pop concerts, fireworks, a water park, and lots of great beachside restaurants.
The festival celebrates Korea's love of fried chicken and beer. Chimac, a portmanteau of chicken and maekju (beer in Korean), is the perfect remedy to summer's hot weather. The ice-cold beer keeps you fresh, while the fried chicken just tastes so damn good!
#5 Korean summer dishes are delicious
All Korean food is simply mouthwatering and delicious with many unique dishes for each season.
Summer in Korea might be the best time to sample Korean food. There is a wide range of dishes to enjoy during hot days ranging from icy-cold noodles to steaming hot chicken soup that is meant to keep you fresh and healthy on the hottest days. 
#6 Go for a sunrise hike
A trip to Korea cannot be complete without doing at least one hike. Of course, during the summer, you can't do it in the middle of the day, but you can always go for a sunrise hike.
In Jeju Island, there is even a peak named Seongsan Ilchulbong or 'Sunrise Peak' where you can enjoy the first rays of the morning sun. During the New Year eve, people hike up to see the last sunset of the year gone by and the first sunrise of the new year.
#7 Night markets in Seoul to shop
Seoul hosts a variety of night markets across the city, known as Bamdokkaebi Night Markets, which are fantastic places to hang out in the evenings. Thousands of people, both tourists, and locals flock to these markets. You can find a lot of local fashion and jewelry designer goods and fleets of food trucks to keep you engaged.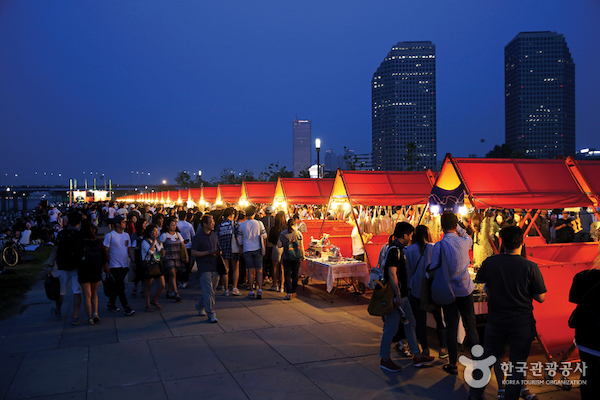 Night markets operate on Fridays, Saturdays, and Sundays during summer in Korea, but not all are open on each night.
#8 Thrilling theme parks
Alongside the water parks, South Korea has some of the best and greatest adventure thrilling theme parks. Two of the most popular theme parks to visit during the summer in South Korea are Lotte World and Everland. There are many other smaller family-friendly parks that you can check out.
Read more: All you need to know about before visiting the magic world of Lotte World in Seoul
How to stay cool during the summer in Korea?
Other than the fun-filled activities, you can enjoy some local cuisine that will keep you chilled.
It is one Korean dessert that defines summer. Bingsu is a simple dessert that consists of shaved ice flakes with a topping and sauce. There are many types of bingsu you can enjoy with a plethora of different toppings. Some of the simpler ones contain fruit, ice cream, yogurt, sauces, nuts, or red beans.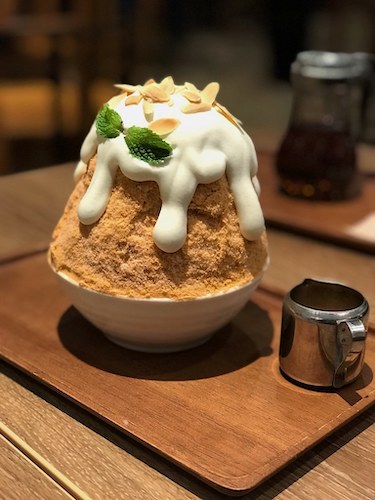 Icy caffeinated drinks
Korean variety of icy caffeinated drinks is something one must definitely try while visiting South Korea in summer. Have you ever tried Jeju Honey Peanut Latte, Sweet Potato Latte, Oatmeal Latte, Lavendar Cafe Breve, 'Monkey Banana' Coffee, or even a Black Pepper Latte? Well, all of them might not be for your palate, but you gotta try them all at least once, right? YOLO!
Check out: 10 Quirky Cafés You Need to Add in Your South Korea Travel Plans
Extra travel tips for a trip to South Korea in summer
Drink lots of water as hydration is essential. Try balancing out the cooling lattes with water as coffee is dehydrating.
Carry an insulated water bottle that you can refill from the water coolers in many places in Korea. It will help in keeping you hydrated.
Get a mini portable fan that can fit in your pocket. These tiny little fans will help in keeping cool while you are roaming in the streets of Korea.
Ice cream is always a great solution, no matter when or where. These sugary treats might not be recommended because of health reasons, but nothing beats an ice cream when you are melting down like one.
Avoid going out in the middle of the day and enjoy cooler evenings and nights. It is more comfortable, and there are a lot of activities during the night you can enjoy without sweating as much.
Pack your sunscreen or SPF as sun protection is much needed when you are enjoying summer. It is very easy to get sunburnt here.
And there you have it! List of all the activities that you can do to enjoy summer in South Korea and how you can stay cool. Prep your SPFs, pack your bags, hop on a plane, and head to Korea now!