Summer is here, and finally, you can enjoy the cool water parks in South Korea without feeling cold or any chilly winds. Now it is time to cool down and beat the summer heat in water parks in South Korea!
Water is one of the first things people think of when summer and holiday come together – be it a beach, lake, river, or a water park. Well, while you can't enjoy the beaches, rivers, and lakes in the city, you sure can have loads of fun in water parks.
We have compiled some of the best water parks in South Korea, where you can enjoy and have lots of fun.
Gimhae Lotte Water Park brings the beauty of Polynesian Island in Gimhae, Gyeongsangnam-do. It's just one hour's drive to Haeundae in Busan.
The park is divided into outdoor and indoor facilities, each with its own set of exciting rides and attractions.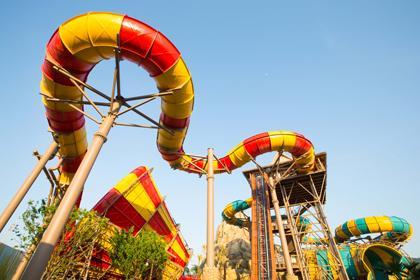 There is another section, Tiki Island Spa, where you can get the best spa experience with hot spring baths, wet saunas, and much more.
The Lotte Water Park has Korea's largest outdoor wave pool that is 135-meters long, largest indoor wave pool 38 meters long, and a 118-meter long Tornado Slide.
Address: 555, Jangyu-ro, Gimhae-si, Gyeongsangnam-do
Onemount Water Park is an indoor water park on the fourth and the fifth floor of the Onemount building in Gyeonggi-do's Ilsan. It is the largest multi-cultural space in the northwest metropolitan area.
The water park is located near the Hallyu World and KINTEX. It features an array of both indoor and outdoor attractions to keep you entertained. There are sun-tanning facilities, nine water amusement facilities, thrilling slides, a wave pool, and many more.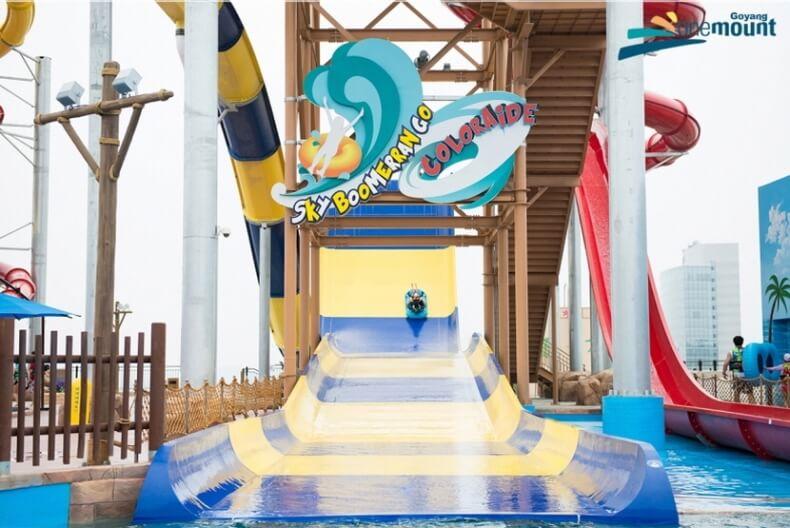 The outdoor facilities of the water park are on the rooftop (seventh floor) of the Onemount building. The rides on the top floor are meant mainly for adults.
Sky Boomerango is one of the most popular rides which starts from atop a tall tower. Riders are then shot down before being launched into the air off a ramp into a water pool at the end.
Address: 300, Hallyuworld-ro, Ilsanseo-gu, Goyang-si, Gyeonggi-do
The water park is located just outside of Seoul in the city of Yongin. It is South Korea's first water park and one of the largest in the world.
Caribbean Bay can accommodate up to 20,000 people at a time. It even holds concerts at the Wave Pool Stage, where stars such as Mamamoo and VMC have performed.
There are five themed zones within the park, which include indoor pools, outdoor pools, water rides, slides, and many more fun facilities.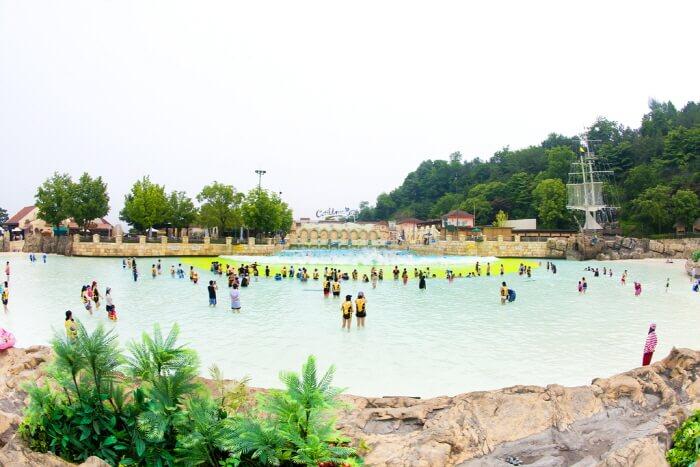 Wave Pool is one of the top attractions of the water park where you can experience strong waves like those in the Caribbean Sea. You can get waves as high as 2.4 meters in the park!
Address: 199, Everland-ro, Cheoin-gu, Yongin-si, Gyeonggi-do
Sealala Water Park is a perfect place for a day outing in Seoul. The indoor water park is located in Mullae-dong, Yeongdeungpo-gu, Seoul, and easy to reach via the Seoul subway.
It is not as popular as some of the other water parks in South Korea, but the decoration and park theme are certainly unique. The indoor park boasts an exotic Greece-themed décor.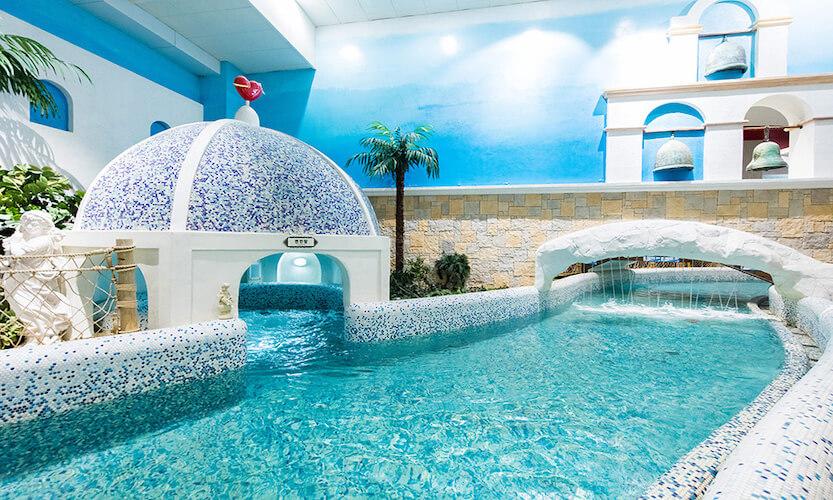 Sealala Water Park is more catered towards children or people who are looking for a beach-like experience.
The place is famous for its 140 meter-long lazy river and beach pool where visitors can relax and splash around. There are more adrenalin-pumping rides as well, including a 20-meter-long speedy water slide and a 32-meter long mat slide.
Address: B2, Yeongdeungpo SK Leaders View, 164, Mullae-ro, Yeongdeungpo-gu, Seoul
California Beach in Gyeongju World is the perfect destination for some summer cool-down excitement. And just like the name suggests, you will feel like you are chilling on the beaches of Santa Monica, California.
The water park also holds performances on the weekends.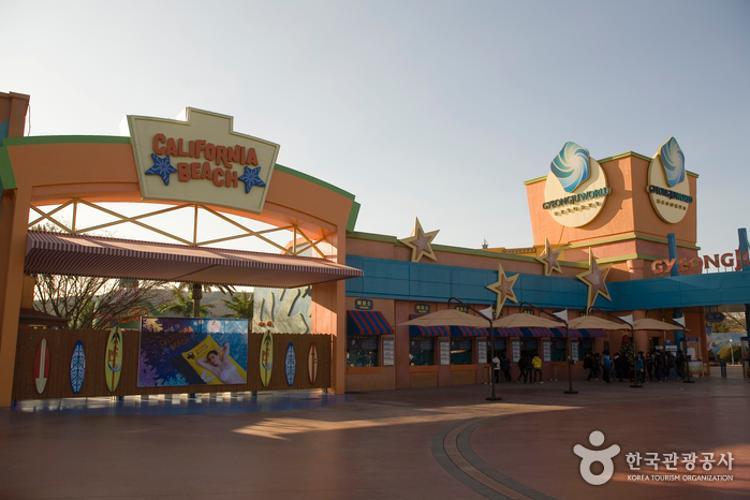 The park is a mix of pure adrenaline and relaxing rides. For adventure, you can go on rides like Wave Canyon, Dynamic Slide Tube, and Double Extreme. There are other places in the park where you can chill with your family and kids.
Address: 544, Bomun-ro, Gyeongju-si, Gyeongsangbuk-do
Seorak Waterpia is one of the most popular summer family destinations on the East Coast. The park is situated against the backdrop of the Seoraksan Mountains within the Seorak Hanwha Resort.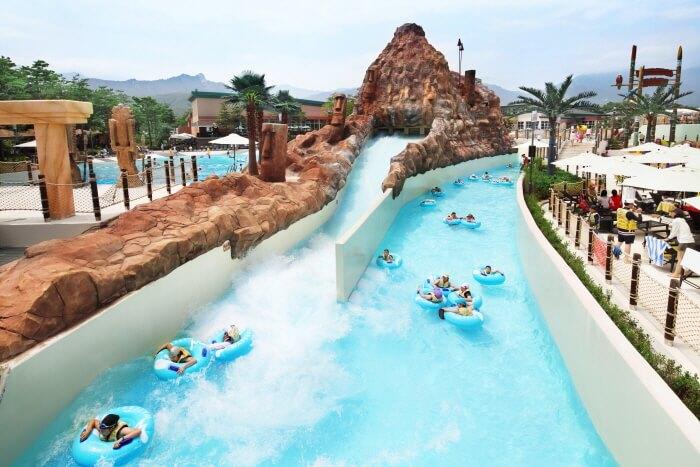 It's a hot spring water park that uses 100% pure natural hot springs water. There are two sections in the park – a spa zone and a water zone. There are water slides and wave pools to give you all the fun and thrill you need in the water zone. The water throughout the park is kept at 49 degrees Celcius making for a fun spa experience.
Some of the popular rides include World Alley, which is a 260-meter long water slide with a sharp drop and 360 degrees turn.
Address: 88, Misiryeong-ro 2983beon-gil, Sokcho-si, Gangwon-do
Vivaldi Park Ocean World is next to the beautiful and ancient forests of Hongcheon in Gangwon-do on the slopes of the Palbongsan Mountain. Vivaldi Park is also internationally renowned for its ski facilities.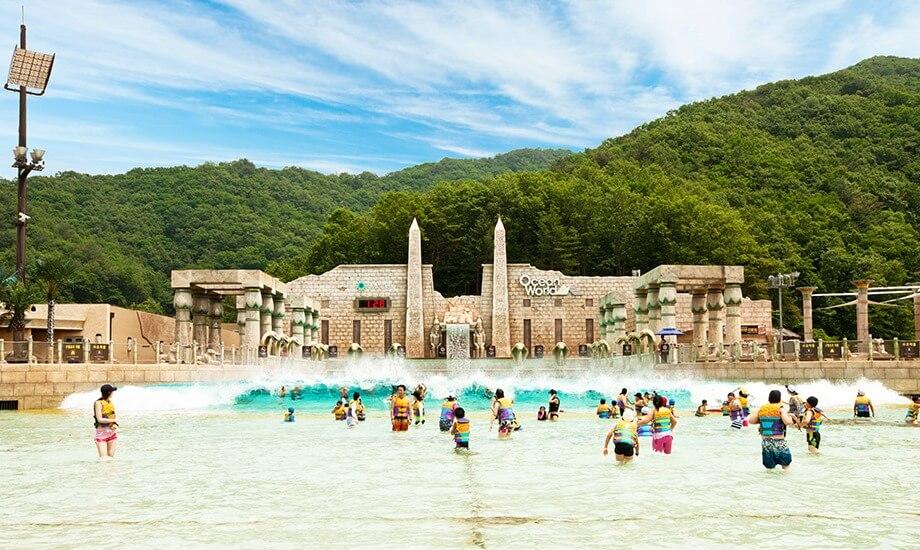 The water park has an Egyptian theme décor overall with replicas of Sphinx, pyramids, obelisks, and other decorations. It's a huge park that can accommodate around 18,000 people.
The park is divided into five zones – Indoor Zone, Wave Pool Zone, Extreme Zone, Dynamic Zone, and the Mega Slide Zone. Each zone has many thrilling and exciting attractions.
Address: 262, Hanchigol-gil, Hongcheon-gun, Gangwon-do
Shinhwa Water Park is a part of the Jeju Shinhwa World, a premium resort on the Jeju Island.
There are so many slides and pools to enjoy that you won't get bored! The oasis of watery fun includes 18 wave pools, rapids, spas, and slides. You can also find Asia's first 230-meter long double water slide.


There is something for everyone in the family, and after you've had all the water-fun, you can enjoy the Jeju's cuisine of black pork in one of the six restaurants in the park.
Address: 38 Sinhwayeoksa-ro 304 beon-gil, Andeok-myeon Seogwipo-si, Jeju
The water park is located inside The Ocean Resort in Yeosu, Jeollanam-do. It is the only water park in South Korea that gives you magnificent views of the refreshing blue of the Dadohaesang National Marine Park.
The best part of the park is when you are on top of some of the rides. The sight of the sea and mountains can be breathtaking!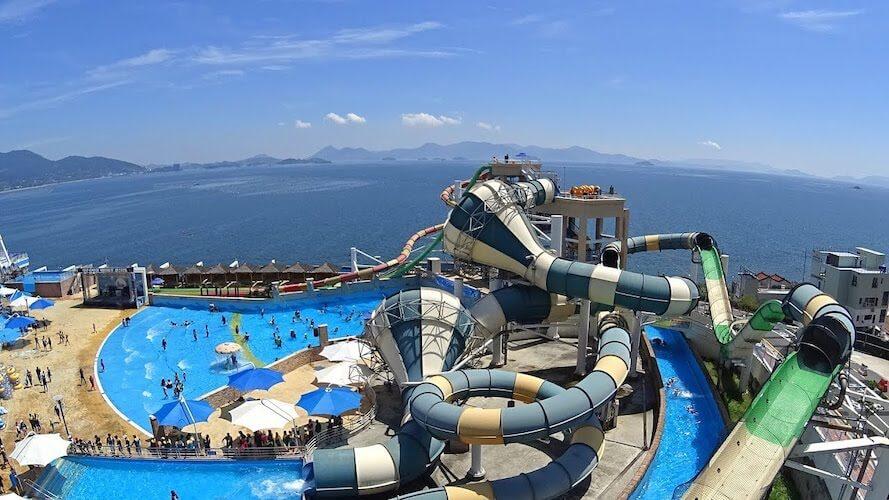 There are indoor and outdoor facilities in the water park, and the indoor water park includes an artificial wave pool with slides, Para Wave Slide, Aqua Kids' Pool, and spa. The outdoor section has more thrilling rides like Double Tornado, slides, and wave pools.
Address: 295, Soho-ro, Yeosu-si, Jeollanam-do
It's a Mediterranean Oasis themed water park in Pyeongchang. You can see coconut palms fanning out over rock structures and azure waters. It looks just like a tropical destination with all the themed décor making it a perfect family outing destination.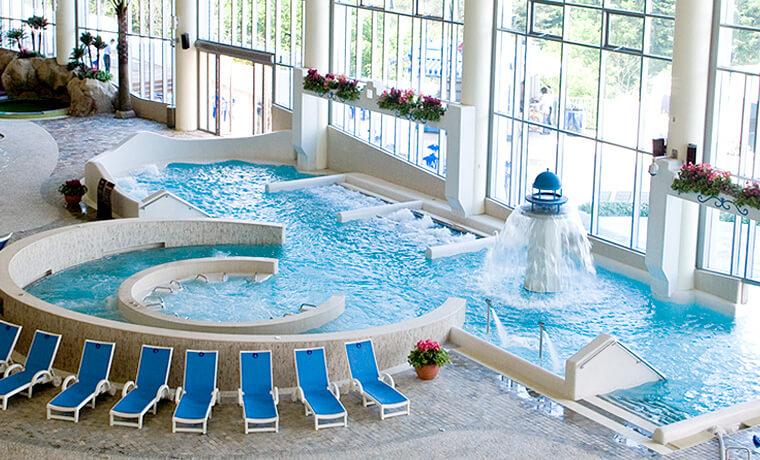 The park is located within the fresh canyon waters and clean air of Gangwon-do. It gets all its natural mineral water from underground, making it suitable for people with any skin sensitivities.
No matter the weather conditions, you can enjoy the indoor and outdoor facilities. There is always something to do. There is an 'Up Hill Slide,' which is first of its kind in Korea.
Address: 1088-1 Myeonon-ri, Bongpyeong-myeon, Pyeongchang-gun, Gangwon-do
Which water park in South Korea is your favorite? Or in which park do you want to chill out on your next trip to South Korea? Let us know in the comments!
14,487 total views, 3 views today