Summer in Korea can be oppressively hot, but despite the discomfort of the high temperatures and constant humidity, several summertime foods serve to make the heat bearable. Many Korean dishes will undoubtedly change your disliking of the summer. These 7 Korean dishes will keep you cool whether you're in the mood for a chilled, flavorful entrée or a refreshing frozen dessert.
#1 Bingsu
This popular delicacy, which appeals to Korea's tremendous, sweet craving, is available at innumerable restaurants around the peninsula. Traditional toppings for the shaved ice delight include sweetened red beans, chewy rice cakes, and condensed milk, while modern bingsu includes everything from fine chocolate and green tea ice cream to mango chunks and fresh strawberries.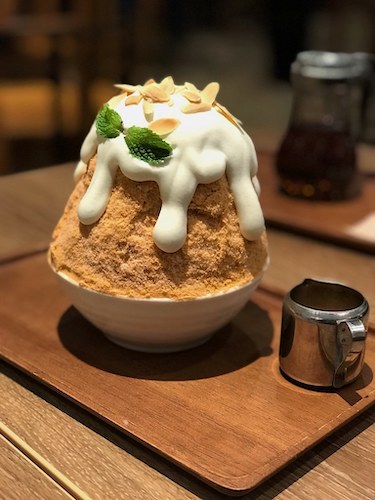 #2 Oi-muchim (Korean Spicy Cucumber Salad)
Cucumbers are the key ingredient of oi-muchim, a chilled, spicy salad commonly offered as a side dish in many Korean restaurants and are arguably one of the best summer vegetables due to their high water content. The subtle aromas and crisp texture of the cucumber, marinated in vinegar and red chili flakes, making the dish both delicious and refreshing.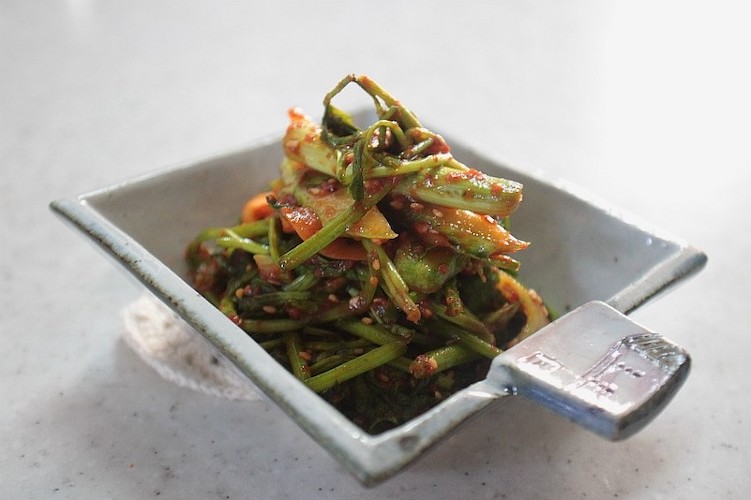 3 Naengmyeon
When the weather gets hot, Koreans turn to naengmyeon, or cold noodles, to keep cool. Naengmyeon is a Korean dish of long buckwheat or sweet potato noodles served in an icy chicken or beef stock. Sliced cucumber, Asian pear, and radish are common additions to the dish to make it more cooling and to enhance the flavors and texture. You've got yourself a decent meal with a dab of gochujang (hot red pepper paste) and finally a squeeze of vinegar and mustard.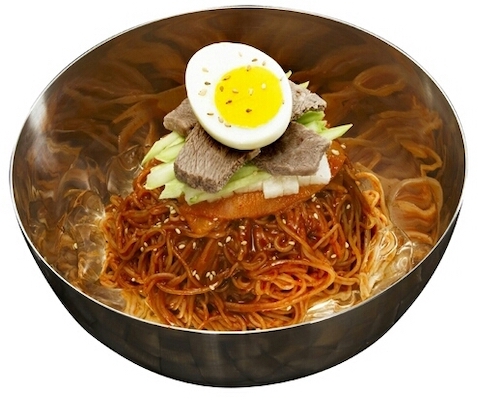 #4 Chimaek
Chimaek, which means "chicken and beer," is the classic summer snack, best savored on a restaurant patio or along the Han River (where it can be delivered directly to your picnic spot). The famous twice-fried chicken of Korea (which has a festival devoted to it) comes frequently with a side of radish cubes, which help to cool the chicken down. You'll stay cool no matter how hot the weather gets with the crunchy, crisp radishes and the ice-cold Cass.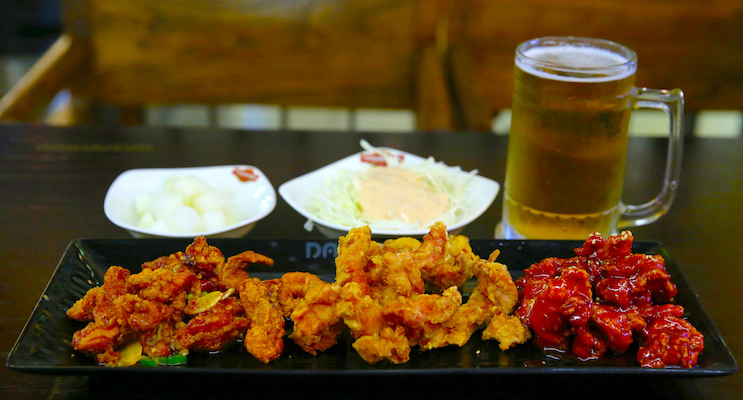 #5 Kongguksu
Kongguksu, hand-cut noodles served in a cool, thick broth made from soybeans, is another popular summer dish, especially among vegetarians. It is one of the favorite Korean food dishes that is perfect for summer. Cucumber and peanuts are common additions, and you can add ice cubes if it's a really hot day. You can season with salt to taste.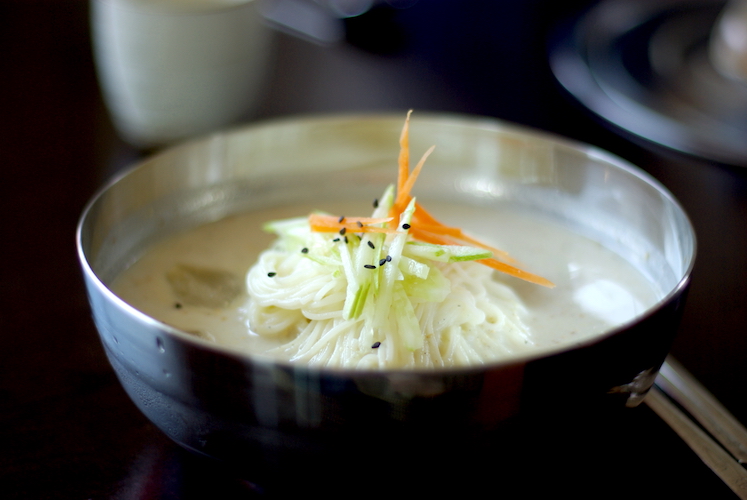 #6 Ice cream
Korean ice cream bars are as common as they are tasty and you can find it at both convenience stores and supermarkets both. While Korea has all the traditional ice cream flavors, there are also a plethora of unique options for the more adventurous diner. Melona bars, for example, are a creamy, delicious ice cream treat flavored with honeydew melon. The Samanco, on the other hand, is a goldfish-shaped rice wafer filled with vanilla ice cream and a layer of sweetened red beans that is a hit with kids and adults alike. At roughly 1,000 won (US$1) a pop, you may sample a variety of flavors without breaking the bank, albeit the scale may not be to your liking.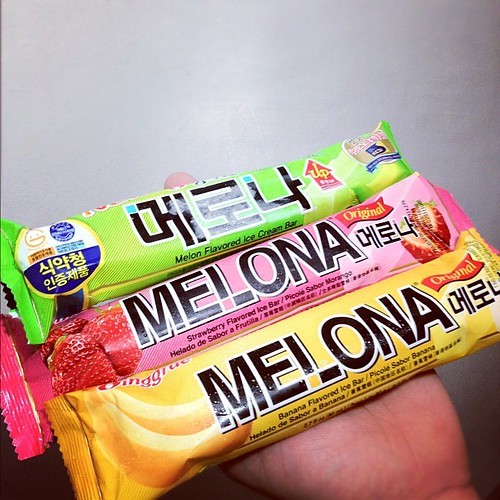 #7 Samgyetang
Koreans believe that the greatest way to beat the heat during the summer's three hottest days – chobok, jungbok, and malbok – is to add additional heat, which is where samgyetang (ginseng chicken soup) comes in. The nourishing soup comprises a whole chicken cooking in hot broth and comes with various nuts, medicinal herbs, and vegetables. It is a gourmet combination that can help restore appetite and vitality by increasing blood circulation in the body.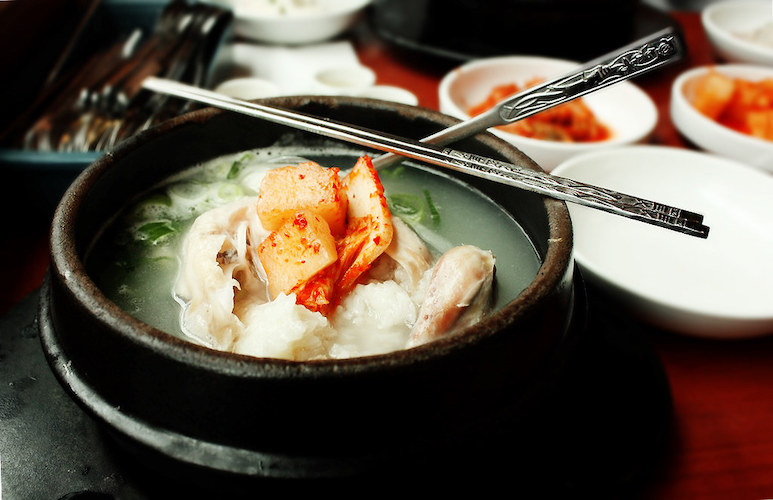 So, in summer you can try out these Korean dishes as mentioned earlier. These seven dishes will keep you chilled in summer.
Love it? Pin it!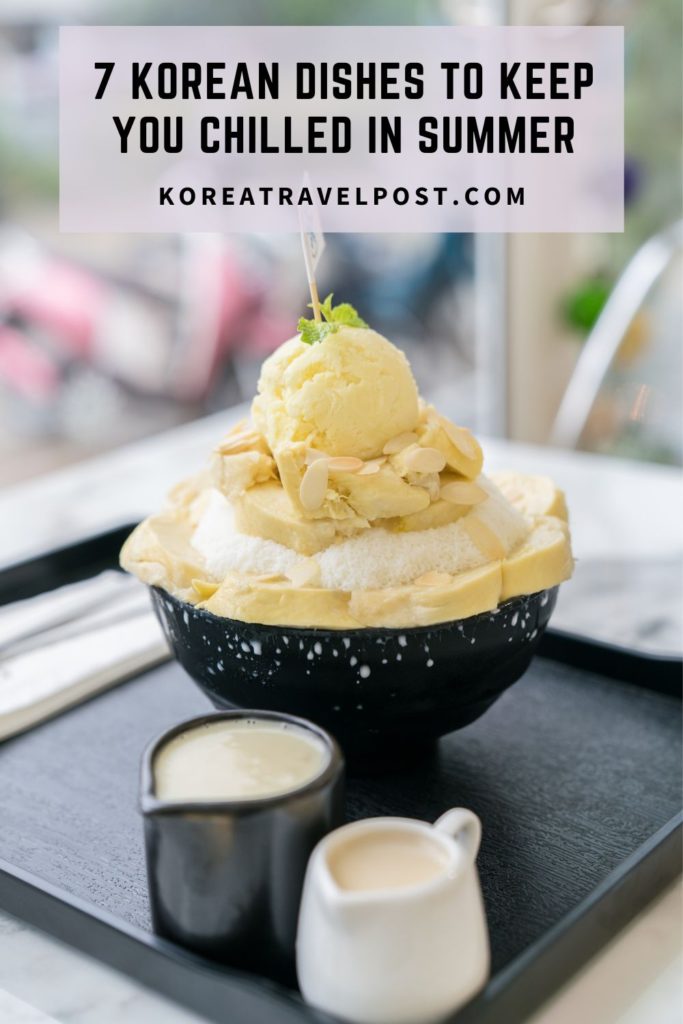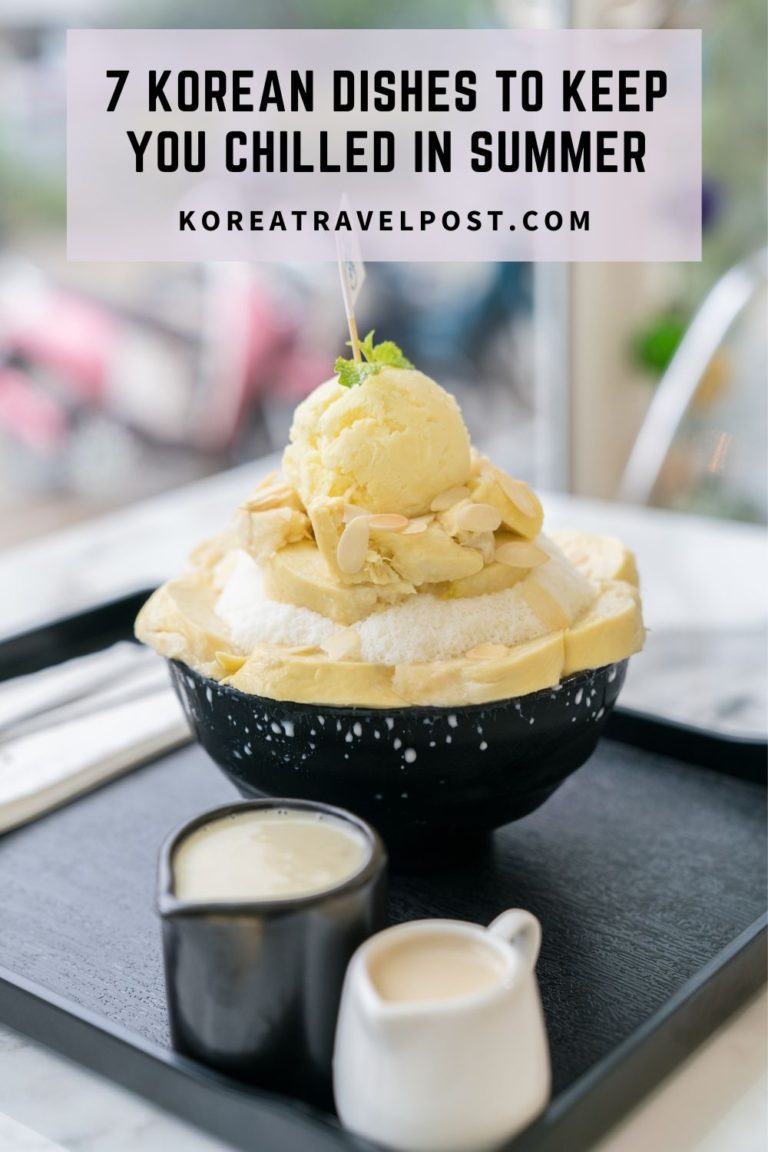 Don't forget to check out these other South Korea travel posts:
6,864 total views, 20 views today