Plan your visit to the beautiful Yeosu island and you can include all these places to see to make your trip fun and happening!
Yeosu is a coastal port city in South Korea with a rich heritage. It is a small peninsula consisting of 317 islands, all divided by different seas and mountain ranges. There are a whole lot of travel attractions in Yeosu. Some are widely visited while others still remain undiscovered and hence untouched.
Among the various places, we have compiled a list of ten destinations that should be on everyone's Yeosu bucket list.
Are you ready to know more about your favorite spots? Let's dig in and find out more about the best places to see in Yeosu.
10 Best Places To See and Things To Do In Yeosu
Odongdo
Located off the coast of Yeosu and embroidered with camellia and bamboo trees, Odongdo is a must-visit attraction for travelers. If you enjoy nature, you will adore the towering cliffs, rich green meadows, and several unidentified wildflowers.
Hikers will love it, but regular people can walk there as well. The Seal Rock, Dragon Cave, and the Windy Corridor are good for trekking. Follow the signs, but don't worry if you get lost; the island is relatively tiny. In fact, you may want to veer off the beaten road to find some spectacular hidden gems.
However, do visit the lighthouse for the best views.
Yeosu EXPO Ocean Park
Expo is a fun area situated outside the train station. There are a lot of things to do here, but if you have limited days in hand, we recommend you to see the Yeosu Hanhwa Aqua Planet and Yeosu Expo Memorial Hall.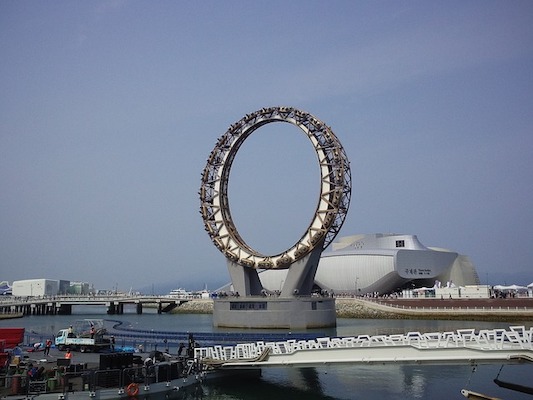 If you are visiting the place at night, do not miss the Big-O show. The hologram show and fountain event, along with some jazz and classical music, are worth watching.
Dolsan Park
Include Dolsan Park in your itinerary if you want a complete panoramic view of Yeosu. We recommend going at night to see the Bridge Light Shows and get the greatest views. Once the sun sets, the brightly illuminated Yeosu Port and the Dolsan Bridge become magnificent. Attend the live shows as well if you want to get the most out of your visit.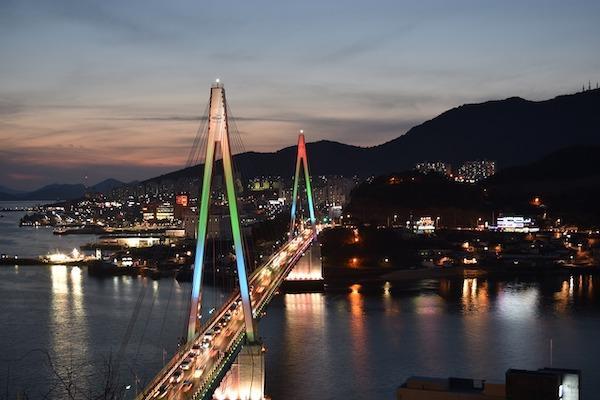 During the day, the marine aerial cableway can be used to access Jesan Park while admiring the surrounding sea, Janggundo, Hamel lighthouse, and Geobukseon Bridge.
Jangdeung beach
Looking to get away from the city's buzz and bustle? We urge that you go to the secluded Jangdeung beach. You are free to dive into the water and swim as much as you want. Just keep in mind that even in the early summer, the water can be fairly cold. The months of July and August are hence ideal for visiting.
Jangdeung beach attracts a large number of campers. Besides giving you some eerie feels, we are confident the night experience will be a thrilling one for you.
Yeongchwisan
If you happen to be in Yeosu during April, Yeongchwisan is a must-see. This is due to the fact that the lovely azaleas are in full bloom at that time. The blossoms turn the mountain a brilliant red, creating a breathtaking sight. Azalea Festival happens in April.
Yeongchwisan encompasses Sangam-dong and Samil-dong and is only 510 meters above sea level, so trekking with your family won't be too difficult. You can witness some of the nicest views of the archipelago, Yeocheon Industrial Complex, and Gwangyang Bay after reaching the summit.
Geumodo Bileonggil
Bileong, which translates to "cliff" in the local dialect, is a trail within the Dadohaehaesang National Park on Geumodo. The path travels beside the seashore cliffs and has become a favorite trekking location, thanks to the spectacular views of the coastal rock formations and the turquoise water.
The trail is 18.5 kilometers long and would take 9-10 hours to finish on average. However, the course is broken down into five portions, and you can always return after completing one or two of them.
You can catch the blackhead seabream here if you enjoy fishing. It takes around 1 or 2 hours by ship from Yeosu, but durations may vary depending on the availability of the ship.
Angel Mural Village
Situated on the hills of Goso-dong, Angel Mural Village is a village divided into nine zones, each with a unique theme. You can see murals of Sikgaek and Tazza by the famous comic book artist and Yeosu native Huh Young-man. 
If you climb to the top of the village, you can get a peek at old Yeosu. When you arrive at Opodae, you can see a panoramic glimpse of modern Yeosu.
There are a lot of things to do in this village, so plan well before visiting.
Nangman Pocha Street
Nangman Pocha Street is a great place to go if you want to have a taste of Yeosu's native cuisines. There are around 18 stall restaurants where you will get various local foods. In case you do not like to eat out, there are other big restaurants as well.
We recommend trying the thew with 3 ingredients – small octopus, samgyeobsal, and abalone at Dolmoneo 돌문어상회.
Hyangiram
Hyangiram is a famous Buddhist temple located at the south end of Dolsan Island. It symbolizes a turtle due to the hexagonal arrangement of the rocks that resemble a turtle's shell. The front of the sanctuary is great for viewing the rising sun. It gets very crowded during the Sunrise Festival on the New Year.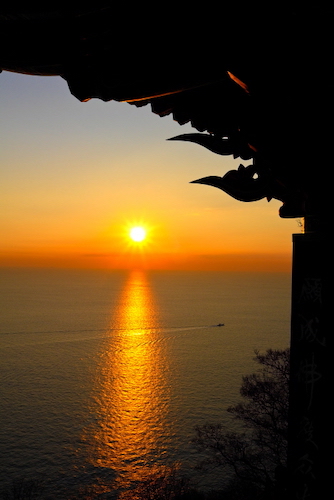 You should have your hiking shoes on because the path to the temple is fairly steep when it comes to several places to see in Yeosu.
Ungcheon Beach Park
Ungcheon beach is an artificial beach in Ungcheon-dong in Yeosu. This location is ideal for picnics because it has a huge sand cover, cabin-shaped tents, brown decks, and a beach site. If you want to experience the nightlife, you can spend more than a day there. 
This is a highly popular location with some excellent eateries. So, eat and enjoy. Also, do not forget to check out the water sports while visiting the beach.
Conclusion
The city of Yeosu has a lot to offer its visitors. Hence, it is best to plan ahead of time what places you want to see in order to make the most of your visit to Yeosu.
5,801 total views, 3 views today