There are several things to do in Gwangalli other than visiting the beach, and you can explore nearby areas for loads of fun and find some hidden gems!
With summer on peak, people flocking to Busan's gorgeous sandy beaches is a usual sight. They want to enjoy the days of warmth and soak in all that sunshine. Gwangalli Beach is one such popular beach in Busan with loads of restaurants, cafes, and bars situated right along the beach. But, chilling at the beach and feasting at the cafes and bars aren't the only things to enjoy near Gwangalli Beach. There are some great spots that you can explore near Gwangalli Beach for fun and several exciting things to do!
We'll plan out a day for you with exciting things to do while exploring the nearby areas of Gwangalli to find some hidden gems!
As you reach Gwangalli region from Gwangan Metro Station, you have to take Exit 3 or 5 and walk straight down towards the beach. You won't be able to miss is as the signage boasts 'Gwangalli Beach' in both Korean and English language. Once you reach the beach, head to Cafe Haute (카페오뜨) by taking a right.
Cafe Haute (카페오뜨)
This Korean cafe is located right across the Gwangalli Beach. It claims to be a "뷰맛집 (/view-mat-jib/)" cafe that means a place with amazing view. The cafe offers gorgeous views of the beach and Gwangandaegyo Bridge. You can catch beautiful views of the beach in the morning or even enjoy the sunset with gorgeous colors in the sky. Well, its not just about the view as it has delicious coffee and desserts.
Orangebada (오랜지바다)
Next you can head over to Orangebada for some unique handmade gifts as souvenirs. This lovely little shop is right on the beachfront and offers a variety of trinkets including postcards and candles. It is a design 'community' that holds several contests and creative projects all the time. Orangebada is a great place to get a Busan-flavored souvenir while supporting the local community of artists.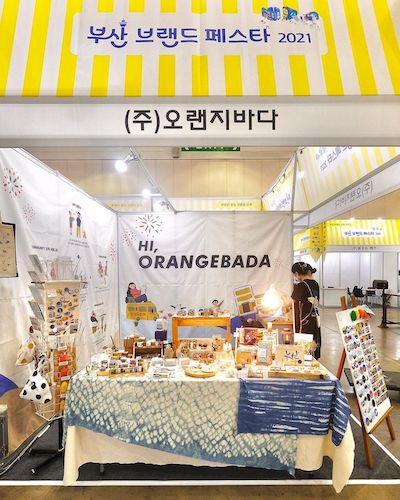 Krim (크림)
Stop by Krim (크림) for a quick snack break. It's a famous ice cream shop in Gwangalli that serves handmade ice cream. The shop is tucked away between Gwangan Station and Geumnyeonsan Station so it's a bit hard to find but the effort is certainly worth it! The ice creams in the shop are made from natural ingredients and are free from any food coloring. There are several natural fruit flavors that you can try like apple crumble, rice, grapefruit, and more.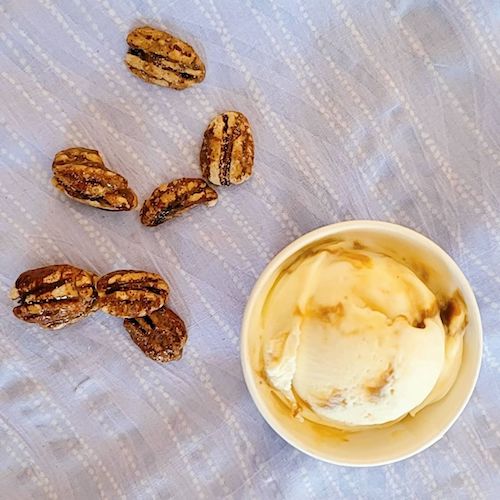 Gwangalli Beach 
A visit to the beach is a must especially when you have come down to the region. The list of activities that you can enjoy are endless. You can relax on a sunbed, watch a street performance, swim in the ocean, or get your heart pumping with any of the water sports!
If you stay on the beach until evening, you can get some fireworks from nearby convenience stores. There are several other shops along with cafes, restaurants, and bars on the beachfront.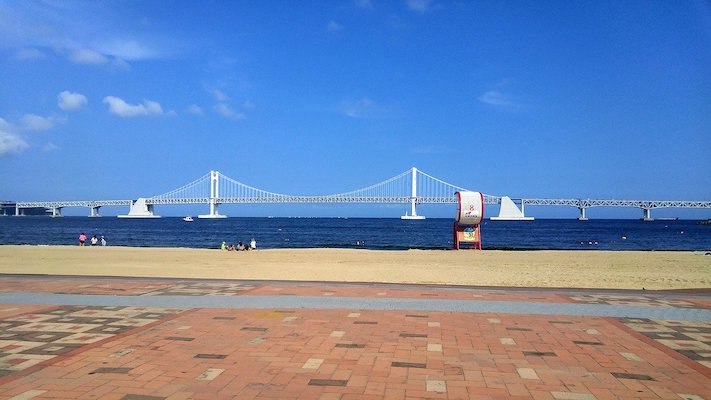 Get some delicious vegan food at Vegenarang as you start walking towards Millak. At this restaurant, you can get vegan version of Korean food dishes and Buddhist temple-style cuisine. The restaurant is on the 9th floor so you get some amazing views of the beach. It is a perfect place to catch a sunset while enjoying some delicious food.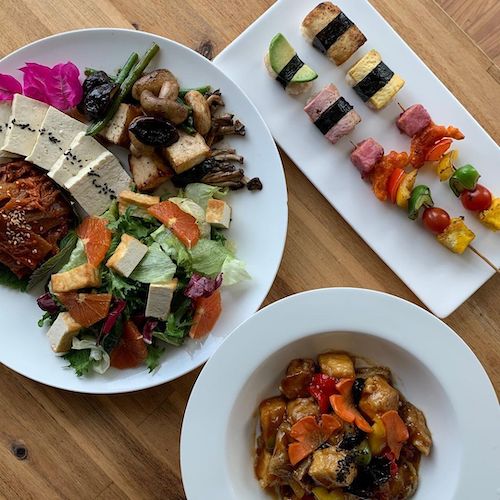 Millak Waterfront Park
It's a popular hangout spot for younger generation of locals. On a typical weekend, the area will be swarming with people especially in the evenings. So, if you want a good spot, head over there timely. You can grab a picnic mat and some take out food and drinks to enjoy the youthful vibe of the place. There are several raw fish restaurants and markets nearby in the Gwangalli area that you must check out before going back to beach. It is one of the popular things to do in Gwangalli especially for younger tourists.
Wild Wave Brewing Co.
As you walk back to the hustle-bustle of Gwangalli, you should stop by Wild Wave Brewing Co., a local brewing company. It specializes in sour and 'wild' beers. You must try a pint of locally-produced craft beer at the Wild Wave Brewing Co. It's a chain of brewery that was first set up in Haeundae and now has several branches across the country.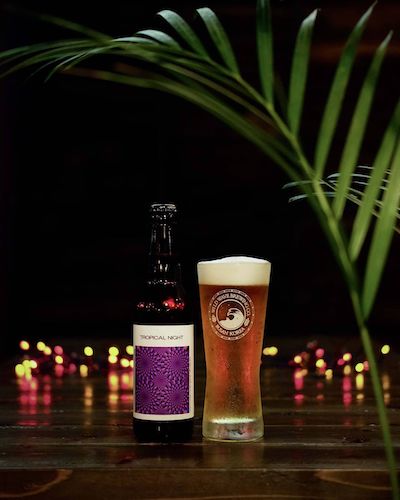 Gwangandaegyo Bridge
There is an incredible light show every night on the Gwangandaegyo Bridge ('daegyo' means big bridge). So, don't just go up on the bridge but catch a veiw of the bridge from beachfront. You can grab snacks and drinks from the convenince stores nearby and enjoy the light show! There are sunbeds on the beach that you can chill out on during the summers.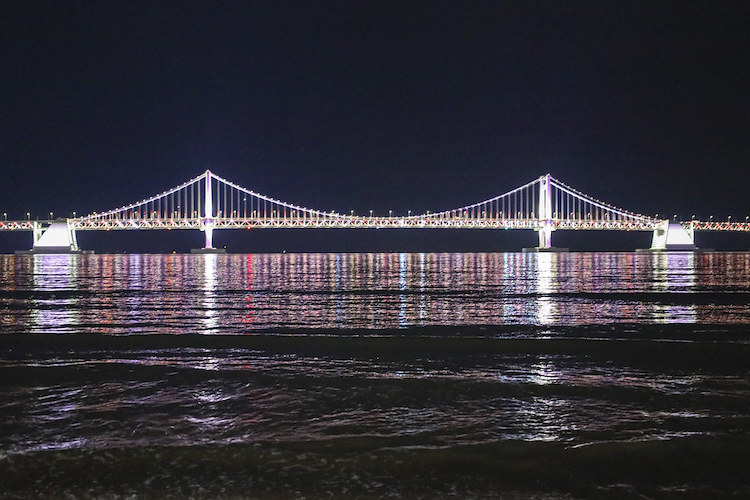 Yangjojang Makgeolli Brewery (양조장)
This place offers a variety of makgeolli in a cozy setting. There's limited seating so make sure you arrive early or be ready to wait for some time. It's a short walk from the beach and there are several unique restaurants and bars nearby.
Gwangalli Beach is lined with several exciting places that are busy all the time. Some of the best spots are hidden in the back alleys and streets so make sure you explore the Gwangalli area for maximum fun. Take time to wander around and you might find some hidden gems that we missed in the list!
12,257 total views, 1 views today