These four Korean craft beers readily found at local convenience stores are perfect for a new lifestyle of social distancing and video chats from home.
After the coronavirus outbreak, our lives have turned topsy-turvy. From bars to restaurants, all have shut their doors for safety precautions. The fun and frolic at such places would resume eventually; however, we can try and enjoy the comfort of our safe home until then.
After a long day at work, a glass of beer at the neighborhood pub with friends is a necessary break for refreshment and recharge for the next day. But in this pandemic situation, that is not a very suitable option for anyone. As the new norms and standards have taken over, turning to the local grocery store for a can of adult beverage for the evening is the best alternative available.
The following is a list of four Korean craft beers that are perfectly aligned with your new lifestyle of social distancing and video chats from home. Hopefully, this compensates for those after-work meeting up with friends at pub experience.
These Korean beer brands can be readily found at your local supermarket and grocery store.
Seoul's craft over the last couple of years has been matured nicely. With time there has also been an addition in the number of breweries and craft beer taprooms, Platinum Brewery is known to be the spearhead among them.
Inseng Pale Ale (ABV 5.2%) made its first appearance 17 years ago at a taproom in Gangnam, Seoul and then about seven months ago, it finally made it to CU convenience store shelves. With time it is taking its unique taste across the country.
This brown-hued brew provides a pleasant, balanced flavor and carries nice froth with a medium body and a solidly bitter and hop profile. Though the alcohol content is noticeable, the flavor of beer provides warmth and a comforting relish. A hint of light flower taste rounds out this pale ale. The beer cup medal winner logos on the label is a proves of its forte. You can look for this brew at GS25 and CU Conveniences stores.
Being the Pioneer of Korean beer brands, Platinum Brewing company brings another great offer to the market, Mr. Bock. Sought out by most of the locals, a trendy brew among Korean beer.
Mr. Bock (6.7ABV) is a lager with a soft mouthfeel that merges bitter and sweet flavors. The sweetness is balanced proportionately with the strong coffee roast that kicks in right after. The award-winning beer has a relatively light body, which is smooth and easy to drink. Also, the bottle aesthetic gives you a classic pompous vibe. Mr. Bock is available at Lotte Mart and 7-Eleven convenience stores.
Playground is an emerging brewery in the North of the Gyeonggi-do brewery scene. The newly founded brewing company was launched in 2015. Though new, it is swiftly gaining attention and becoming one of the most recognized. All credit goes to its high-quality brewing skills.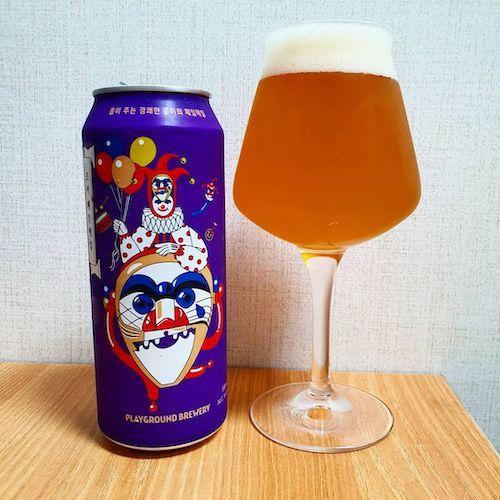 It is slowly occupying space at various stores and grocery shops; you can also buy Playground's Korean craft beers at your local grocery stores. While not long ago one had to visit one of the outlets of Playground Brewing Co., now you can have the taste of the craftmanship from the comfort of your home.
Joker Pale Ale is smooth yet with a slight hoppy flavor. The finish is still always smooth but with a sweet and woody flavor. A sip of this beer will make you want more. Joker Pale Ale is a fine choice from Playground. You can look for this Korean beer at Homeplus, Lotte Mart, and food sections of significant department stores stock this brew.
An affiliated company of Brooklyn Brewery, Jeju Beer Company, launched the Jeju Wit Ale with the help of the Brooklyn Brewery's technology. The Jeju Beer Company is located in Hallim in Jeju Island, South Korean Province. Jeju Wit Ale (5.3 ABV) is made with organic Jeju orange peels, which gives the Korean beers a fresh and bright flavor.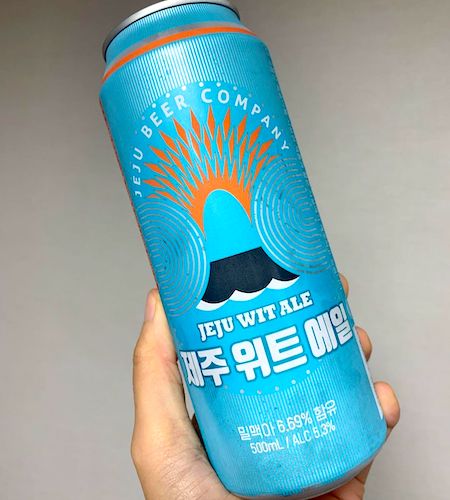 The hazy, golden-hued beer has a light body with a white head. The wit ale carries a slight aroma but has bright citrus and tangy flavors with a hint of coriander, bananas, and wheat. This basic Belgian style is perfect for a summer refreshment. Jeju can be found at GS25 and CU convenience stores.
5,420 total views, 1 views today