Every summer in Korea signals the anticipated return of bingsu, a delectable shaved ice treat. With traditional favorites always in demand and inventive new flavors and variants popping up annually, it's no surprise that Korea has a lane dedicated just for bingsu enthusiasts.
Classic Bingsu Flavors: The Evergreen Patbingsu
Patbingsu remains a perpetual choice for many, often being the lone bingsu variant on several menus.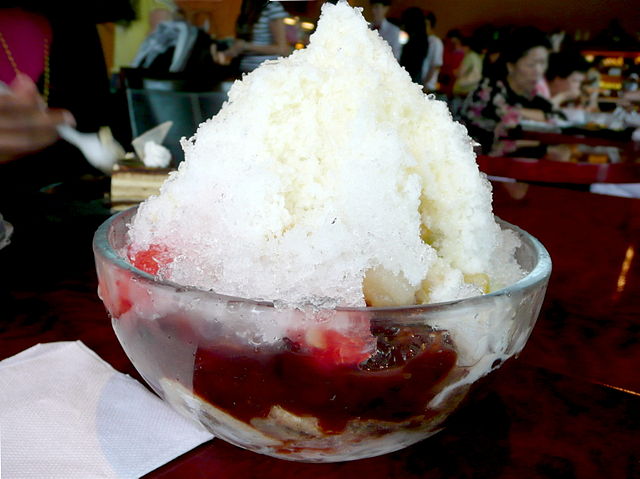 The sweet red bean paste garnishing the ice is a culinary art in itself. It requires a meticulous balance of sweetness and texture, which is why renowned patbingsu outlets prefer crafting their in-house bean paste.
Where to Get the Best in Seoul?
Dobinggo in Ichon-dong: Committed to authenticity, Dobinggo is a popular bingsu (shaved ice dessert) shop in Ichon-dong, Seoul. It is known for its authentic patbingsu, made with homemade sweet red bean paste, shaved ice, condensed milk, and toppings such as rice cakes, fruit, and nuts. Dobinggo also offers a variety of other bingsu flavors, including strawberry, mango, and green tea.
Homilbat in Sinchon: Homilbat is a popular dessert cafe in Sinchon, Seoul. It is known for its traditional Korean dessert bingsu (shaved ice with red beans), made with homemade red bean paste. Homilbat also offers a variety of other bingsu flavors, including green tea, watermelon, and mango.
Geumokdang in Yeonhui-dong: Geumokdang is a traditional Korean dessert cafe in Yeonhui-dong, Seoul. It is also known for its homemade red bean paste, which is used to make a variety of desserts, including bingsu, jellies, and pastries. Geumokdang also offers a variety of other desserts, such as fruit parfaits, ice cream, and waffles. Geumokdang is a great place to go for a delicious and authentic Korean dessert. The desserts are made with fresh ingredients and the portions are generous. The prices are also reasonable. If you are in Yeonhui-dong, be sure to stop by Geumokdang and try their desserts.
Namcheon Nokcha Patbingsu: Known for their unique touch of green tea powder. And, if you're a fan of Instagrammable spots, their interior won't disappoint. Namcheon Nokcha Patbingsu's shaved ice contains plenty of red beans, so you can enjoy the true taste of red bean shaved ice. In addition, the nuts and syrup on the shaved ice enrich the taste of the shaved ice. Namcheon Nokcha Patbingsu is one of the must-try shaved ice restaurants in Busan. If you want to enjoy the bitter taste of green tea and the sweet taste of red beans, visit Namcheon Nokcha Patbingsu.
Maru Patbingsu: A haven for crunchy ice and sweet red bean aficionados. Maru Patbingsu is a shaved ice restaurant located in Suyeong-gu, Busan. The shaved ice here is made with various ingredients such as red bean paste, green tea, fruit, and ice cream, and the red bean shaved ice is especially famous.
Nampo-dong Patbingsu Alley: A time capsule that whisks you back to the 1970s. Simple ingredients create a memorable experience. The alley is located in the heart of Nampo-dong, Busan's busiest shopping district. It is a street lined with bingsu shops, each with its own unique take on the dessert. The bingsu in Nampo-dong Patbingsu Alley is made with fresh ingredients, and the shops offer a variety of flavors to choose from, including 팥빙수 (patbingsu with red beans), 녹차빙수 (green tea bingsu), and 망고빙수 (mango bingsu). If you are in Busan, be sure to visit Nampo-dong Patbingsu Alley and try some of the delicious bingsu. You won't be disappointed!
For the 'Gram: Unique Bingsu Creations
sweet_and_ in Daegu: Their jjajangmyeon bingsu is a visual illusion. The ice cream impersonates noodles, while the red beans serve as the sauce. If you are always on Instagram, this is a must-visit bingsu cafe in Daegu.
Café Allright: Their bibim bingsu mimics bibimbap to perfection, ensuring a flurry of likes on your social feeds. There are frozen milk flakes, colorful fruits and injeolmi (bean-powder-coated rice cakes) toppings. The jelly looks like a fried egg and strawberry jam replaces gochujang (red chili paste) in a visual mimicry of bibimbap.
Plant-Based Cravings: Vegan Bingsu
Pan Honesta in Itaewon: Oat milk forms the base of their vegan bingsu, with diverse vegan toppings to choose from.
Living Luxuriously with Bingsu
High-end hotels, like The Shilla Hotel in Seoul and Grand InterContinental Seoul Parnas, have jumped aboard the bingsu express, offering indulgent variants and flavors for a limited time.
Convenience Store Bingsu: A Budget-Friendly Bliss
Perfect for those seeking delectable flavors without the hefty price tag. Convenience stores are a great option if you're looking for a quick and affordable bingsu flavors. They offer a wide variety of flavors, from the classic patbingsu to more unique options like fruit bingsu and bingsu made in collaboration with popular brands. And because they're sold at convenience stores, bingsu is much more affordable than at a restaurant.
Choonsik's strawberry bingsu features the popular Kakao Friends character, making it a fun and delicious treat for kids and adults alike. 
GS25 Melona bingsu is a collaboration between GS25 convenience store and Melona, a popular ice cream brand. It's made with Melona ice cream, so it's sure to be sweet and refreshing. 
---
From timeless classics to avant-garde innovations, the world of bingsu in Korea promises something for everyone. As the summer heat bears down, find your relief in a chilly bowl of this Korean favorite.
---
Related Posts
244 total views, 7 views today