Busan is the second-largest city in South Korea, famous for historic temples, majestic mountains, and gorgeous beaches that rival those in Florida's Miami. Busan is a popular tourist spot amongst locals and visitors with its relaxing and peaceful holiday resort-like ambiance. The enchanting beaches of Busan make it a particular favorite, especially during summer. Here are the best beaches in Busan that you can visit in the summer season for a relaxing holiday!
1. Haeundae Beach
Do you enjoy attending the Busan International Film Festival in South Korea? Visit Haeundae Beach in Busan to make your trip a blockbuster event like the movies in the festival! Haeundae is the most iconic beach in Korea, which is visited by thousands of local and foreign tourists each year. In earlier times, the surrounding area of Haeundae Beach was famous for fishing and hot springs.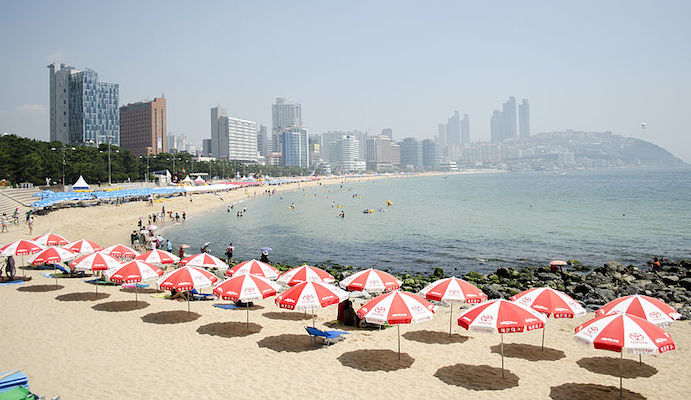 Currently, the beachside is decorated with shiny hotels, luxurious restaurants, unique cafes, and excellent shopping centers. All this makes Haeundae Beach one of the best beaches in the port city of Busan. You will also come across several family-owned restaurants and street carts that make Busan's famous fish cakes in the alleys along the beach. There are several bars and nightclubs nearby where you can enjoy yourself until the morning hours! Haeundae Beach is undoubtedly the most iconic beach of Busan with its white sandy beaches and clear waters.
2. Gwangalli Beach
Although Haeundae is the most popular, Gwangalli Beach isn't too far in its popularity, especially with the majestic Gwangan Bridge spanning across the sea. Fabulous views of the bridge are simply spectacular in the night when the Diamond Bridge is lit up. Unlike Haeundae Beach, Gwangalli Beach has a more romantic vibe.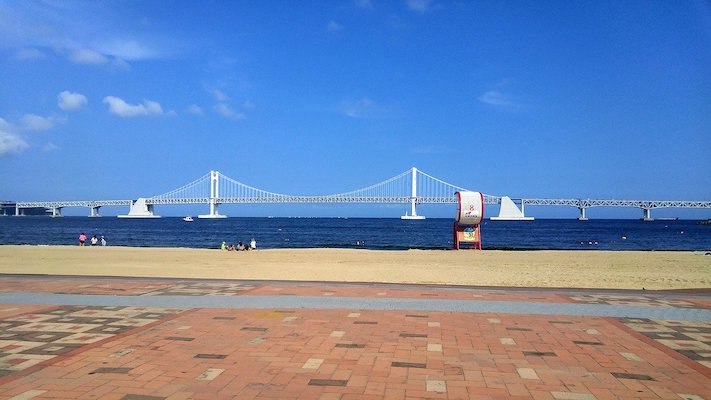 You can stroll on the beach and enjoy the cool breeze from the sea with your partner. There are cafes, nightclubs, and several beachside bars where you can stop for a bite or drink. During the summer months, the beach turns into a stage where visitors can enjoy different entertainment options like dance performances, magic shows, or even busking.
3. Songdo Beach
Songdo Beach is smaller, and it caters more to tourists who are inclined towards sightseeing. The main attraction at the beach is the 365-meters long skywalk. It is built above the sea, and it has a glass bottom. You will certainly enjoy the views from Songdo Skywalk in the night as you can see the glittering sight of the sunset. It is well lit until 11 pm so people can enjoy the night views.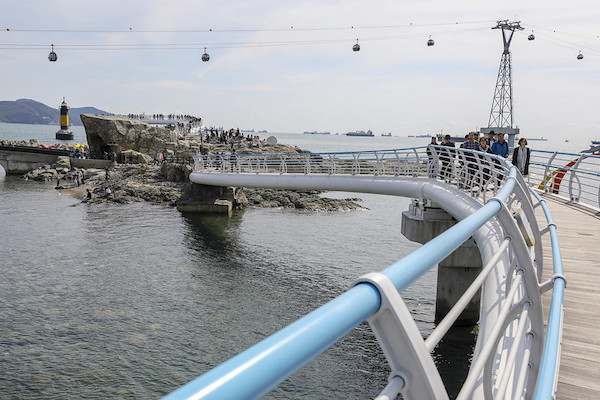 Using the cable car service, you can travel from Songnim Park to Annam Park and observe the region differently.
4. Dadaepo Beach
Dadaepo Beach is one of the Busan's hidden treasures. The magnificent sunset at Dadaepo Beach attracts amateur photographers who want to capture the beautiful sight. It is also a family-friendly destination as they enjoy visiting the mudflats.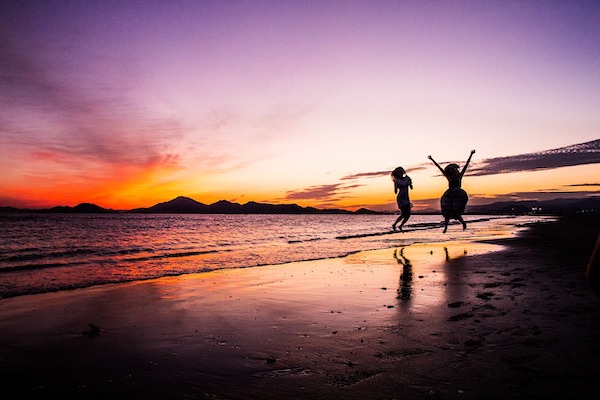 The best time to visit Dadaepo Beach is to visit it after sunset so that you can watch the Sunset of Fountain Dreams. It is a huge musical fountain that comes to life at night. Water from the fountain shoots up to 55 meters, and it dances to the variety of background music.
5. Songjeong Beach
Songjeong Beach is a surfer's paradise – there are gentle waves, shallow waters, and warm water. It is surfer-friendly all year round. If you are not a fan of big crowds, Songjeong is the best beach for you in Busan.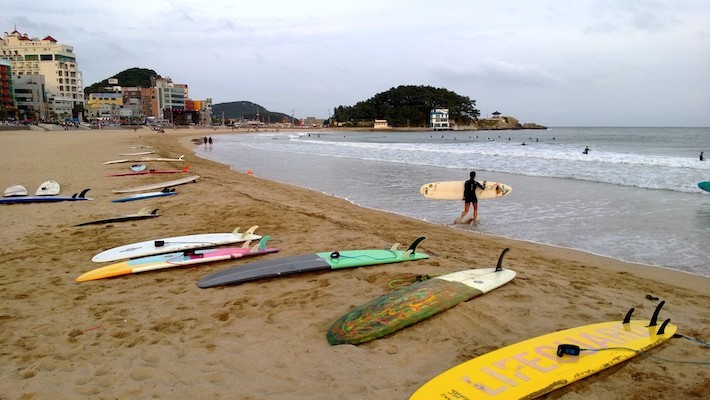 Add these fantastic beaches to your itinerary of South Korea so that you can relax at the best beach in Busan. Sandy beaches, a peaceful and calm atmosphere, a chill ambiance, and fantastic eating joints nearby make these beaches in Busan the best way to chill in summers. 
Check out other Busan must-visit locations and read about them on KoreaTravelPost:
2,462 total views, 3 views today
What's your thoughts?
+1
+1
+1
+1
+1
+1
+1