799 total views, 2 views today
Time to go out and enjoy the gorgeous Mother Nature, warmer weather, and beautiful spring flowers in the port city of South Korea, Busan!
With warmer weather as we welcome spring, its time to go out and enjoy all the gorgeous beauty of spring flowers. Why not plan a visit to all the beautiful spots in Busan where you can enjoy spring to the fullest? The peak spring season is here so plan your trip quickly so that you don't miss out on amazing spring spots in the city.
Here are our 5 recommendations of Busan destinations where you can enjoy the spring flowers!
Daejeo Ecological Park
A great place for nature lovers in Busan throughout the year, Daejeo Ecological Park stands out, especially during spring. Throughout most of April, the park gets covered in gorgeous yellow flowers making it a beautiful sight.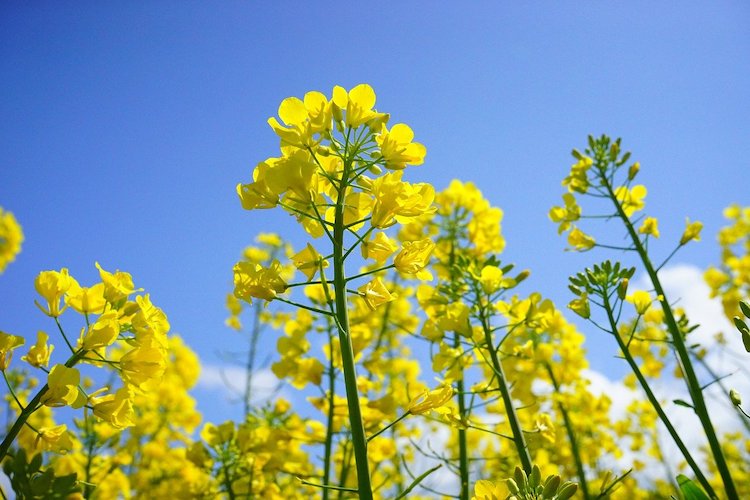 Daejeo Ecological Park is located near the Busan metro line 3 towards the western end. Along with the beautiful flowers, the park is also popular for preserved Wetlands. It is a valuable sanctuary for winter migratory birds.
It is a huge park that extends over 750,000 square meters and is the largest garden in Korea of yellow rapeseed (canola) flowers. There's even an annual festival that celebrates the blooming canola flowers in April when they are in full bloom.
Namcheon-dong
Samick Beach Apartment Complex near Gwangalli Beach becomes flush with cherry blossoms in early spring. There are many cherry blossom trees which were planted when the site was reclaimed in 1980. Over the past four decades, the trees have become majestic and a beautiful sight to behold, especially in spring.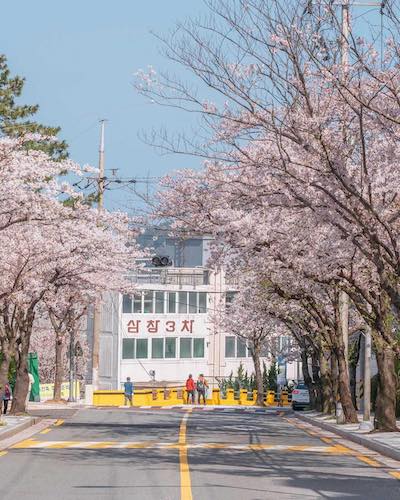 Flowers are in full bloom near the end of March and beginning of April. There are so many Instagram-worthy shots that you can take to dazzle your friends.
There is a nice coastal promenade around the complex where you can enjoy activities like cycling, walking along the pathway. After the rides, you can even enjoy a relaxing drink at one of the coffee shops along the Gwangalli Beach.
Samnak Ecological Park
It is another destination in Busan where you can enjoy the beauty of spring flowers! Samnak Ecological Park is a place worthy of visit throughout the year but it truly is marvelous during early spring.
Along the Nakdonggang River, there are more than 3,000 cherry blossom tress in the park. This pathway transforms into an otherworldly tunnel of pink flowers in spring making it a truly wonderous sight.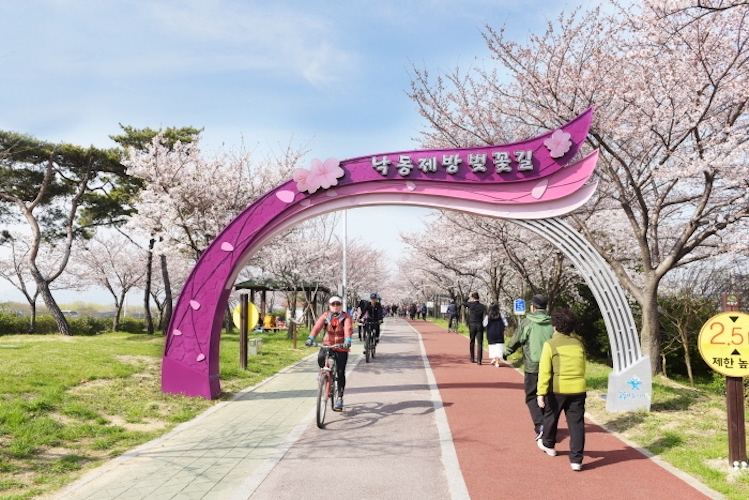 Samnak Ecological Park is not just a beauty in spring but a perfect place for nature lovers to enjoy. There are sports facilities within the park for sports enthusiasts like soccer, badminton, and even tennis.
Dalmaji Hill
When it comes to Haeundae, white sandy beaches are what comes to mind. But, there's a lot more to Haeundae than chilling on the beach. Dalmaji Hill near the beach is one of the best places in Busan where you can enjoy the magnificent views of cherry blossoms and the city.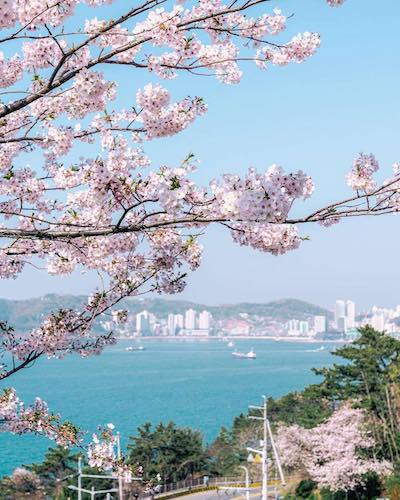 If you are traveling from the Mipo Intersection towards Dalmaji Hill, you will be able to enjoy the beautiful views of the ocean on the right. On your left, you will find a host of restaurants, cafes, galleries, and more.
Moontan Road is another forested pathway in Busan where you can enjoy the blossoming flowers.
Democracy Park
Democracy Park is completely different and the cherry blossom experience is unique. The cherry trees here bloom a month later than most cherry blossom trees. The donarium variety of these trees have bigger flowers with colorful and beautiful petals.
Democracy Park is located on the mountainside road in Yeongju-dong. It was created to honor the Korean democracy movement. In this park, the cherry blossoms bloom from mid-to-late April. Along with enjoying the views in spring, you can also explore the memorial hall, sculptures, and rest by the pond for a relaxing visit.
From the observation deck, you will also be able to see the Busan New Port, Yongdusan Mountain Park, and even the Port Bridge.
Read more about spring activities in Korea from KoreaTravelPost:
What's your thoughts?
+1
+1
+1
+1
+1
+1
+1