BTS is back with another online live streaming concert – Bang Bang Con 21!
Bang Bang Con 21
K-pop dynamite BTS is back with 'Bang Bang Con 21' for fans amid the ongoing pandemic. It is the latest in the series of online streaming events that have kept the AMRY busy, especially when they are unable to watch their faves perform live on stage.
The online event will stream on the official YouTube channel Bangtan TV from Saturday at 3 pm (April 17, 2021).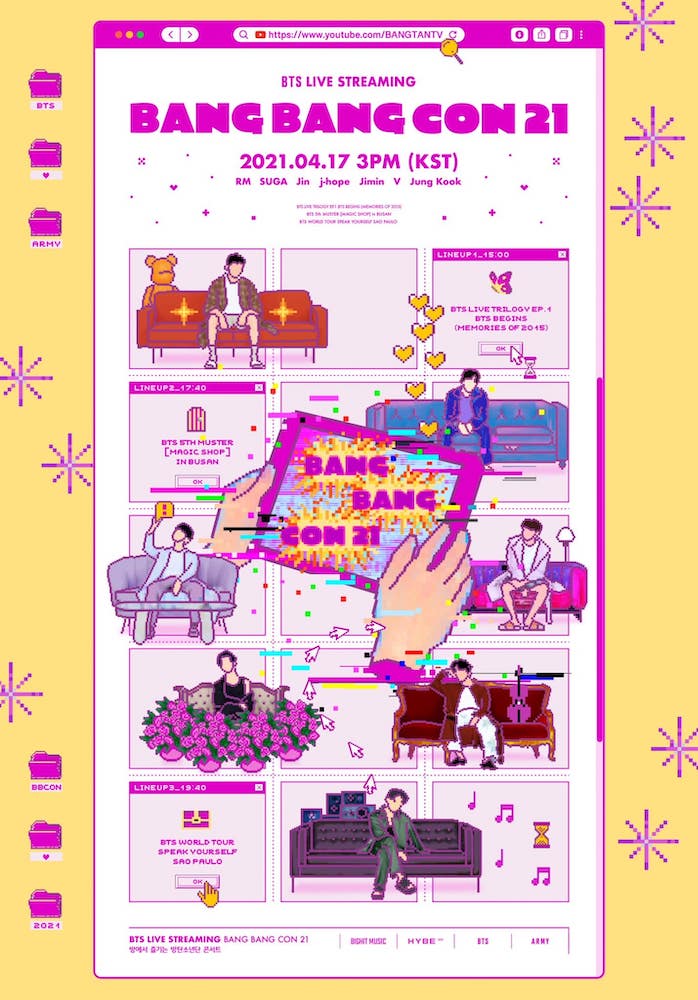 This online streaming show will also include clips from past concerts and fan events. You will be able to see glimpses of "2015 BTS Live Trilogy: Episode 1. BTS Begins," "BTS 5th Muster [Magic Shop]" held in Busan in June 2019, and "BTS World Tour 'Love Yourself: Speak Yourself'" held in Brazil, in May 2019.
Follow #BANGBANGCON21 on Twitter for more fan updates!
Prevous Online Streaming Concerts and Events (2020)
BANG BANG CON The Live
After the success of Bang Bang Con in April, Big Hit Entertainment has announced a new online live streaming concert.
BANG BANG CON The Live is an online live concert that will let BTS and ARMY continue to nurture their special connection together while keeping everyone safe and healthy!
It's a multi-view BTS concert experience right in the home of each and every ARMY!! Are you ready for a virtual visit to BTS's own room, specially prepared for the ARMY?
BANG BANG CON The Live will begin at 6 p.m. on June 14 (Sunday) via pay-per-view streaming, and will be available for purchase from 1 p.m. on June 1 (KST) on Weverse Shop.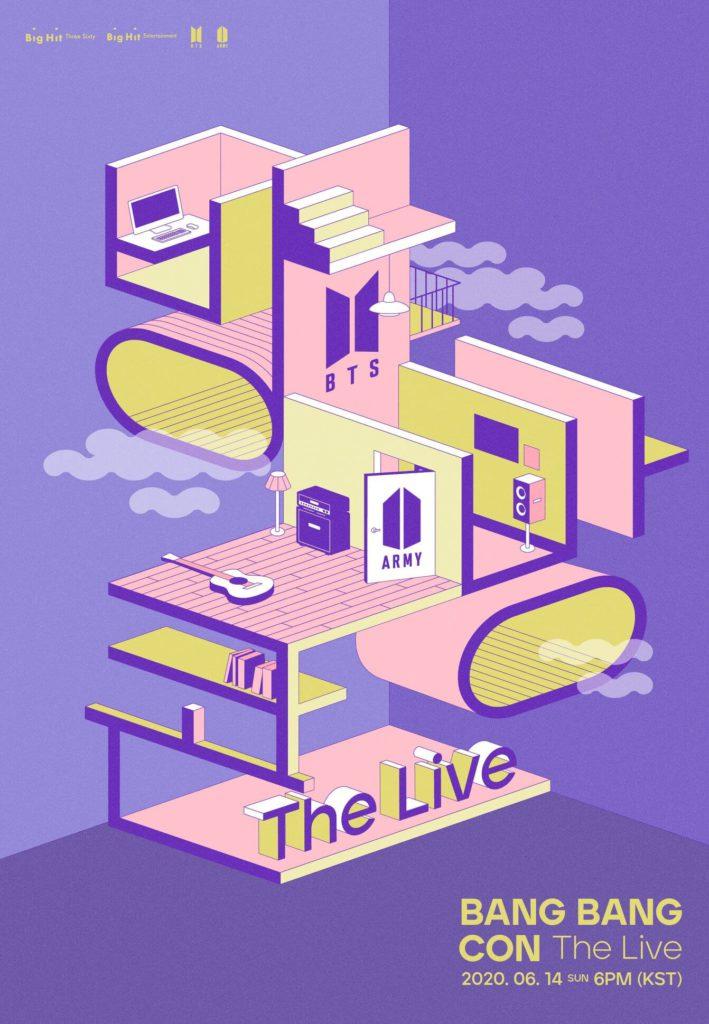 A New Era of Live Concerts
Were you planning to travel to South Korea to watch your favorite K-pop idol's live concert? And were you disappointed that most were canceled or postponed indefinitely due to coronavirus? Well, then you will definitely like this post.
Last weekend, millions of BTS fans enjoyed the Bang Bang Con, a two-day event with old concert footage that spanned BTS' seven-year career.
From Friday, April 17, at 11 p.m. EST, fans around the world logged in to the BangtanTV YouTube channel and Big Hit Entertainment's Weverse app to stream Bang Bang Con. It showed off their past four concert films from their Red Bullet, HYYH, Wings, and Love Yourself tours. It also included their third and fourth "muster" celebrations. For 24 hours, ARMYs could enjoy their favorite band when they're missing out because of all the canceled concerts.
More than 50 million people watched the stream, and at its peak, around 2.24 million people were viewing at the same time.
People joined together in the times of social distancing via Zoom gatherings to watch their favorite K-pop idols in the Bang Bang Con. The best part about Bang Bang Con is that it was free for all to enjoy. Instead of watching the concert with thousands of people in a stadium, people watched it with millions on social media.
If by any chance you missed out on it, you can look forward to something similar in June. Bang Bang Con ended with a message that popped up on the screens of everyone still watching. That message claimed that "In June, BTS will return to ARMY's rooms once again."
BTS Suspend Map of the Soul World Tour
In an alternate universe, we would be flying out to Santa Clara, California, to experience the first two nights of the Map of the Soul tour. But, alas, that is not the world we live in! The dates of the official Map of the Soul tour, North American leg, were postponed in March when the fight against coronavirus meant a long road to travel.
Amid the worries of coronavirus spreading and all the travel restrictions and social distancing, BTS will suspend the world tour. It makes sense as no matter where the performance is held, thousands of international fans travel to see these performances.
But, ARMYs don't worry. The tour is not canceled! It will be rescheduled for a later date as soon as the coronavirus situation clears up.
A New Way for Concerts
As the coronavirus pandemic has forced events into indefinite postponement, many large scale entertainment industries are focussing on new strategies.
Just like BTS' Map of the Soul tour, NCT Dream's Japan tour, The Dream Show, was canceled. There are no updates about the NCT 127′ North American tour.
BTS has undoubtedly paved the way for other K-pop bands for live streaming concerts. We certainly appreciated the dose of BTS through the self-quarantine and stay at home situations.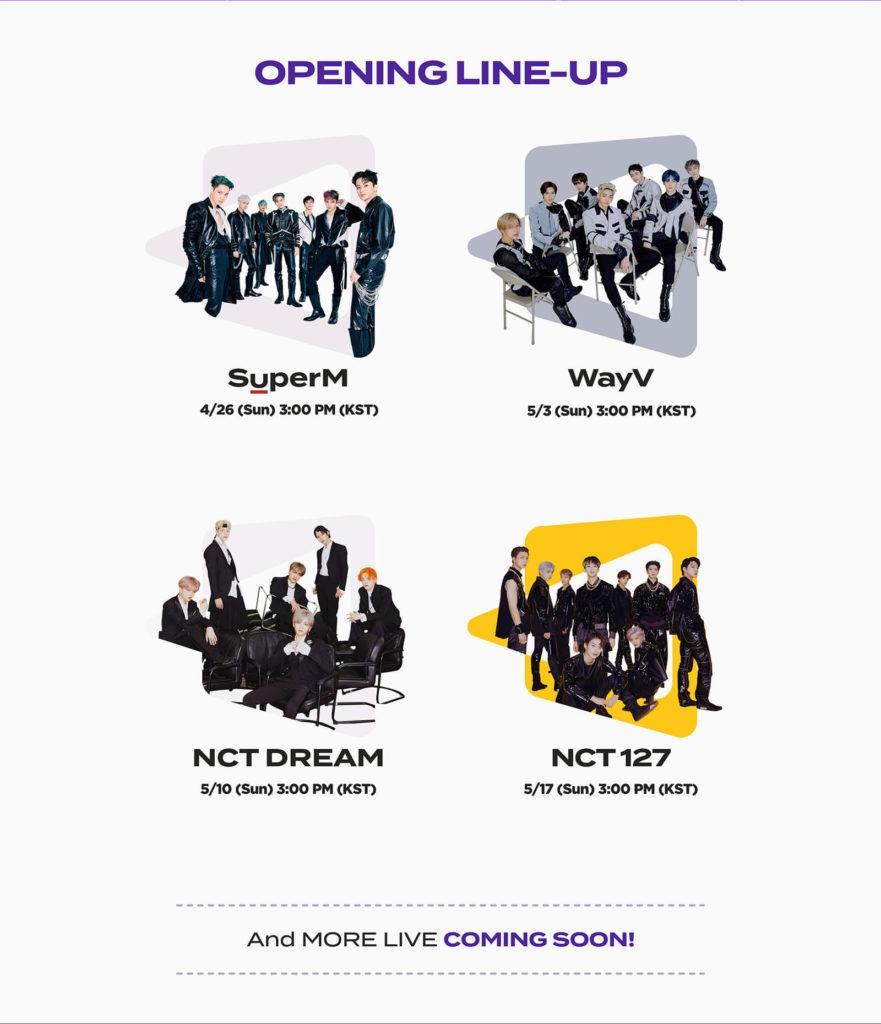 SM Entertainment is following Big Hit Entertainment's footsteps by partnering with the live streaming platform, V Live. They plan to deliver live concert screening to fans but the views are paid, unlike the free Bang Bang Con. SM Entertainment is charging $30 for viewing the concerts. While it's not free like BTS' Con, it certainly beats sitting at home missing out on your favorite K-pop idol's performances.
You can enjoy the band's concerts via the app's Beyond Live channel. All the events will be streamed at 3 p.m. Korean standard time.
The new performance culture combines the artist's performance with various graphics and technologies. For the SM Entertainment artists, you can meet on the stage created by fans and artists together.
7,079 total views, 1 views today