There is no shortage of mass festivities in South Korea at any given time, from fireflies and ice fishing to bullfighting and bodypainting. One of Korea's most famous events is the Boryeong Mud Festival. This festival is well known for its mud and attracts many tourists from all over the world. If you're planning on going to this festival, make sure to read this article to make the most of your trip!
The Boryeong Mud Festival (보령머드축제), 2022 in South Korea, is all about mud.
The Boryeong Mud Festival is a popular event in South Korea. The festival features bouncy castles, slides, football fields, and mud-filled inflatable prisons. Have some fun at Gangnam style! You can enjoy live music and DJ performances here.
What is the Boryeong Mud Festival?
Every year, the city of Boryeong in South Chungcheong Province immerses itself in the healing properties of its natural sea mud. The organizers transfer mineral-rich mud from the Boryeong mud flats to Daecheon Beach and use it to build mud baths, mud slopes, and mud pools.
The Boryeong Mud Festival is a fun summer event that turns the quiet seaside town into a mud playground. The festival is a great place to have some fun and cool off in the ocean, thanks to the K-pop and EDM beats that create a festive atmosphere. The festival is also famous for its opening and closing ceremonies, including large music performances, fireworks, and celebrations.
A brief history of the Boryeong Mud Festival
The first Boryeong Mud Festival was held in 1998 to promote the benefits of the area's natural mud. Since then, the festival has almost tripled in size and popularity, with over 2 million people from around the globe coming to see it.
The Boryeong Mud Festival was founded to encourage makeup manufactured with the area's mud. Boryeong mud, according to the event's organizers, is high in minerals, including germanium and bentonite, and it emits significant quantities of far-infrared radiation, which is great for the skin. However, the beachside celebration quickly overshadowed any attention paid to the mud beauty benefits.
Boryeong Mud Festival Activities
Many major attractions along the seafront will offer both young and old a fair share of muck throughout the event. All of these will help you lose those excess calories while keeping your skin young, including a giant mud pool, a mud prison (in which you get mud hurled at you in classic Medieval style), mudslides, mud wrestling, and even mud skiing competitions.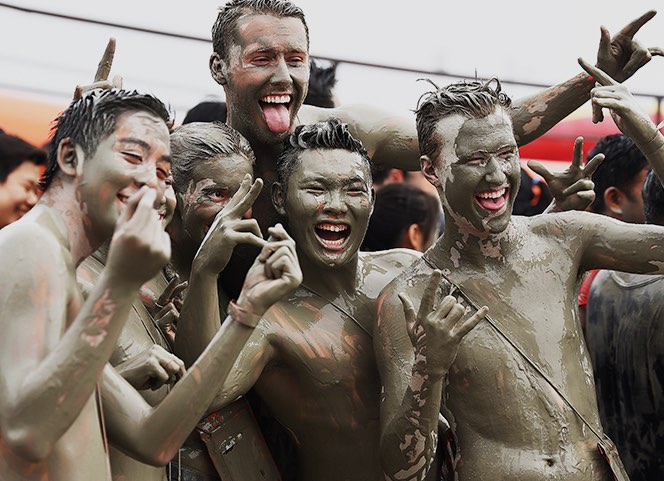 The mud massage zone may provide the ideal environment for those looking for a more tranquil experience, and cosmetics made from local mineral-rich mud can be found at a small seaside market. There are also health and beauty facilities that provide a variety of treatments, including acupuncture and massage. Children with tiny, modified mud pools may also enjoy the event.
The evenings will feature live music concerts (Gangnam Style's Psy has performed in the past), rave parties, and a World Skin Beauty Pageant, so it's not just about mud. Local eateries will provide you with both regional and foreign cuisine to be washed down with Korean beer and soju, South Korea's most popular liquor. If this makes you hungry, then head to one of them.
The most popular time of the festival is the last weekend when no one can avoid being spotted. The event is usually closed with a large fireworks display. Bring a change of clothes with you.
Accommodation at the Boryeong Mud Festival
Many people will come to Boryeong during the festival. If you want to stay in a hotel, you must book well in advance. Prices for hotels usually double during this time.
Many Koreans also offer rooms for rent in their homes. This is a great way to get to know the locals, and it is especially popular during the Boryeong Mud Festival.
Getting There
On the first level of Incheon International Airport, a bus to Boryeong departs five times each day at Stop 09D. You may buy tickets at the terminal or pay directly to the driver.
From the Central City Bus Terminal, which runs roughly every hour, express buses go to Boryeong from central Seoul. Regular train services from Yongsan Station and Yeongdeungpo Station to Daecheon Station are also available. You may reserve a month in advance through the internet.
Boryeong Mud Festival Tips
Keep a waterproof pouch with you: Everything will get spattered with mud! If you haven't brought a waterproof casing, there's one available at Daecheon Beach for purchase.
Go Pro: "It's now or never for Boryeong Mud Festival," says a Go Pro camera user.
Sunscreen: In Korea, the summer is hot! Although it may appear gloomy (due to pollution), it is hot out there, and the last thing you want is to be fried. The worst possible scenario would be a combination of hungover and burnt! While the hangover is unavoidable, the burn is. Therefore, apply sunscreen liberally.
Ending Note
Although it started as a way to market Boryeong mud, the Boryeong Mud Festival has become one of Korea's most beloved summertime events. The festival is now an opportunity for people to come together, relax, and have some good old-fashioned fun. The Boryeong Mud Festival should be on your list if you're looking for a one-of-a-kind experience!
9,635 total views, 3 views today