Before you make travel plans to South Korea, here is some travel news that will help you hash out your plans. And this will ensure that you will certainly not miss out on anything exciting while in the beautiful cities of Korea!
Travel News in South Korea
Seoul Developing Seoul Beauty Road
Seoul city is going to work on developing a K-Beauty Road or Seoul Beauty Road with popular beauty blogger Risabae. It will be a walking route with all the best K-beauty products, services, and many other interactive programs for tourists. You will be able to experience the popular makeup styles of Korean actors and idols. This beauty road is set to open in September.
K-beauty blogger and one of the most well-known makeup artists in Korea, Risabae is the Seoul Beauty Creative Director and the road's brand ambassador.
Accorind to a Seoul city spokesperson, "the basic concept of Seoul Beauty Road is an interactive beauty tourism that can gratify all five senses of the visitors." Even the current Seoul city's mayor, Oh Se-hoon, stresses that the beauty industry is the city's future growth sector.
Jeju World Heritage Festival will open restricted UNESCO sites to public
The UNESCO Natural Heritage sites on Jeju Island include Geomunoreum Lava Tube System, Mount Halla, and Seongsan Ilchulbong Tuff Cone. These sites, that cover about 10% of the total island, do not allow any unauthorized entry.
However, as the country celebrates Jeju World Heritage Festival from October 1 to October 17, these restricted areas will be unveiled to the public. The theme of 2021Jeju World Heritage Festival is 'Encounter' and it aims to provide unique experiences to people.
"Jeju's walking trails have more to offer than the Santiago pilgrimage route in Spain. It is a very rare opportunity for all to enjoy the beauty of nature … Globally, there is a very small number of natural heritage sites as it is hard to be listed and maintain the heritage status. So, the festival has been made to promote the area so that many can learn the value of the area's natural heritage and thus protect it"

Kim Tae-wook, general director of Jeju World Heritage Festival
There will be walking trail programs that will give nature lovers a chance to walk in and near the lava tubes. A small number of pre-screened tourists will also be given an opportunity to enter the three lava tubes – Gimnyeonggul Lava Tube, Bengdwigul Lava Tube and Manjanggul Lava Tube.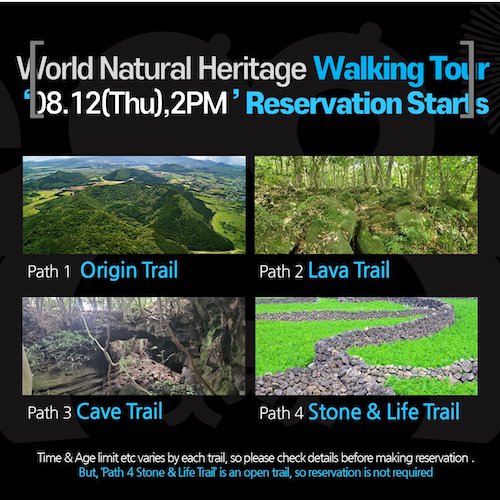 If you haven't reserved a spot on this exclusive once in a lifetime opportunity, you can join in other walking tour programs such as 'Breath of Fire Trail.'
Along with these tours, there will be several ceremonial events showcasing performances and art on the theme of natural heritage.
Check out more event related information on its Facebook channel.
Visit Korean Museums on Metaverse
Korean museums are going live on metaverse with aim to reach the younger audience amid the pandemic and the travel restrictions it has brought with it. Metaverse is a combination of 'meta' and 'universe', and refers to a virtual world shared by people in real world. This digital universe is trending as Covid-19 has forced the world into lockdowns. Metaverse is popular among millenials and Gen Z, that is people born between 1980s and 2010s.
Because of pandemic, now museums are creating online experiences and virtual AR/VR tours where you can visit the museums from the comfort of your home. Metaverse is also becoming a popular platform for museums to become accessible to people around the world.
Last year in December, National Museum of Korea setup a metaverse server for kids on Minecraft. It allows participants to visit National Museum of Korea Children's Museum in the virtual world. The metaverse is an idential replica of the museum in Yongsan-gu, Seoul.
Podo Museum on Jeju Island is another Korean museum on Naver's metaverse platform Zepeto. As a viewer, you can enjoy 'The World We Made' exhibition in the musuem. The best part, like a real museum, user avatars can take pictures infront of the exhibits.
Read relevant travel news from KoreaTravelPost that will affect your travel plans to South Korea:
4,927 total views, 7 views today