A trip to Seoul is incomplete without going on a shopping spree. Korea's fashion capital boasts of some of the most vibrant and lively markets, however, none can match the spirit of Myeongdong. Located in Jung-gu, Seoul, it is a paradise for everyone. Not only for shopping, but Myeongdong also holds an entirely new experience for every traveler. Even if you can manage a short trip here, you will still have time for some of the best things to do in Myeongdong.
Some Awesome Things to do in Myeongdong
Laden with departmental stores, eateries, cafes, boutiques, and lodging houses, Myeongdong has something to offer everyone. Here is a list of things you should definitely do when you are here:
#1 Haters Gonna Hate, Fashionistas Gonna Shop
Needless to say, Myeongdong is a fashionista's paradise. Shopping is one of the best things to do in Myeongdong Some of the prominent fast fashion stores have outlets here that will definitely help you with your fashion needs.
This store is the perfect combination of high-end sophistication and trendy fashion. You can treat yourself to a wide range of apparel from domestic and international brands, and even score some good discounts if you are lucky! Not only clothes, but a huge collection of make-up, beauty, and skincare awaits you. To top it off, the stores offer you duty-free products, and that's a plus for international customers.
You can also enjoy a hearty meal at the food court, after a very fulfilling shopping therapy.
Shingsegae Department Store
A little indulgence in luxury never hurts, and Shinsegae is just the place for you! Floor after floor, an array of clothes, accessories, make-up, and beauty items from international and domestic brands will set your soul in motion. And you can take home all the amazing things duty-free!
A close competition to Lotte Store, Singsegae has upped their game with a wonderful infusion of culture to your shopping experience. The myriads of cuisines available at the food court will surely leave you spoilt for choice. You can also treat yourself to exotic fruits and other exquisite delicacies as well. Singsegae also has an art gallery that has several Korean handicrafts on display. So your cultural interest and high-end shopping go hand in hand.
#2 The Skincare Hoarder's Paradise
Skincare is one of the most famous things in South Korea. Korean skincare is taking over the world for not only some excellent formulations and inclusiveness, but also the very adorable packaging. Upgrading your skincare stack should be the top things to do in Myeongdong. Some of the best Korean skincare flagship stores and boutiques reside in Myeongdong.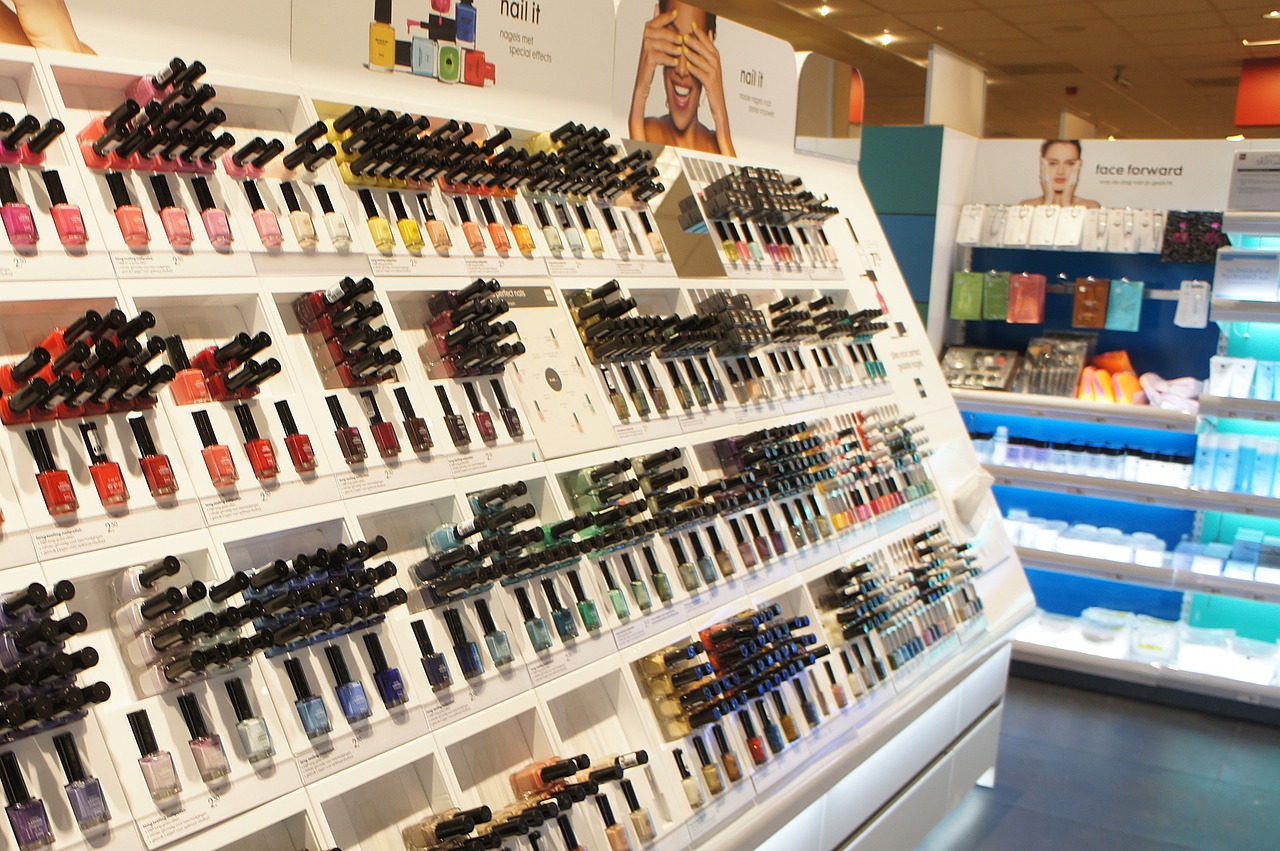 Aritaum
Aritaum stores offer you a wide array of Amore Pacific brands like Laneige, IOPE, Hanyul, and more. All of their products are effective and affordable, and therefore deserve a place in your vanity. You can also get your hands on some crowd favorites like the "Idol Lashes" and IOPE's air cushion: both are all-time bestsellers.
The Stylenanda Pink Hotel is literally the Barbie dollhouse come to life. The store and its vibe can be described as aesthetic, lively, and uber cool. Donned up with modern amenities, the fancy pink vibe of the place itself is a mood-lifter! 
You can splurge on tonnes of makeup, skincare, and clothes without being too hard on your pocket. Of course, this store will be your perfect place to click pretty pictures for your gram. You can also check out the cutesy pool cafe upstairs, their drinks are quite famous. 
#3 Gorge on the Best Korean Delicacies
Don't tell us you can shop with an empty tummy! Many stores in Myeongdong come with some cute cafes for a little munch and sip. But that will not help if you are looking forward to a whole day of shopping around and walking in Seoul. A sumptuous Korean meal is what your heart and tummy need!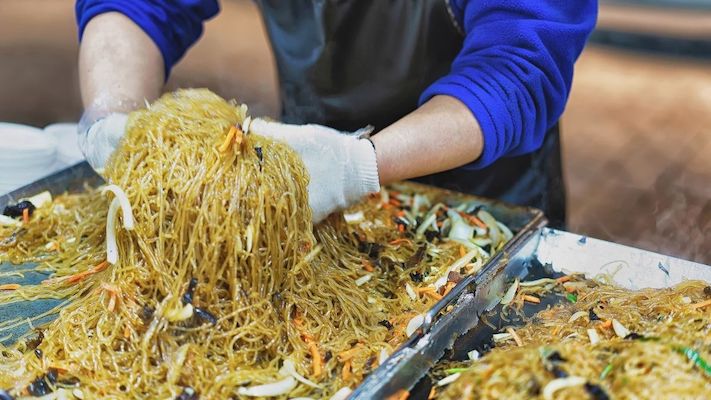 Myeongdong Kyoja
This is the most famous eateries in Myeongdong shopping street, and a crowd favorite. As a 2020 Michelin Guide restaurant, you should surely try out their lip-smacking delicacies. Their homemade kalguksu (Korean knife-cut noodles in soup) and mandu (dumplings) are crowd favorites.  
You can also try their special kimchi with the noodles for a kick to your taste buds. The dumplings make an awesome pair with their bibimguksu or spicy cold noodles.
Arirang Pork Belly
After spending all your wons on the coveted beauty and clothes, you need a heavy meal for the ultimate fulfilling experience. We have just the place for you! Arirang Pork Belly has some of the most tempting dishes for your hungry tummy. The meats here are delectable and fresh, and you can try different types of pork cuts at the same time. They have a wide variety of Korean delicacies, but some of the must-try items are the Japchae, Steamed eggs, the Korean BBQ. And the tteokbokki should be in the list of your spicy favorites! 
#4 Bask in the Silence at Myeongdong Cathedral
Myeongdong can be the busiest shopping street. So if the crowds are getting to you, you should spend some moments of silence at the Myeongdong cathedral. The architecture is a little bit of Europe amid Seoul, yet holds a soulful serenity.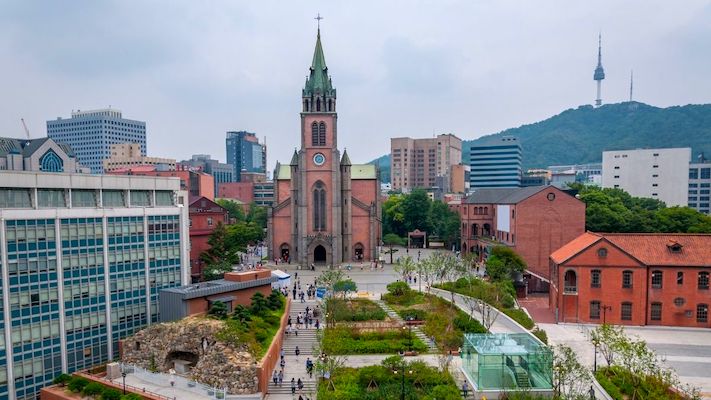 The Myeongdong Cathedral is an important monument as it was the first Catholic Church, officially known as the Cathedral Church of Virgin Mary of the Immaculate Conception.  
#5 Laugh Your Heart Out at the NANTA Theatre
Trips call for new experiences, and this is surely something you have never experienced before. Watching a show at the NANTA Theatre is one of the unique things to do in Seoul, so make sure you don't miss that. Watching a show in theatre means you will not need more company than yourself, so you should also add this to the list of things to do in Seoul alone.
The NANTA features a non-verbal play on a fictitious cooking show, based on the sound of the samui nori or a Korean percussion quartet. Equipped with fabulous light and sound systems, this makes a wholesome and enjoyable experience for you. 
#6 Stamps Lovers Unite at the Korea Postage Stamp Museum
If stamps excite you, or if you are a philatelist, this place deserves a visit. It is one of the unique and free museums in Seoul, and you can spend some quality time getting to know the history and culture of Korea. The stamp museum deserves a place in the list of free things to do in Seoul. It has a comprehensive collection of stamps of Korea, including the first-ever stamps issued there.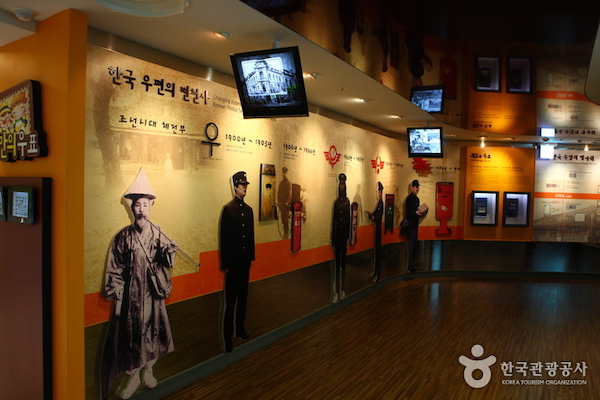 The wooden cutouts, puzzles, games, and dolls will be very interesting for little ones as well. You can also issue a stamp with your fame on it! Now, that's something really unique.  
The list of things to do in Myeongdong can go on and on, but these are the best and unique among the rest. So what are you waiting for? Start planning your itinerary ASAP!