Korean beauty, popular as K-Beauty, has become the latest and most popular trend in the world of skin care. In recent years, K-pop (Korean music bands) and K-dramas (Korean television series) are becoming famous all around the world. Similarly, the Korean beauty industry has never been far behind. Although there are many online options, the beauty shopping experience gets a notch higher when you actually experience it straight from the source, especially in flagship stores! You can find some of the best places to shop for K-beauty products in Seoul, the capital city, and the fashion capital of South Korea.
Since an early age, it is instilled in Koreans to take care of their skin. Their flawless glass skin has attracted admirers worldwide, and their huge beauty industry is successfully inclusive. Both men and women indulge in self-care through skin care. After all, everyone deserves some self-love!
Seoul's fashion streets have something for everyone, and skin care enthusiasts enjoy its benefits to the brim. You will always find what you are looking for! 
When in Seoul, a die-heart skin care lover should always explore Myeongdong: the official Times Square of South Korea. Laden with exquisite stores for fashion, beauty, and eateries, the streets of Myeongdong will surely give you something to vibe with.
K-Beauty Stores in Seoul
Olive Young
When you want to explore the trending skin care products among Seoulites, you must visit Olive Young. This is Korea's answer to Sephora, and a well-deserved one indeed! You will find everything that won't burden your pocket as they have most drugstore brands and even some exclusive products here. If you want to get the must-have Korean beauty products in Korea, this is your go-to place.

From brands like Cosrx to Neogen, you have a lot to pick from. And the most exciting part is, you will find Olive Young stores all over Seoul. Therefore, it won't take a lot to locate one and give yourself an excellent tour around their pretty little stores. The largest one is in Myeongdong, with two levels of the ultimate skincare lovers' paradise!
LOHB (Love, Health, Beauty)
LOHB is another drugstore beauty brand that can give a close competition to Sephora. It is not as widely available and affordable as Olive Young, but it has curated niche products for everyone to try and love.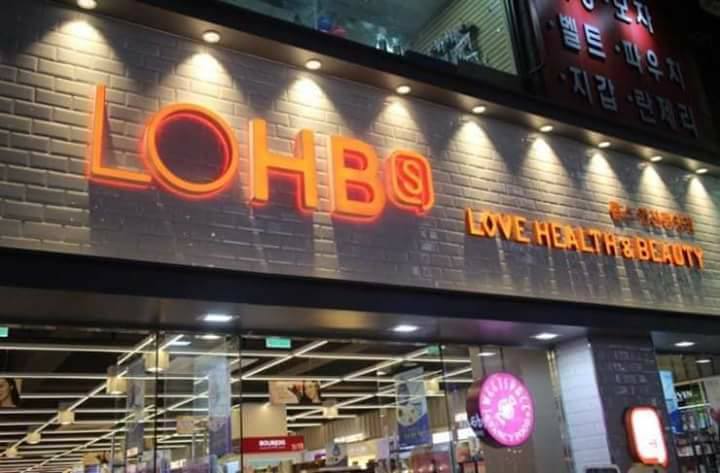 You can check out the store in Itaewon, Seoul, where you will also find several hair extensions to choose from. Both high end and affordable drugstore skincare brands are available here, along with supplements and personal health/wellness products.
Your skincare exploration in Seoul is incomplete without a visit to LOHB.
Innisfree Flagship Store
Innisfree is one brand that offers you to buy Korean beauty products online. The brands have one of the best-selling Korean beauty products. But a visit to the flagship store in Seoul is a different experience altogether.
The Innisfree Flagship store located in Myeongdong also has the famous green cafe where you can drop after you shop. This store also gives you many unique services, like taking a skin analysis test or customizing an eyeshadow palette for yourself.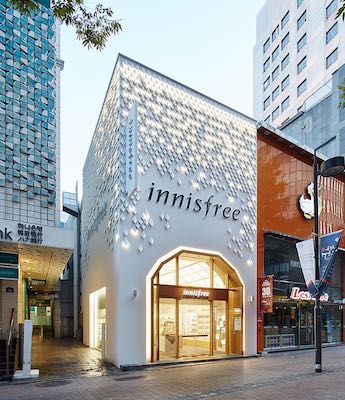 The Green cafe has such a relaxed vibe with organic drinks and desserts to enjoy. You won't feel that you are in one of the busiest streets of Seoul. This is the place to take a deep breath, sip in your hot cuppa coffee, and enjoy some good company with yourself or your friends.
Sulwhasoo Spa Flagship
After a long, tiring trip, all you need is a place to stretch and relax. Sulwhasoo Spa Flagship at Gangwan, Seoul, is just the place for you!
The lavishly designed interiors, with calming lights and music; the whole essence of this K-beauty shop fills you up with peace. This experience of sheer luxury should be your gift to self.
Sulwhasoo skincare line is steeped in herbal elements blended with modern scientific ingredients enriching their unique skincare line. Your spa experience includes trained professionals, high-end exclusive products, and some hours of leisure for your mind and body.
They have some of the best anti-aging skin care products, some of which you won't find anywhere else. You will get four packages, specially curated for your skin's needs: face calming treatment, face vitality treatment, back and shoulder treatment, and foot & leg treatment.
Among all the places you visit, Sulwhasoo's spa will surely stay with you for a long, long time.
Etude House Color Factory
If you want to indulge in a little token to bring back from your trip, a visit to Etude House, a K-beauty shop is a must. Why? Because you can customize your own lipstick here, no kidding! 
All you need to do is make a reservation beforehand. The process takes almost an hour, and they sell out real quick, so remain on the safe side. You can visit any of the two outlets, either the Garosugil one or Myeongdong.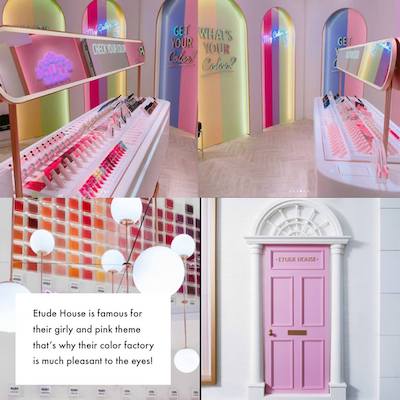 First, they will analyze which colors are best suited for your skin. You will also get added recommendations for the foundation and eyeshadow shades would look best on you and makeup looks you should try.
You can then pick out the lipstick shades that go well with your skin tone and customize them as per your choice. The best part is, you can choose the packaging, and all of them are really cute! This is the most unique gift you can bring for yourself. And that won't burn a hole in your pocket too!
South Korea's fashion capital needs no introduction but a lot of exploration. Hope we could help you with the best stores and shops for K-beauty products in Seoul. Happy Shopping!
Check out other interesting articles from KoreaTravelPost: