Seoul is a shopping mecca! There are malls, boutiques, markets, streets lined with shops all around! In fact, when you think of buying something, it can get outright confusing about where to shop in Seoul or what to buy. This comprehensive Seoul shopping guide will help you find the best shopping spots and what you can buy from those places. It will be really helpful if only have a few days in Seoul.
The Seoul shopping guide will suggest the places where you can shop in Seoul, what you can shop for, and will it fall in your budget or not. Whether you are on a tight budget or in a mood to splurge a little, you'll find the right place and store!
Where to Shop in Seoul & for What
Cosmetics and Skin Care Products
Best Place to Shop for Cosmetics in Seoul: Myeongdong
Myeongdong is one of the major shopping hubs of Seoul. You can shop for cosmetics and Korean beauty products in many of the shops in the district. But, it is not just about cosmetics as you can find some of the best fashion outlets, home goods, and excellent street food options in Myeongdong. There are many restaurants that serve traditional Korean cuisine so you won't be hungry while you are shopping!
There are two main streets for shopping in Myeongdong – one that comes from Myeongdong Subway Station and other that comes from Lotte Department Store at Euljiro.
Earlier is was a popular shopping destination for locals but now it has become a tourist hub! This is one place that you must explore in Seoul for shopping for anything!
Budget Shopping Option: A'Pieu
You can find quality skin care and makeup products at A'Pieu for very low prices. You'll be able to get your hands on eyeshadows for under US$4 or even a cleanser for about US$3! For prices like this, you won't be able to stop yourself from buying anything and everything!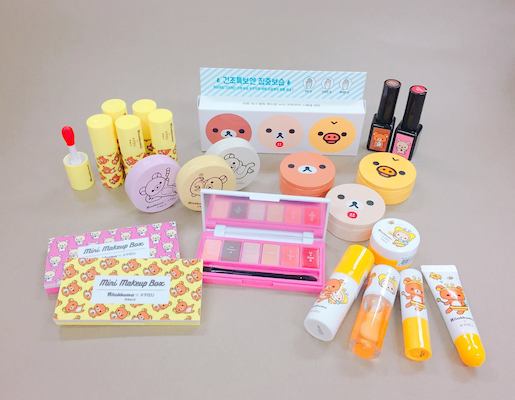 Mid-Range Shopping Option: Etude House
With its amazing exteriors and gorgeous interiors, Etude House is the perfect place for getting your hands on something cute! You can fill your shopping basket with lip tints, face masks, and collections like Tom & Jerry makeup line in cute packaging.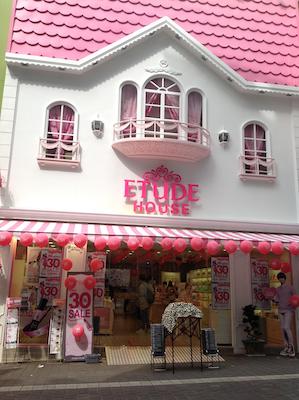 Their products are up to date with Korean beauty trends so you'll always get something new here. The prices range from about US$10-15 for makeup products and US$20-45.
Mid-Range to Expensive Shopping Option: Olive Young
Olive Young is a Korean convenience store that you'll find anywhere and everywhere in Seoul. It has an extensive beauty collection and the store in Myeongdong is worth visiting. It is just like a 'Sephora' of Seoul!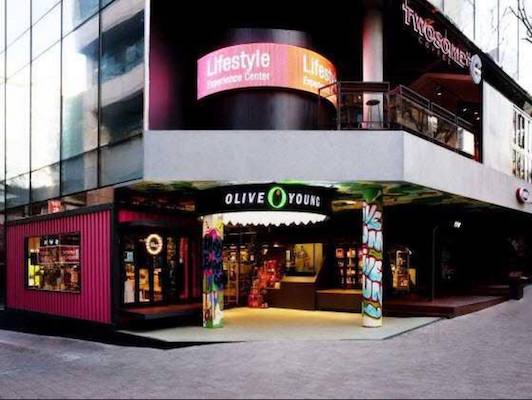 You can grab cult-fave beauty brands like Peripera, 3CE or the premium brands like Dr. Jart and La Roche Posay.
Clothing & Accessories
Where to Shop Clothing & Accessories in Seoul: Ewha Womans University Shopping Street
You can go on a 'shop' crawl along the Ewha Womans University Shopping Street. If you are wondering where to shop for shoes and accessories in Seoul, then this is the right place! You can also treat yourself to a makeover at any of the salons in the area. There are two places for shopping in Seoul – the "Main Shopping Street" and the "Casual Clothes and Shoes Shopping Street".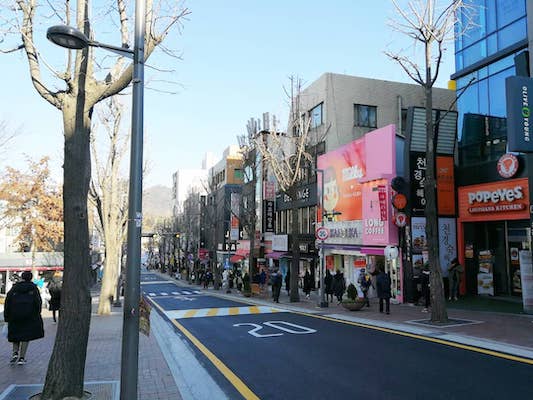 Budget Shopper Option: Casual Clothes and Shoes Shopping Street
You can stroll along the street and find an abundance of inexpensive clothing and accessories for women. There are small boutiques that sell streetwear options also. You won't find big brand labels here but you will find unique and affordable latest Korean fashion that your wallet will love!
Budget to Mid-Range Shopping Option: Hongdae Shopping Street
Just like the Ehwa Womans University Shopping Street, this street is also full of small shops that cater more to youths. They styles are more eclectic and unique. The prices will be steeper by you can haggle down the price.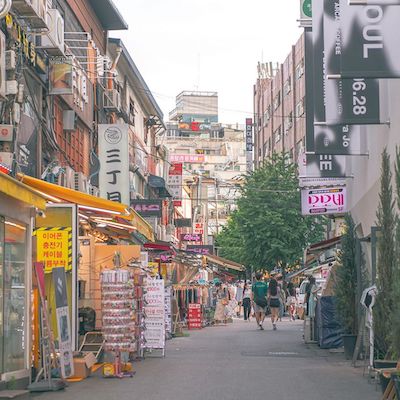 You can also check out the Mapogu Kiosk if you are looking for some handmade items or trinkets as souvenirs.
Food & Snacks
You buy local food and snack options from any where is Seoul. The best option is to make your way to a grocery or convenience store where you can take advantage of their massive collection of Korean snacks. Whether you are looking for something to munch on or picking up goodies to bring back home, then go crazy in any of the convenience stores!
Where to Buy Korean Snacks in Seoul: Lotte Mart
Lotte Mart is everywhere in Seoul so you'll most likely come across the store while you are roaming around in the city. The mega department store chain sells everything from toys to clothing and food items. So, whether you are feeling hungry or are looking for some last minute shopping, Lotte Mart is the perfect place to go in Seoul.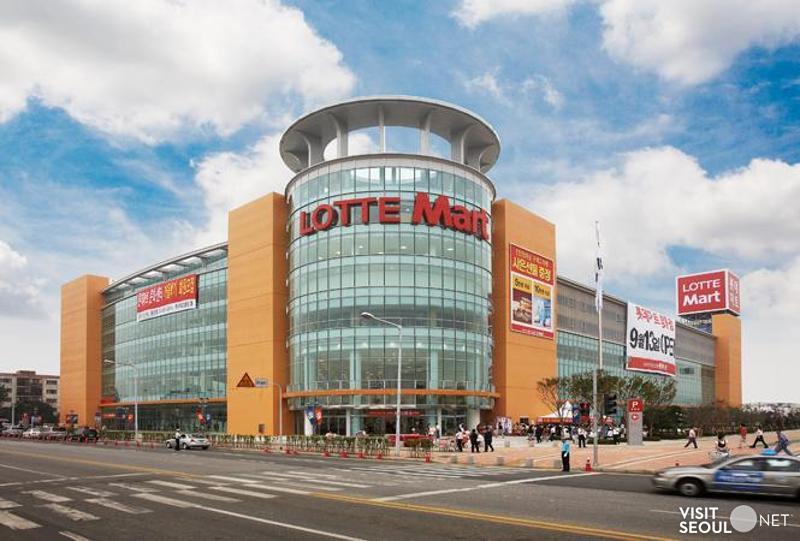 Where to Buy Korean Snacks in Seoul: Convenience Stores (GS25, 7-Eleven)
Convenience stores in Seoul are the perfect place if you are looking for a late night snack or want to get a buzz on with the local soju! You can feast all night on the Korean snacks from your closest convenience store.
Souvenirs
A good souvenir should be affordable and something the doesn't end up in the junk drawer of the receiver. When in Seoul, you must hit up street markets and chains like Lotte Mart for inexpensive and cute souvenirs. You can also find some handmade options in the street markets of Seoul.
Budget Shopping Options: Socks, Stationery, and Soju
Socks, stationery, and soju are some of the inexpensive souvenir options. You can get all from any convenience store near your accommodation.
Mid-Range Shopping Option: Handicrafts and Ceramics
Paintings, pottery, and local folk crafts are excellent gift options in Seoul for loved ones back home. You can check out the Insadong neighborhood for some excellent traditional and handmade Korean goods.
Traditional Markets
A trip to Seoul cannot be complete without exploring the traditional markets in the city. You have to stroll through the streets of these markets to experience the shopping. Make sure that you keep up your energy as the markets are full of everything ranging from amazing clothes, shoes, purses, and even some excellent food options.
Dongdaemun Market
What started as a traditional market in 1990s has now become a fashion mecca for shoppers in Seoul. You can spend hours browsing through the shops for some amazing clothes and accessories. There are several wholesale stalls around the area where you can get bargain prices.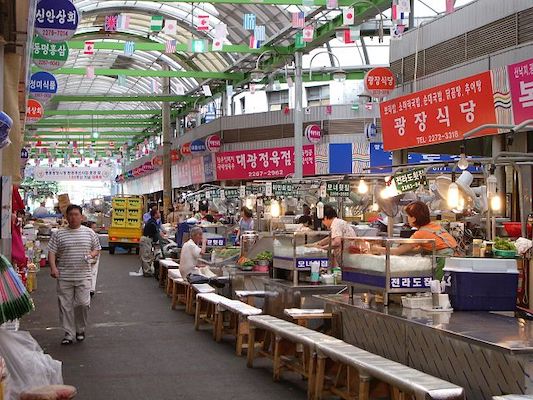 Namdaemun Market
One of the oldest remaining wooden structures in the country, Namdaemun Market is seeped in history. In earlier times, the market was popular for its local veggies and meat. Now, when you look for a place for shopping in Seoul, you can head over to Namdaemun Market for some homegoods and textiles.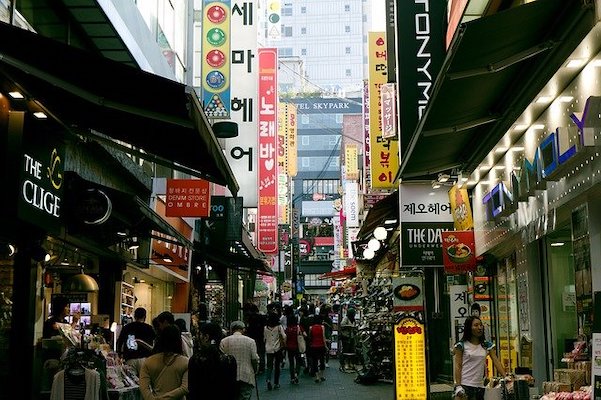 Make yourself happy by following our Seoul shopping guide for every budget!
Read more about shopping in Korea here: