Do you like stationery like most people? Cute stickers, writing tools, fancy writing papers, there is so much more to explore in the best stationery shops in Hongdae! These shops have lot of other things as well like cool and cute little things for your pets and items for your kitchen. Things from these stationery shops in Hongdae can also be souvenirs for your friends and family back home.
Check out the three best stationery heavens in Hongdae!
The stationery shop in Hongdae looks like a magical place with the theme of color purple and space! Their logo itself is a rocket flying to Saturn. The inside of the store is painted in light purple color. They are a variety of collection of stickers, toys, dolls, stuffed toys, and many other stationery items. They also carry some tech accessories like Airpod cases. If you are interested in key rings, they organize a workshop that you can attend.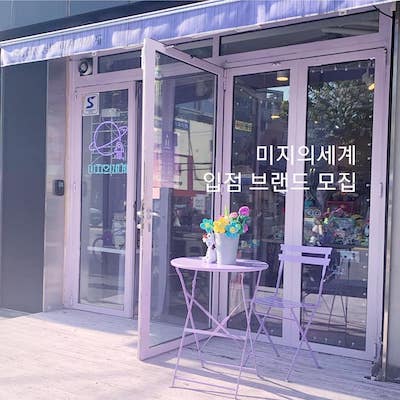 Most of the things are designed by the store itself and carries designs inspired from their theme. You will find images like the moon, sun, clouds, and stars in the color purple. It creates a dreamy and fantasy-like environment in the store! If you like adorable and purple things, then this stationery shop in Hongdae will be like a paradise for you.
"Live Like It's Spring" is the slogan of the stationery shop and you can feel the same vibe as soon as you enter the shop. Things in the store will remind you of flowers blooming in the spring season. The stationery shop has a spring-like atmosphere.
Unlike Mijiiis, they have more variety of things in the store that you can check out and buy. There are cups, coasters, dish scrubbers, and many other small items. You will be able to find alsmot every thing that you use at home, only much cuter and adorable. Try visiting the store in winter months and you can see whether it feels like spring or not!
Amongst the three stationery shops in Hongdae, MU:U MU:U has the most variety. You might even feel that it is a small supermarket not a stationery shop! The regular stationery stuff – stickers, pens, and notes are just the beginning of the items that you can find in the shop. There are bags, strange looking candles, pet clothes, and the list can go on and on! There are some things that you won't even be able to imagine!
There are multiple branches of the shop all across South Korea.
If you like knick knacks, then these three stationery shops in Hongdae are not the one you can miss out in your trip to South Korea!
Check out other interesting reads from KoreaTravelPost: