Korea is undoubtedly a country with extreme weather – dreadfully hot and humid summers and freezing and dry winters. Spring and fall are two seasons that are much bearable, and when the country simply comes alive! The colorful flora and fauna, along with all the seasonal festivals, will undoubtedly make it into your Korea autumn bucket list! It's always a good idea to plan out your fall activities so that you don't miss out on something extraordinary on your trip to South Korea. 
Here are some of the best things to do in South Korea during the gorgeous fall season!
Enjoy Delicious Tea
A trip to South Korea cannot be complete without experiencing the local tea. You can enjoy a warm cuppa at any local teahouse; however, tea isn't the only beverage you can enjoy at these teahouses. Most teahouses offer a relaxing ambiance and a delicious tea fragrance-filled room where you can spend your afternoons. 
One of the best places to enjoy tea in Seoul is Tteuran. The teahouse is located inside a hanok house in Ikseon-dong. It offers a cozy atmosphere, excellent views of a green courtyard, and delicious teas.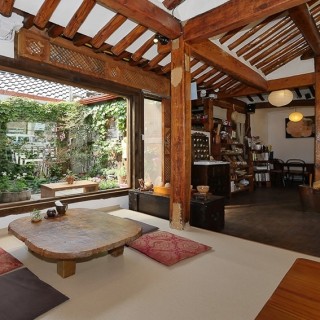 You might have seen the gorgeous teahouse in the Korean-Japanese movie Café Seoul (2009).
Picturesque Fall Foliage of Korea's National Parks
South Korea is a land of mountains with more than 20 national parks across the country. No matter where you go in the country, you can enjoy a nature-filled tour or a hiking trail to conquer!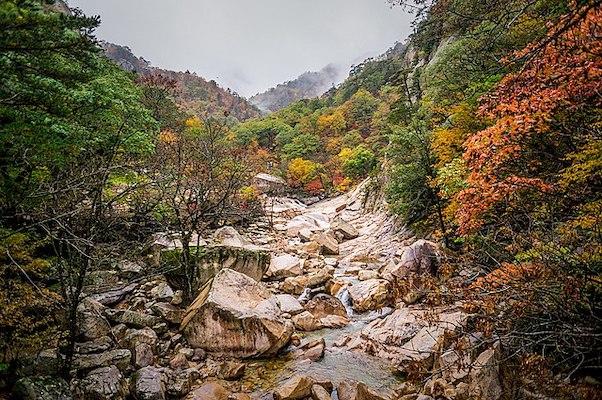 Some of the famous national parks where hiking lovers flock to include Bukhansan, Seoraksan, Jirisan, and Songnisan. No matter which national park you end up in, you can undoubtedly find colorful trees and scenic views that resemble Korean artistic paintings. When you reach the top, don't forget to capture the beauty of Mother Nature for the world to see! 
Delicious Seasonal Delicacies, Fruits, and Veggies
South Korea is quite popular for its cuisine, which includes seasonal fruits and veggies. Fall is the perfect season to visit South Korea if you enjoy autumnal produce like persimmons, Korean pears, and sweet potatoes. 
Sanchon, a Korean temple food restaurant, is one such place where you can enjoy all the seasonal produce and delicacies. Its 16-course menu revolves around seasonal veggies from local mountains. Here, the food's flavor is just as important as the health benefits of the ingredients. You can book a table to enjoy the local vegan delicacies prepared according to Buddhist beliefs. 
Mark Your Attendance in One of the Many Seasonal Festivals
There's never a time when there isn't a festival being celebrated in South Korea. Even then, there is something special about fall festivals. Some of the popular festivals of the fall season include the Seoul Lantern Festival and World Kimchi Cultural Festival. 
Find Peace of Mind in a Templestay
If you are looking to recharge your batteries, head on to any of the temple stay programs in South Korea. You can spend some time in a quiet and tranquil place after the hubbub of summer activities.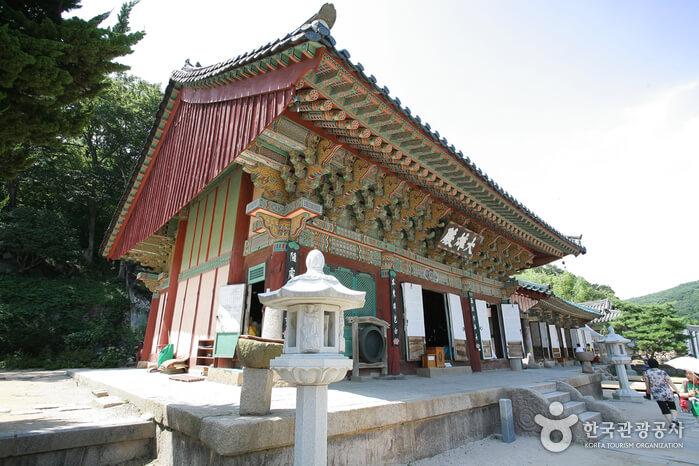 Templestay is a cultural program by South Korean Buddhist temples where people can experience the life of a Buddhist monk. During your stay, you will learn about the different aspects of Buddhist monks' life and Korean culture and engage in activities like meditation and tea ceremonies. 
Some of the best Templestay programs in South Korea:
International Seon Center Temple Stay, Yangcheon-gu, Seoul
Jogyesa Temple Stay, Jongno-gu, Seoul
Beomeosa Temple Stay, Geumjeong-gu, Busan
Bulguksa Temple Stay, Gyeongju-si, Gyeongsangbuk-do
Yakchunsa Temple Stay, Seogwipo-si, Jeju-do
Soak in Medicinal Hot Bath
As the season changes, it always brings with it a wave of flu and cold symptoms. Soak in a medicinal foot bath to avoid getting sick during the fall.
One of the places where you can enjoy a warm soak is the Solgaheon Healing Café in Bukchon. It is a teahouse that offers so much more than just Korean teas. There are healing rooms and traditional steam treatments, along with foot baths. You can soak your feet in hot water infused with Korean medicine. The medicine in water is tailored to your needs making it a personalized experience. Enjoy a cup of tea while you soak your feet for health benefits and avoid the common cold spoiling your vacation.
Before making your Korea autumn bucket list, make sure that you make proper plans as the winter season is right around the corner. Whether you hit up teahouses, hike the beautiful trails, or even eat your way through the Korean seasonal delicacies, make new memories of fall in South Korea!
Love it? Pin it!