The Daehan Dawong tea fields in Boseong, Jeollanam Province, are among the most beautiful places in South Korea. The country's largest tea plantation, its picturesque green tea fields, and tranquil ambiance are worth a visit. A day trip to Boseong tea fields is bound to take your travel experience a notch higher!
The tea fields welcomes many urban visitors who wish to take a day-off of city life and enjoy the peace. It is equally often visited by foreigners making time amidst a packed travel schedule. Needless to say, Boseong's green tea fields are a significant attraction.
Best Time to Visit Boseong Tea Fields
Any time at a tea plantation can be a good time. Daehan tea fields can hardly disappoint you. You can visit during spring, from March to April, to see the new leaves growing in the plants. Summer can be pleasant as it is the time when the tea trees reach their prime, painting the terraces lush green.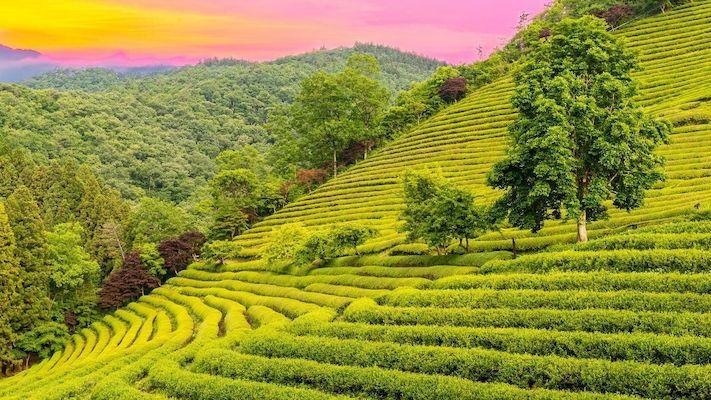 Too much humidity might be a problem if you want to hike. Therefore, autumn-winter will be the perfect time to visit the tea fields. Imagine a visit to Boseong green tea field in winter, with a view of the snowy ranges. Witnessing the scenic beauty from the top with a cup of hot coffee in hand, you can live your dreamland in peace. Choosing the perfect time to visit makes half the successful planning for a guide to Daehan Dawong.
Know the History
Tea was cultivated in South Korea ever since the time of the Silla and Joseon dynasties. Even after the Japanese invaded, tea plantations in Boseong were well-maintained. However, the Korean war in 1945 demolished a considerable part of the plantation.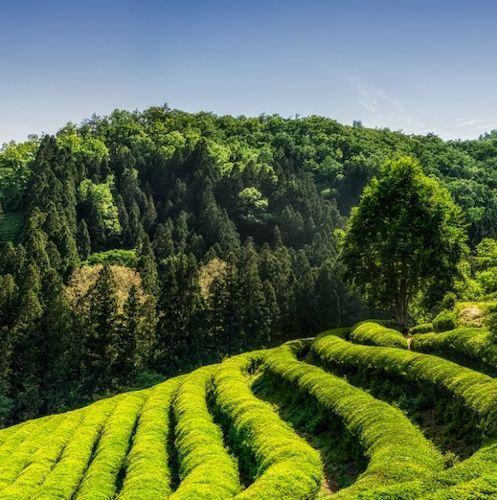 1957 marked a new start for Daehan Dawong tea fields as Chang Young Seop reestablished the tea fields. Thanks to him, many more tea fields came up around Boseong with functioning tea cultivation and farming. Today, Boseong's tea fields account for 40% production of green tea in South Korea.
A Trip to Boseong Tea Fields: How to Spend a Day, What to Do, What to Eat
A tiresome week in the city calls for a relaxing weekend. But the spas are burning a hole in your pocket, and the beach is too crowded. A night out with friends? Well, another day wasted over a bad hangover. Daehan Dawong can be your savior here. Sounds too old and boring? Not at all!
Here are a bunch of new things to do in Boseong.
1. A Hike to The Top
A short hike and green tea on the weekend are far better than hangover regret.
Dawong's hiking trails won't tire you out but rejuvenate you. You can take the cedar trail to reach the top.
There are several spots to rest for a while near the Central observatory (중앙전망대) and the Green Tea Farm Observatory (차밭전망대). You can climb up to these observatories for a beautiful view of the whole field.
The Ocean Observatory (바다전망대) is located right at the top, and it is not that steep. You can easily hike your way up for a majestic view of the ocean!
You can take the Sun tree trail while climbing down. A cute little waterfall will greet you in the path.
It is your walk towards better health!
2. Enjoy Food with a Taste of Green Tea
If you are at Boseong, you have to taste the green tea flavored food there. Watch out for the green tea ice cream, green tea noodles, green tea flavored chicken dishes, and the crowd favorite kimchi.
You will find a cafeteria at Daehan Dawong serving such Korean delicacies. Imagine having your lunch with a background of the green tea fields! It is something you cannot miss for sure.
3. Click Loads of Pictures
The picturesque tea fields are a wonderful background for Instagram pictures. A bright day, the glittering tea plants, cedars, cherry, maple, and cypress basking in the sun, it makes the perfect reels video for the gram!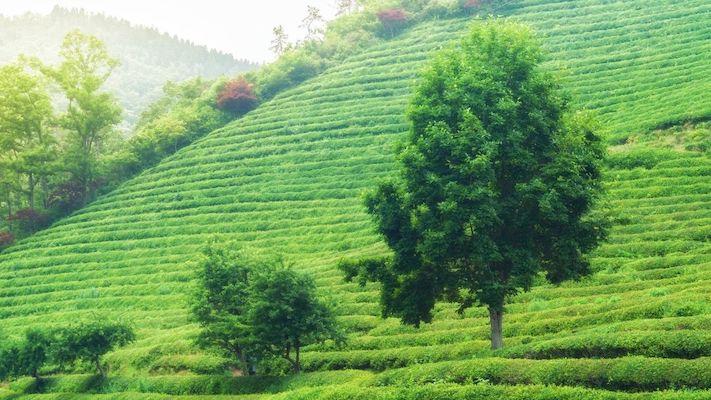 You can take pictures or make videos when you are walking up and down the trails. The scenery of the entire area from the observatories deserves a place in your gallery. Even the little waterfall will make a cute enough background.
Your Guide to Boseong tea fields is incomplete if you don't freeze the memories.
4. Buy Green Tea and Souvenirs
Visiting a green tea field, and not taking some home, is that even a thing? Even if you are not too fond of it, you can take some for your fitness freak friend or work buddies. It will be a very thoughtful gift!
You can take home some souvenirs to remember it by. You can choose from an affordable lot of notebooks, postcards, magnets, and bags.
Green tea fields aren't that boring anymore, are they? A trip to Boseong tea fields holds so much more. Its time to plan your next weekend road trip!
Check out other interesting articles from KoreaTravelPost:
Love it? Pin it!