If you are traveling to South Korea, Daegu might not be the first place you think of. However, it is indeed a place you shouldn't miss in your South Korea travel itinerary. Set in the south-eastern part, Daegu is the fourth-largest city in Korea. With a rich culture and busy lifestyle, this city has a charm of its own. There are loads of things to do in Daegu ranging from good food and shopping to exploring the local customs and culture.
Best Time to Visit Daegu
Often referred to as "Daeafrica" for the high temperatures. The climate is subtropical humid. The hottest months are June, July, and August. That is why most tourists visit Daegu from January to May. Spring is the most favorable as the weather is quite cool. It is best suited for outdoor activities. It is also the time when you will find the city decked in beautiful cherry blossoms.
 The Winters are cold, but still many people visit Daegu during that time. That is why flight and hotel prices are relatively high in this season. 
Read More: South Korea Travel Guide – When is The Best Time of Year to Visit South Korea?
All the Amazing Things to do in Daegu
Be on top of the World at the 83 Tower
Daegu E-world amusement park is a prime attraction of the city. Hit this place if you want a fun-filled day amidst rides and freeze your memories with fantastic pictures. Four of its parks, Adventure World, Magic World, Fantasy World, and Dynamic World, will make sure you have a great time!
However, the 83 Tower is an interesting part of this Amusement Park. As the name suggests, the 83-storeyed tower lets you witness the city from high up above! You can also visit the observatory on floor 77. It enables you to see a different side of the beautiful city and should be the first thing to do in Daegu.
If you visit the city in Spring, you will witness the lined cherry trees heavy with blossoms. This scene truly deserves some aesthetic Instagram shots!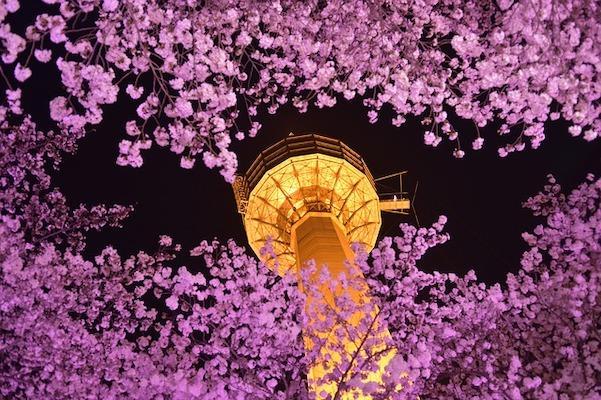 Read More: Cherry Blossom in Korea – Where to Go for The Most Beautiful Places?
The amusement park down below, the hills surrounding the city, and the people and chaos far out of sight, it will inspire in you a unique perspective. 
Behold Historic Elegance at the Donghwasa Temple
Duryu Park has an ancient historic charm. Dating back to 493 AD, it was built under King Soji of the Silla Dynasty. This temple is a brilliant example of the magnificent Silla architecture. This temple has a peaceful ambiance, and the rich history only enhances it.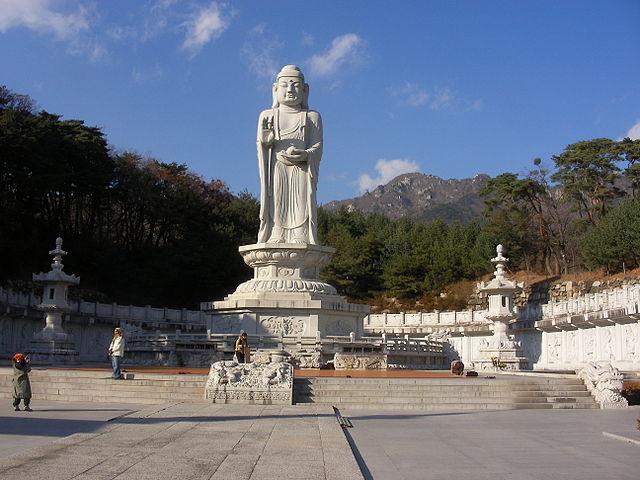 The complex has three parts, buildings, statues, and prayers halls ornately designed and decorated. Amidst the many statues of Lord Buddha, the most significant one is the 33m tall stone statue. This statue has a rare artistic charm.
Temple stays are available here, and you can experience the Buddhist lifestyle first hand. 
Read More: South Korea's 33 Most Beautiful Temples from CNN Travel
Enjoy a Healthy Hike up the Apsan Park
On the south of Daegu, Apsan Park is a lovely place for nature enthusiasts and the health-conscious alike. The Apsan Park cable car ride amidst the lush green hills will take you to the Apsan Observatory.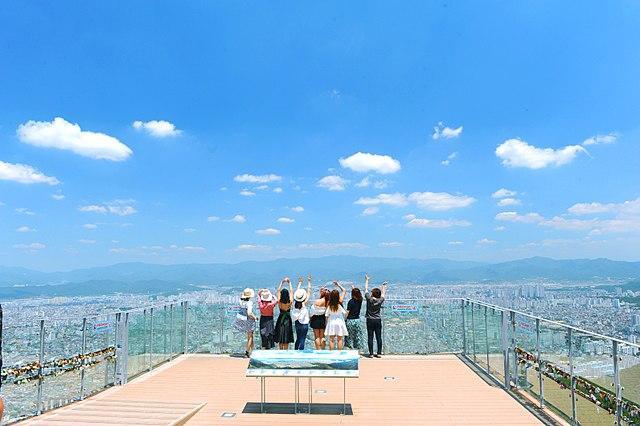 The culture admirer in you won't be disappointed. The Nakdong River Battle museum will give you the history of the place, and you can see the tanks and battle gears from the Korean War on display.
You can hike up the picturesque trails to the other peaks. The sunset is a beautiful sight, with a nighttime view of the sparkling city below.
Read More: Best Running Routes in Seoul
Get equal doses of Fun and Relaxation at Daegu Spa Valley
A few hours at the Daegu Spa Valley will refresh your mind and body. Traveling can be hectic; you deserve a day of self-care and relaxation. Besides relaxing in the spa, herbal baths, hot springs, or saunas, you can also try out some fun water activities. Water rides and pools for children and adults let you have a happy family time as well.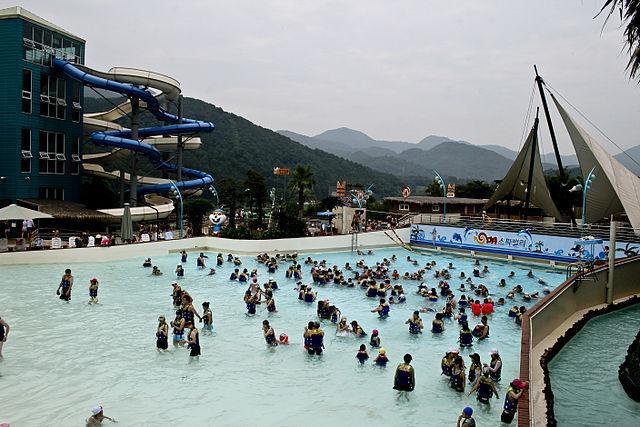 For a new experience, you can try the Jjimjilbang or the Korean bathhouse. It will surely be something you have never experienced before. 
Enjoy an Afternoon Picnic at the Duryu Park
A trip doesn't only mean going around town on a strict schedule. Take your time to breathe the fresh air and rest a while. A picnic at Duryu Park will be a good choice to stop for a light brunch. Spread a mat on the green field, sit with your friends or family, munch on chicken, and sip a little beer. 
You will always have time to see many beautiful spots. But spending some time with the people you love, that is the true essence of a trip!
Eat, Shop, Repeat, at Seomun Traditional Market
You will never run out of things to do in Daegu, and shopping is one of them. Daegu has many shopping streets, but the Seomun market continues to be the best among them. If you want the traditional Korean market experience, it is here!
From clothes, street food, traditional cuisine, handicrafts, and silverware, this old market is at your service. Dating back to the centuries olf Joseon era, it holds the culture intact even today.
This place houses thousands of vendors and many buildings. You will find some fine quality clothes and textiles like silk, linen, and the Korean Hanbok. 
Read More: South Korea Travel Guide – An Introduction to South Korea's Traditional Dress: Hanbok
While Kimchi and Korean seafood are crowd favorites, this market's unique thing is traditional food. You will find some quirky yet delicious food items here. Beondegi (Silkworm larvae) and grilled Beef Abomasun (fourth stomach of a cow) are some dishes you surely haven't tasted before. Don't miss the tteokbokki, the famous Korean rice cakes, and Seomun fish cakes!
 Squeeze a day or two for Daegu in your travel itinerary. There are so many things to do in Daegu that only one visit will fall short. 
Read other facinating articles from KoreaTravelPost: