Need a break from Seoul's fast-paced life? Plan a day trip to Pocheon, the far northeastern region of Gyeonggi province in South Korea.
Pocheon is a city that is located in the further northeastern region of the Gyeonggi province in South Korea. This is an inland city on the outskirts of Seoul, and this city comes between Seoul and the mountain regions of the Gangwon province. Yeongpyeongcheon stream and Sannaecheon stream are Pocheon's two primary water sources. The two stream regions are relatively wide, allowing the locals to use them for both habitation and farming.
Pocheon has a continental climate because it is located inland. The average annual temperature is 50.9 °F or 10.5 °C. The hottest month is August, with an average temperature of 25.7 °C (78.3 °F), while January has the coldest minimum temperature on record at -7.3 °C (18.9 °F). On average, there is 1,300 mm (51 in) of rain per year. So, visiting Pocheon during the remaining months of the year is better as it would help you enjoy the blissful nature Pocheon has to offer.
A good day's trip in Pocheon includes visiting the best places in and around the city as well as having the best food the city has to offer. So, let's get into detail about the places you must visit and the places you can stop by for a quick bite or a hearty meal. 
Places to Visit in Pocheon
Pocheon Art Valley should be on top of your list if you are visiting Pocheon soon. This valley is a beautiful part of nature that is a Park-like complex that also features many outdoor sculptures which are sharply sculpted. A lake of 20m has been formed amidst the valley, which is made up of rainwater and gathering spring water, this was made for the purpose of the quartering of granite, but now it serves as a beautiful scenic lake for visitors to enjoy its endless beauty. This lake is what makes the Pocheon art valley more natural with the perfectly shaped and sharply cut cliffs, rather than a previous remnant of an old rock granite quarry. 
This place is closed on the first Monday of every month, so you should make plans to visit any other day. The art valley hosts many exhibitions and different programs for the tourists to spend much time as possible in the valley. The lake's clear waters almost reflect the greenery surrounding it, which looks like a painting by an artist, which is why this place is called Pocheon Art Valley. You can visit the observation deck, stairway, sculpture park and many other attractions in the park and spend nearly a good quarter of your day here.
The next place you will visit is Pocheon Herb Island, a theme park and botanical garden, the largest herbal botanical garden in the whole of Korea. You don't have to bother about food because the place has a few cafes where you can stop for a quick bite. This place isn't based on a single theme. There are many themed attractions, and it is not an island. That's the reason it is called the 'most random theme park in Korea.'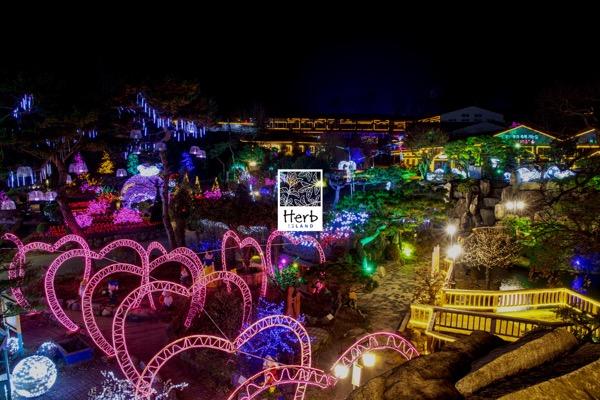 The place features historical recreations of a traditional Korean hamlet, complete with a restaurant, gift shops, and photo possibilities. You can also see a few Disney-inspired themes like the smurfs, Snow white etc. The place has its own gift shop where many gifts, teas and herb-related stuff is available. This is a family-friendly place, and the kids will surely enjoy the most. Make sure to visit it and buy a souvenir for yourself.
Apple Farm
Next, you can visit the Apple Farm, where you roam around the Apple trees and take in the beautiful sight of the plush apples growing over there. You can leave your kids to run around the place with no fear. The best thing about this farm is that you can pick your own apples and eat them right at the farm; this is a good feeling as you can taste the ripe, juicy apples right from the trees themselves. You can also take home up to 1kg of apples that you have picked on your own. After all this, you can have a taste of the freshly prepared apple juice and a bite of croissants right at the farm.
Bidulginang Cascade
After all, this, if you still have some time left, you can visit the Bidulginang Cascade, which is open 24hrs. This little waterfall has a lovely view and is situated in the Hantan River Geopark. The columnar joint is spectacular and gorgeous, and the approach to the waterfall provides nice views. You can also take a small dip in the pool created by the waterfall, it's a small space, and it isn't very deep. Despite the limited space, the view, ambiance, and sonic quality are very excellent.
Places to Eat
Coffee Valley Café
The best place to have breakfast on your day trip to Pocheon before you start your day would be at the Coffee Valley Café, which is located in Pocheon Art Valley. Here you get a variety of coffee as well as beverages and tea. You get a good amount of bakery dishes to fill your stomach and get you ready for the day. It's the perfect place for breakfast near the valley. 
Herb Island
After all the fun there, when you're visiting Herb Island on your day trip to Pocheon, you don't need to get your lunch or snacks elsewhere as they have their own eateries inside. The bakery inside the island has come to fame due to its delicious garlic bread. They are famous for their bread recipes. You also get other foods like coconut cinnamon bread, a green kabocha bread roll, and many more. There is also a Korean restaurant from which you can have a hearty meal for lunch. Their specialty is the makgeolli, and there are other cafes around also if you want to try. 
Restaurants to Try
After getting some nice snacks at the Apple farm and having fun at the waterfall, you can stop by Pocheon city for a nice supper or just a light snack to end your day. You can also try local food in any street in the city. Some good restaurants to look out for are the Lumbini Restaurant, Deulmusae, Pilliboo and many more. Those mentioned above are the top best in the city. 
With this, we can end one beautiful day that will be well spent in Pocheon, and with good memories, you can have a good night's rest once you are back from your day trip. 
Related Posts
5,721 total views, 1 views today