Taehwagang National Garden is one of the most beautiful bamboo forests that you can visit in Korea with natural water and some gorgeous vegetation.
Flowing into Ulsan Bay, the Taehwagang River cuts through the center of Ulsan. From east to west, it stretches 36 kilometers, and from north to south, it stretches 28 kilometers. At its southern end, it encompasses some of the most fertile lands in the city. Today, it is an essential source of drinking water for Ulsan's citizens.
An extensive bamboo field that covers an area 4 kilometers long and 20-40 kilometers wide stretches along the Taehwagang River. Villagers created this to prevent the flooding that frequently occurred during the Japanese colonial period. Today, the Taehwagang National Garden is a rich bamboo forest. It is the most beautiful bamboo forest in Korea.
In spring, however, it becomes home to over 60 million flower blossoms from 7 different species of plants, including poppies, cornflowers, and golden coreopsis. This makes it the country's most extensive single riverside flowering plant garden and creates quite a spectacle for any nature lover lucky enough to witness it.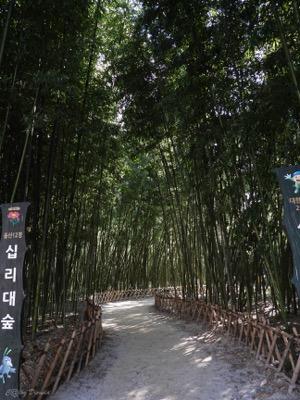 Directions to Taehwagang River Bamboo Forest and Taehwagang National Garden
Address: 107 Taehwa-dong Jung-gu, Ulsan (울산시 중구 태화동 107)
From Seoul or Busan to Ulsan: If you're in Seoul or Busan, it's easy to board the KTX train and head straight to Ulsan. We added a stop here during our most recent trip to Busan.
By Bus: There are many ways to get to the bamboo forest from Ulsan. You could take one of the following buses: 133, 327, 708, 718, 357, 807, 817, 857, or 5001, which all stop at Taehwagang Station. Another option would be taking bus 5003 from Ulsan KTX station directly to the bamboo forest.
Basic Info
Admission: FREE
Pets: Pets are always welcome in the park, but for their safety (and others), they must be kept on a leash.
Parking Facilities: Available for only W1,000 per hour.
Rental Bikes: The park has beautiful, long, flat walking paths great for a stroll or run. If you have kids with you or don't feel like walking the whole time, bikes are available for rent and come with a sun cover- perfect for those hot summer days!
Best Time to Visit Taehwagang National Garden
Spring: Sixty million blossoms transform the riverside into a floral wonderland in the spring, making it one of the best times to visit and take advantage of all these garden offers. With poppies, cornflowers, and Golden coreopsis, among many others filling the fields, visitors will be blown away by traversing through this bamboo forest oasis.
Summer: More than 6000 herons migrate to Ulsan each summer, so if you're lucky enough to visit during this time, make sure to see them! They put on an incredible show as they fly gracefully through the air.
Autumn: The fall might be the best time to visit, in October. The fields are a gorgeous yellow with blooming mums, and there's also an arts festival.
Winter: While other plants' leaves have browned and dropped during winter, bamboo's remain a beautiful emerald color. When everything else is bare in December, it's quite a sight to see.
What To See?
The bamboo forests have three paths: one along the riverside, one along the interior, and one through the center. Exits on both sides of each path allow you to weave in and out quickly.
The Azalea Habitat
This newly designed building is now an information hub you can find when you enter the park. Not only is the exterior stunning, but make sure to go inside and explore what it has to offer! The wooden structure against the backdrop of bamboo trees makes for a breathtaking sight.
Osan Manhoejeong Pavilion
This stunning pavilion was erected in the 1600s by Manhoe, otherwise known as Bak Chwi Mun. He lived from 1617 to 1690 and held the position of a country magistrate during Joseon Dynasty. Although it was destroyed and had to be rebuilt in the 1800s, today, it's a popular place for people to take pictures in the bamboo forest with views of the river in the background.
Taehwagang Observatory
The observatory, which you can see on the other side of the river when looking out from the forest, has a three-story interior that rotates for a great view of what's happening in your surroundings. You can also order drinks to enjoy while taking in everything around you. Afterward, catch the little boat back so you can walk only some of the way!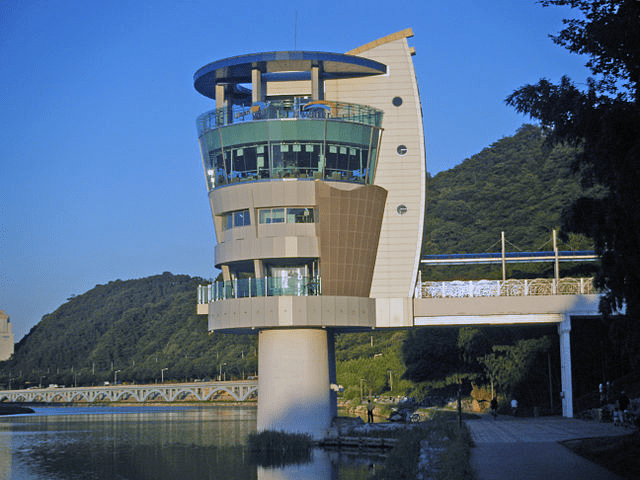 In the end
Throughout the year, you can enjoy a visit to the Ulsan bamboo forest. You'll never be bored with so much to see and do! Whether you want to take in the sights of the flowers in bloom or watch the herons put on a show, this is the place for you. And remember to rent a bike or two- you'll be glad you did!
Related Posts
5,666 total views, 7 views today