Exploring Meta Provence Village (메타프로방스 or 담양 메타프로방스) in Damyang is one of the top things to do in Damyang. It is a tourist hotspot that brings to you a small piece of France, Europe to the streets of South Korea!
The name of the village, Meta Provence, comes from combining two words – 'Meta' from 'metasequoia' and 'Provence' referring to region in Southeast France. It is certainly a cute and colorful village, significantly different from usual megacities of Korea.
Where is Meta Provence?
Located in Damyang of Jeollanam-do province, Meta Provence is home to Meta Provence Complex, Fashion Outlet Complex, Meta Pension, and other facilities that will make a trip more enjoyable for visitors. And aside from Juknokwon Bamboo Forest and Metasequoia Path, Meta Provence is certainly a must-visit in Damyang.
The village is perfect destination for a weekend trip from Seoul.
Beauty of Meta Provence
The buildings in Meta Provence Village have a European architecture that makes them look like they belong to a fairy tale. They are a perfect backdrop for a picture for your social media feeds! You can feel the exotic European street atmosphere as you stroll around the tiny village.
Even the stores in the village take inspiration from Europe. They mostly sell popular food items from the region to give a more authentic vibe.
There are so many amazing spots where you can take pictures making it a perfect photographer's paradise. There are colorful walls, unique walkways, works of art, and several fun shops that make the place special. Each corner is unique and you will find surprising things everywhere!
Shops and Cafes in Meta Provence
There are several excellent cafes, restaurants, and shops in Meta Provence. You will easily find great coffee or even ice cream in any of the cafes. After you explore the village, you can enjoy delicious meal at any of the unique restaurants in Meta Provence. On most days, there are some street food vendors near the entrance if you are looking for different food options.
There are other fun rooms like arcade that you can check out. It's a fun place for families, kids, and adults. Multiple kid-friendly play areas will keep the yound ones happy and let them have fun!
Bamboo ice cream is a must-try in Meta Provence. There are two flavors – regular bamboo flavor and bamboo with vanilla. It's sort of perfect – Bamboo ice cream in an area surrounded by so many bamboo trees! If you find that too adventurous for your palate, you can try blueberry or grape ice creams.
Tips for Visiting Meta Provence in Damyang
After exploring the Meta Provence, head over to the Metasequoia Path. It is one of the most popular tourist spots in Damyang. And the best part, it is right across the street from Meta Provence.
Exploring the whole village takes about an hour or two. So, you can plan your itinerary accordingly.
Try the local foods as Korea is well known for its mastery in local cuisine!
Arrive early in the morning so that you can avoid all the extra rush. You will also be able to enjoy the place by yourself for a little while before everyone else turns up.
How To Get There?
From Seoul, Damyand is about 3.5 hours drive and that's easily doable within a weekend. You can combine the trip with a visit to Gwangju or Boseong as both are fairly near by.
Hours & Admission
Most businesses in Meta Provence open around 9 am and are open until late in the evening.
Admission to Meta Provence is absolutely free. You only need money if you choose to spend on anything in the village.
If you plan to stay near the Meta Provence, you can check out nearby hotels from Hotels.com
Are you looking forward to exploring Meta Provence in Damyang? Share in the comments below!
Don't forget to check out these other South Korea travel posts:
Love it? Pin it!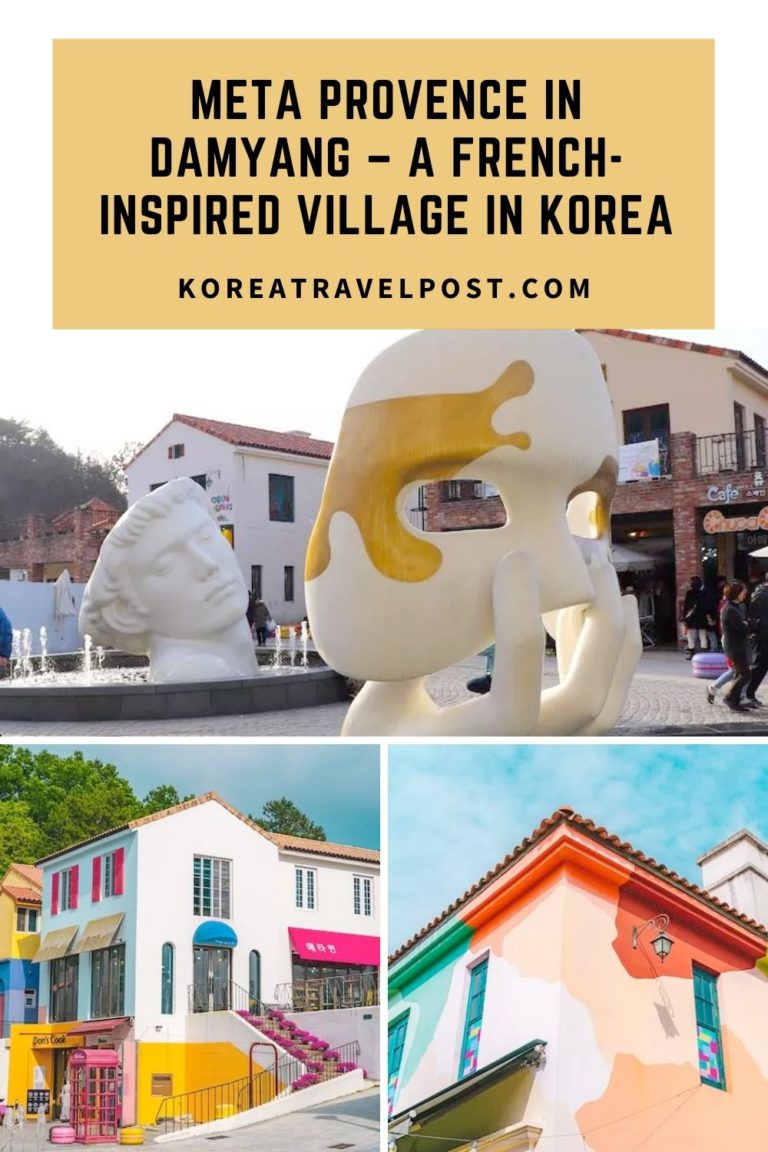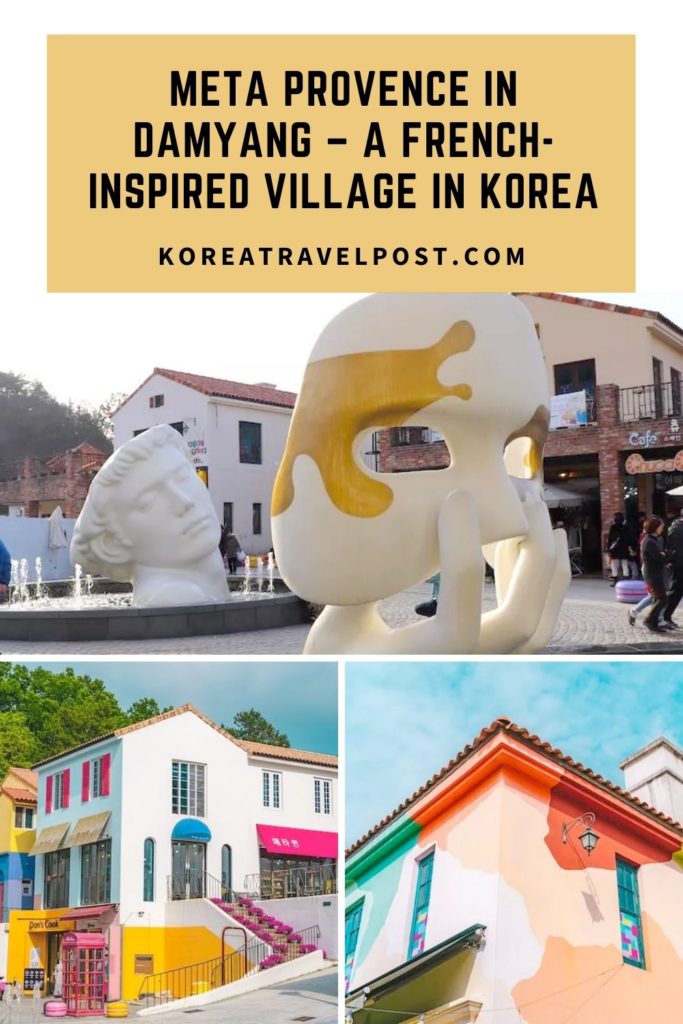 4,139 total views, 3 views today