If you're looking for a beautiful and secluded island getaway in Korea, look no further than Wolmido Island (월미도). Wolmido is derived from the island's form in the Korean language, which looks like a crescent moon. This hidden gem is located in Incheon and is home to some of the most stunning scenery in the country. Whether you're interested in hiking, swimming, or simply relaxing on the beach, Wolmido Island has something for everyone.
How To Get To Wolmido Island?
One hour drive from Seoul on the South Korean mainland, and 1 kilometer from the coast of Incheon, Wolmido Island is a tiny island about 3 kilometers long. A few years ago, a new roadway was constructed to join Wolmido Island to the mainland.
By Car
To get to Wolmido by car, allow about 1 hour. There are several parking spots near the main sights of Wolmido; thus, driving there is relatively easy.
Taking public transportation
By subway, take the line 1 exit at Incheon Station. It takes around an hour from Seoul Station and requires no line transfers.
You may also take a taxi from Incheon Station; it will take around 10 to 15 minutes.
What To Do In Wolmido Island?
Visit Wolmido Cultural Street
The main street of Wolmido, facing the ocean, is known as the Wolmido cultural street. It's a lovely location to take a stroll and enjoy the sea air from Incheon. The resting and theme areas, observatory, starlight, waterscape, and event plazas provide a closer vantage point to the ocean. The Cultural Street is a lovely walkway where you may discover several attractions and meals along the road.
Wolmido Amusement Park
The amusement park isn't as large as Disneyland, but it's still enjoyable. The Ferry Wheel is a fantastic vantage point to see Wolmido from above and get a stunning view of Incheon.
Next, you can enjoy a ride on the Viking boat before heading to the Hyper Shoot Drop, which is 70 meters high and has 4D rides for children and adults. The park's entrance is free, but each attraction costs separately. Despite this fact, the fees are incredibly reasonable.
In 1992, Wolmido Amusement Park was opened and remodeled in 2009. The theme park has made appearances in shows such as "We Got Married," "Two Days and One Night," "Running Man," and many more.
Wolmi Park
It was closed to the public for 50 years, but it is now accessible and serves as a resting place for people who come there on foot.
The Wolmi Observation Deck, which is perched at the top of 108m, provides a perspective of Incheon Port, the surrounding islands, and the scenery, making it popular.
It is well-known for its lovely night view. In addition to the scenery, you can see an ecological park with wonderfully preserved nature and a traditional park where you may feel the history, in addition to the scenery.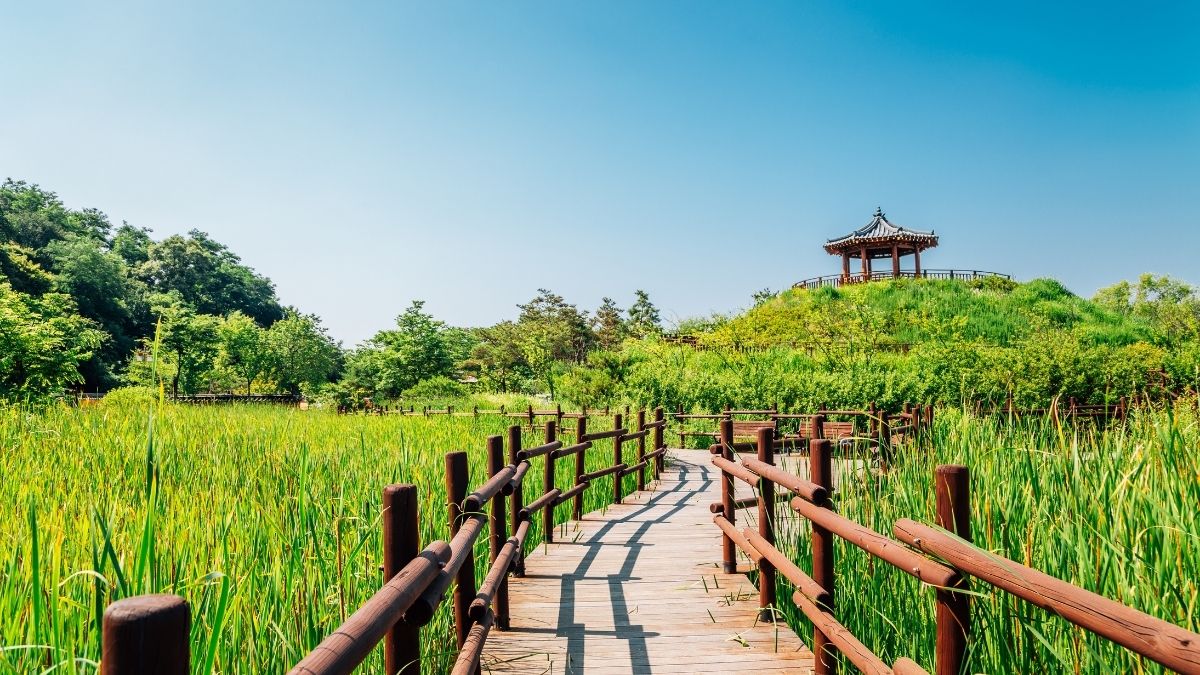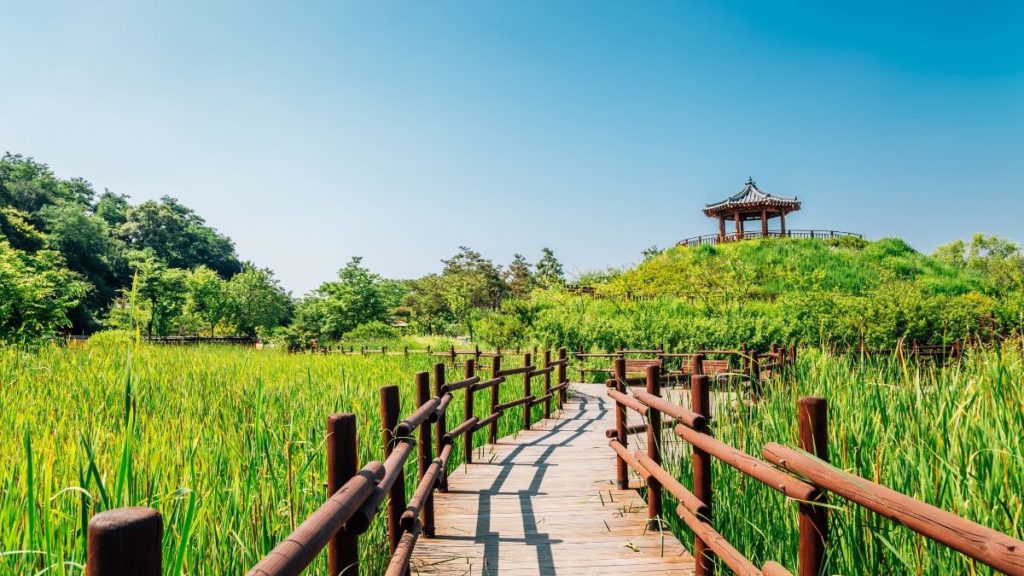 Wolmi Cultural Center
The Wolmi Park Cultural Center, located in the park, is a museum with exhibition rooms and experience spaces that explore various themes, allowing you to feel and appreciate Incheon's and Korean traditional culture directly.
It is a two-story hanok house where you can enjoy court culture on the first floor and traditional Korean cuisine in the basement.
Take a Look at the Wolmido Lighthouse and the Breakwater
At sunset, venture to the Wolmido Lighthouse. This is a lovely walk along a wooden deck with stunning views of the sea.
Go on a Cruise
There is a cruise ship on Wolmido Island, where you can admire the beautiful sea and landscape of Incheon. You can see Incheon Port, Yeongjongdaegyo Bridge, and the sea from this lookout point. You may also view Incheondaegyo Bridge, the sunset, and Inchon's night view from this location.
What To Eat on Wolmido Island?
Try Some Delicious Seafood
According to reports, Wolmido Island has over 50 seafood restaurants. The most well-known seafood dish on the island is Kalguksu, a noodle soup. Typically, it's not spicy. The noodles are hand-cut with a knife, and they have a flat form and bouncy texture. The meal is served in a big bowl filled with fresh seafood.
Enjoy a Good Cup of Coffee
There is a good feeling in this place. The sea breeze and the wind make it enjoyable to sit outside while sipping your coffee. Nothing compares to sitting on a bench and watching the ocean while listening to music or reading a book.
Wolmido Island is a hidden gem in Korea. It's not a large island, but it has everything you need for an enjoyable day trip: beautiful views, amazing food, and exciting activities. Wolmido Island offers a chance to explore a new and beautiful location without leaving the country. So, what are you waiting for? Get on a ferry and head to Incheon!
9,613 total views, 1 views today