South Korea is well known for its variety in cuisine and some unique dishes. So, you must try some of the best Korean food while you're in Seoul!
If you've ever watched any Korean Netflix drama or a Korean movie, you'll have come across a scene where people are sitting and eating happily. Food is just that important for Koreans. It's like a way of asking about someone's well-being. Just like you would ask 'how are you?' Koreans are likely to ask, 'have you eaten?' (밥 먹었어요? – Bap meogeoseoyo?).
Check out: Common Korean Greetings
Korean Food Guide – Top Must Try Dishes in Seoul
Here are 10 of the best Korean food to try while in Seoul. Apart from Kimchi and Korean BBQ, there's so much more to explore and enjoy!
Bibimbap
Tteokbokki
Japchae
Hotteok
Bulgogi
Kimbap
Haemul-pajeon
Naengmyeon
Seolleongtang
Bibimbap (비빔밥)
A classic Korean dish that you can find not only in Seoul but can also be found globally. However, nothing beats the authentic taste of Korean food straight from Seoul.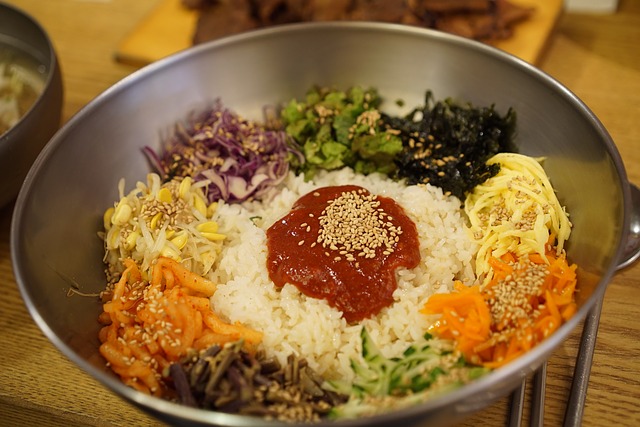 The literal translation of the dish is 'mixed rice.' You can mix all the ingredients to give a warm, healthy, and comforting bowl of Korean food. There are sautéed vegetables, beef, fried or raw eggs, mushrooms, and a dash of chili paste (gochujang).
The dish is served in a hot bowl made from stone (dolsot). Bibimbap is generally accompanied by small side dishes (banchan).
Tteokbokki (떡볶이)
Tteokbokki is a typical Korean food that is popular as street food. It's an iconic orange-red snack that is made from boiled slices of rice cake (tteok). Fish cake and vegetables are also a part of the dish. All of these are combined with spicy chili paste (gochujang).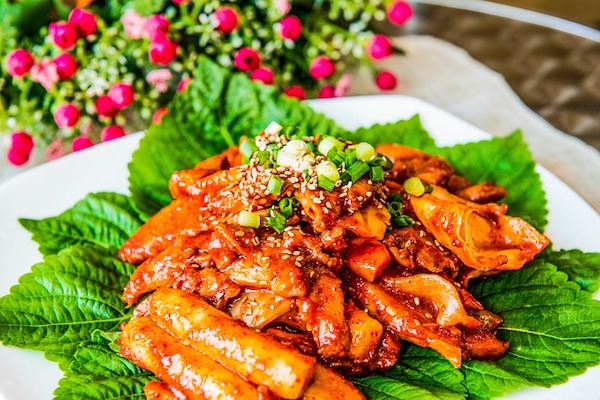 Read More: Best Korean Ramen Noodles
Japchae (잡채)
Japchae is a side dish that translates into stir-fried noodles. The dish contains glass noodles made out of sweet potato and sautéed vegetables. You can have other vegetables like spinach, leeks, carrots, and onions cooked in sesame oil.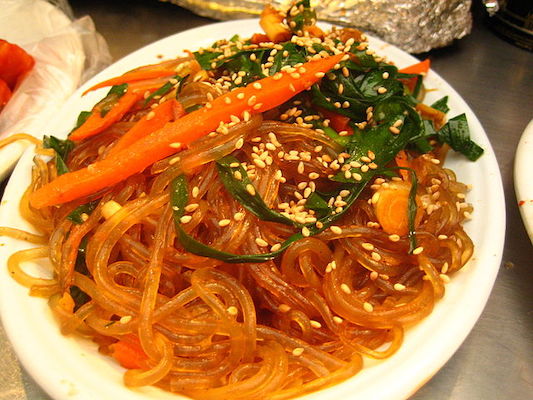 Dakgangjeong or Chimaek (치맥)
Korean fried chicken (KFC) and not Kentucky Fried Chicken (KFC) is a popular Korean food dish. The dish is popular in Seoul and known as 'chikin.' Chimaek is a combination of the words' chicken' and 'maekju (beer),' one of Korea's favorite food delivery options.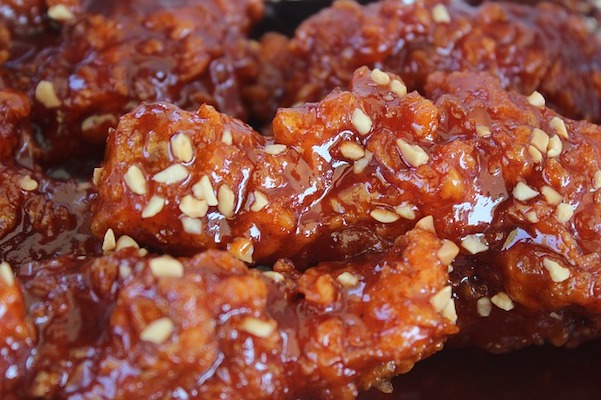 Read More: Soju – Everything You Need to Know About South Korea's National Drink
Hotteok
They are the sweet pancakes, an iconic dessert in Korean cuisine. It's perfect for anyone craving something sweet. The pancake-looking dish is stuffed with a mix of brown sugar, crushed nuts, and cinnamon. You can find it in street food stalls while strolling the streets of Seoul.
The dough is fried, and the stuffing inside transforms into a delicious gooey syrup, and the exterior is crispy. It's delicious Korean food found on the streets of Seoul. 
Read More: Enjoy Late Night Eating in Seoul
Bulgogi (불고기)
Its another popular Korean food dish that's essentially a marinated beef barbeque. The thin beef slices are marinated with a mix of spices like hot pepper, garlic, soy sauce, and sugar.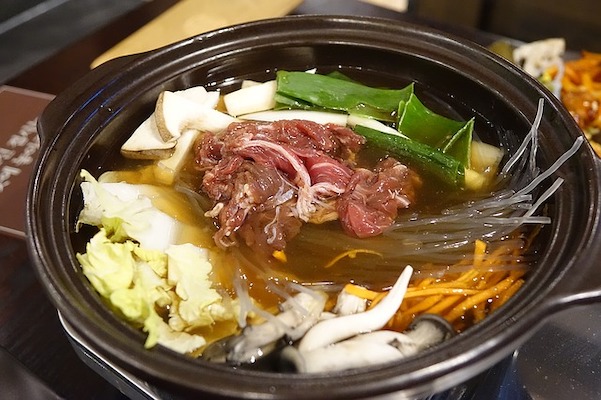 Bulgogi translates to 'fire meat' and its often made with parts of beef, pork, or chicken. The flavor of the dish is mildly sweet, savory, and smoky thanks to all the spices used for marinating the beef.
Kimbap (김밥)
It's the Korean version of sushi and a perfect dish for when you are on-the-go. You can find the Korean dish in most picnic boxes. Kimbap is a Korean food that contains rice, meat, and other ingredients wrapped in dried seaweed. There are different filling options, and you can get kimbap in any food stalls and convenience stores in Seoul.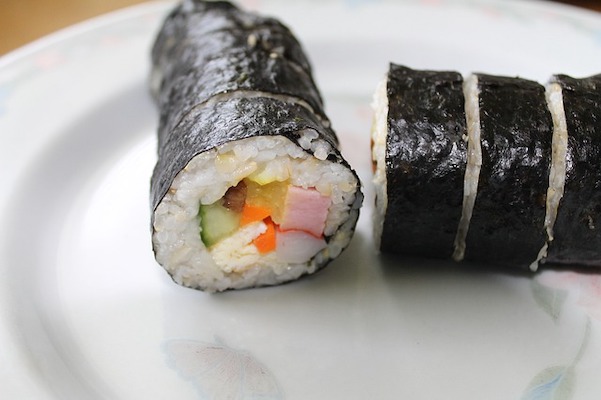 Haemul-pajeon (해물파전)
Haemul-pajeon is a Korean pancake that is made with seafood, shellfish, chives, and eggs mixed with flour batter. It is then pan-fried and served with an accompanying soy sauce.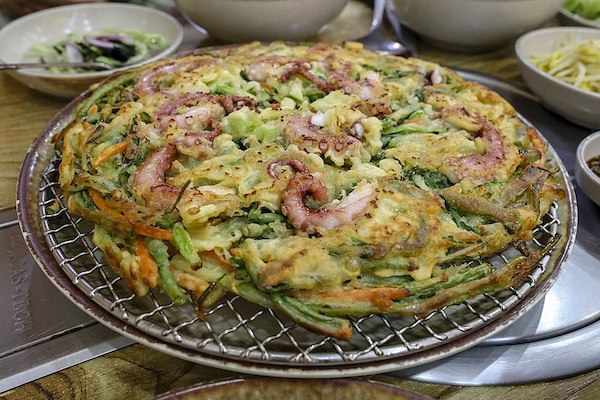 Different types of pancakes can be like kimchi-jeon, seafood pajeon, and spring onion pajeon. All the variants are simply delicious! 
Read More: Iconic Korean Drinks for A Refreshing Day in South Korea
Naengmyeon (냉면)
Cold buckwheat noodles or Naengmyeon is a summer dish. This Korean dish serves noodles with vegetables, meat, and an egg in an icy broth. The broth has a tangy taste, and it contains icy chunks. 
There are two varieties of the dish – mul naengmyeon or bibim naegmyeon, without broth.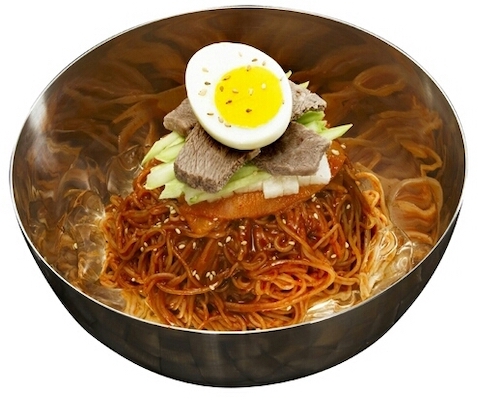 Seolleongtang (설렁탕)
Seolleongtang or the ox bone soup is a typical Seoul dish. You'll be able to recognize it from its unique milky white color. The beef in the soup is cooked for hours so that its super tender and just melts in your mouth.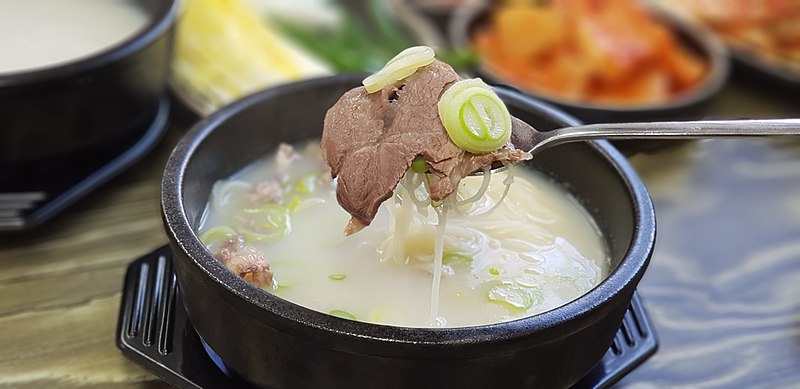 The broth is served with noodles, scallions, and meat. You can season the meat right on your table to be personalized as per your taste. Add salt, chopped garlic, onions, and red pepper to the table. 
Frequently Asked Questions About Korean Food
What is traditional Korean food?
The foods included in the list like bibimbap, Korean noodles, kimchi stew, Korean beef BBQ, and more.
Is Korean food healthy?
Most food from Korea is low-calorie food, and soup is involved in every meal. There are a lot of vegetables as side dishes also. Many Korean foods are fermented, making them an excellent food item for your gut.
Is it a low-carb food?
Not really. Korean food contains a lot of rice and carbs in meat products like beef and pork. Although its low in calories but has a good amount of carbs.
What's the healthiest Korean food?
Kimchi is one of the healthiest food options all over the world!
Is food expensive in Seoul?
Korean food is not as expensive as Western food.
What is the national dish of Korea?
Once again, the answer is Kimchi!
Read More: Popular Korean Instant Food That You Must Try from Korean Convenience Stores
What's your favorite Korean food? Do you have any other favorites that we didn't include here? Comment below and let us know! 
Related Posts