With springtime's arrival, the days of strolling in sunny meadows blanketed with vibrant and fragrant spring blooms are fast approaching in Busan. Why not start planning a fun getaway now so you can enjoy it to its fullest with your friends, relatives, or special someone? Busan, South Korea, is the perfect place for a flower-filled getaway.
The entire city of Busan comes alive with color and beauty during springtime. From stunning cherry blossoms to majestic azaleas, there's something special to admire at every turn. But if you want in on the full-bloom experience, here are some of the best spring blooms flower-viewing spots in Busan.
Haeundae Dalmaji-gil Road
While Haeundae is well-known for its beach, it boasts many more attractions than sand and waves. Take a short trip away from the shore to Dalmaji Hill, and you'll be rewarded with spectacular views of cherry blossoms in springtime and other stunning sights that can only be found elsewhere in this captivating city.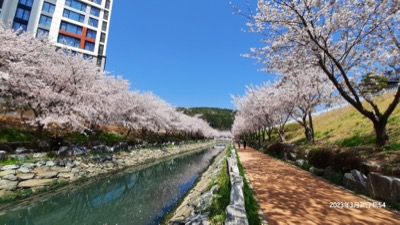 Strolling up Dalmaji Hill from the Mipo intersection offers travelers stunning views of cherry blossoms and the picturesque blue ocean. You can find unique cafes, restaurants, galleries, handicraft workshops, and more to explore along your journey. Why not pause for coffee while relishing in the beauty surrounding you? The sea view at night is an ethereal sight like no other.
Moontan Road is the ideal location if you're seeking a beautiful place to enjoy the outdoors and/or engage in outdoor activities. With trails weaving through lush greenery, this area offers many starting points, including Haewoljeong Square, where an outdoor market event occurs every weekend afternoon. Here visitors can purchase beautiful handcrafted items created by local artisans.
Maekdo Eco Park
All year round, citizens of all kinds adore the Maekdo Eco Park for its trails and wetland decks, captivating lotus colony, stunning aquatic botanical garden, and numerous sports facilities – making it a remarkable habitat for migratory birds during winter.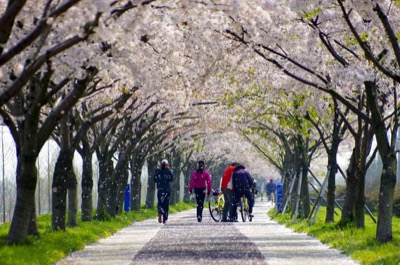 Maekdo Eco Park is one of the most tranquil spots in Busan to admire the cherry blossoms, as it offers a peaceful and serene atmosphere – free from crowds and vendors. Here, you can savor spring without feeling rushed or overwhelmed by other tourists. Compared to some of its more popular counterparts, this park is relatively unknown, making it an ideal destination for a calmer experience.
Stroll down the tranquil walking path of Maekdo Eco Park, lined with cherry trees on both sides and blanketed in breathtakingly beautiful cherry blossoms. Enjoy easy accessibility and convenient parking for your convenience while you marvel at the peaceful serenity of nature's beauty. Discover why so many visitors flock here to witness this alluring spectacle.
Each early spring, a bike path along the beautiful Nakdonggang River in Sasang-gu blankets with an incredible pink hue.
Samnak Ecological Park offers a picturesque retreat from the hustle and bustle of life all year, yet it flourishes during springtime. Its five-kilometer recreational trail along the waterway with over 3,000 cherry blossom trees, creating an enchanting tunnel of pink petals for visitors to enjoy. Make sure to visit this magical location between late March and early April.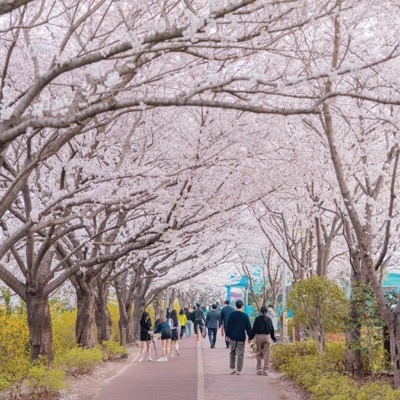 But don't just stop there! Samnak Ecological Park is full of breathtaking scenes all year round, like lotuses and sunflowers in the summertime, cosmos during autumn, and reeds throughout winter. It even has sports facilities like badminton courts, basketball hoops, soccer fields, and tennis courts. For a fun way to explore the park, take your bike or rent one for 3,000 won per hour (6,000 won if you're going on a tandem). Don't forget to bring an ID! If taking it easy is more of your speed, Samnak Ecological Park provides plenty of secluded spots away from roads and noise – so you can truly appreciate some peace amidst the hustle and bustle of city life.
Hwamyeong Ecological Park
Hwamyeong Ecological Park is an expansive sanctuary of flora and fauna. In the springtime, guests can witness a magnificent array of blossoms, including cherry trees, azaleas, and rhododendrons that decorate the landscape with overwhelming vibrancy. Whether you prefer to take in its beauty by strolling around or engaging in outdoor activities such as camping, fishing, or hiking– it's sure to be a memorable experience!
Busan's northernmost eco-park has something to offer every season; summer is perfect for water sports, while fall boasts gorgeous foliage. Wintertime brings sledding and snow fun, but spring steals the show with its stunning tulips! Year-round festivities make this natural wonderland an ideal destination all year round.
Tourists are welcomed in the north with stunning gardens, while the south Aquatic Botanical Garden holds a vast array of tulips–over 120,000! Their hues and combinations bring about an awe-inspiring sight.
Daejeo Eco Park
Daejeo Eco Park is renowned in Busan for its cherry blossoms and bamboo, but that's not all. Its most notable highlight is the sprawling field of vibrant yellow canola flowers! With more than any other park in Korea, it truly provides a picturesque setting like no other.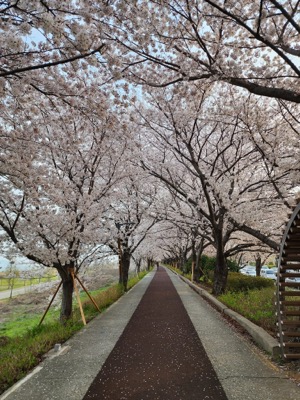 In a typical year, the region is packed with tourists snapping countless photos. However, this may not be the case in 2021! By late March, there'll be canola flowers and cherry blossoms to admire – so don't forget your camera if you plan on making a trip!
Ending Note
This spring, explore the stunning beauty of Korea's exquisite eco-parks. Whether it be a single park you choose to visit or all of them, your journey will surely become an unforgettable memory! Take in nature's splendors and capture moments with photos that will last forever. Let this season fill you with wonder and joy as you marvel at the spring blooms in Busan!
Related Posts
1,837 total views, 6 views today