Get ready to be mesmerized by Busan's beauty this spring season! This beautiful city in South Korea is well-known for its picturesque beaches, delectable seafood, and energetic markets. When spring arrives each year in Busan and brings mild temperatures and enchanting blossoms, visitors are eager to explore this charming destination. To help you make your visit during the season even more special, here are some springtime activity ideas that will add sparkle to your trip to Busan.
Top 10 Springtime Gems in Busan
Enjoy the Plum Blossom
Make the most of this season's beauty with a unique journey through an unforgettable destination. Await your arrival to witness and bask in the stunning bloom of pink plum blossoms and their enchanting aroma, greeting you as one of the first to step into spring. This breathtaking adventure will be sure to inspire within you all that is new and radiant about this upcoming season.
Cycling around Busan
For a leisurely way to explore Busan and its stunning surroundings, rent a bicycle for the day or join an organized cycling tour. Get ready to see all the best sights around town and enjoy spring's delightful atmosphere as you ride through blossom-filled pathways and quaint villages. Be sure to check out Gwangalli Beach for some breathtaking sunset views before returning to the city center.
Click Your Pictures at a Cherry Blossom Spot
Unleash your inner rhythm and enjoy the beauty of pink popcorn popping around you! Capture a timeless moment amongst the cherry blossom spots in Busan, where the city blossoms into life with its vibrant colors. Let yourself be enchanted by their sweet scent and bask in delight as they scatter beautifully throughout the streets – follow this spring song to visit all of the best viewing points across town!
Enjoy a Leisure Walk on any Island
Walking along the sandy shores of nearby islands is one of the most common activities in Busan during spring. There are many islands around Busan, each with its unique charm and stunning views that will take your breath away. Take a stroll and marvel at the endless stretches of the ocean horizon while enjoying fun activities like fishing or bird-watching.
Visit the Bamboo Forest Path
Take a peaceful stroll through the bamboo grove of Ahopsan Forest and marvel at the simplicity of spring as you wander down this picturesque path. With its tall stalks that sway softly in the wind and delicate green leaves, you will be mesmerized by this unique view. Enjoy a break from the vibrant city streets by walking along this tranquil trail – it is the perfect spot for taking some time out and reflecting on all that spring has to offer.
Go trekking on the top of Geumjeong Mountain
For a more adventurous experience, why not try trekking up Geumjeong Mountain? As you climb through the thick vegetation, admire the stunning views of Busan from above and soak in all this vibrant city has to offer. Enjoy some fun activities along the way, such as bird-watching and rock climbing, before resting at the top of the peak.
Go for The Picnic to Enjoy Dazzling Spring
Nothing is quite as soothing and tranquilizing as spring in Busan! Grab your picnic basket, a comfortable blanket, and light snacks before heading to one of the many picture-perfect parks. With its lush trees and picturesque paths, you will be mesmerized by the beauty of nature during this season. Enjoy the perfect combination of floral views, fresh air, and warm sunshine while picnicking with friends or family as one of the best springtime activities in Busan.
Enjoy a Day trip at Emerald-Colored Busan Beaches
Experience the wonders of spring in Busan by taking a day trip to emerald-colored Busan beaches. This stunning coastal area is home to some of the most beautiful views and crystal clear waters, perfect for swimming, fishing, or relaxing on the beach. Enjoy fun springtime activities like snorkeling and kayaking in Busan before ending your day with a picnic and breathtaking views.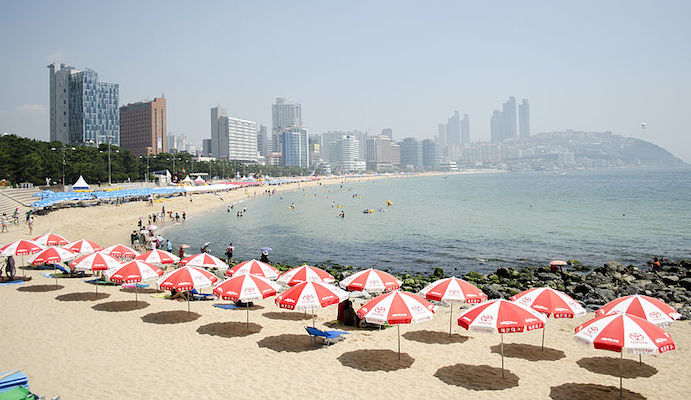 Shop at Jeonpo Cafe Steet
For a unique shopping experience, head to Jeonpo Cafe Street, where you can find various boutique stores, cafes and restaurants. Spend your afternoon exploring the vibrant street full of local artisans and independent shops – it's the perfect place to pick up souvenirs or gifts for friends and family back home. Be sure to try out some of the delicious street food while you're there, too!
Take a Bite of Strawberry Dessert
Invigorate your taste buds with a bite of Strawberry dessert this spring. Strawberries are a classic fruit that pairs perfectly with the delightful sunshine of the season. Experience why these delectable and sweet treats have been adored by so many over the years as you indulge in their inviting flavor! Your eyes and mouth will be sure to thank you later as you enjoy this springtime activity in Busan!
Ending Note
From the pink hues of the cherry blossoms to the crystal clear waters of Emerald Colors Busan Sea, there is something for everyone in this vibrant city. Whether you're looking for adrenaline-filled activities or a leisurely afternoon stroll, you will surely find something that suits your taste. Spring in Busan truly is a magical experience – so don't miss out and plan your next trip now.
Related Posts
1,886 total views, 1 views today