South Korean cuisine is a remarkable blend of intense flavors and spices – kimchi, bibimbap, and several other dishes can set your mouth on fire! However, if you enjoy spicy food sparingly, there's no need to worry. You'll still be able to explore South Korea's deliciousness through non-spicy Korean dishes without running for glasses of water after each meal.
If you're averse to spice, don't worry! Many beloved Korean dishes are entirely free of it. On your next visit to Korea, make sure you sample these delicious and unspiced culinary delights:
Bulgogi is a beloved and renowned Korean delicacy consisting of thinly-sliced meat that has been marinated. With its noteworthy marinade of soy sauce, sesame oil, sugar and ginger, Korean barbecue has won hearts worldwide. Enjoyed in wraps with lettuce, side dishes and dipping sauces – it's no wonder why this dish is one of Korea's top picks! Once you've finished your meal, take the remaining broth and drench it over a bed of rice to further bask in the savory flavors. Bulgogi is normally crafted with beef unless otherwise mentioned; however, it can also be made with chicken or pork!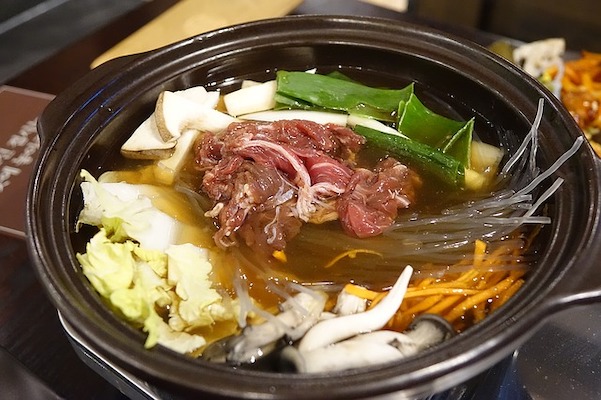 Japchae
Japchae is a classic South Korean dish that packs a punch of savory and sweet flavors. This stir-fried glass noodle dish is mouthwateringly delicious, making it the star attraction at any celebratory occasion or gathering. While best enjoyed as an accompaniment to other dishes, Japchae can also be served atop rice for an even heartier main meal.
When Japchae first appeared in the 17th century, it was a dish containing no noodles. However, over time it has developed into something different – the version of this delectable food we are used to today.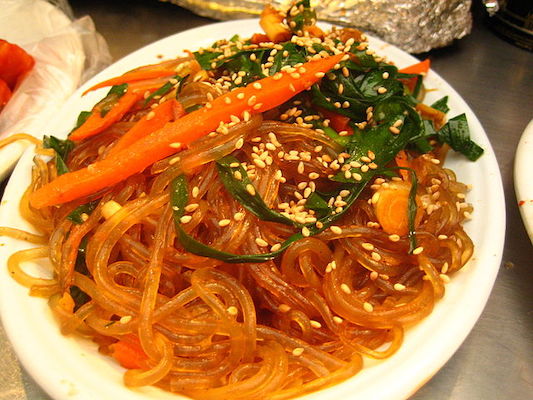 Donkatsu
Indulge in the savory Korean dish, donkatsu! It's a flavorful spin on the Japanese tonkatsu- a crunchy pork cutlet that is battered and fried. The Korean version differs from its Japanese counterpart due to its thinness and larger surface area, resulting in an unbeatable taste.
This pocket-friendly yet delicious dish is traditionally served with rice, kimchi, a fresh salad and pickled yellow radish. You can find it around almost every rest stop or cafeteria in the country!
Kimbap
Kimbap is a delectable seaweed-rice roll that is a Korean twist on Japan's beloved sushi that makes the perfect grab-and-go meal. This delicious snack has become an increasingly common sight in Korea, from bus terminals to convenience stores.
The possibilities for kimbap fillings are endless! From tuna and avocado to chicken, shrimp, bulgogi and beyond – you can unleash your culinary creativity when making delicious kimbap.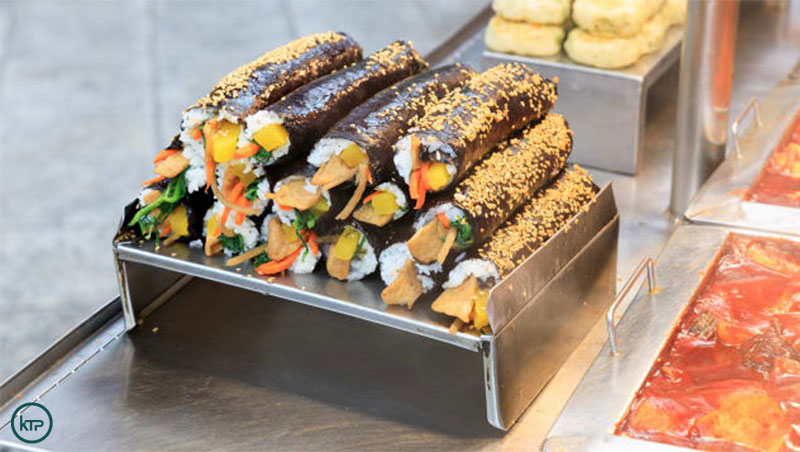 Gyeran-jjim
Gyeran-jjim is a delectable egg custard that's both smooth and silky, making it beloved by many households and restaurants. Did you know that in Korea, spicy food cafes commonly serve Gyeran-jjim to help tame the powerful spice? If spiciness tends to be too much for your tastes, this classic dish will surely extinguish any heat from your mouth – so don't hesitate to try it!
No matter what you call this Korean steamed egg classic – either 'Korean Steamed Egg Bomb' or 'Volcano Eggs' – it remains a delectable comfort food treat that your whole family can enjoy. With its silky-smooth texture, Gyeran-jjim is easy and fun to make however many times you wish!
Seolleongtang
Seolleongtang is a savory stew created by gradually simmering ox leg bones for hours until the broth reaches its full flavor and texture. A favorite among Korean households, especially in wintertime, this soup can be enriched further with rice or noodles to form a delicious and comforting meal.
Doenjang-jjigae
Give Doenjang-jjigae a chance–you won't be disappointed! Despite its slightly intimidating name, this Korean stew made with fermented soybean paste is exquisite. Don't let "fermented" fool you; it's more delicious than any other dish. Experience the amazing flavors for yourself, and prepare to be amazed!
Doenjang-jjang is a cherished childhood, non-spicy Korean dishes for many Koreans. This stew comes in countless variations, often made with pork, beef, or seafood as its main ingredient. It's no wonder that this comforting meal has become so popular!
Looking to keep costs down on food while still enjoying a good meal? The soybean stew is often one of the most affordable options at restaurants, giving you both an economical and delicious choice.
Jajangmyeon
Jajangmyeon – a delectable combination of silky and chewy noodles smothered in sweet, savory black bean sauce – is an iconic Korean cuisine. It's often served with a fried or hard-boiled egg on top, accompanied by peas as a garnish, making it delicious and visually appealing. This dish is so popular that you can even find it featured in many Korean dramas as one of the most common dishes to be delivered home!
Celebrate your singlehood with a delicious dish – jajangmyeon! On Black Day (April 14th), singles gather to indulge in this symbolic comfort food. But you don't have to be single to enjoy it! In less somber customs, many people also eat jajangmyeon when they move into their new homes to celebrate the start of something fresh and exciting.
Naengmyeon
You can't go wrong with Naengmyeon for a delightful and refreshing summer snack. This Korean noodle dish is made from long buckwheat noodles combined with sweet potato starch for an irresistible combination of softness and chewiness. The cold broth is zesty yet savory and includes ice cubes to keep the soup nicely chilled on even the hottest days!
Eomuk-guk
Korean fish cake soup, known as Eomuk-guk, is one of the non-spicy Korean dishes popular among locals and tourists. The fish cakes are put on skewers and cooked in a rich anchovy broth before being fried to perfection with potato starch and other ingredients. With its convenient nature, it's no wonder this tasty snack has become the perfect accompaniment for gathering with friends over drinks or on busy days out when you need something delicious and quick to grab!
On your next trip to Korea, take advantage of the opportunity to sample some of these delicious non-spicy Korean dishes. The flavor is truly remarkable without any chili peppers!
4,751 total views, 7 views today