Gimhae International Airport is located in Busan (to be specific in Western Busan), which is the second-largest city in South Korea, on the banks of the Nakdong River. It is also known as Busan Gimhae International Airport or simply Busan Airport. Every year this airport serves more than 16 million passengers.
Gimhae International Airport Code, Location, and Contact Information
Code: PUS
Location: 108 Gonghang-jinipro, Gangseo-gu, Busan, 46718
Flight Tracker: Departures; Arrivals
Phone Number: +82 1661-2626
History
Previously the name of Gimhae International Airport was Busan Suyeong Airport. It was founded in the year 1958. In 1976 it was renamed Gimhae International Airport. It has been renovated and expanded multiple times in order to make it one of the largest and busiest airports in South Korea. The reason for the relocation is its busy schedule and activity.
All You Need To Know To Make Your Journey Smooth
Gimhae International Airport operates both domestic and international flights so there are two separate terminals – Domestic Terminal and International Terminal. The terminals are within 5 minutes' walking distance or you can take the free shuttle.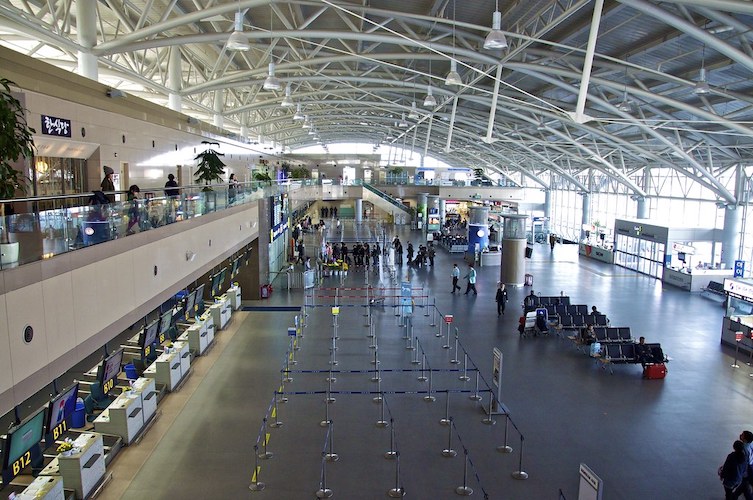 If you are arriving on an international flight, you must clear immigration and customs before entering the Domestic Terminal. Though every year Gimhae International Airport provides the first-rate service to a huge number of passengers, their routes are limited to East and South Asia mainly. It is also a hub for Air Busan.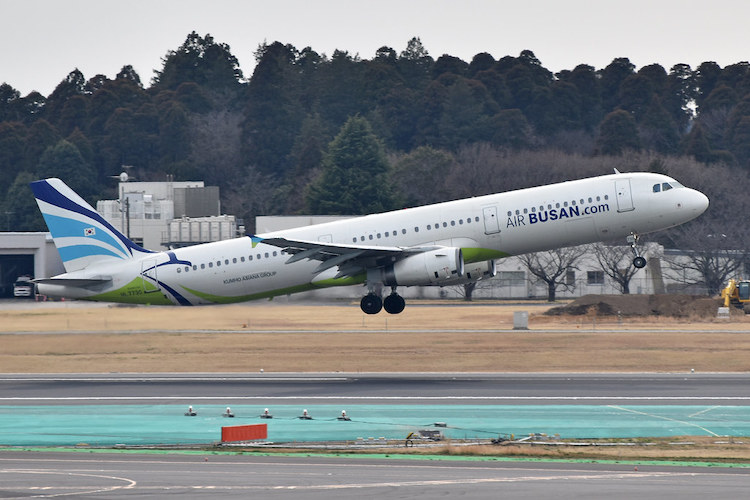 Gimhae International Airport Lounges
Gimhae International Airport provides three airport lounges in the International Terminal and one lounge in the Domestic Terminal. All the lounges in the airport close by 10 p.m.
International Terminal Lounges: The KAL lounge, Air Busan lounge, and Sky Hub Lounge offer refreshments, alcohol, and other services to business and first-class travelers. If you have Priority Pass membership, you can access these lounges.
Domestic Terminal Lounge: The KAL Lounge is the only lounge in the Domestic Terminal of the Gimhae International Airport.
Gimhae International Airport Facilities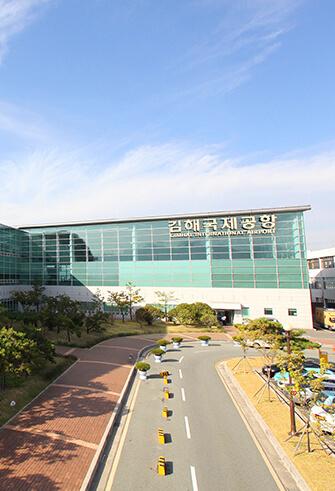 Free wi-fi and Charging Stations – The Gimhae International Airport offers free wi-fi to all travelers. Some restaurants and coffee shops also offer additional network services. There are charging stations in the departure terminals. They offer USB ports and local 220 volts charging outlets with round pins.
Purchasing SIM cards – There are multiple booths in the arrival hall of the International Terminal from where you can buy a Korean SIM card to use during your trip.
Business Center – For business travelers, there's a business center with meeting rooms, telephones, fax machines, and computers.
Facilities for physically challenged travelers – Gimhae International Airport provides numerous facilities for physically challenged travelers. All the floors are accessible by lifts. They also provide wheelchair assistance. There is a 50% discount on parking for disabled drivers.
There are multiple ATMs, currency exchange booths, and even International Drivers' License permit center in the airport.
You can't spend your night inside the terminals.
You can drink water from water fountains. It is completely safe.
Washrooms are available throughout the airport in the public areas and terminals.
There is also an art gallery present in the airport so that passengers can spend quality time.
Gimhae International Airport Parking
More than 7,000 parking spaces are available. Long-term and short-term options are available in front of both terminals and are easy to access. Parking fees varies with the time duration and there are discounts for certain category of individuals. These include people with low-emission vehicles, disabled, and in some cases, families with three or more children under 18.
What to Eat & Drink?
In the Gimhae International Airport, the variety of international food is very less. Mostly you will find coffee shops and traditional Korean restaurants. There are no restaurants available and open for 24 hours. All the restaurants open from 6 a.m. to 7 a.m. and close at 9:00 a.m.
In the public area of the Domestic Terminal, you will find a food court on level 3F. You will find a variety of Korean dishes in a cafeteria-style environment. The same style food hall is also present in the 3F of International Terminal but it's only accessible through security.
The airport doesn't offer any official bar. Beer and soju are available in Korean restaurants. You can purchase beer cans from the airport's convenience store and the lounges.
There are several international eateries in both the terminals. Dunkin' Donuts is present in both while the International Terminal also offers Krispy Kreme and Lotteria (Korea's equivalent of McDonald's).
Iconic food chains like Burger King, Subway, and KFC, the usual fare on airports, aren't available in Gimhae International Airport.
Although there aren't many food joints, there are several coffee shops in the airport area. You won't find Starbucks but there are several big name local coffee chains like Caffe Bene, Angel-in-Us, and more.
Shopping at Gimhae International Airport
Shopping is one of the biggest businesses in Korea and Gimhae Internation Airport also capitalizes on the same!
Altohugh the airport is a bit smaller, travelers can enjoy shopping in the two bustling duty-free stores in the International Terminal.
There are several souvenir stores, convenience stores, beauty shops, pharmacy, bookstores, and more throughout the airport for any last-minute purchases. You can even get some nails art at the nail salon in the Internationl Terminal.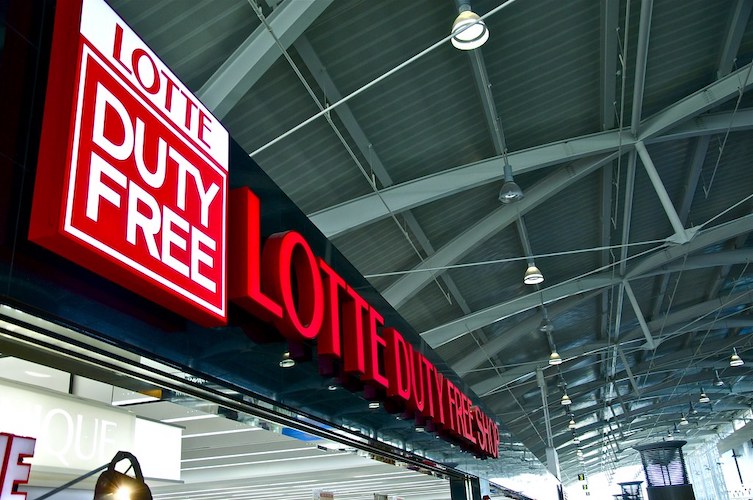 Transport from Gimhae International Airport
Korea's transport system is so good and affordable that most of the visitors don't drive and prefer to take the public transport. You have lots of options from the airport to your destination.
City Bus: This is the best option for a comfortable journey at a cheap rate, to and from the airport. You will find numerous buses depart from the airport in various directions in and around Busan's Gimhae. You also can board express buses for destinations like Ulsan, Masan, Pohang, and Jinhae.
Limousine Buses: All domestic and international passengers have direct access to Limousine Buses in front of the airport. These buses are not only clean but also can control heavy baggage. They drop their passengers off at various hotels and major destinations in Busan and some surrounding cities. The specialty of the buses is that they even make special stops for passengers. Limousine Buses are available from 6 a.m. to 10 p.m. one-way ticket will cost from KRW 5,000 to 9,000 won.
Light Rail: You can choose Busan's Light Rail service at the airport that connects to Busan's metro system's line two at Sasang station. It will take 20 minutes to reach Sasang station and will cost KRW 1,500.
Taxi: Taxis are readily available outside the airport. Taxi is the best option for the fastest and private mode of transportation to and from the airport. Black taxis are more expensive than a metered taxi.
Some more interesting info about the Busan Airport
There is 1 asphalt runway measuring 2,745 meters and 1 concrete runway which measures 3,200 meters in length. 
In 2014, the airport recorded 10,378,866 passenger movements and 78,646 aircrafts movements, making it one of the busiest airports in the region. 
It is a civil cum military airport with joint operations with Korea Airports Corporation and Republic of Korea Air Force.
Jeju and Seoul are the busiest domestic routes from Busan Airport.
Internationally, Osaka, Tokyo, Fukuoka, Hong Kong, Shanghai, Bangkok, Beiijing, Taipei, Manil and Qingdao are the busiest routes from Gimhae International Airport.
Love it? Pin it!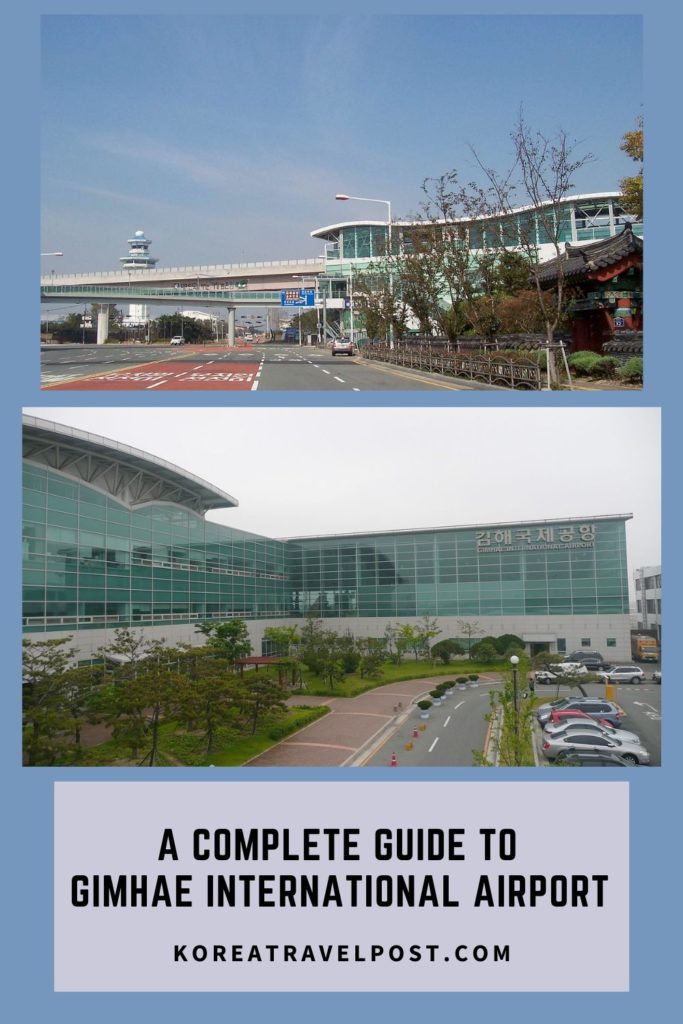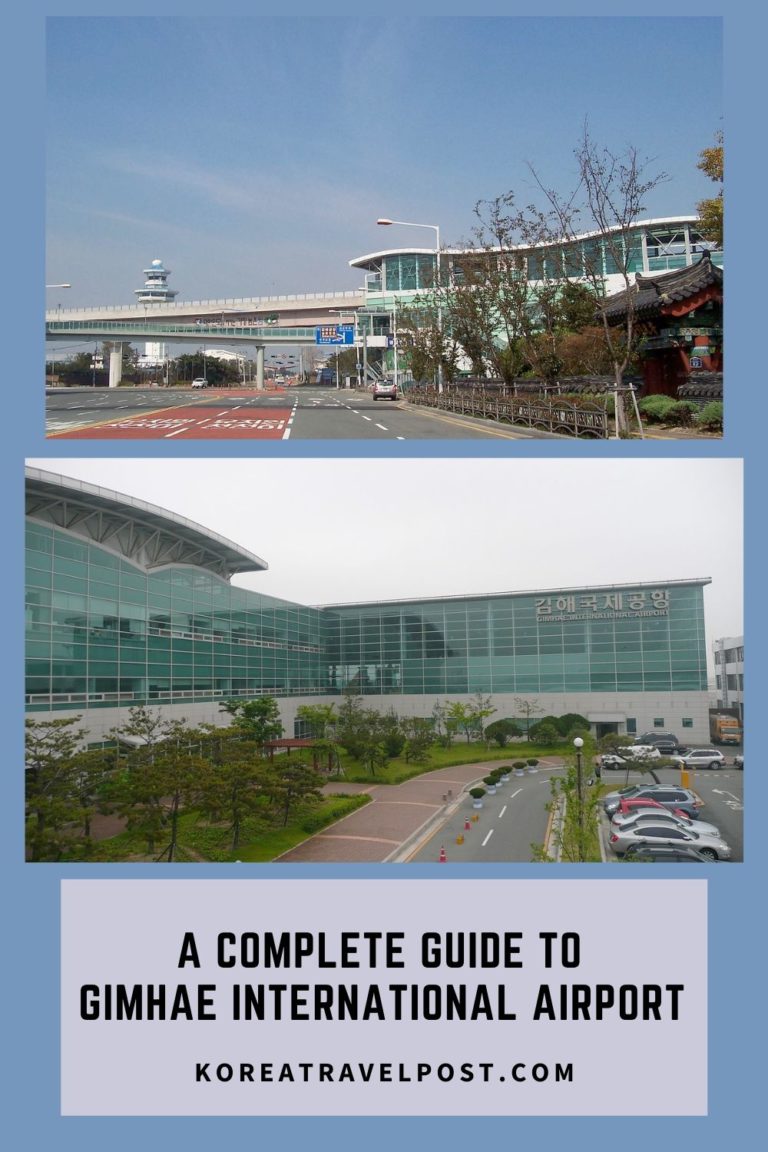 Don't forget to check out these other South Korea travel posts:
4,668 total views, 7 views today