Korean Corn Dogs (핫도그), or Korean hot dogs, represent a recent addition to the world of hot dogs. You can find them on almost every street corner in Korea. It is a popular snack that Koreans enjoy a lot.
The corn dog stand of Seo Dal-mi's grandmother in the series "Start-Up" shows how big and common the hot dog is in Korea. The scriptwriter chose a corn dog stand over other food stalls, depicting the importance of Corn Dogs as a defining street food of Korea.
The popular street food Korean Corn Dogs is continuously appearing in K-Dramas. As a result, they are becoming more and more popular around the world. These delectable snacks mix a traditional Korean twist with the familiar comfort of a corn dog. The world's food lovers have fallen in love with Korean corn dogs for their delicious contents and crispy surface. Explore the wonderful world of Korean corn dogs and learn what makes them so unique.
What is a Korea Corn Dog?
A Korean hot dog or corn dog is the delicious union of a hot dog and cornmeal batter. The numerous variants and fascinating additions are what distinguish it from its Western cousin. The hot dog is typically skewered, battered, and then deep-fried to golden perfection. The end result is a crispy exterior that elegantly complements the luscious hot dog inside.
Difference between American and Korean Corn Dogs
For those culinary enthusiasts looking to recreate the magic at home, numerous 'best Korean Corn Dog recipes' can guide you. However, if you're trying to understand the core differences between American and Korean variants, it boils down to the diverse fillings, coatings, and preparation methods intrinsic to Korea. 
The traditional American Corn Dog focuses primarily on the classic hot dog encased in cornmeal batter. In contrast, its Korean counterpart presents a medley of taste sensations.
Types of Korean Corn Dogs
The flavor and stuffing combinations of Korean corn dogs are legendary. A corn dog suits every appetite, from sweet to savory. You may encounter the following common types:
The Classic Taste: Regular Corn Dog
Sticking true to its name, the Regular Corn Dog is the embodiment of simplicity. Much like the American original, this version centers around the familiar taste of a juicy hot dog encased in a golden, crispy cornmeal batter. It's a nod to the classic, a taste of nostalgia for many, making it an evergreen choice among Korean Corn Dog aficionados. Simple but fulfilling!
A Cheesy Delight: Mozzarella Corn Dog
This corn dog surprises you with a gooey mozzarella center that extends with each bite, making it the cheese lover's dream. It's a luxury to enjoy the combination of melty cheese and a crunchy exterior. This variant celebrates the harmonious fusion of East and West, where the Western love for cheese meets Korean innovation.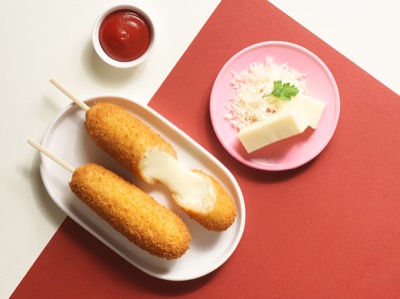 Carb-Loaded Goodness: Potato Corn Dog
Imagine a coating of crisp potato flakes covering a corn dog. It resembles a loaded baked potato in a bite-sized, pleasantly portable form. Envision crispy potato cubes enveloping the hot dog, creating a layered taste experience. It's essentially the joy of biting into a loaded baked potato and a corn dog, all at once!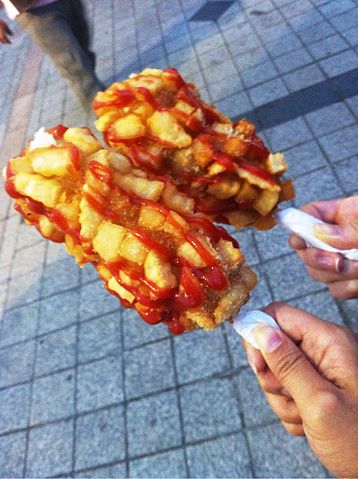 Squid Ink Corn Dog
Adding squid ink to the batter gives this beautiful corn dog its distinctive look and subdued saline flavor. Foodies with a sense of adventure must try it!
Tteokbokki
This corn dog combines two popular street foods from Korea: sticky rice cake batter on the outside and spicy tteokbokki sauce on the inside. It provides a delicious blend of tastes. Many often wonder: How spicy is the Tteokbokki Corn Dog? It's a delightful mix of spicy and sweet, challenging yet not overwhelming for the average palate.
Where can I find a Korean Corn Dog?
You can get delicious corn dogs worldwide, not just in South Korea. Korean corn dogs are becoming more and more well-liked. You're in luck if you're wondering where to get these delicious snacks. In several places, Korean corn dog vendors and food trucks have appeared, providing a variety of flavors and fillings. Myungrang Hotdog is the place to taste corn dogs in South Korea. It is a renowned corn dog franchise that spreads across the country. In Korea, Myungrang uses tteokbokki in their corn dogs. Moreover, the cooks make the corn dogs only after the order is placed to give customers fresh and crispy hot dogs. Besides Myungrang, many food stalls, including food trucks, sell corn dogs all over Korea.
Origin of Corn Dog
There are several claims to the invention of the corn dog, raising questions over its specific origin. But the contemporary variation we are familiar with today is rooted in the United States. Early in the 20th century, the idea of dredging a hot dog in cornmeal batter and deep-frying it became popular. It didn't undergo a pleasant makeover with the addition of distinctive flavors and components until it reached Korean shores.
Korean businesspeople adopted the corn dog and added their own culinary flair to the mix. They experimented with various coverings, adding novel flavors and interesting fillings. As a result, the corn dog industry underwent a revolution that gave rise to the delicious and seductive Korean corn dog.
The popularity of Korean corn dogs has also been greatly influenced by the development of Korean pop culture and the globalization of Korean cuisine. Along with the success of Korean dramas, music, and fashion abroad, delicious street cuisine like the well-known corn dog also became popular.
Conclusion
Korean Corn Dogs have a rich history and have tens of thousands of lovers. Corn dogs in Korea are a little different than those in their origin country United States. However, the fundamentals of the creation of a hot dog with cornmeal batter are the same all over the world. The Koreans like to make their corn dogs with tteokbokki. Some also believe that Korean corn dogs are much more popular than the ones made on the western coast. Whatever the case, they are all deviously luscious and crispy, which everyone enjoys. 
Have you tried a Korean Corn Dog variant that's not listed here? Or perhaps you've got an exciting personal twist to the recipe? Share your experiences in the comments below!
Related Posts
287 total views, 7 views today