Explore Nami Island or Namiseom (남이섬) in South Korea, one of the best tourist destinations near Seoul, with this ultimate guide for a day full of fun!
About Nami Island
Located near Seoul, Nami Island is a beautiful island that is among the most popular attractions in South Korea. The island is located in Gapyeong (가평), around 1-2 hours from Seoul.
The island features beautiful tree lanes, woodlands, riverside walks, and many more! It is the perfect place for nature lovers, which offers picture-perfect scenery all year round. 
Nami Island is officially called the Naminara Republic and it is an independent island-nation with its own flag and currency. It is a half-moon shaped isle that was formed as a result of the construction of Cheongpyeong Dam.
Best Time to Visit Nami Island
Well, to be very truthful, there is no 'best time' to visit Nami Island. There's always something special for everyone, no matter the season.
Spring
The island becomes a blooming wonderland! Trees and spring flowers start to bloom, and you can even see the much-coveted cherry blossoms from early to mid-April. The air is crisp and refreshing with pleasantly mild weather.
Summer
Season of summer welcomes the lush greenery to the island. You can relax and take a stroll along the beautiful tree lanes among pine trees and redwoods. With on-and-off showers, the summer is hot and humid.
Autumn
Just like anywhere else in Korea, you can enjoy the fall foliage across the Naminara Republic from mid-September to November. Reed beds on the riverside are also another enjoyable site during fall. Weather is finally cool and dry with clear skies to enjoy all outdoor activities. 
Winter
Nami Island has become a famous winter romantic destination after its foray as filming location into Korean romance drama like 'Winter Sonata (2002)'. During winters, all you can see is tall, white birch trees and snow-covered tree lanes. It is like a magical wonderland right out of a fairytale! Weather is much colder in January, and there's snowfall around late November.
What's the Best Way to Go to Nami Island?
You can reach Nami Island from Seoul by using public transport. Though the Korean transportation system is a bit tricky, it is still the cheapest way to travel. You also have an option to book a tour via any of the travel sites, and they will take care of the transportation. If you are self-driving, then you can use KAKAO Maps or Naver Maps for the best navigation in the country.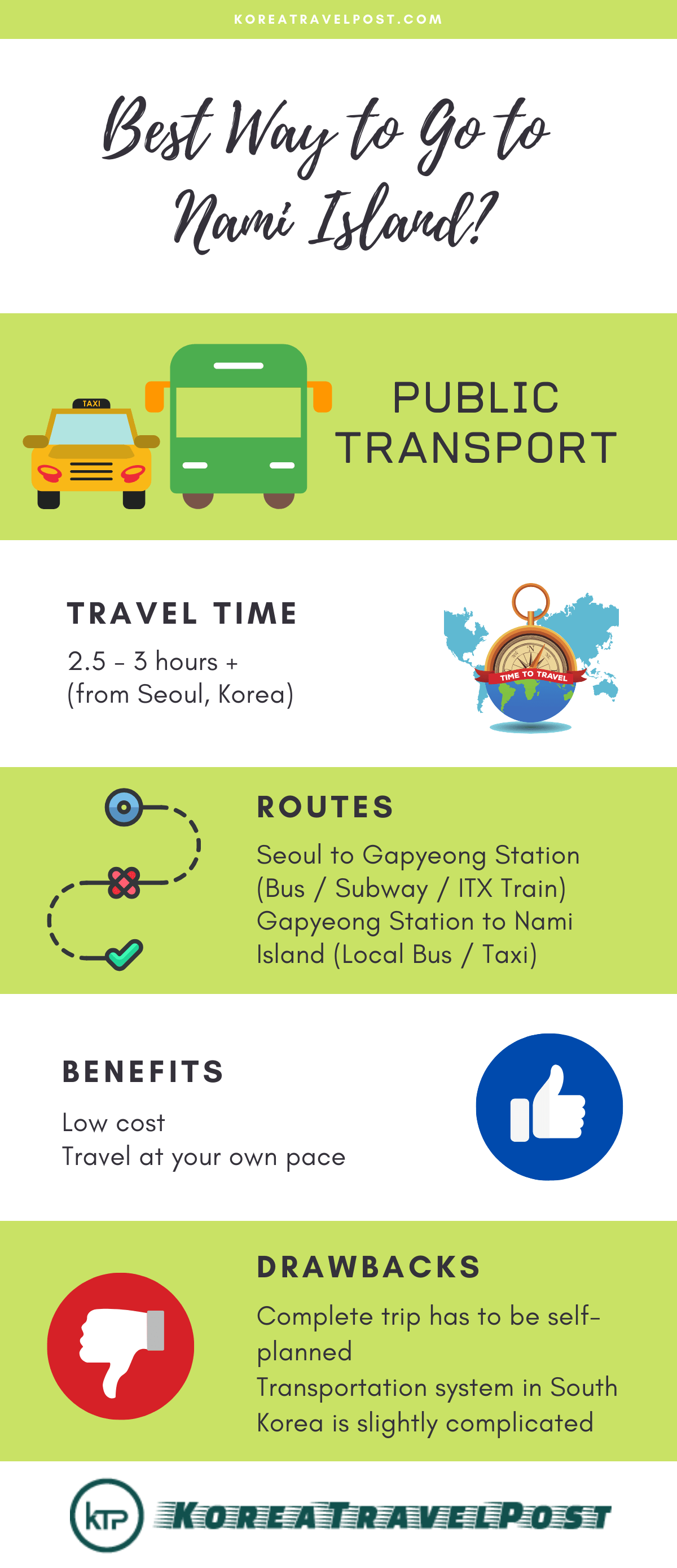 There are two ways to get to Nami Island – a ferry from Gapyeong Ferry Wharf or zip-lining.
It is inaccessible by land transport because it's an island obviously!! And if you are feeling more adventurous, you can also get there via a zip-wire run by Nami Skyline Zip Wire. The zip-line is only a one-way trip, and you'll have to return via ferry. 
Naminara Republic Visa includes entrance fees and ferry fare, and it costs 13,000 won. Skyline zip-wire costs 44,000 won including the entrance fee. You can also opt for a Passport of Naminara Republic for 45,000 won which offers unlimited access to Naminara Republic for 1 year.
5 Must-Visit Walking Paths in Nami Island
There are so many amazing sights and attractions on Namiseom that it is difficult to see them all out in a single visit. To help you make the most of your trip, we've narrowed them down in our ultimate guide to the top 5 must-visit walking paths in Nami Island. 
You can also check out the foodie-inspired travel itinerary and things to do in Nami Island.
Central Korean Pine Tree Lane
It is a scenic path that runs from the north of the island leading to the center of Naminara Republic. The trail is lined with thick pine trees.
Ginkgo Tree Lane
Another must-visit destination in Nami Island. You can enjoy the splendor of bright yellow ginkgo leaves during fall. It is approximately 80 meters long and gets completely covered with beautiful yellow ginkgo leaves in autumn.
Metasequoia Lane
It's a path lined with giant redwood trees making it a picturesque scenery. Metasequoia trees are also known as living fossils, and they grow tall very quickly. This lane is elegant, exotic, and magnificent in appearance. 
Riverside Reed Paths
There are wooden walks around the water edge to take in the stunning views of the lake and surrounding mountains. Stroll around the paths, and you will be amazed by the natural beauty of the Namiseom.
White Birch Lane
It is also known as Tulip Tree Lane and it runs about 300 meters long along the south-eastern shore. The cortexes of white birches are bright enough to serenely enlighten the lane even when it is dark. The flowers of these trees resemble tulips, and hence the name.
There are many other places in the Naminara Republic which will offer you respite from the stress of city life. Along with this ultimate Nami Island guide, you can check out more on the Nami Island Official Website. 
Photo Credits
Check out posts on islands in Korean peninsula on KoreaTravelPost: