Social Distancing is certainly going to be the word of the year 2020 with the way things are currently. With all the things going out there, social distance traveling has become quite common now. Some of the examples of social distance travel ideas include camping, solo traveling, at-home vacations or stay-cations, and many more. They all work perfectly if you are in a less crowded city or someplace closer to nature. So, how will the social distance traveling work for a metropolitan city like Seoul? Is it even possible to enjoy the socially distant activities in Seoul?
Read on ahead to find out social distance travel ideas to rediscover Seoul!
But before we get into some amazing ideas, there are a few things that you must always keep in mind!
always wear protective face mask
try to avoid crowded places
use hand sanitizer and get your temperature measured as you enter any new place
Social Distance Travel Ideas – Cafes
Well, in Seoul, you don't have to worry about interacting with servers in some restaurants! There are robot chefs and servers who make drinks and serve customers! It seems like a fantasy but it's become a reality in Mad for Garlic, a major nationwide restaurant chain in Seoul.
This is a unique cafe that is equipped with all the "food tech" that you can imagine in a place! You can get the best of coffee and dessert from Cafe BotBotBot. The cafe 'employs' three robot chefs that help in making your delicious desserts and other items. There's the 'barista bot' that brews a superb cup of coffee. The 'dessert bot' makes designer images of your choice on your dessert. And lastly, the 'cocktail bot' stirs up some amazing and fun cocktails!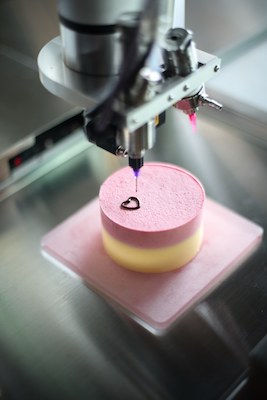 Cafe BotBotBot is the perfect place to enjoy some food and drinks as there are no servers. So, as you travel while being socially distant, you can also enjoy the cool factor of visiting a super-tech advanced cafe!
Merry Go Kitchen
Well, if you want to go out and eat but are feeling apprehensive, then you can enjoy the future dining experience at the Merry Go Kitchen in Seoul. This place offers complete social distancing services – starting from order and ending at payment. It uses the native Baedal Minjok app where you can place the order and make payment. A robot then delivers food to your table. Although the atmosphere is all cool and techy, but the food and taste is still excellent!
Merry Go Kitchen is a popular steakhouse so you are guaranteed to have a superb time outside and get your belly full of some mouthwatering food!
Social Distance Travel Ideas in Seoul Outdoors
If all you've thought about walks in parks for your social distancing traveling in Seoul, then you are missing out on so much! There's so much more to enjoy in the gorgeous parks than just endless strolling around. Seoul Forest stands out amongst the rest of the parks in Seoul as it is right next to the Hangang River. It's super accessible and offers varied activities that you can enjoy while hanging out in the park!
Seoul Forest Picnic
Enjoy a relaxing picnic in the parks of Seoul Forest by simply renting out a picnic set. You'll feel like you've transported into the gorgeous parks of Europe or even NYC's Central Park! You can even get some memorable shots of the autumn leaves and the sky painted in the hues of oranges.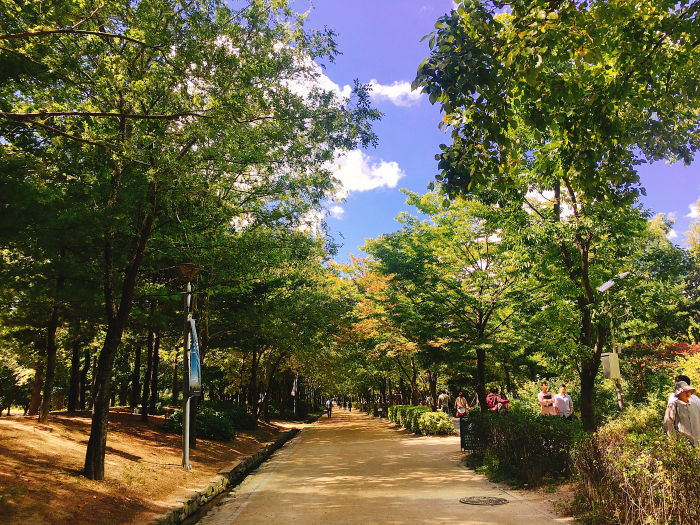 For enjoying a picnic, you can rent a customized picnic set from Motongi Waffle and then find a place to relax. You can spread out your bounty of food, picnic blanket, warm drinks, and other snacks and you're all set to enjoy the picturesque picnic with friends or family.
Cultural Seoul
Trying to venture into less-crowded areas of Seoul will certainly lead you to many interesting places. These previously neglected places certainly hold gems of historical nuggets and anecdotes that have been preserved. So, you can embark on a little adventure to rediscover some exclusive places on the road less traveled!
Over the years, Peace Culture Bunker in Seoul has served many purposes. Once it was a anti-tank defense facility that later got converted into a public housing building. Recently in 2017, it was redesigned into the cultural facility that you can get to see today. Here, you will be able to spend hours and hours while enjoying the historical structures, facts, and sites. The Peace Culture Bunker is a rich embodiment of Korean history and you can enjoy it all in one place!
Check out other interesting articles from KoreaTravelPost: