Korean autumn and winters is not too chilly especially if you are visiting from countries with colder climates like the US and Canada. However, if you are visiting South Korea from tropics during winters, you'll find the temperatures too low for them to be comfortable. So, for those who prefer sunshine, there are many ways you can escape the cold in South Korea. One of the best ways to get rid of the chill is to experience jjimjilbang in winter!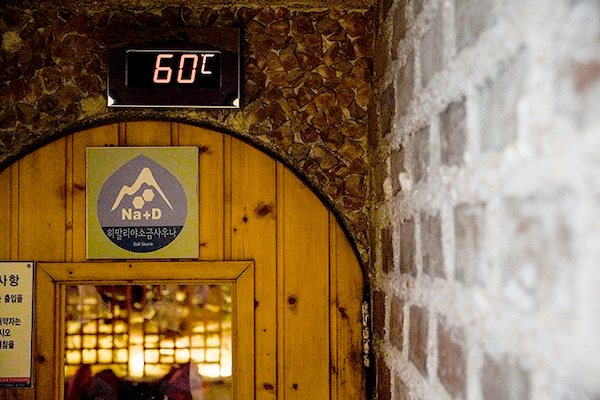 Jjimjilbang are the famous Korean bathhouses where you can opt for different things for a relaxing and soothing experience to beat the cold.
1. Sauna Chambers
Jjimjilbang literally translates to 'heated room' in Korean language. So, the sauna chambers are the main attractions in these joints!
There are many types of sauna chambers in a jjimjilbang that will help in reducing the chills in winter. There are stone or clay chambers with either hemp mats or salt pebbled floors.
2. Relaxing Baths
For enjoying any jjimjilbang experience, a good scrub and bath are necessary in a facility. After taking a hot or cold shower, you can pamper yourself in a warm soaking pool.
Other than a basic warm bath, you can also opt for a medicianla bath. It offers additional benefits like easing menstrual pains (wormwood bath) or improving blood circulation (charcoal bath). In addition to that, you can also request for body scrub by ajummas (Korean aunties) for women and ajeossis (Korean uncles) for men.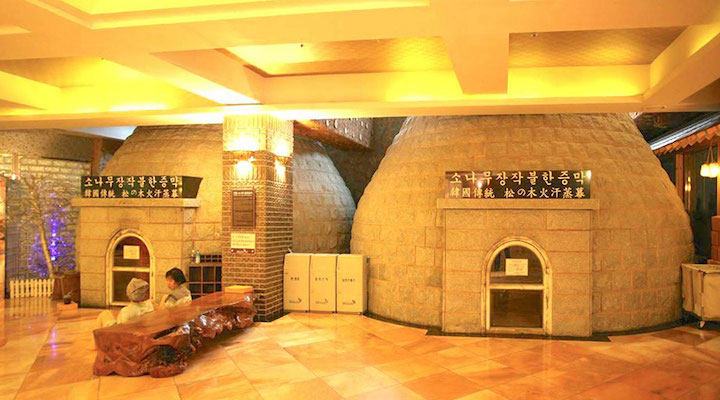 3. Special Saunas
Some jjimjilbangs have some special and unique saunas with materials that offer healing benefits. There can be infrared chambers, crystals, or even loess balls that have healing properties like soothing aching backs.
To soothe your aching joints after a full-day stroll in the city, you can lie on jade resting beds that help in relieving joint aches or cramps.
4. Sleep Rooms
You can also enjoy a sleepover at jjimjilbang in case you missed the last bus for your hotel. Or, if you are solshed with too many shots of soju, you can find the nearest jjimjilbang for a sleepover!
The night rates of these Korean bathhouses are slightly expensive but when you are in the need of a sleepover, you can take the advantage of jjimjilbang. Usually, the stay is 12 hours long and you can stay up to 12 noon of the next day like most hotels and lodgings.
5. Other Activity Rooms
Some luxury jjimjilbangs also offer addiotnal facilities like gym facilities, game room, heated outdoor pool, or other similar amenities.
Some jjimjilbangs even offer arcades, TV rooms, cinemas, and even karaoke rooms for visitors. You might even find some bathhouses offering yoga centers, horse-riding, and other group exercises like pilates, belly dancing, and the rest! With all these different activity options, you will never run out of things to do and you won't even want to leave the warm cozy jjimjilbangs!
6. Hot Food
When you come to jjimjilbang in winter, you don't have to worry about venturing out back in the cold to get some tasty food. Most jjimjilbang will have a Korean restaurant within the compound. You can get hearty Korean meals like kimchi jeongol (kimchi stew), miyeok guk (seaweed soup), tteokbokki (spicy rice cake), and many more delicious Korean dishes.
A Few Tips
You will find the popular jjimjilbangs pretty crowded in winters especially on weekends as locals, as well as tourists, visit the bathhouses. You might even find your friends or colleagues in the jjimjilbang relaxing and enjoying sauna. But, dont' let that discourage you from enjoying a unique experience in South Korea!
Check out our upcoming post for some of the top-rated jjimjilbangs in South Korea!
Along with enjoying jjimjilbang in winters, you can also find some great food joints to relish fishcake skewers and soju. You can also indulge in boutique and cafe hopping and find the perfect beverage to warm you from inside!
Check out other interesting articles from KoreaTravelPost: