A trip to South Korea isn't complete until you visit a Jjimjilbang, a Korean-style bathhouse or a spa. It is certainly a must-do activity but can feel a bit intimidating for someone trying it the first time! There are so many unwritten rules and practices that one must follow so that you don't end up offending your hosts. Keeping that in mind, we have compiled this ultimate guide to visiting a jjimjilbang in Korea so that you can avoid any potential social gaffe.
This handy step-by-step guide will help you navigate the uncharted territories of the perfect place to relax after a tiring day.
For the newbies out there, if you are wondering what is a jjimjilbang, then read on ahead to find out more and how you can make your trip relaxing.
What is Jjimjilbang?
Jjimjilbang is the Korean style spa or a bathhouse. The word 'jjimjil' refers to an old treatment method that believed perspiration releases toxins from body. Thus came up the jjimjilbangs with a sauna experience via bathing in hot pools and sauna rooms.
Present day jjimjilbangs have multiple suana rooms with a range of temperatures from 40 C to 80 C. There are even different rooms built with different materials like salt, charcoal, crystals, mud, and so on – each with their own set of benefits.
It has now become a place of relaxation and offers different fun activities so that you can relax and enjoy the entertainment in one single place!
Ultimate Guide to Visiting a Jjimjilbang
1. Remove your shoes at the door
As soon as you pay the admission fees at the counter, you'll come across a wall of lockers that are meant for storing your shoes. There are some spas where you have to remove shoes first and then pay the admission fees. Each locker is equipped with a lock so you can remove the shoes, store them in the locker, and take the locker key with you.
2. Pay the fees
After depositing the shoes, you have to pay the admission fees at the front desk. It can range from 6,000 won to 15,000 won ($5.60-$14.00). It is dependent on the time of the day, facility, and whether you are planning an overnight stay.
After making the payment, you get the supplies like pajama-like clothes, towels, and a key for wearing around the wrist (an ID-type tag). Several spas now have an electronic key tag so that they can track all the purchases during your stay and you can pay the complete amount at the end of your stay.
From here, you will move on to gender-seperated changing rooms. Generally, there are people around who can guide you to the correct place. But, if in case there isn't anyone available, you can look for the signage.
3. Don your birthday suit
The key around your wrist comes with a unique number that corresponds to a locker in the changing rooms. You can keep your clothes and other belongings in this locker.
Usually, jjimjilbangs have a common area that's the main lobby and then a series of sauna rooms, each made from different materials for different benefits. The baths are gender-segregated while all the other facilities are in the common areas.
You can either choose to enjoy all the facilities in which case you must remove all your clothing before proceeding to baths. After that you can wear the pajama set given by the jjimjilbang and visit the common areas which includes the sauna. Always ensure that you are wearing the key tag on your wrist.
4. Lather and scrub
Before you soak in the bath, it is essential that you take a shower first. Korean people take sanitisation and hygiene very seriously so you ought to make sure that you are all washed up. You can either use the showers or the washing stations that have stools and rinsing bowls.
For this lathering and scrubbing, you can either bring your own toiletries or you can buy them from the facility itself for nominal charges. It isn't necessary to wash the hair so you can tie it up.
5. Get soaking
After washing, you can make your way to the baths for relaxing. There are multiple baths where each tub has different temperature. You can choose the one based on your preference as they are properly marked.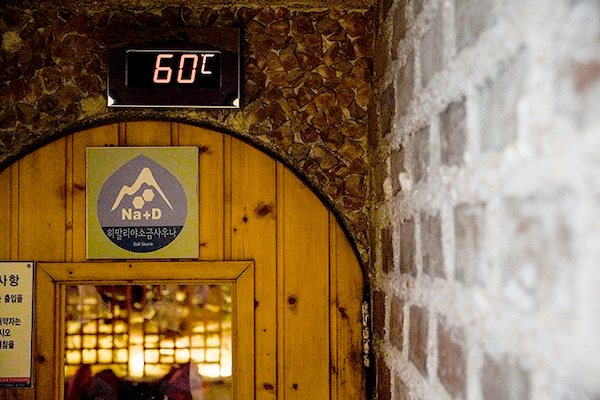 Locals generally prefer to go back and forth between super hot and super cold tubs. It is said that this switching has positive effects on the skin and circulatory system.
6. Are you brave enough for the scrubbing table?
Exfoliation is essential in skin care routine of South Korean people. You will find locals doing exfoliation with scrubbing towels or bath mitts in teh cleaning areas. You can also opt to do the same. Or, you can go a level beyond and get a seshin – a professional scrub. There are tables manned by uncles or aunties who use scubbing mitts to scrub you down. They will ensure that you are clean everywhere until your skin is raw and red! This professional scrub costs around 15,000 – 20,000 won ($14-18).
7. It's time to sweat it out!
After you have soaked and are scrubbed raw, it's time to wear your pajamas and head out to common area. Here you will find multiple sauna rooms – each one has different temperature and use a different material with specific benefits.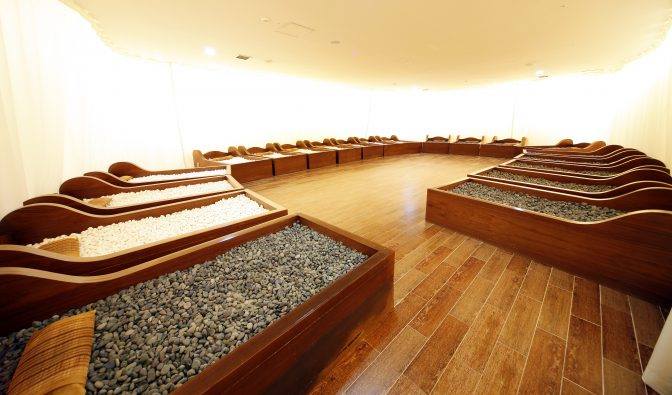 The traditional Korean sauna, or hanjeungmak, is typically a stone or clay kiln that is heated to a temperature between 50 to 90 degrees Celcius. Inside these saunas, you will find hemp mats, jade crystals, or salt crystals. They help in gradually warming up your body. It takes about 15 minutes to start sweating so make sure that you keep hydrated.
8. Feed your appetite
After you are all relaxed and chilled out from the sauna experience, it is time to get some tasty Korean cuisine in your belly. There are rooms to enjoy snacks like sikhye, a traditional sweet rice beverage. In bigger jjimjilbangs, you will even find separate entertainment rooms where you can simply nap and relax some more.
9. Relax
Although the whole purpose of this guide to jjimjilbang is to give you an idea how to relax, after getting everything, you can still relax and stay overnight for a little bit of extra charges. It works like a hotel accommodation as it has some designated sleeping areas.
10. Settle the expenses
After you've had all the fun you can handle in a day, you can change back into your clothes and go back out to the front desk. From there you will receive a bill if you've made any additional purchases. After the bill is paid, you'll get the shoe locker key back and you're all set to go!
For a fun and memorable jjimjilbang experience, just follow this guide and you will certainly not feel awkward!
Check out other interesting articles from KoreaTravelPost: