Although there is no correct or incorrect way to eat galbi, Korean BBQ, locals do certain things when eating this delicious Korean cuisine. So, if you want to impress your local friends and colleagues, you can check out our concise guide on how to eat Korean BBQ the right way!
Don't just stuff your face with beautiful slices of juicy galbi, but read on ahead to find out how to eat it like local Koreans!
How to Order Galbi?
Just like any other Korean food, eating Korean BBQ is a communal activity. This sharing of a meal is no way more apparent than in a portion of food like Korean barbeque including galbi. There is one common grill that you share with your companions on the table. Generally, while ordering, the order is placed for the whole table. It is not the Korean way to order meat individually. So, it is always a good idea to order meat to share with your friends and eat together.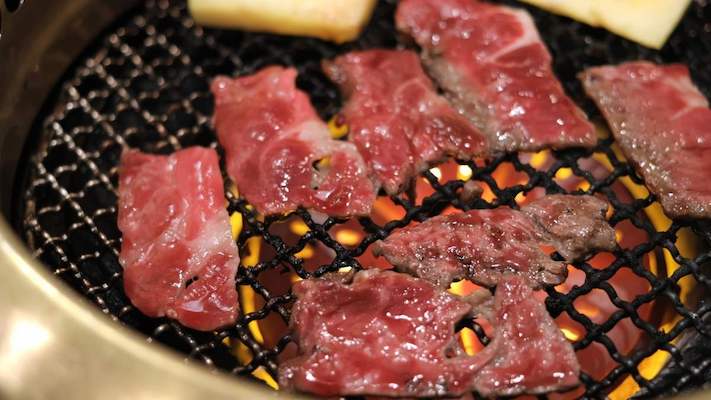 If you really want to show off, you can try ordering in the local language by using these helpful conversational phrases.
1인분 (il-in bun) = 1 serving
2인분 (i-in bun) = 2 servings
3인분 (sam-in bun) = 3 servings
4인분 (sa-in bun) = 4 servings
5인분 (o-in bun) = 5 servings
Another helpful tip to keep in mind is that order less quantity initially as you can always add on to it later. It also allows you the option of ordering different cuts or meat when you order the second time.
How to Eat Galbi?
Korean BBQ or galbi always comes with a side of greens. You don't just pick up the slices of the delicious looking and tasting BBQ strips, but you wrap them like little gifts! The greens are generally referred to as sangchu (상추).
There is no defined way to warp galbi in greens as even the locals do it in different ways. Some wrap only galbi, some wrap the meat with kimchi, rice, or even other sauce. Some Koreans even double the leafy layers around the galbi.
Although the ways for wrapping the galbi is different, one thing that remains common is that they stuff the whole wrapping all at once. They don't take a bite out of it! That's just not the way it's done – it's weird!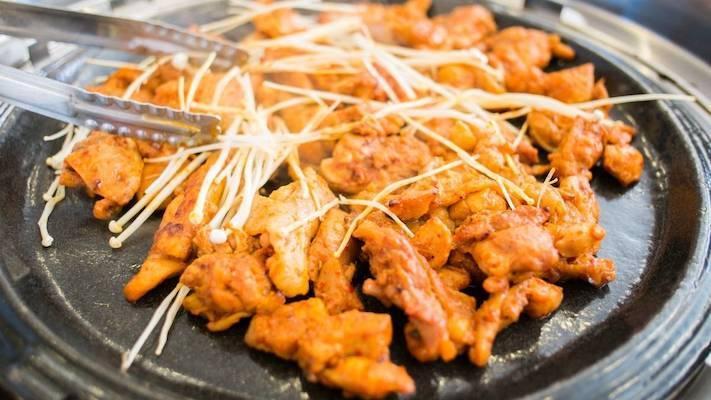 So even if you were taught about not stuffing your face, you are free to do that while eating galbi!
How to Grill Korean BBQ or Galbi?
When it comes to grilling, the Korean barbeque comes with kimchi and garlic along with the slices of meat. You get both uncooked, and if you don't like the taste, then you can grill the sides on your table grill. The wait staff won't do the grilling for you as it is pretty much DIY stuff.
If you are feeling confident about the grilling, you can request sesame oil (참기름 – chamgireum) for grilling the garlic.
If you are the grill master, then you can choose to man the grill in your group. It's not generally a written rule, but it sort of ends up happening that way. It takes a lot of work so you can share your grill load with your friends and be an awesome table-mate!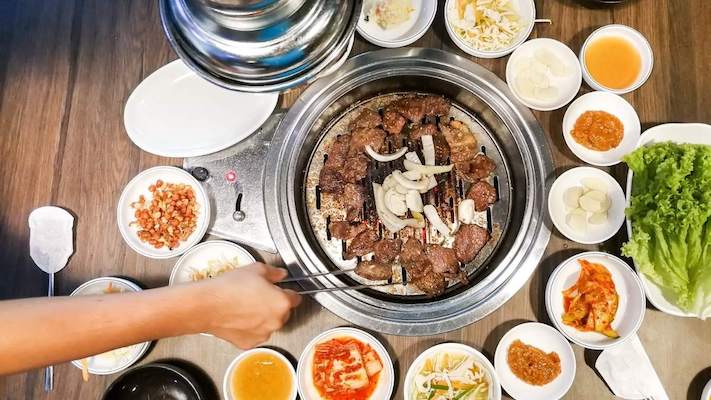 Few tips when it comes to grilling galbi is that no one likes black on their meat. If it does get burnt, do cut off the charred pieces with scissors. When you finish off grilling perfectly, just place them on the edges of the grill. This way, it will stay warm but not keep overcooking. If you really wanna be the best grill master, you can place the cooked galbi directly into your friends' plate so that they can eat it while it's hot.
Is it only a Galbi Meal?
You might think that you're full after eating Korean BBQ, but generally, Koreans feel that the galbi is a complete meal. For a full meal, they order two more dishes which include, Naengmyeon or Dwenjangjjigae, after eating galbi. Naengmyeon is the cold buckwheat noodles, and Dwenjangjjigae is the soybean paste stew.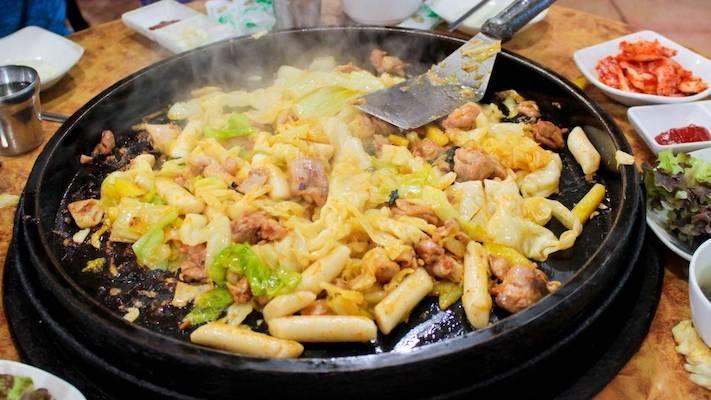 Locals even joke that they have a separate stomach for eating these two dishes after stuffing themselves full of galbi. If you want to eat like a true Korean, be gluttonous and enjoy the work of delicious Korean BBQ!!
And, if you wanna try making galbi right at your home, check out it's recipe from All Recipies!
Which of these do you follow even without explicitly knowing about them? Write a comment!
Check out some other Korean cuisine recommendations from KoreaTravelPost:
Love it? Pin it!