An ultimate restaurant culture guide to help you avoid any potential goof-ups or miscommunications whenever you are dining in any restaurant in South Korea!
It is well-known that food brings people together, no matter where you are. At the end of the day, we all like to enjoy good food with people. And the food is one of the best ways to learn about a country and its culture. The beauty of travel involves trying the local cuisine, learning about its preparation, and finding its meaning. Korean culture is a rich and complex one, and this is reflected in the way that Koreans eat and dine. There are many unique aspects to Korean restaurant culture, from the way that food is ordered and served to the way that tables are shared.
Read More: 10 Interesting Facts About South Korea You Need To Know!
Whenever you are in a foreign country, you can feel a bit lost when it comes to trying traditional cuisine. Especially whenever you are out in a restaurant, you can end up miscommunicating by not understanding the local culture. If you are planning on visiting South Korea, it is a good idea to be familiar with some of the key aspects of Korean restaurant culture. This will help you to have a more enjoyable and authentic dining experience.
Restaurant Culture in South Korea
South Korean culture is very different in many aspects, including eating customs. Even the most experienced foodies can feel a bit lost when dining at an authentic Korean restaurant. This post will help you understand more about the restaurant culture in South Korea.
Sit Wherever You Want
In most Korean restaurants, you can walk in and take a seat. There's generally no host or hostess to seat you in restaurants in South Korea, even when they are not filled. If a seat is open, it's yours to take. Traditional-style restaurants also offer floor seating, so don't forget to remove your shoes.
Get The Waitress' Attention
Now that you're sitting at a table, it's time to call the waitress. In some restaurants, there is a button on the table. Sometimes, it is cleverly placed on the table leg, napkin box, or even the wall. If there is no button, you need to grab their attention by being firm and confident. You should say as the Koreans do – hearty jeogiyo (저기요 – excuse me). If you just hold up your hand, no one is going to notice you. A server is not assigned to you, so you can grab any passing server.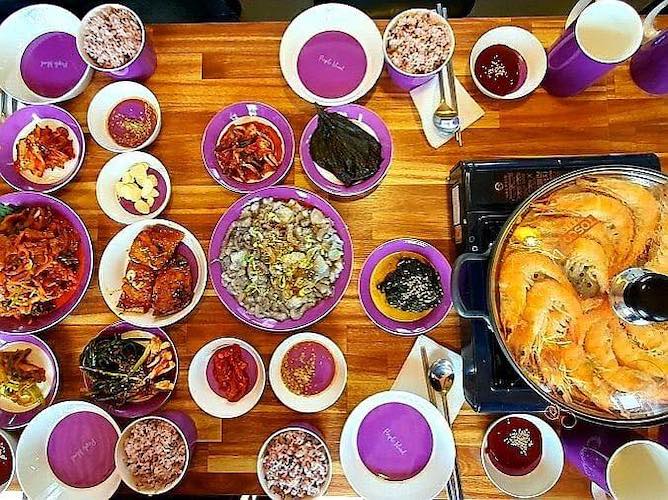 Click here to find out more about the best restaurants in Seoul.
Read More: Top Korean Conversational Phrases You Need to Know
Serve Yourself
The culture in South Korea is much different from what you expect in other parts of the world. In local Korean restaurants, you may have to set your table, fill your glasses of water, and even refill the dishes on your plate. Napkins and utensils are on the table or in a hidden drawer under the table. You should place the utensils on the top of the napkin.
Share Your Food
If you are eating with locals, sharing food is a local custom. Korean culture places a lot of emphasis on sharing food when eating in a group, whether at home or a restaurant. It means eating from the same bowl and sitting around a big round table. There are lots of small, different dishes (side dishes – banchan) and a big grill in the center of the table so that you can grill your meat. As the side dishes are shared and are served in unlimited quantities. So, no need to worry about sharing as you have unlimited food.
Cook It Yourself Food
Some Korean dishes are served uncooked, where you have to fry, cook, or boil it on the spot. Dishes like bibimbap, samgyeopsal, and budae jjigae allow you to prepare your meals according to your preference. Although you enjoy Korean culture, if you are unsure about a dish in a Korean restaurant, feel free to call 'Sajangnim,' the owner, and ask about it.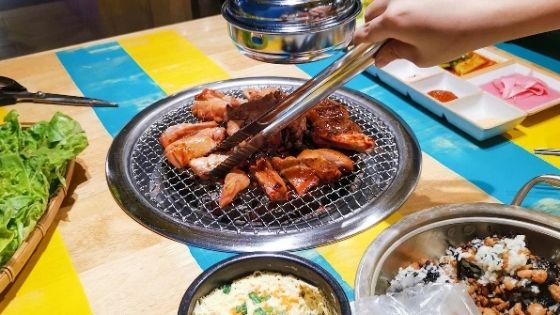 Water at the End of the Meal
If you want to eat like a local in a restaurant, wait until the meal's end to drink water. According to Korean culture and customs, locals believe drinking too much water between meals is bad for digestion.
Check Please!
You can find the bill typically on your table by the end of the meal. It can also be placed on the seating divider or hanging on the table leg. You will have to bring the check to the front door so that you can pay on your way out. You should not hand over your credit card to the server for paying the bill.
Check out: Understanding Korean Culture: Transportation Culture in South Korea
Unlike restaurants in the US, there is no need to tip, and they don't expect you to tip them. The service fee is included in the bill.
Wrapping up
Here are some additional tips for dining in Korean restaurants:
Order a variety of banchan: The side dishes are one of the best parts of a Korean meal, so be sure to order a variety.
Cook the meat yourself: If you are ordering meat that is cooked at the table, be sure to cook it to your liking.
Share your food: Sharing food is a common practice in Korean culture, so don't be afraid to share your meal with your fellow diners.
Drink soju: Soju is a delicious and refreshing alcoholic beverage that is perfect for enjoying with a meal.
Learn some basic Korean phrases. This will show your Korean hosts that you are making an effort to learn their language, and it will also make it easier to order food and communicate with your waiter or waitress.
Be aware of Korean table manners. For example, it is considered rude to slurp your noodles or to point with your chopsticks.
Don't be afraid to try new things. Korean food is very diverse, so there is something for everyone to enjoy. Be adventurous and try something new!
Just like any other country and culture, there are certain etiquettes you must follow so that you don't end up offending your host! Our concise guide on restaurant culture in South Korea will certainly help you with that.
Read More: Understanding Korean Culture: Hygiene Culture in South Korea
Related Posts