Over the years, watching strangers eat 4,000 calories or more in one sitting on YouTube has become a pastime. Not only these viewers stream for free, but they are also paying to indulge in binge-watching someone else binge-eat all the food! This viral trend of mukbang is continually growing in the US. And now you can enjoy Korean food in these broadcasts!
So, what exactly is mukbang? 
As soon as you type in the word into YouTube, you'll find thousands of videos of people eating. Just eating and nothing NSFW, even though the word might seem like one! It might seem weird and un-entertaining, but once you start watching the 'mukbangers,' you will realize that there are so many people who love watching the videobloggers stuff their faces with lots of food!
In South Korea, this binge-eating and streaming is called 'mukbang.' The word translates to essentially 'eating broadcast'. The word is pronounced as 'mook-bong.' It became a trend that crosses international borders sometime around 2015. 
It became popular in the United States after Fine Brothers Entertainment uploaded a video of popular YouTube stars reacting to the Korean mukbang videos. As a result, the term became trending on Google searches with everyone wanting to know more about mukbang.
Popular mukbang influencers like Boki, Mbro, and Tzuyang have millions of subscribers and followers. 
Mukbangers make a ton of money! 
Mukbanging is a legit profession in South Korea, and you can make up to $10,000 a month!! And this does not include any supplements like additional sponsorship that you can get from food and drink brands.
Park Seo-Yeon is one of South Korea's top food bloggers, and she makes around $9,000 a month just from her YouTube channel. 
Why is it fun to watch?
According to experts, the major part of mukbanging experience is the potential ASMR – Autonomous Sensory Meridian Response. It essentially means that people experience immense pleasure and a calming tingling sensation from watching day to day habits that can include anything from eating, folding clothes, whispering, and more. It explains why people enjoy watching other people do normal things. 
There are even ASMR YouTube artists that make videos where they create as many possible sounds while eating. The people watching can experience the sounds more. For example, there is one mukbanger, MommyTang, with nearly 500,000 YouTube subscribers, another, Stephanie Soo, with over two million! 
In Korea, dining is a social activity, and generally, people don't like to sit alone and eat. For those who can't eat with others, they might have to eat alone, but the urge to socialize remains. Mukbang kind of replicates the social dining experience as the Koreans livestream their meal so that they can feel like they are sharing the meal with others.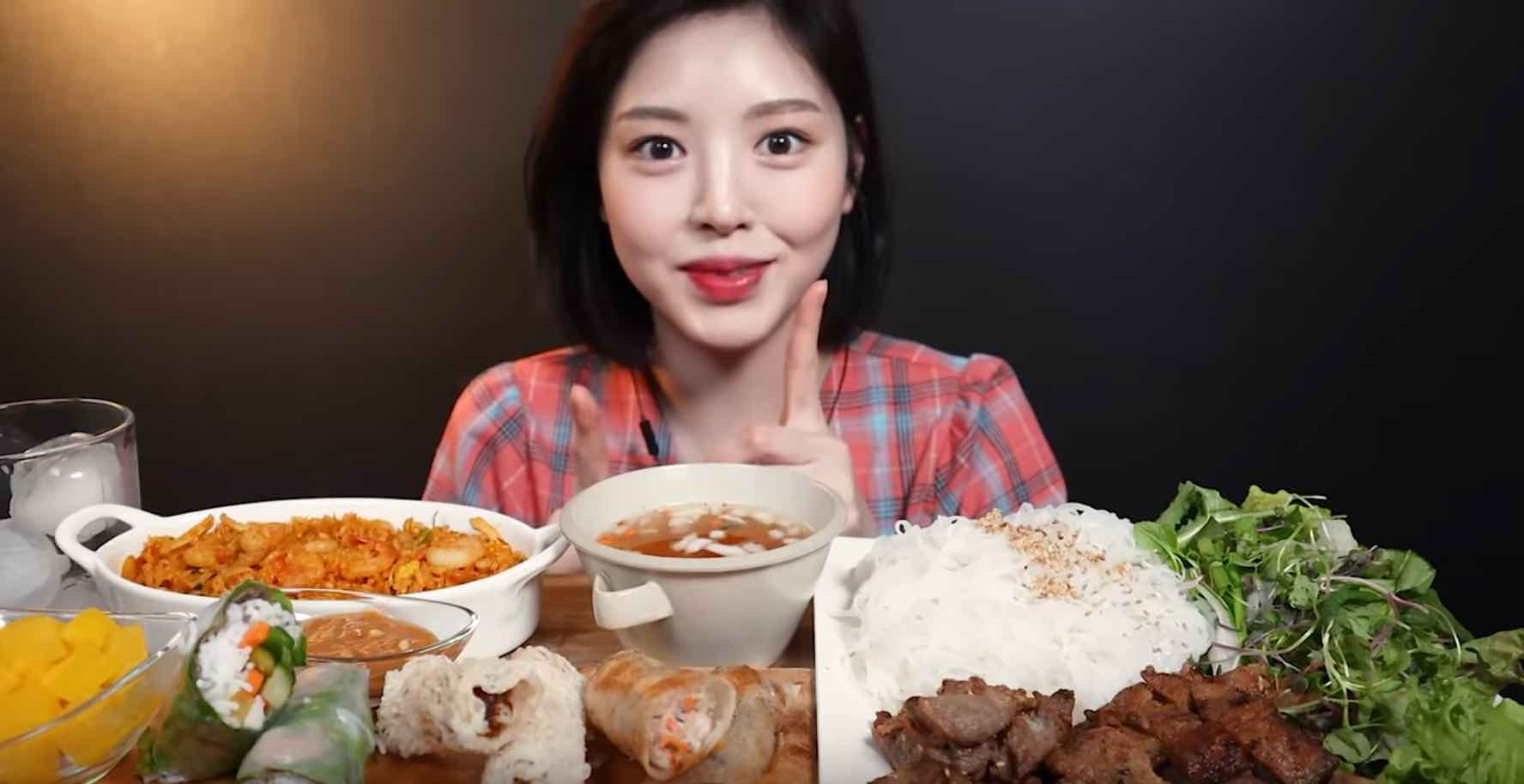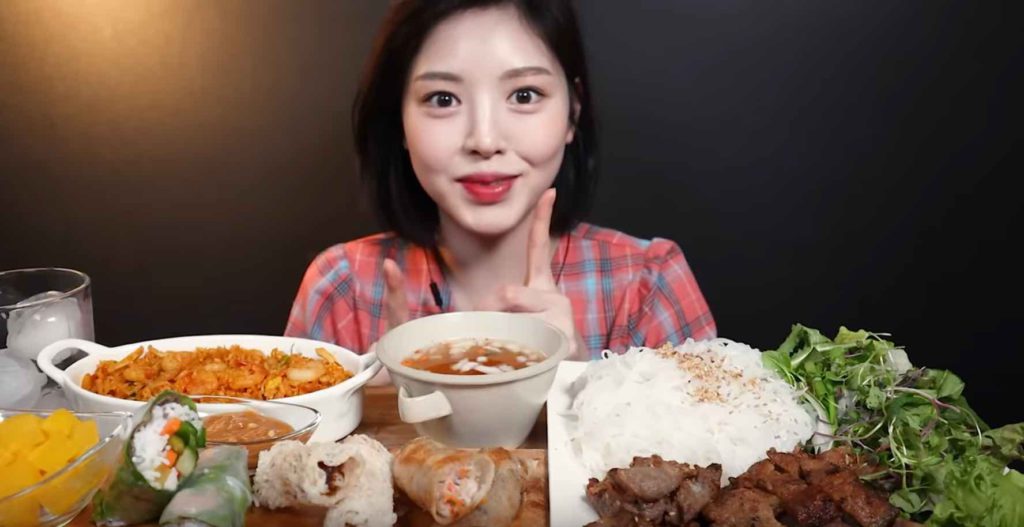 Most Korean mukbang videos are streamed live during meal times so that viewers can even eat alongside their favorite personalities.
American mukbangers are significantly different from the original Korean mukbangers. One is that they don't typically livestream, and American mukbangers are more conversational. They try to explain the flavors and their experiences. It gives the audience a much deeper connection with their host beyond food. 
Another difference is that Korean mukbangers eat traditional Korean dishes while the American mukbangers eat a variety of food, some even based on challenges. 
It's not all roses and its rife with controversies!
Mukbang can trigger eating disorders and viewers can potentially develop unhealthy eating habits from watching all the binge-eating videos. Although it is a quick rise to fame, you need to take up a high-calorie diet, which can lead to health problems.
Although Korean mukbang is focused more on companionship and social dining experiences, the American mukbang has become overly sensationalized with eating challenges and over the top food binges.
Not only health-related issues, but the viral trend has also come under an advertising controversy where the YouTubers did not clearly indicate promotional material in their videos. Although despite the backlash, the social media mukbang influencers are still quite famous and popular amongst masses!
Food culture is different in every country. If we talk about the US, half the population is into the super-healthy lifestyle, while the other half is stuck in the over-consumption patterns. So, some might find this weird while others might enjoy it a lot!