Seoul is a city that's full of beautiful spots that are amazing to visit (and also for great pictures in your Instagram feed). But nothing compares to the magical feeling you get when you walk into bookstores or libraries. It's a space full of endless possibilities – you can get lost in a world of a Roman emperor or be a space pirate! There are no restrictions! You're welcomed by thousands of books, all waiting to be picked up.
As a booklover, there is enjoyment in being able to browse aisle upon aisles of books all day long. For someone who hasn't been in a place like this, it feels like finding peace in the usual hub-bub of city life. Something is comforting about being surrounded by books all around!
The city really knows how to showcase books beautifully, be it in stunning super-tall bookshelves in Starfield Library or the corridor with an archway of books that goes right up to the ceiling in Arc N Book bookstore. The whole experience is somewhat reminiscent of being in the great outdoors. It could be because of the musky smell of paperbacks. Or the tranquillity found in the rows of bookshelves as they hover above like tall trees.
Bookstores in Seoul have transformed into a haven to disconnect from smart devices and find solace from stresses of daily life. Some stores not only serve as a place to purchase books, but there are events organized routinely. There are book signings, thought-provoking lectures, and other cultural events to attract more people to visit.
Its not just about books!
Many people gather at bookstores to socialize with friends at one of the adjoining restaurants or cafes. Seoul bookstores definitely have the concept of comfy, cozy vibes done right. So, even if you are not too into the books, you can enjoy these places as a place to hang out with friends.
In South Korea, coffee has become the number one caffeinated beverage of choice, and there are several cafés to boost your addiction. Some bookstores are incorporating coffee into the mix to provide an enhanced book browsing experience.
Ranging from concept book galleries to beloved independent gems, Seoul is definitely the city that has them all!
Starfield Library
At the center of Seoul's Starfield COEX Mall, you'll find one of Korea's most popular sites, the Starfield Library. It is truly one of the world's most beautiful libraries. It's best known for its giant bookshelf, which towers at a whopping 13 meters (43 feet!). The library spans over 2,800 square meters! The Starfield Library is home to more than 50,000 books and magazines. Although most of them are written in the Korean language, there is an entire section that is dedicated to foreign titles and internationally acclaimed authors.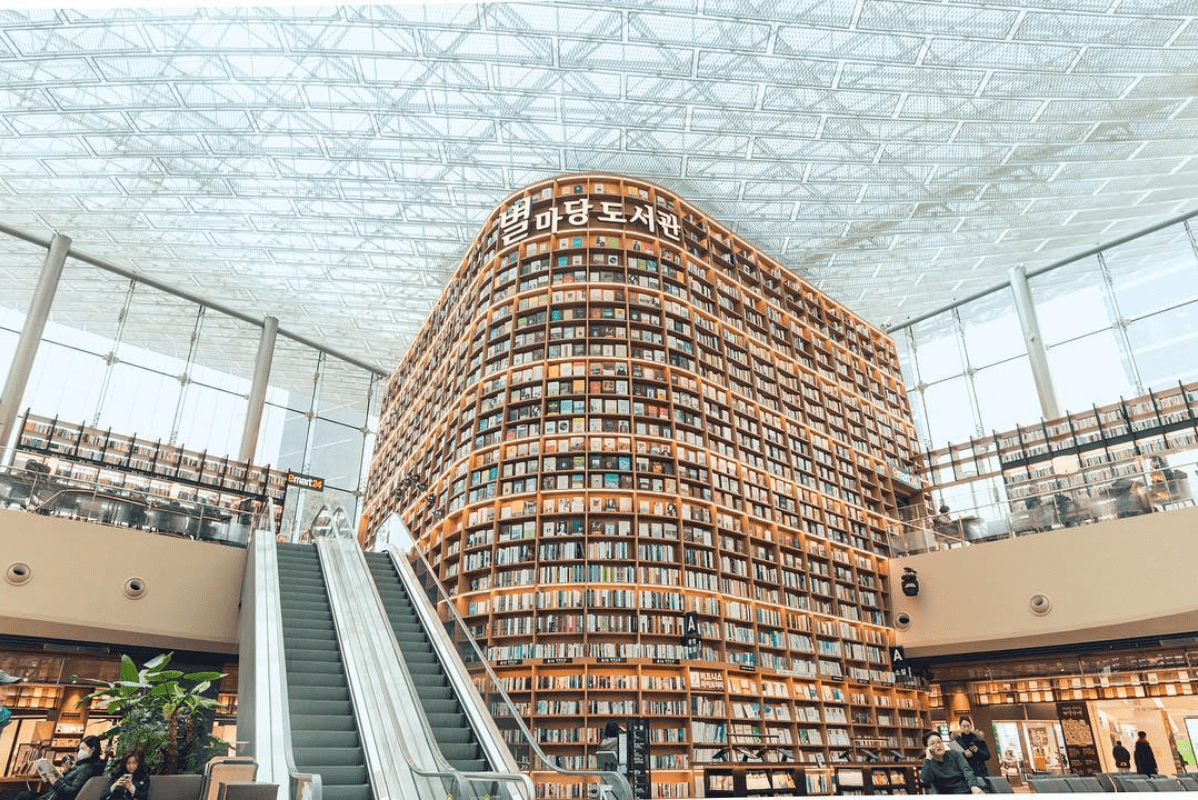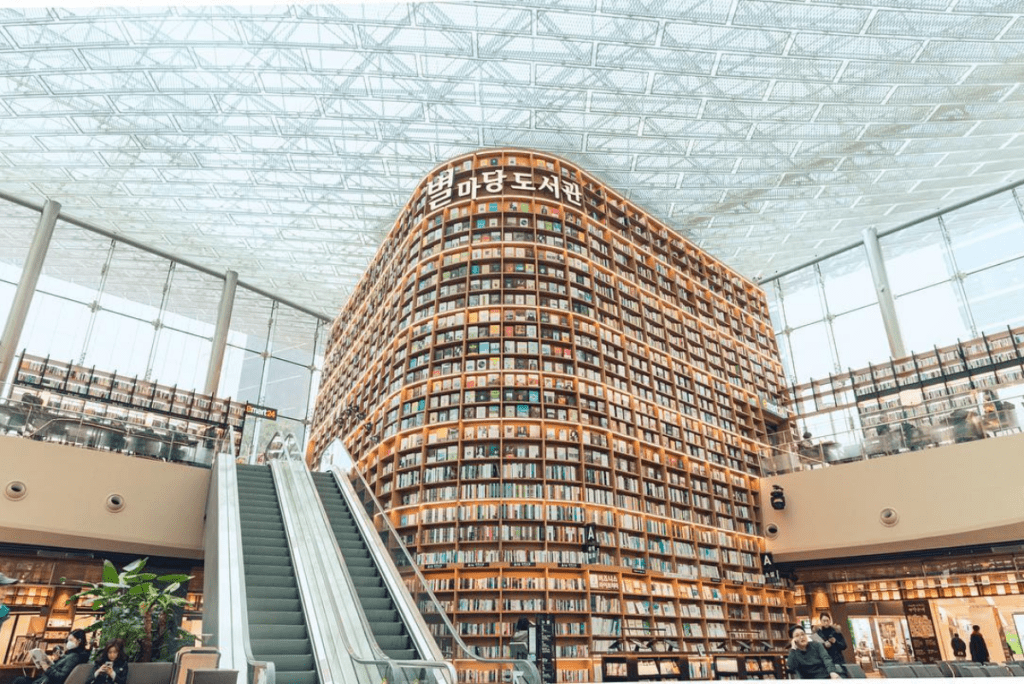 The library is a popular spot among both tourists and locals. It isn't like a standard library as it can often get crowded and noisy. And you cannot check out books to enjoy at home. But, there's always a place for you to sit and read. There are around 200 seats available in the library. Additionally, this place also acts as a venue for various lectures, mini-concert, and more, allowing visitors to enjoy a variety of cultural events within its premises.
It has become quite the instagrammable spot for bibliophiles, tourists, and Belle-wannabes alike. The library has become a place to enjoy both books and beverages, regardless of the weather. Starfield Library is the perfect place to go for the authentic "reading entertainment" experience!
Address: B1, 513 Yeongdong-daero, Gangnam-gu, Seoul (COEX Mall)
Hours: 10:30 – 22:00
Instagram: https://www.instagram.com/starfield.library/
Arc N Book
Arc N Book is another Instagram favorite with its warm ambiance and vintage architecture.
It is a mix between a bookstore and a lifestyle space. There is a Harry Potter-esque book tunnel that welcomes you near the entrance. In this tunnel, there is an archway of books that goes right up to the ceiling. Further in, you can find the Ministry of Magic (Harry Potter) entrance-like bright red telephone booths which house computer stations to help you locate books. There are functional lamp posts and park benches next to the booth to complete the vintage vibe!
Image credit: Arc N Book Official Instagram Page
The bookstore is unique in another aspect. Books in the store are curated based on four themes – Daily, Weekend, Style, and Inspiration. The Daily section features books on family, career, & everyday living. The Weekend area showcases hobbies, sports, & leisure, while the Style section has an expansive collection of art & fashion. And of course, the Inspiration section features books on history, travel, movies, & philosophy. The store stocks around 30,000 books, with most of them being in Korean, but they do have a relatively good amount of English books.
As you move further inside, you will find an international variety of restaurants that serve cuisines from all over the world. For coffee lovers, there is a Sikmulhak (식물학 카페), or Botany Café, which can serve you your favorite dark roast.
Address: 29 Eulji-ro, Euljiro 1(il)-ga, Jung-gu, Seoul, South Korea
Hours: 10:00 – 22:00
Instagram: https://www.instagram.com/arc.n.book_official/
Book Park
Book Park is a part of Blue Square, a performing arts hall built by Interpark, in the Yongsan district of Itaewon. It was made with intentions of creating a space that is "as breezy & tranquil as reading at a park." To give you a treehouse-like feeling, it has several reading nooks and hideaways. People flock to the Book Park to take photographs with super-tall bookshelves! They run from floor to ceiling – nearly 88 feet high!
Image credit: Visit Seoul Facebook Page
Book Park is an all-in-one bookstore, coffee shop, and art gallery. It is perfect for bookworms of all ages. Each floor of this two-story establishment is lined with floor-to-ceiling bookshelves, holding a total of 100,000 books. Most of the books are for the categories in arts & science and only few are foreign. The bookstore frequently hosts supporting lectures & book seminars held inside its enormous conference hall. Besides, they also sell accessories, stationery, toys, and a wide assortment of knick-knacks!
Both floors also have their very own cafes, including Seoul's famous specialty coffee chain, Holly's Coffee. The best part about Book Park? It's one of those rare places that allows you to borrow a book and enjoy it over a cup of coffee! With 200 seats available for visitors, everyone can kick back and enjoy their generous selection of titles
Address: Yongsan-gu, Hannam-dong, Itaewon-ro, Seoul, South Korea
Hours: 10:00 – 22:00
Instagram: https://www.instagram.com/bookpark_/
Book by Book
As you enter Book by Book, you will come across a unique sight where people are enjoying books with a chilled beer! Usually, you find a combination of comforting words like coffee and books together, giving you a sense of relaxation and a good time. Located in Gwanghwamun, Book by Book offers you a pleasant time with a book and beer. It is especially popular amongst business people working in the region.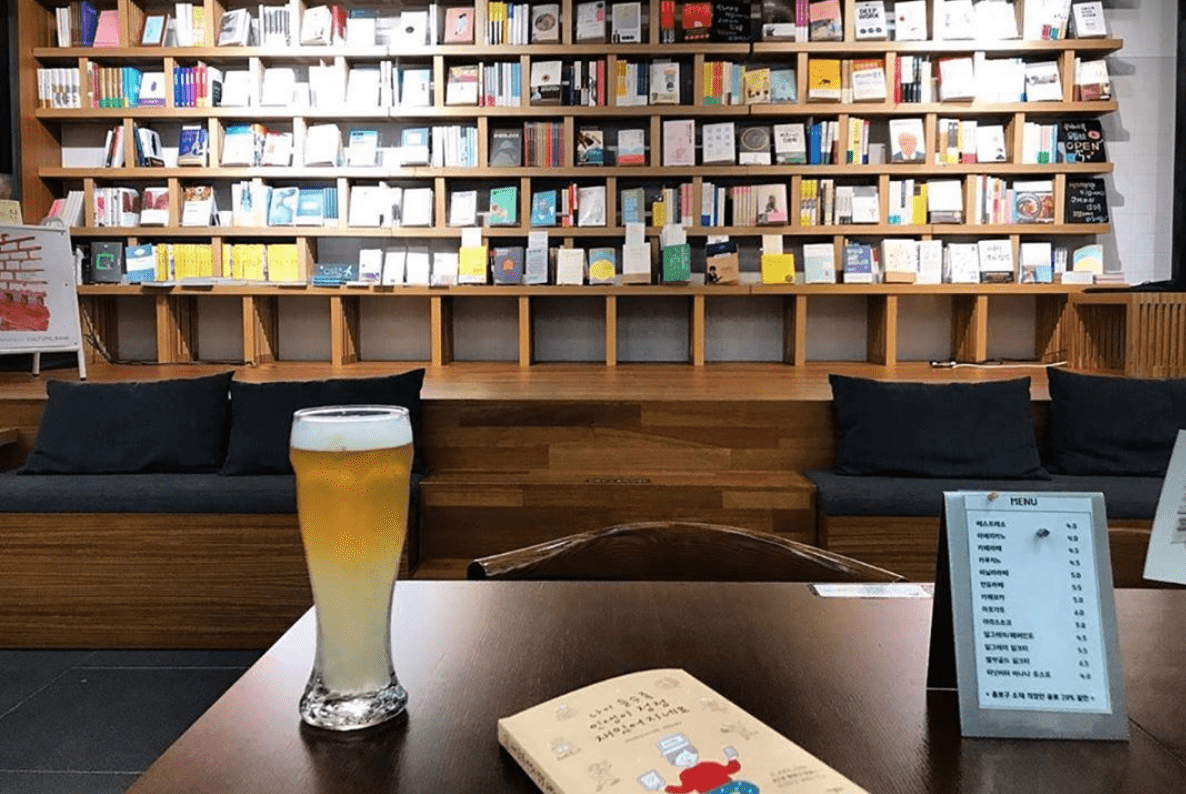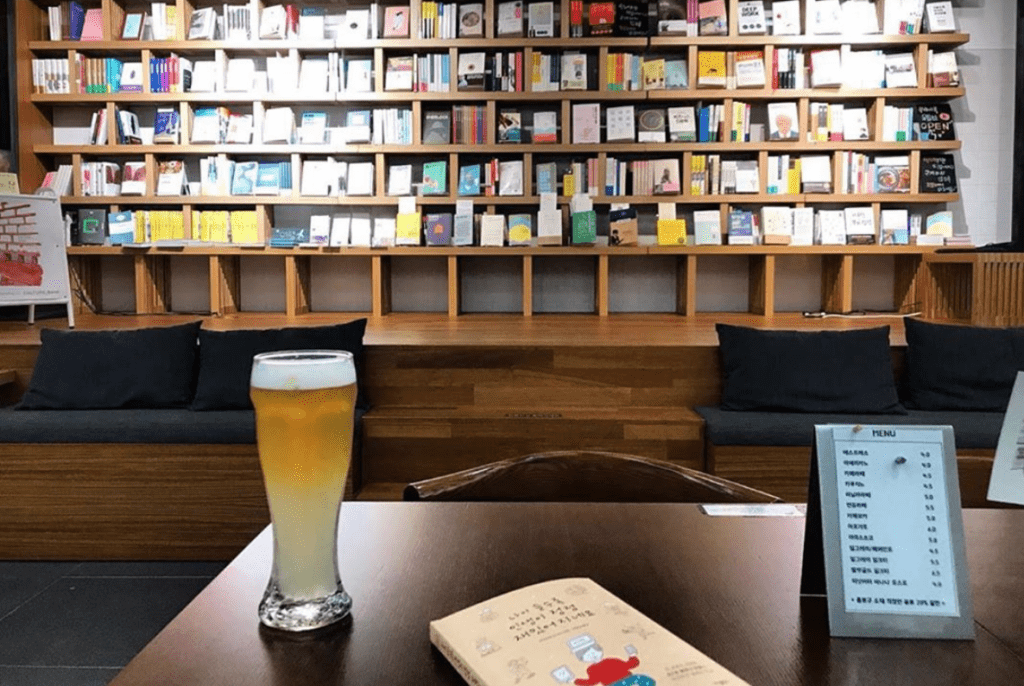 Book by Book also offers book signing, book talk events, and one-day classes, allowing visitors to not only enjoy books but a variety of activities as well.
If you like both book and beer, that's plenty of reason to add this place to your South Korea travel itinerary.
Address: 1F, 5-19 Saemunan-ro 5-gil, Jongno-gu, Seoul
Hours: 9:00 – 22:00 (Weekday), 12:00 – 19:00 (Saturday) * Closed Sunday, Public Holidays
Instagram: https://www.instagram.com/book_by_book/
Naver Library
The Naver Library is in the office lobby of, you know it, the Naver company. Naver is the Google of Korea – you don't Google, but you Naver whatever information you need. The library is famous for its beautiful design and its unique books. Even though it is in the office lobby of a company, it is open for everyone. You just need to carry your ID card to go inside. All the bookshelves have plants potted on the topmost shelf. Unlike standard libraries, the design for each area has been differently materialized to present the most optimized experience suitable for the characteristic of the book.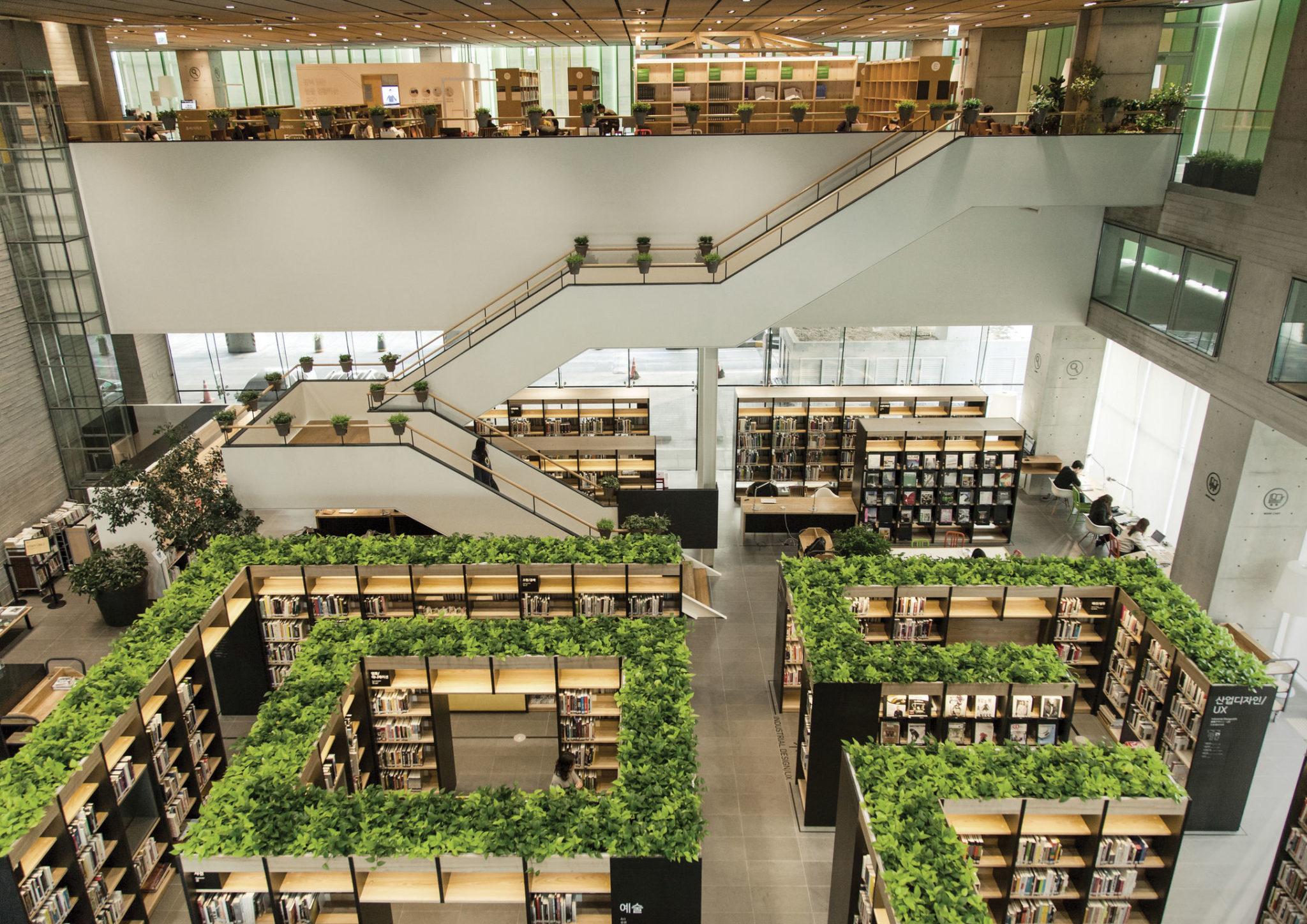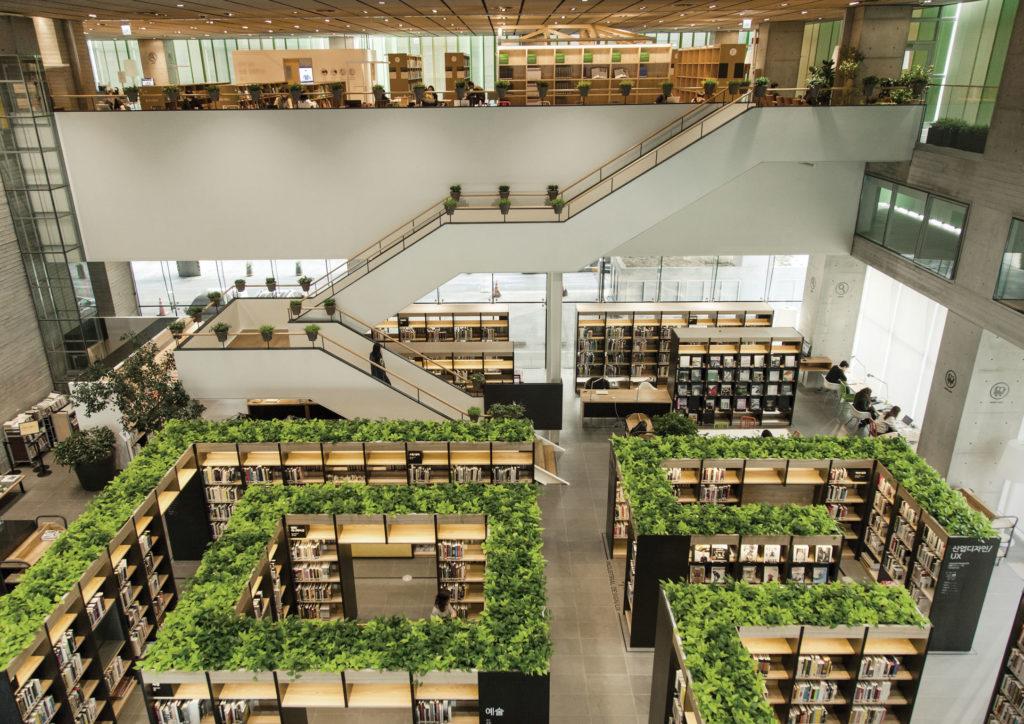 The books in the library are curated more in the categories of design and technology. You can find expensive design books (17,000), thick encyclopedias (1,300), trendy brand new IT books (7,000), and almost 250 kinds of worldwide magazines which are generally unavailable in other libraries. The books are arranged on the shelf, not showing their spines but their covers.
There is a lovely book café section in the library for a cup of coffee. The cafe fills the library with the aroma of the coffee, which makes the atmosphere soft and tender.
Address: NAVER Green Factory, 6 Buljeong-ro, Bundang-gu, Seongnam-si, Gyeonggi Province, Seoul
Hours: 9:00 – 21:00 (Weekday), 10:00 – 17:00 (Weekends) * Closed Public Holidays
Seoul Book Repository
It is Seoul's very first public second-hand bookstore. It has a very striking interior with an industrial warehouse-vibe with a whopping 1,400 square meter area. An old warehouse, used previously for storing American marketing giant Amway's products in southeastern Seoul, has been turned into the Seoul Book Repository. Round openings create a tunnel with rows of iron-frame bookshelves. Visitors can drift along this passageway, looking for a good read from the shelves stretching out on either side.
Image credit: Seoul Book Repository Official Instagram Page
You can find over 120,000 books on the shelves! It gets its books from 25 other second-hand bookstores around the city and takes 10% from sales. The books are grouped based on the supplier, and each bookstore has its own cataloging system. It's like a mini version of each book store under one roof.
It definitely a cool space to come and wander about while taking pictures. You will undoubtedly find an interesting book or two.
Address: Ogeum-ro 1, Songpa-gu, Seoul (14, Sincheon-dong) South Korea
Hours: 11:00 – 20:00 (Weekday), 10:00 – 20:00 (Weekends) * Closed every Monday
Instagram: https://www.instagram.com/seoulbookbogo_official/
Travel Tips
Even if you can't read Korean or not a books-fan, you should still visit one of these numerous bookstores or libraries around Seoul. It will definitely be a unique sensory experience.
If you need assistance in looking for a particular book, do not hesitate to ask customer service. If there is a language barrier, you can show the photo of the book cover to communicate.
The prices are comparable to US standards. Although nothing can beat the prices of online retailers, nothing can match a bookstore experience.
You can check out the Social Media pages of the stores and libraries to know more about the organized events. If you find something interesting, you can add it to your itinerary.
Love it? Pin it!