Banwol Island, or the Purple Island is a stunning and Instagram worthy destination to visit in South Korea!
Traveling to the Purple World
Banwol-do, or 'half-moon island' is located in Sinan County, South Jeolla province in South Korea. The local farming community of the island have transformed their little island into South Korea's perfect destination that every Instagrammer wants to visit!
This charming little island lies on the west coast of South Korea.
The Purple Island
Banwol Island came to be known as the Purple Island after the roofs of some 400 buildings were painted ina alovely shade of lilac. This comes from a project initiative of the South Jeolla province to make attractive island destinations. The whole initiative took inspiration from the local purple bellflowers (or campanula) and transformed Banwol Island and Bakji Island.
Everything you can think of is purple on these two islands. From roads to market places, telephone booths to shops, and even residential houses are painted purple.
Even the fields are purple with plants like kohlrabi and beets that blend in with the whole purple theme. The local government has also planted large fields of New England asters and around 40,000 lavenders that are once again on point with the overall island colors, i.e. purple! There are thousands of empress trees that add on to the purple theme of the picture-perfect island.
It's a new and trending destination in South Korea since its inauguration in the summer of 2020 by the Sinan government. Since then, the place has seen a 20% increase in the number of visitors from the previous year.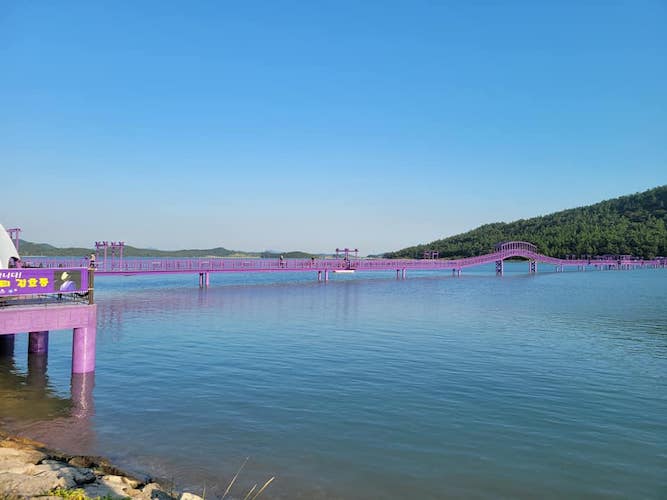 How to Get to Banwol Island?
From Seoul, you can take the KTX (Korea Train eXpress) to Mokpo Station. Then you take a bus to Anjwa-Myeon intersection (or Anjwa Village) where another bus will take you to the Purple Island Bridge. And beyond that, your world will transform into a magical place!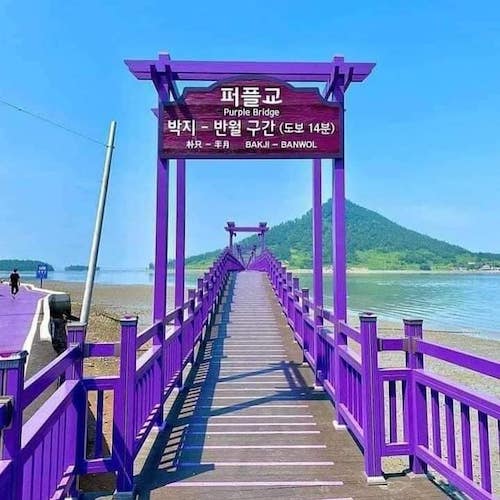 All in all, it takes about 10 hours from Seoul but the overall picturesque beauty that the island offers is simply worth it!
You can walk between the two islands, Banwol and Bakji via a 'purple' bridge!
Admission Fee
There is an admission fee to Banwol Island that's quite nominal.
Adults: KRW 3,000; Teenagers: KRW 2,000; and Kids: KRW 1,000.
And the entrance is free if you're wearing a purple outfit, or carrying a purple accessory. It can be anything like a hat, bag, or even an umbrella.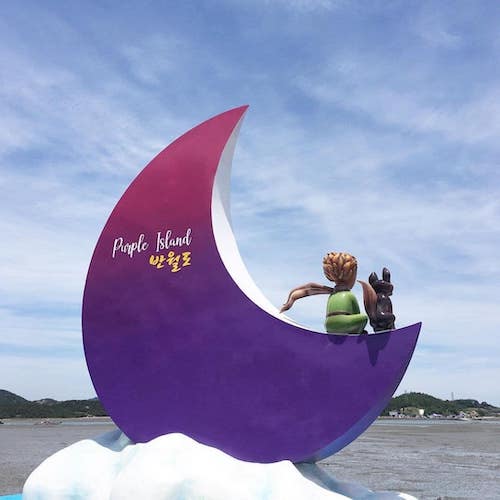 Things to Do on Banwol Island, the Purple Island
There are so many things to do in this little purple heaven in South Korea. The island is so photogenic that you won't be able to stop taking pictures for your feed!
Explore on Foot
Navigating the islands is as simple as taking a walk around the block. Both Banwol and Bakji have great trails. These are paved and go all around the perimeters of both islands. Enjoy the ocean breeze as you stroll around the picturesque scenery. The total distance is just 6.2 kilometers so that's easy to cover!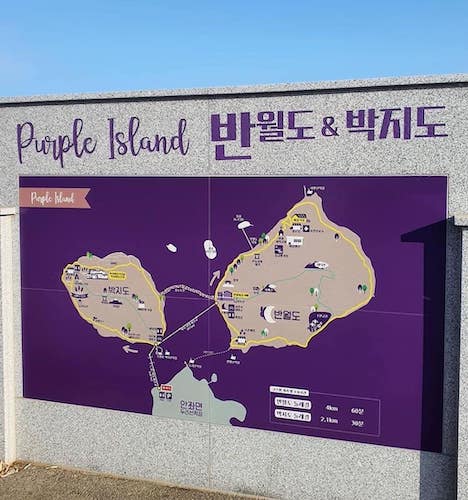 Cycle Around the Island
As it is a tiny island, you can rent a bicycle to roam around the place. It's a pretty cheap option to explore the island as is costs around KRW 5,000 per hour (~USD 4.2/hour).
There are other means of transport and you don't need to worry if you don't cycle. There are purple cars that you can rent out from the Purple Island.
A Dreamy Photoshoot
You can visit the lavender fields and get a princess-like photoshoot in this dreamy location.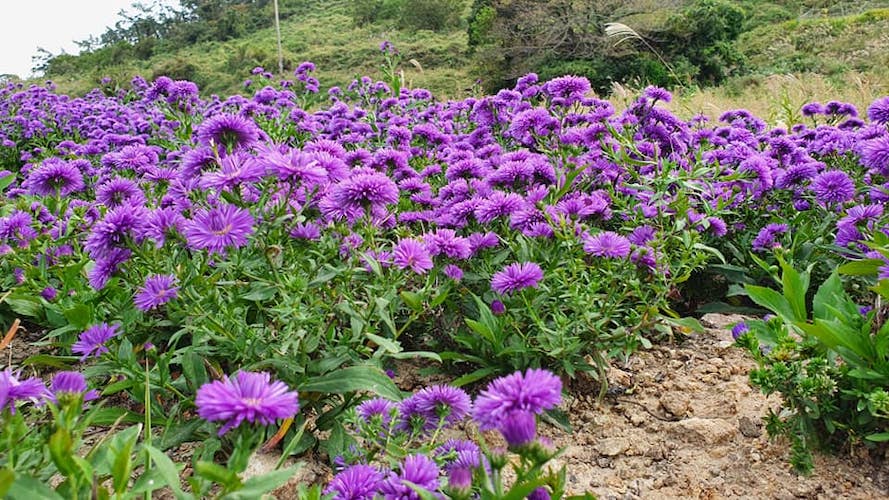 A Purple Homestay
If you are planning to stay a little longer on the island in South Jeolla province, you can book a homestay. And you guessed it right – it's a purple homestay! It charges about KRW 50,000 per night (~USD 42/night).
Cheonsa Bridge
It is the purple bridge that connects Bakji Island with Banwol Island. The name literally translates to Angel's Bridge.
You can take a photo with the iconic purple bridge as a backdrop. And after you've captured all the photos to your heart's desire, you can enjoy the beautiful view of the sea over the bridge.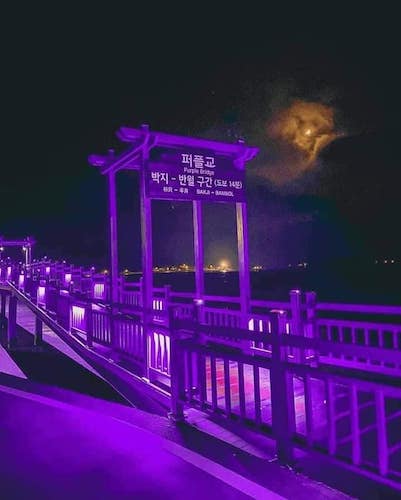 Even the night view is magnificent. Purple lights shine brightly on the bridge, making even the sunset look purple.
Bakjido Restaurant
You can enjoy delicious Korean cuisine here. There's all sorts of seafood and pork varieties available so if you get hungry while roaming around in the world of lilac, visit the restaurant for a scrumptious meal! The interesting part is the dishes of this restaurant are all designed in purple to go with the theme!!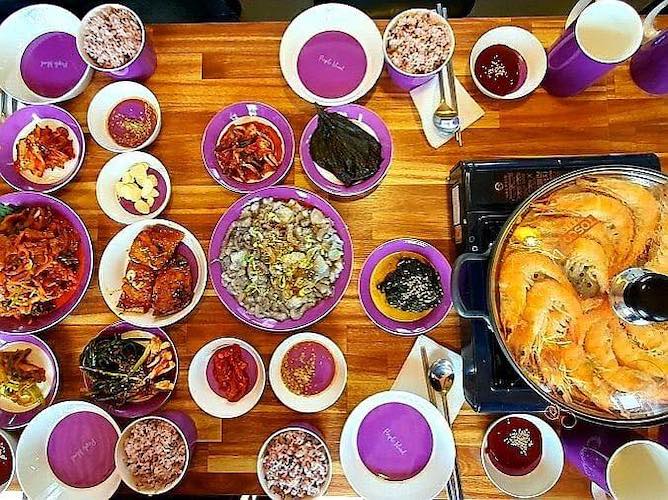 Hike Mount Eoggae
If you are interested in light hiking, then you can climb up Mount Eoggae, 201 meters high, to get an aerial view of both the purple-colored villages. From the top, you'll be able to see the purple villages, greenery from the surrounding nature and blue tricking from the mountains. This view is undoubtedly something that draws tourists to visit this island.
Don't forget to match your outfits with the place and get the best Instagram photo for your feed! Let's hope that you travel to South Korea soon and meanwhile, stay safe and healthy!
Love it? Pin it!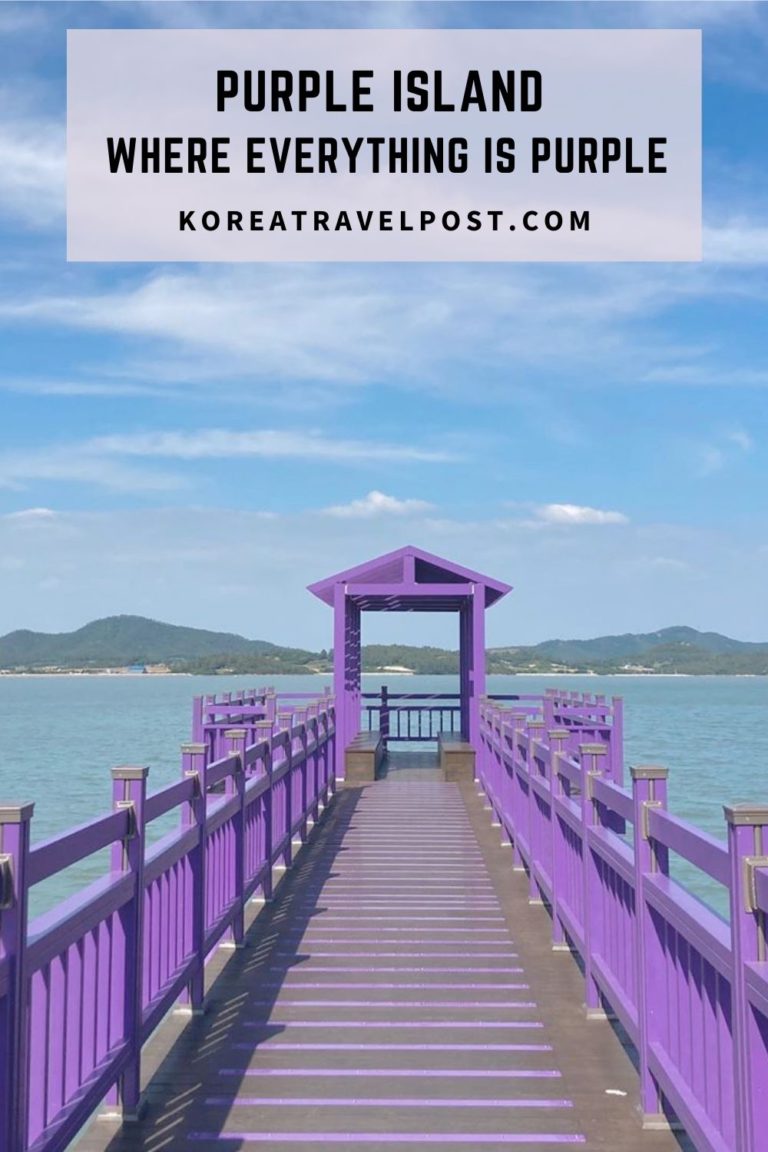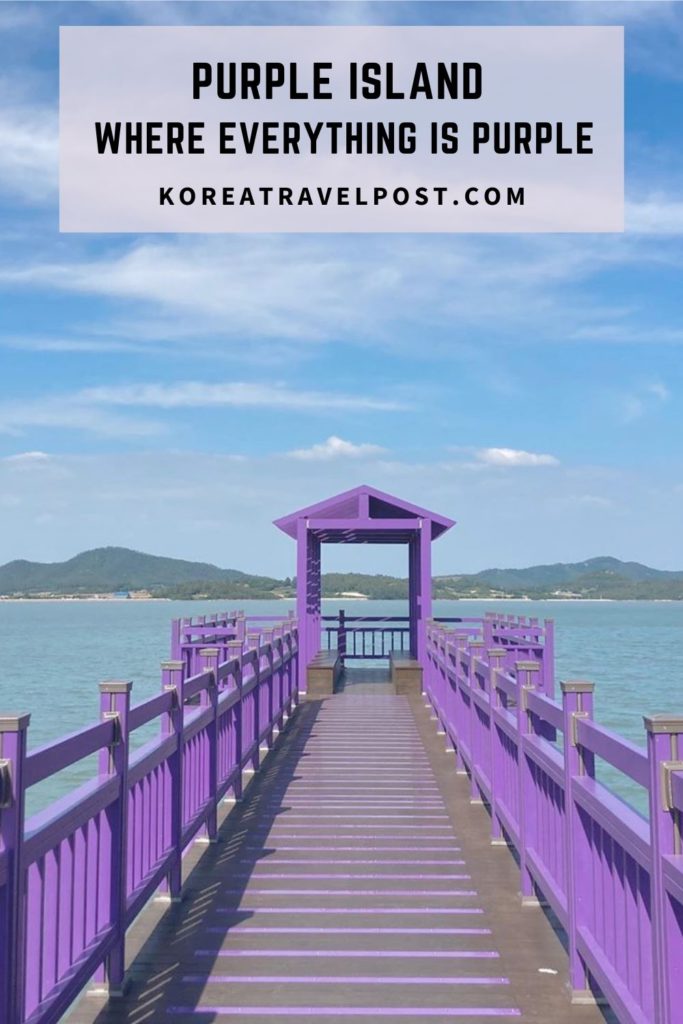 Read other interesting articles from KoreaTravelPost: